We've all been there – standing at the gas station, air pump in hand, tire stubbornly refusing to inflate. Frustrating, right? But why does this happen, and more importantly, what can we do about it?
Why Won't My Tire Won't Take Air!

A tire may not take air due to obstructions in the valve stem, damage to the tire bead, or issues with the air compressor. Common culprits also include a faulty valve core, cold weather effects, and potential obstructions in the valve stem.
In this article, we'll dive deep into the mysteries of tires that play hard to get with air. From understanding common reasons behind the issue, to troubleshooting specific problems, and the importance of tire pressure for your vehicle's performance and safety – we're covering it all. Buckle up for a comprehensive guide on all things tire-air related!
Let's take a closer look.
Common Reasons Tires Won't Accept Air
Let's dive right into the nitty-gritty of why sometimes your tire might throw a little tantrum and not take in air like it's supposed to. Trust me, it can be a real headache, but understanding the reasons can make your life a lot easier. So, buckle up (see what I did there?) and let's break it down.
1. Blocked or Clogged Valve Stem
The valve stem is that little protruding thingy on your tire where you attach the air hose to pump in the air. Now, like anything exposed to the environment, it can get clogged.
Dirt and Debris: Our roads aren't exactly the cleanest places. Sometimes, tiny bits of dirt, dust, or other debris can jam up the entrance of the valve stem, making it hard for air to get in.
Old Valve Caps: If you've lost the cap or if it's old and cracked, stuff can get in more easily. Always make sure you have a good cap on there!
Solution: A simple fix here is to use a valve stem tool or even a small pin to gently clear out any visible obstructions. But remember, don't push too hard or you might damage it.
2. Faulty Air Compressor or Tire Inflator
Now, before you blame the tire, consider this: what if the gadget you're using to pump in the air is the culprit?
Malfunctioning Equipment: Sometimes, the equipment at gas stations or even your personal air compressor can be faulty. It happens!
Solution: Give another inflator a shot before concluding that the tire's the problem. If you're at a gas station, switch to a different pump and see if that helps.
3. Air Leaks While Putting Air In The Tire
Yep, sometimes the air you're trying to put in is escaping just as fast. It's like trying to fill a bucket with a hole in the bottom.
Damaged Tires: Check if your tire has visible damage or punctures. If air is coming out from somewhere, you'll probably hear a hissing sound.
Bad Valve Core: Inside the valve stem, there's a tiny thing called the valve core that helps regulate the air going in and out. If it's faulty, air can leak out.
Solution: For visible damages, you might need to patch the tire or even replace it. For valve core issues, you might need a mechanic or tire expert to check it out and possibly replace the core.
4. Issues with the Valve Core
Speaking of the valve core, this little component plays a big role.
Worn Out or Damaged: Over time, like everything else, valve cores can wear out or get damaged.
Solution: Valve cores are cheap and can be easily replaced. But if you're unsure how to do it, it's best to have an expert handle it.
5. Environmental Factors
Mother Nature can sometimes play tricks on our tires.
Cold Weather: In really cold conditions, the air inside the tire can condense, making it seem like it's losing air.
Solution: You should put air in your tires while the tires are cold, meaning the same temperature as the outside air.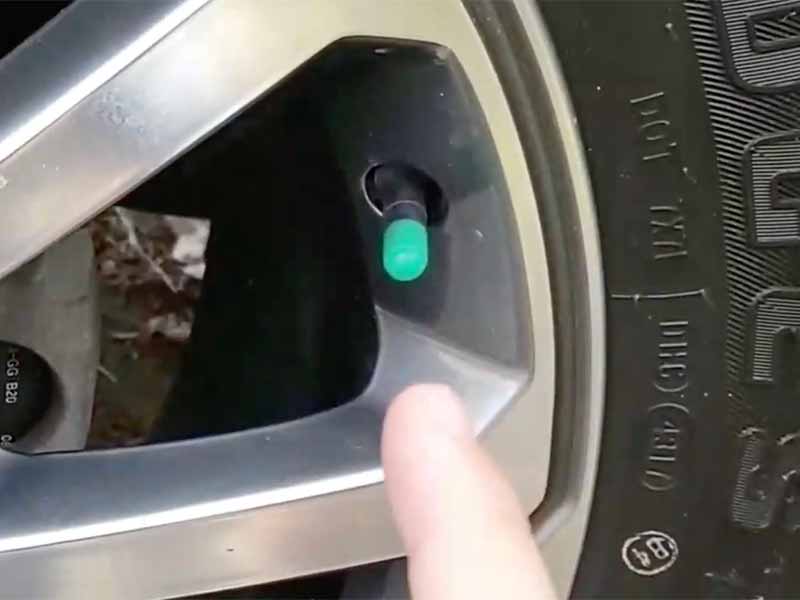 Specific Problems & Their Solutions
When it comes to tires and air (or the lack thereof), there are some specific issues that pop up more frequently than others. Recognizing these issues and knowing how to address them can save you both time and frustration. So, let's get into some of these pesky problems and their handy solutions.
1. Tire Won't Inflate Past a Certain PSI
Ah, the age-old dilemma. You're pumping air, and it seems like the tire just doesn't want to go past a certain point. Well, there's a method to its madness.
Air Chuck Issues: Sometimes, the problem isn't the tire, but the air chuck (the part you attach to the valve stem) not sealing properly.
Faulty Gauges: If the gauge on the pump is malfunctioning, you might think you're at the right PSI, but in reality, you're not.
Solution:

Double-check with a separate, hand-held tire pressure gauge to ensure accuracy.
Ensure the air chuck is correctly attached and there's no leakage.
2. Run Flat Tires and Their Unique Issues
Run flat tires are a marvel of modern car tech, allowing you to keep driving for a short distance even if they're punctured. But they come with their quirks.
Punctures and Leaks: A run flat tire won't take air if it has a puncture. Even though the tire doesn't look flat, it can actually be damaged enough that it won't hold any air pressure.
Stiff Sidewalls: The sidewalls of run-flat tires are stiffer, which can sometimes make them seem like they're not accepting air. They could also be
Solution:

Be patient and ensure the air hose is firmly attached.
Inspect for damage to ensure the tire hasn't been punctured.
Consider referring to the vehicle's manual or consulting a professional if you're having persistent problems.
3. Car Tire Valve Stem Issues
It might sound repetitive to bring up the valve stem again, but it truly is a critical component when it comes to inflating your tire.
Leaking Valve Stem: Sometimes the stem itself might have a slight leak, causing a loss of air.
Cracked or Damaged: External damage to the valve stem can prevent it from sealing correctly with the air chuck.
Solution:

A visual inspection can often help spot a damaged valve stem.
Valve stem replacements aren't too expensive. So, if in doubt, get a new one installed.
4. Cost to Replace a Valve Stem on a Tire
Money matters, right? If you're thinking of replacing a valve stem, you're probably wondering about the cost.
Varies by Region and Garage: Prices can differ based on where you live and where you get the job done.
Typical Cost: As of my last update in 2021, the average cost ranged from $10 to $30 per tire, including labor. But always call around and check the latest prices.
Solution:

If one stem needs replacing due to wear and tear, consider checking the others too.
Always compare prices at different garages or tire shops to ensure you're getting a fair deal.
Craftsman V20 Portable Air Compressor
Safety and Precautions
While we're on the topic of tires and air issues, it's a golden opportunity to address the crucial aspect of safety and the precautions you should take. Let's get rolling!
1. The Right Equipment
Ever heard the saying, "A craftsman is only as good as his tools"? Well, when it comes to tire maintenance, having the right equipment can make a world of difference.
Reliable Air Compressor: Investing in a good-quality air compressor or tire inflator ensures that you're not pumping in more problems than air.
Proper Valve Stem Tool: For those DIY moments, a valve stem tool can be invaluable. It helps in cleaning, replacing, and adjusting valve stems.
Sturdy Valve Cap: It's small but mighty! A valve cap keeps out dirt and debris and ensures there's no slow leak from the valve.
Solution:

Regularly check your equipment for wear and tear.
Always replace faulty or damaged tools to ensure you're working with the best.
2. When to Seek Professional Help
We all love a bit of DIY, but knowing when to throw in the towel and consult an expert is a skill in itself.
Persistent Issues: If you've tried everything and that tire still won't inflate, it might be time to call in the cavalry.
Internal Damage Suspected: Sometimes, problems like a tire bead leak or internal tire damage can be the culprits. These are best left to professionals.
Solution:

Regularly get your tires checked by professionals, especially if they've been giving you grief.
Don't let small problems become big ones. If in doubt, consult a pro!
3. Recognizing Beyond DIY Fixes
Sure, there are lots of tire issues you can handle yourself, but some are a bit out of the DIY league.
Major Punctures: A tiny nail might be patchable, but larger punctures, especially on the sidewall, usually mean it's time for a new tire.
Bulges and Blisters: If your tire looks like it's got a growth, it's a clear sign of internal damage. Don't ignore it!
Solution:

Always prioritize safety over savings. If a tire looks questionable, it's better to replace it than risk a blowout on the highway.
Regularly inspect your tires for unusual wear patterns, bulges, or any other oddities.
4. Importance of Timely Address
Procrastination might be fine for some things, but not tire issues!
Safety Concerns: Driving with improperly inflated tires or damaged tires can be downright dangerous.
Performance Hits: Your vehicle's performance, including fuel efficiency and handling, can take a hit with tire issues.
Solution:

Address any tire issues as soon as you spot them. It's always better to be safe than sorry.
Keep a regular check on tire pressures, especially when seasons change.
Resources
Below are some links you may find helpful when learning about tires
Final Thoughts
Remember, a tire refusing to accept air can be due to a variety of reasons, from valve stem blockages and cold weather effects to issues with your air compressor. But, beyond these troubleshooting tips, always prioritize your safety.
Proper tire pressure isn't just about avoiding a flat—it impacts your vehicle's performance, fuel efficiency, and, most crucially, your safety on the road. So, always keep a vigilant eye on those trusty wheels of yours, ensuring they're in tip-top shape for all your journeys ahead.
Good luck and happy motoring.