Ever parked your car with perfectly fine tires, only to wake up to a flat one the next morning? Even more puzzling, have you ever experienced that flat tire mysteriously holding air later on? You're not alone, and the reasons behind this automotive enigma are more common than you might think.
Tire Went Flat Overnight But Now Holds Air

A tire can go flat overnight due to various factors such as temperature fluctuations, valve stem issues, or slow leaks. Interestingly, some tires can temporarily reseal themselves, making it appear as if they're holding air again.
In this article, we'll unravel the mystery behind tires that go flat overnight but seem to hold air later. We'll explore the common causes, how to diagnose such issues, and preventive measures to keep your tires in top shape.
Let's take a closer look.
The Mystery of the Overnight Flat Tire
You park your car in the evening, and everything seems fine. But the next morning, you find one of your tires is flat. It's a puzzling situation, especially if you didn't drive over a nail or hit a pothole. Many people wonder if their tire has a leak or if something else is going on. Let's dive into the possible reasons why this can happen.
Common Misconceptions
It's Not Always a Leak: Many people think a flat tire must mean there's a leak. However, that's not always the case.
Not Just About Driving: Some think flat tires only happen when you're driving. But tires can go flat while your car is just sitting there.
Instant Flats Are Rare: Tires usually don't go flat instantly unless there's a major issue like a blowout.
Why No Leak Sometimes?
It's possible for a tire to go flat overnight without an obvious leak. Here's why:
Temperature Fluctuations: Air contracts when it gets cold. So, if the temperature drops significantly overnight, your tire pressure can go down too.
Valve Stem Problems: The valve stem is the tiny protrusion where you inflate the tire. If it's damaged or loose, it can cause a slow loss of air.
Tire Bead Issues: The bead is the inner edge of the tire that seals against the rim. If it's not perfectly sealed, air can escape slowly.
The Self-Sealing Phenomenon
Sometimes, a tire can reseal itself. This usually happens when a foreign object like a nail goes into the tire but doesn't create a continuous leak. When you remove the object, the tire's own weight and the air pressure inside can often seal the hole temporarily.
The Role of Slow Leaks
Hard to Detect: Slow leaks are tricky because they let out air gradually. You might not notice until the tire is significantly low on air.
Temporary Nature: Sometimes, the position of the tire can seal a slow leak temporarily, making it seem like there's no leak at all.
What to Do If You Suspect a Mysterious Flat
Check Air Pressure: Use a tire pressure gauge to check all your tires, not just the flat one.
Visual Inspection: Look for obvious issues like nails, cuts, or a damaged valve stem.
Consult a Professional: If you can't find the cause, it's best to consult a tire shop for a thorough inspection.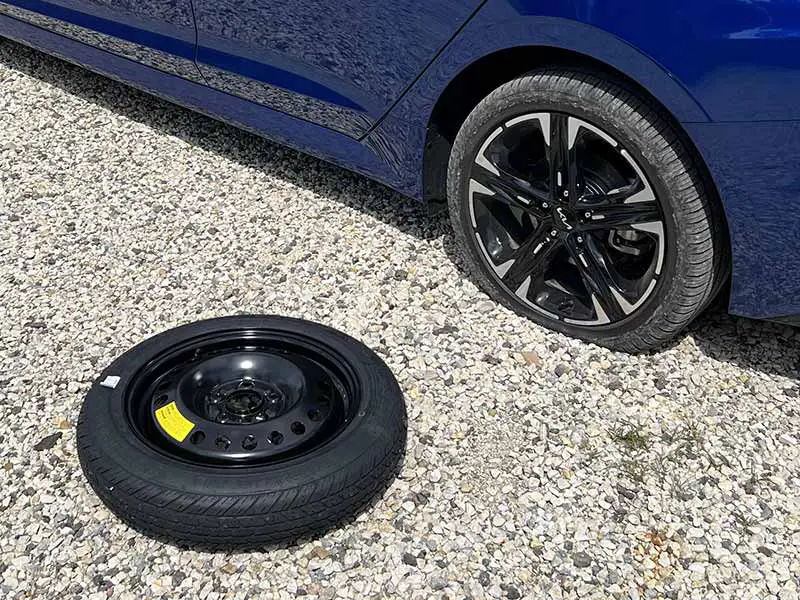 Factors That Can Cause a Flat Tire Overnight
Before we dive into the specific factors, it's important to understand that a flat tire overnight can be the result of a combination of issues. Knowing what to look for is the first step in solving this perplexing problem.
The Impact of Temperature Changes
Temperature plays a significant role in tire pressure. Here's how:
Air Contracts in Cold: When the temperature drops, the air inside the tire contracts, leading to a decrease in tire pressure.
Air Expands in Heat: Conversely, hot weather can cause the air to expand, but this is less likely to result in a flat tire overnight.
Seasonal Changes: The transition from summer to winter or vice versa can cause noticeable changes in tire pressure.
Valve Stem: The Unsung Hero
The valve stem is a small but crucial component in maintaining your tire's air pressure. Here's why it matters:
Role in Air Retention: The valve stem is where you inflate the tire, and it has a valve core that keeps the air in.
Common Issues: A damaged or loose valve stem can cause air to escape slowly, leading to a flat tire overnight.
Signs of a Bad Valve Stem: Look for cracks, looseness, or if it's harder than usual to attach the air pump.
The Importance of the Tire's Bead
The bead is the inner edge of the tire that makes contact with the rim. It's essential for a good seal:
Proper Sealing: A well-sealed bead ensures that air doesn't escape from the sides of the tire.
Potential Problems: If the bead is damaged or not seated correctly, it can cause a slow leak.
How to Check: A visual inspection can often reveal if the bead is not seated properly. You may see a bulge or hear a hissing sound.
The Sneaky Slow Leak
Slow leaks are often the culprits behind mysterious flat tires. Here's what you need to know:
What Causes Slow Leaks: They can be due to a variety of issues, including a small puncture, a loose wheel rim, or even a damaged bead.
Why They're Hard to Spot: Because they let out air so gradually, you might not notice a slow leak until your tire is significantly deflated.
Temporary Fixes: Sometimes, the tire's position or even some dirt can temporarily seal a slow leak, making it seem like the tire is fine.
Other Less Common Factors
While the above are the most common reasons, other factors can also contribute to a flat tire overnight:
Manufacturing Defects: Rare but possible, a defect in the tire can lead to a slow leak.
Age of the Tire: Older tires are more susceptible to leaks due to wear and tear.
External Factors: Things like corrosive substances on the road can also affect the tire's integrity.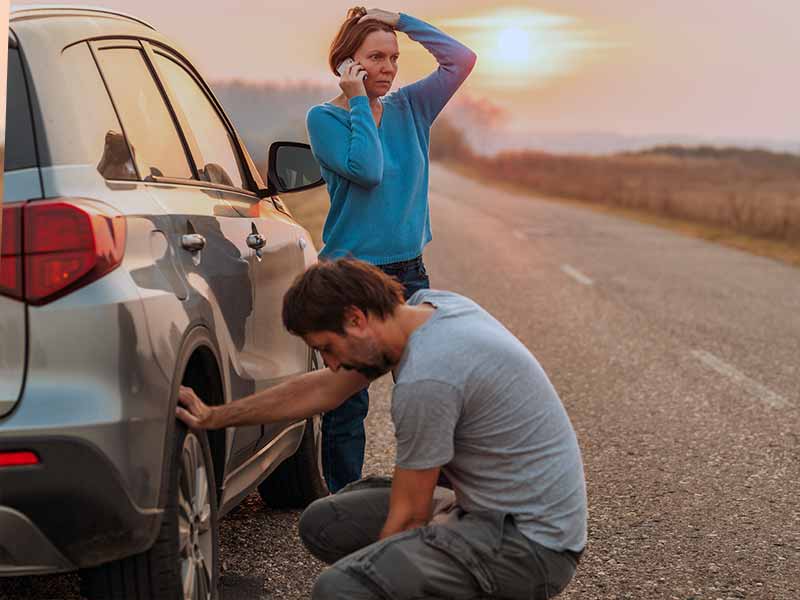 How to Diagnose a Mysterious Flat Tire
If you've ever been puzzled by a tire that went flat overnight but then seemed fine later, you're not alone. Knowing how to properly diagnose this issue is crucial for both your peace of mind and your wallet.
The Importance of Checking Air Pressure
Before you do anything else, it's crucial to check the air pressure in all your tires, not just the one that appears flat.
Using a Tire Pressure Gauge: This is a simple tool that can give you an accurate reading of your tire's air pressure.
Comparing with Recommended Levels: Every vehicle has a recommended tire pressure level, usually found in the owner's manual or on a sticker inside the driver's door.
Identifying Discrepancies: If the air pressure is significantly lower than recommended, you likely have an issue that needs further investigation.
Conduct a Visual Inspection
Sometimes, the cause of a flat tire is visible to the naked eye.
Look for Obvious Punctures: Nails, screws, or shards of glass can sometimes be easily spotted.
Check the Valve Stem: As mentioned earlier, a damaged valve stem can be a source of slow leaks.
Inspect the Tire Bead: Look for any signs that the bead is not properly seated against the rim.
The "Water Test" for Slow Leaks
If you've checked air pressure and conducted a visual inspection but still can't find the issue, the water test can help.
What You Need: A bucket of water or a hose.
How to Do It: Submerge the tire in water and look for bubbles. Bubbles indicate a leak.
Areas to Focus On: Pay special attention to the valve stem area, the bead, and any spots where you see wear or damage.
When to Consult a Professional
If you've tried all the above steps and still can't identify the problem, it's time to consult a tire shop.
Professional Diagnosis: Tire experts have specialized equipment and experience to find even the most elusive leaks.
Cost vs. Benefit: While there may be a cost involved, accurately diagnosing the problem can prevent further issues and expenses down the line.
Possible Solutions: Depending on the diagnosis, you may need a simple repair, or it might be time for a new tire.
Keep Records for Future Reference
Once the issue is resolved, it's a good idea to keep records.
Document the Issue: Note down what the problem was and how it was resolved.
Track Air Pressure: Keep an eye on your tire pressure for the next few weeks to ensure the issue is truly fixed.
Scheduled Checks: Make it a habit to check your tire pressure regularly, especially if you've experienced a mysterious flat tire.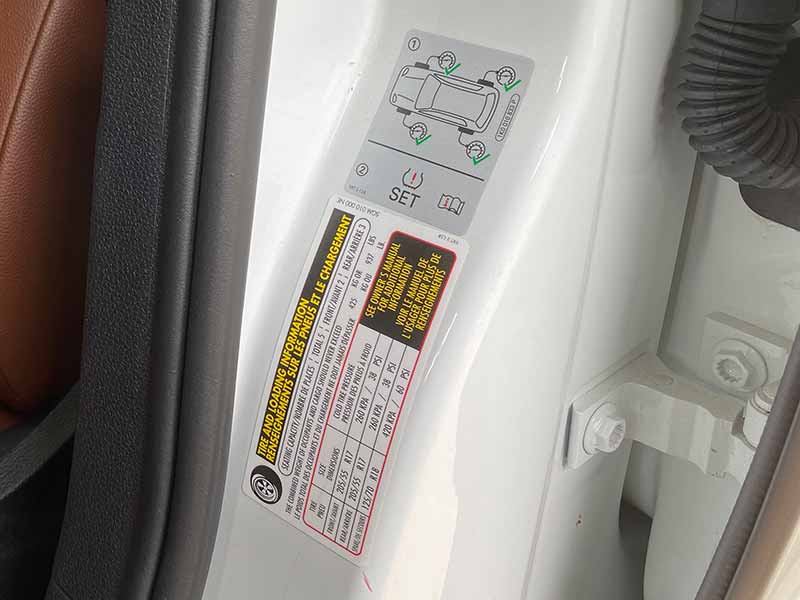 How to Prevent Future Mysterious Flat Tires
Prevention is always better than cure, especially when it comes to something as vital as your vehicle's tires. Let's explore some proactive steps you can take to minimize the risk of waking up to an unexpected flat tire.
The Role of Proper Air Pressure
Maintaining the correct air pressure is the first line of defense against mysterious flat tires.
Regular Checks: Make it a habit to check your tire pressure at least once a month or before long trips.
Use a Reliable Gauge: Invest in a good-quality tire pressure gauge for accurate readings.
Follow Manufacturer Guidelines: Always inflate your tires according to the manufacturer's recommended pressure levels.
Visual Inspections: A Habit Worth Forming
Regular visual inspections can catch potential issues before they turn into problems.
Look for Wear and Tear: Examine the tire tread for uneven wear, which could indicate an issue.
Check for Foreign Objects: Small items like nails or glass can sometimes be spotted before they cause a flat.
Inspect the Valve Stem: A quick look can often reveal if the valve stem is damaged or loose.
Seasonal Tire Maintenance
Different seasons can affect your tires in various ways, and being prepared can prevent unexpected flats.
Winter Preparations: Cold weather can cause air to contract, so check pressure more frequently in winter.
Summer Preparations: Hot weather can cause air to expand; make sure your tires are not overinflated.
Tire Rotations: Seasonal tire rotations can help ensure even wear and prolong the life of your tires.
When to Consider a New Tire
Sometimes, the best way to prevent a flat tire is to replace an old or damaged one.
Tread Depth: If the tread depth is below the recommended level, it's time for a new tire.
Age of the Tire: Tires have a lifespan; check the manufacturer's recommendations.
Multiple Repairs: If a tire has been repaired multiple times, it may be more susceptible to future issues.
Professional Tire Services: An Extra Layer of Security
For those who want to be extra cautious, professional tire services offer additional peace of mind.
Tire Balancing: Ensures even wear and can extend the life of your tires.
Alignment Checks: Misaligned tires can cause uneven wear and are more prone to flats.
Tire Pressure Monitoring System (TPMS): Some cars come with a TPMS that alerts you if your tire pressure is low.
Emergency Kits: Be Prepared for Anything
Even with all these preventive measures, it's always good to be prepared for emergencies.
Spare Tire: Always have a well-maintained spare tire.
Basic Tools: A jack, lug wrench, and tire pressure gauge can be lifesavers.
Emergency Contact: Have the number of a reliable tire shop or roadside assistance service handy.
Resources
Below are some links you may find helpful when learning about tires
Final Thoughts
Understanding the factors that can cause a tire to go flat overnight and yet hold air later can save you both time and money. 
From the importance of maintaining proper air pressure to knowing when to consult a professional, being proactive is key. Armed with this knowledge, you'll be better equipped to diagnose and even prevent these puzzling tire issues, ensuring a smoother and safer ride.
Good luck and happy motoring.