Have you ever been on the road, towing a trailer or a heavy load, and wondered if the air in your tires was correct pressure? Ensuring the proper pressure is crucial, not just for the longevity of your tires but also for your safety and the safety of others on the road.
Best Tire Pressure When Towing

The proper tire pressure for towing is the vehicle manufacturer's recommended tire pressure. Unless your vehicle's owner's manual specifies otherwise, there's generally no need to adjust your air pressure for towing.
In this article, we'll debunk common myths about tire pressures and towing, provide handy tips about tires, and guide you on how to spot and address tire pressure issues. Dive in to ensure a safe and smooth towing experience.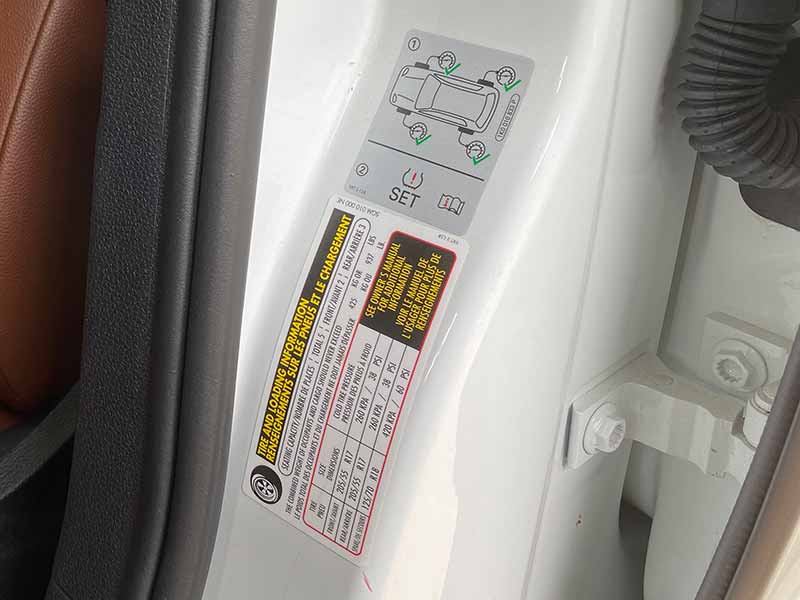 The Vehicle Manufacturer's Recommendation: Why It's Key
Every vehicle comes with a set of recommendations from the manufacturer. These guidelines are not just random numbers; they're based on extensive testing and research. When it comes to tire pressure, these numbers ensure optimal performance, safety, and fuel efficiency.
Safety: The right tire pressure ensures that your tires have the best possible grip on the road. This is crucial, especially when towing, as it affects your vehicle's handling and braking.
Performance: Your vehicle's handling, acceleration, and braking all depend on tire pressure. Too high or too low, and you might find your vehicle behaving unpredictably, especially when towing.
Fuel Efficiency: Believe it or not, your tire pressure can affect your gas mileage. Properly inflated tires reduce rolling resistance, which means your engine doesn't have to work as hard.
Note: Always refer to your vehicle's owner's manual for the recommended tire pressure. It's the most reliable source of information.
Why You Shouldn't Change the Recommended Pressure
There's a lot of advice floating around, especially online. Some folks might tell you to increase tire pressure for towing, while others might suggest the opposite. But here's the thing: unless your vehicle's manual specifically says so, you shouldn't need to adjust your pressures towing.
Risks of Over-Inflation: Over-inflating your tires can reduce their grip on the road. It can also make them more prone to punctures and other damages. On top of that, it can lead to uneven tire wear, especially in the center of the tire tread.
Risks of Under-Inflation: Under-inflating, on the other hand, can cause your tires to overheat, especially when towing. This increases the risk of a blowout. It can also lead to uneven tire wear on the edges.
For more insights on tire types and their specific load ranges, check out our detailed guide on Load Range: XL vs E.
Remember, your vehicle's manufacturer knows best. They've done the research, the testing, and have provided guidelines to ensure your safety and your vehicle's performance.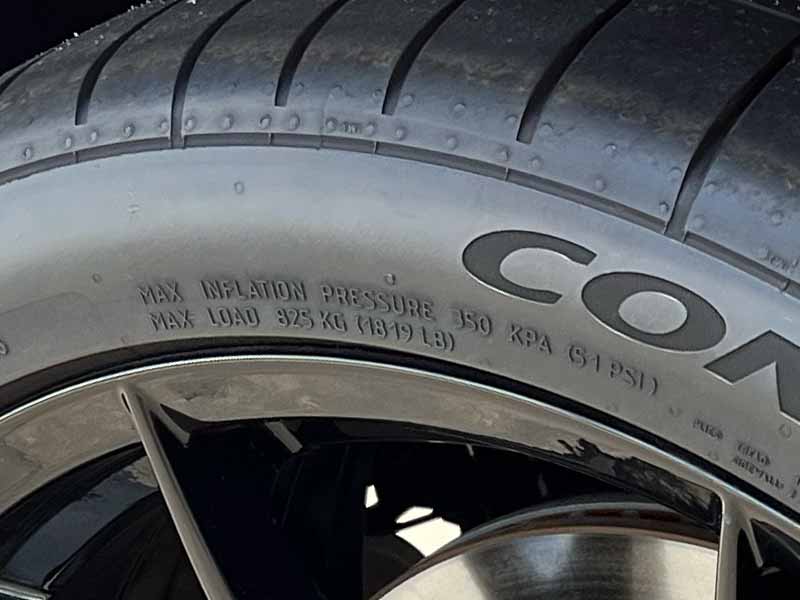 Handy Facts and Tips About Tires
Maximum Tire Pressure and Maximum Load: What You Should Know
Every tire has a max pressure rating, often referred to as "max psi." This number indicates the highest amount of air pressure the tire can safely handle. It's essential not to exceed this number, even when towing, as it can lead to tire damage or even a blowout.
Max Pressure (Max PSI): This is the tire's maximum safe inflation level. It's usually printed on the tire's sidewall. Over-inflating beyond this point can be dangerous.
Max Load: This refers to the heaviest load the tire can safely carry when properly inflated. Exceeding this load can put undue stress on the tire, leading to premature wear or failure.
Rear Axle and Tire Tread
The rear axle of your vehicle plays a crucial role, especially when towing. It bears the brunt of the weight, making the rear tires especially important.
Rear Axle: This is the axle located at the back of your vehicle. When towing, it's under more stress due to the additional weight, making the correct tire pressure even more vital.
Tire Tread: The pattern on the surface of your tire. It's designed to provide grip. Over time, and especially with incorrect tire pressure, this tread can wear down, reducing your tire's effectiveness and safety.
Tip: Regularly checking your tire tread can give you insights into your tire's health. Uneven wear might indicate issues with alignment or inflation.
Other Need-to-Know Tips
Trailer Tires vs. Regular Tires: Trailer tires are specifically designed to handle the loads and demands of towing. They're built differently from regular tires and have their own set of recommendations. For a deeper dive into the differences and when to use each, explore our guide on Can I Put LT Tires on My SUV, Trailer, Car, or Truck?.
Fuel Efficiency: Maintaining the correct tire pressure isn't just about safety; it's also about saving money. Properly inflated tires can improve your gas mileage, saving you money at the pump.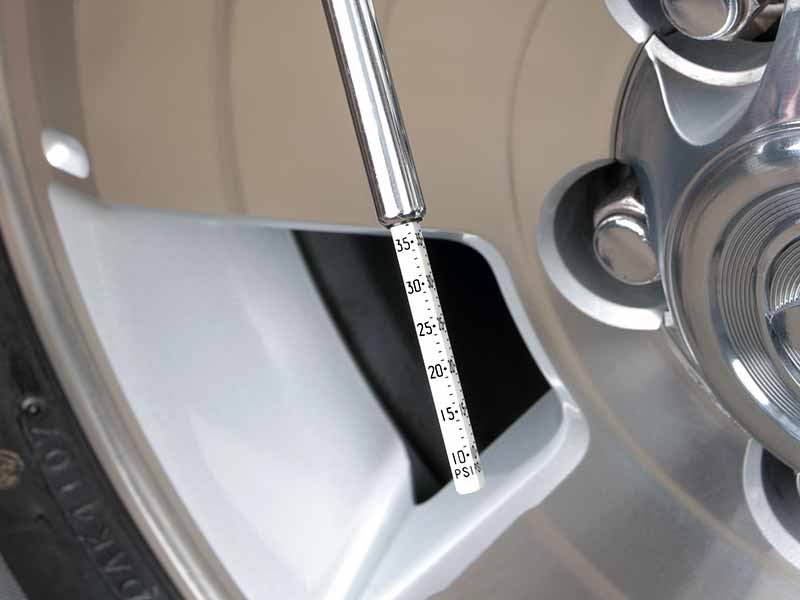 Common Myths About Tire Pressure When Towing
Be Careful with Online Tips
The internet is a vast space, and while it offers a plethora of information, not all of it is accurate or safe. When it comes to tire pressure, especially while towing, it's essential to differentiate between myths and facts.
Increasing Tire Pressure for Towing: A common misconception is that increasing your tire pressure will provide better stability when towing. However, this can lead to reduced traction and increased wear in the center of the tire.
Decreasing Tire Pressure for Better Grip: Some believe that a lower tire pressure will offer more surface area and, thus, better grip. But this can cause the tire to overheat, especially under the added strain of towing.
Setting the Record Straight on Rear Tire Pressure and Trailer Tires
Your vehicle's rear tires play a pivotal role when towing, bearing most of the trailer's weight. It's crucial to ensure they're correctly inflated.
Rear Tire Pressure: While some might suggest increasing the rear tire pressure when towing, it's essential to stick to the manufacturer's recommendations unless otherwise specified.
Trailer Tires: These are specially designed for the demands of towing. They're built to handle heavier loads and have different pressure recommendations than regular tires.
The Truth About LT Tires and Towing
Light Truck (LT) tires are designed for heavier loads and rougher terrains. They're sturdier and can handle the demands of towing better than regular passenger tires.
LT Tires for Towing: If you're frequently towing heavy loads, LT tires might be a good choice. They offer better stability and are designed for the job.
Safety First: Regardless of the type of tire you choose, always ensure they're correctly inflated and in good condition before towing.
How to Spot Tire Pressure Issues
Spotting Tire Wear Signs
Your tires speak to you, not with words, but with patterns. By observing the wear on your tires, you can get insights into potential issues, including incorrect tire pressure.
Center Wear: If the middle of your tire is wearing out faster than the edges, it might be over-inflated.
Edge Wear: If the edges of your tire are wearing out faster than the center, it might be under-inflated.
Uneven Wear: This can indicate issues like misalignment or problems with suspension components.
Tip: Regularly inspecting your tires can help you spot and address issues before they become major problems.
Other Signs of Wrong Pressure
Apart from wear patterns, there are other indicators that your tire pressure might not be optimal.
Vehicle Handling: If your vehicle feels unstable, especially when cornering, it might be due to incorrect air pressure.
Decreased Fuel Efficiency: If you notice that you're filling up your tank more often than usual, it could be a sign of under-inflated tires.
Vibrations: Feeling unusual vibrations while driving, especially at high speeds, can indicate tire issues.
Tools to Help Monitor Tire Pressure
In today's tech-driven world, there are tools available that can help you keep a close eye on your tire pressures.
Tire Pressure Monitoring System (TPMS): Many modern vehicles come equipped with a TPMS that alerts you if any tire is under-inflated.
Handheld Air Pressure Gauge: A simple, yet effective tool that every vehicle owner should have. It allows you to check your tire pressure anytime, anywhere.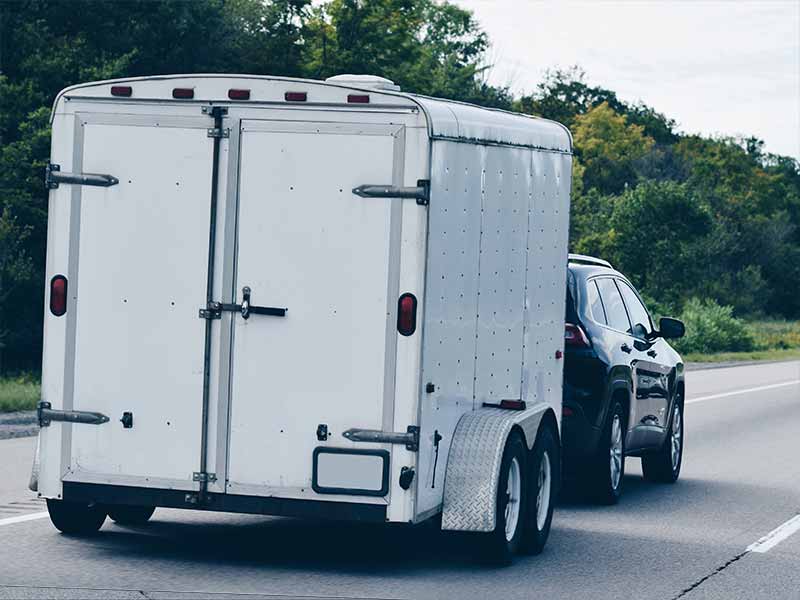 Resources
Below are some links you may find helpful when learning about tires:
Final Thoughts
Ensuring the correct tire pressure, especially when towing, is paramount for both the longevity of your tires and your safety on the road. 
By adhering to the vehicle manufacturer's recommendations and regularly checking your air pressures, you can ensure optimal performance and safety.
Remember, while there's a plethora of advice available online, always refer to trusted sources such as the tire placard in your driver's door jamb and your vehicle's manual for the most accurate information.
Good luck and happy motoring.