Being a tire guy, I notice tire problems. I was on the interstate and noticed a nearly flat tire on the driver's rear tire of the car in front of me. I backed off because I knew that at highway speeds, that tire was going to blow soon. 30 seconds it did just that, and the car spun into the Jersey barrier. Fortunately this blowout wasn't a deadly crash.
Tire Blowout Statistics

Tire blowouts contribute to over 78,000 road accidents each year in the United States.
About 400 fatalities annually are attributed to tire-related crashes.
Passenger cars experience fewer blowouts compared to trucks, but the consequences can be equally severe.
Underinflated tires increase the risk of a blowout by 300%.
Summer months see a spike in tire blowouts, with the rate increasing by up to 30%.
In this article, we'll delve into everything you need to know about tire blowouts, from vital statistics that underscore their dangers to best practices for tire maintenance. We'll also look at the role of air pressure monitoring systems and provide you with additional resources for deepening your understanding of tire safety.
Let's take a closer look.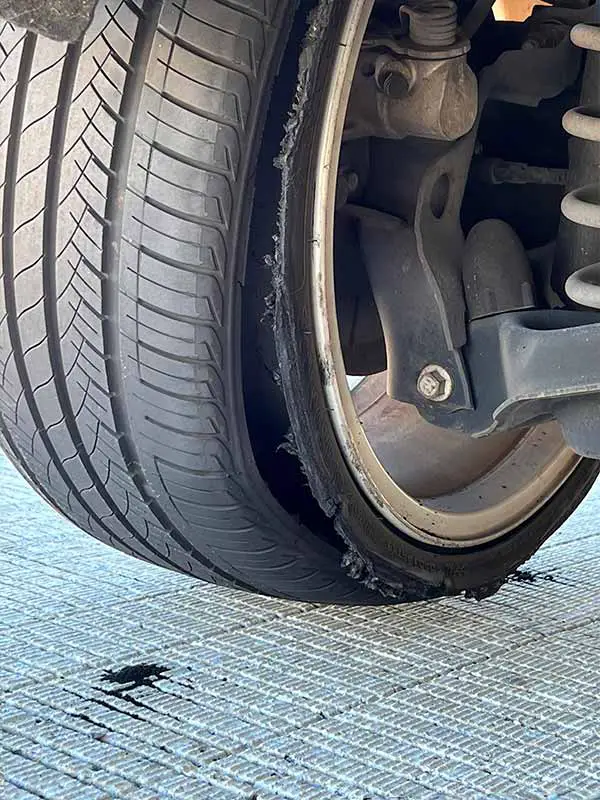 Tire-Related Accidents Statistics
Understanding the numbers behind tire-related accidents provides valuable insights into road safety. Knowing how often these incidents occur, and the conditions that cause them, helps in both prevention and policy-making.
How Many Tire Blowouts Happen a Year?
According to available statistics, there are approximately 11,000 tire-related crashes in the United States each year. These incidents are not just minor accidents; they can lead to severe injuries or even fatalities.
How Many Accidents are Caused by Tire Blowouts?
Out of the 11,000 tire-related crashes, a significant percentage is directly attributed to tire blowouts. While not all tire-related accidents result from blowouts, they contribute to a considerable number of incidents that involve loss of life or severe injury.
Prevalence of Truck Tire Blowouts
Truck tire blowouts are especially concerning due to the larger size and higher load of commercial trucks. The consequences are often more severe when a truck experiences a tire blowout, including the potential for multi-vehicle accidents. Truck tire blowouts account for a considerable portion of commercial vehicle accidents.
High-Risk States and Conditions
It's worth noting that certain states report higher numbers of tire-related accidents, often due to specific road conditions or climate factors. For example:
Hot Weather States: Places like Arizona or Nevada often see higher rates of tire blowouts due to heat affecting tire pressure.
Poorly Maintained Roads: States with a large number of potholes or inadequate road infrastructure also report higher incidents.
Age of Tires and Accident Risks
The risk of experiencing a tire blowout is higher with older tires. Even if the tread looks fine, the internal structure may be compromised due to age, increasing the risk of a blowout.
Gender and Age Factors
Statistics have shown that younger drivers and male drivers are more likely to experience tire-related accidents. This is often attributed to riskier driving behaviors like speeding, which can exacerbate tire conditions leading to a blowout.
Recent Trends and Observations
Increase or decrease in tire-related incidents over the years
Influence of advancements in tire technology on accident rates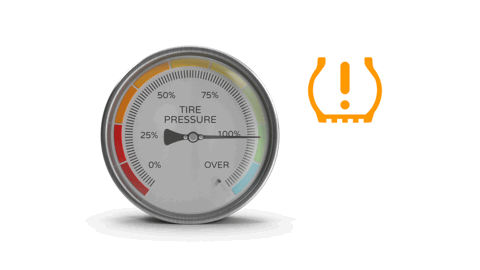 The Anatomy of a Tire Blowout
Before delving into the causes of tire blowouts, it's essential to understand the various components that make up a tire. Your tire isn't just a rubber circle; it's a complex structure made of various materials designed to withstand a lot of stress.
Tread: The part that touches the road, providing grip.
Sidewall: The side area of the tire, which often contains information like tire size and pressure guidelines.
Inner Liner: The innermost layer that retains air inside the tire.
The Role of Tire Pressure
Tire pressure is the backbone of tire health. Maintaining the correct tire pressure is critical for vehicle safety and optimal performance. When a tire is underinflated or overinflated, it can lead to various problems, including blowouts.
Underinflated Tires: Tires that lack sufficient air become overheated, leading to increased tire wear and, ultimately, blowouts.
Overinflated Tires: Excessive air pressure can make the tire more rigid, reducing its ability to flex when hitting bumps or potholes, leading to potential blowouts.
Importance of Tire Tread
The tread on your tire isn't just for show; it serves crucial functions like providing grip and channeling water away during wet conditions. When the tread wears down:
Reduced Grip: This could lead to slipping or skidding, increasing the risk of accidents.
Increased Vulnerability: Worn tread is more susceptible to punctures or other forms of damage, thereby increasing the risk of blowouts.
Leading Cause of Tire Blowouts
It might surprise you to know that the leading cause of tire blowouts is actually underinflated tires. The lack of adequate air pressure can cause excessive heat build-up, leading to internal tire damage and, eventually, a blowout.
Other Common Causes
While underinflation is a primary cause, other factors can also lead to blowouts:
Impact Damage: Hitting a pothole or debris on the road can cause immediate or gradual tire failure.
Wear and Tear: As tires age, they become more susceptible to blowouts, particularly if they haven't been adequately maintained.
Manufacturing Defects: Although rare, a defect in the tire can also cause a blowout.
Understanding the Warning Signs
While a blowout is a sudden event, certain warning signs could indicate your tire is headed for trouble:
Vibrations: If your steering wheel or car floor vibrates, it may be a sign of a tire issue.
Cracks on the Sidewall: Check for cracks or cuts in the sidewall as they could indicate a potential tire failure.
NHTSA Tire Replacement Guidelines
The National Highway Traffic Safety Administration (NHTSA) provides a set of guidelines to help drivers understand when and how to replace their tires. Following these guidelines ensures you are driving on tires that meet safety standards, reducing the risk of blowouts and other tire-related accidents.
When Should You Replace Your Tires?
According to NHTSA, the following scenarios indicate that you need to replace your tires:
Tread Depth: If the tread is worn down to 2/32 of an inch, it's time for a replacement.
Age of Tires: NHTSA recommends replacing tires that are six years old, even if they appear in good condition.
Visible Damage: Any cuts, cracks, or punctures that can't be repaired safely necessitate a new tire.
What to Consider When Replacing Tires?
NHTSA provides several points to consider during the tire replacement process:
Size Matters: Always choose a tire size that matches the manufacturer's guidelines for your vehicle.
Type of Tires: Different types of tires (all-season, summer, winter) are designed for specific driving conditions.
Tire Ratings: Make sure the tire has good ratings for treadwear, traction, and temperature.
Tips for Tire Installation
Once you've picked out new tires, the installation process is equally important:
Professional Installation: Always have your new tires installed by a certified professional.
Tire Balancing: This ensures that the tire wears evenly, extending its lifespan.
Alignment Check: Improper alignment can cause uneven wear and affect your vehicle's handling.
Tire Warranty and Registration
NHTSA recommends that you:
Register New Tires: This way, you'll be notified of any recalls.
Understand Your Warranty: Know what is and isn't covered to avoid any future surprises.
Regular Maintenance According to NHTSA
Post-installation, NHTSA advises regular tire maintenance to ensure long-term safety:
Routine Checks: At least once a month, check the tire pressure, tread depth, and look for signs of wear or damage.
Professional Inspections: Have a professional inspect your tires at least once a year.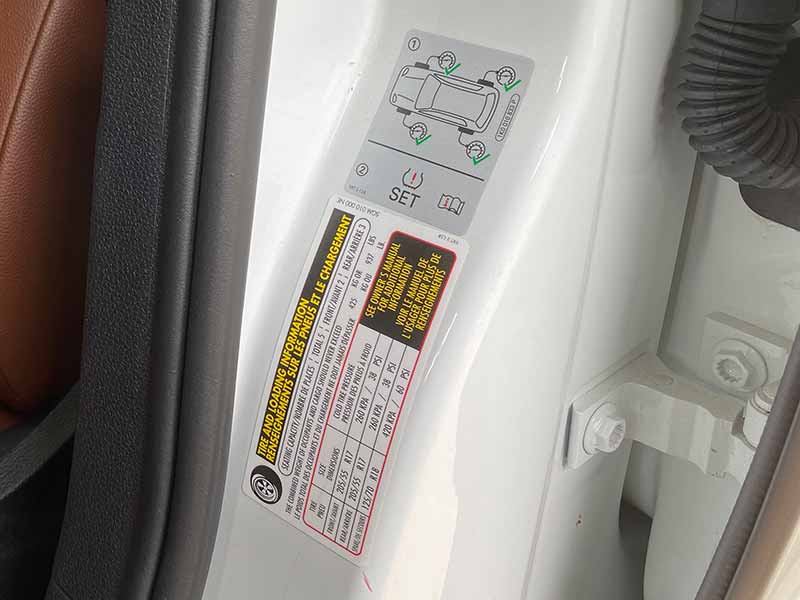 Air Pressure Monitoring and Its Importance
Tire pressure plays a critical role in how your vehicle handles, the durability of your tires, and even your vehicle's fuel efficiency. Monitoring air pressure is not just a good practice—it's essential for your safety and that of others on the road.
The Role of Tire Pressure Monitoring Systems (TPMS)
Modern vehicles often come equipped with a Tire Pressure Monitoring System, commonly known as TPMS. This system keeps tabs on your tire's air pressure and alerts you if any tire drops below the recommended level.
Instant Alerts: TPMS provides immediate notifications, often through a dashboard indicator, allowing you to take action before a low-pressure situation becomes dangerous.
Ease of Use: The system is automated, meaning you don't have to remember to check the tire pressure manually.
Limitations: While TPMS is convenient and helpful, it is not a substitute for manual checks as it may not catch slow leaks or minor but critical pressure changes.
How to Manually Check Air Pressure with a Tire Gauge
Even if your vehicle has TPMS, manual checks with a tire gauge are advisable for a more comprehensive understanding of your tire health. Here's how to do it:
Get a Quality Tire Gauge: Invest in a reliable tire gauge; they're not expensive and are easy to use.
Check When Tires Are Cold: Tire pressure should be checked when the tires are cold, typically after the car has been parked for a few hours.
Locate Recommended Pressure: The correct tire pressure is often listed on the side of the driver's door, in the glove compartment, or in the vehicle's manual.
Perform the Check: Remove the tire's valve cap, attach the tire gauge, and take a reading. Compare this to the recommended level.
Adjust Accordingly: If the air pressure is too low, use an air compressor to fill it to the correct level. If it's too high, release some air until it matches the recommended level.
Key Points to Remember
Regular Checks: Make it a habit to manually check your tire pressure at least once a month and before long journeys.
Calibration: Ensure that your TPMS is calibrated correctly, especially after changing tires or wheels.
Consult a Professional: If you consistently notice abnormal pressure levels, consult a tire professional for an assessment.
Resources
Below are some links you may find helpful when learning about tires
Final Thoughts
The stats don't lie: tire blowouts are a significant cause of road accidents, and they can be incredibly dangerous. The good news? Most are preventable through proper tire maintenance, regular inspections, and understanding the importance of air pressure. 
By arming yourself with this knowledge and making use of both manual checks and automated monitoring systems, you can substantially reduce your risk. Remember, taking care of your tires isn't just about extending their lifespan; it's about ensuring the safety of yourself and everyone else on the road.
Good luck and happy motoring.