Have you ever seen green caps on car or truck tires and wondered what they mean? You're not alone. These small caps have a special purpose. They show that the tire is filled with nitrogen instead of regular air.
But what do you do if your tire pressure is low? Is the pressure the same? Does a normal tire pressure gauge work with tires with nitrogen in them?
What Do Green Valve Stem Caps Mean?

Green valve stem caps mean the tire is filled with nitrogen instead of compressed air, like tires are usually filled with. If you add normal air to tires filled with nitrogen, you will dilute the benefits of using nitrogen gas for tire inflation.
In this article, we will talk about why people use nitrogen in tires, the good and bad things about nitrogen-filled tires, how much it costs to fill tires with nitrogen, where to get nitrogen, and if it's worth using.
Let's take a closer look.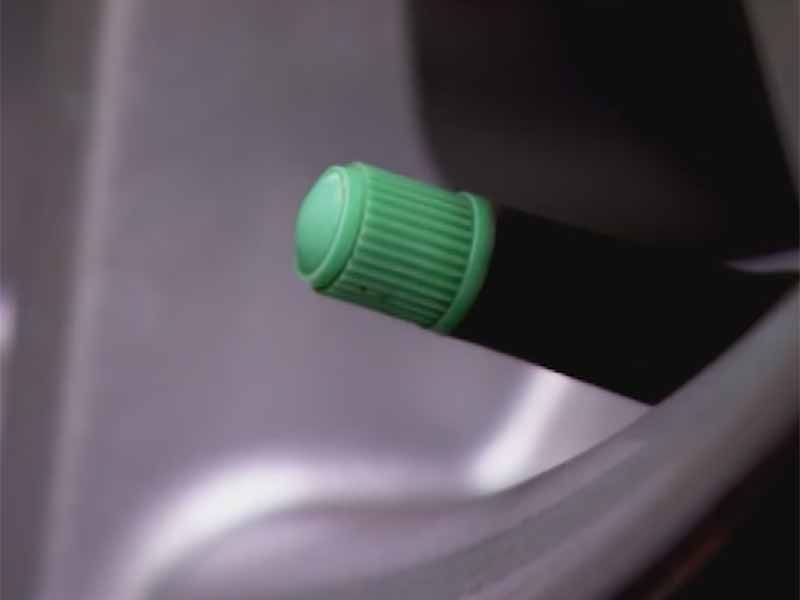 Why Is Nitrogen Used In Tires?
Before we talk about the good and bad things about using nitrogen in tires, let's learn why people use nitrogen in the first place.
Nitrogen-Filled Tires Pros
There are a few reasons why people choose to use nitrogen in their tires:
Tires Stay Full Longer: Nitrogen molecules are bigger than oxygen molecules. This means they don't leak out of the tire as quickly normal compressed air. So, tires filled with nitrogen keep their pressure up 3-times longer.
Tires Last Longer: Oxygen can make the rubber and metal parts of a tire break down. Nitrogen is a gas that doesn't cause this problem. So, tires inflated with nitrogen can last longer.
Tires Handle Temperature Changes Better: Nitrogen-filled tires don't lose or gain air pressure as quickly when the temperature changes. This means the tires work better in different types of weather.
Better Gas Mileage: When tires have the right amount of air, they get better fuel economy. Since nitrogen-filled tires keep their pressure longer, they can help save gas.
Nitrogen-Filled Tires Cons
There are also some not-so-good things about using nitrogen in tires:
Harder To Find: It's not as easy to find places that fill tires with nitrogen. This can make it harder to keep your tires filled.
Costs More Money: Filling your tires with nitrogen usually costs more than using regular air. This might make some people not want to use it.
How Much Does It Cost To Fill Tires With Nitrogen?
The cost to fill a tire with nitrogen gas can be different depending on where you go. On average, it costs between $5 and $10 for each tire. Sometimes, when you buy new tires, the store might offer to fill them with nitrogen as part of a special deal. This can help you save money.
When you first switch to nitrogen-filled tires, it can be expensive. You'll need to have your tires emptied and then filled with nitrogen. This first step can cost quite a bit more than just filling them up. This is because there's more time and labor involved in getting all of the normal air out of the tire and making sure the tires are completely filled with pure nitrogen. Expect to pay $50 to well over $100 per tire to get started.
Where To Get Nitrogen For Tires?
Unfortunately, most gas stations will only have compressed air pumps and no way to top up a nitrogen-filled tire.
You can find places to fill your truck or car tires with nitrogen at some tire stores, car dealerships, and auto service centers. Some big stores, such as Costco, might also have nitrogen refill stations in your area. To find a place near you, try looking online or calling tire stores in your area.
You'll need special equipment if you want to fill your tires with nitrogen at home. This can be expensive. It's important to think about the cost before deciding to do this.
PSI For Nitrogen-Filled Tires
The PSI for nitrogen-filled tires is the same as for air-filled tires. You don't need to add or remove pressure just because you're using nitrogen.
To find the correct PSI for your tires, check the sticker on the inside of your car door, the fuel door, or the owner's manual. This sticker or information in the manual will tell you the right amount of pressure for your car's tires. The PSI might be different for the front and rear tires, so make sure to check both numbers.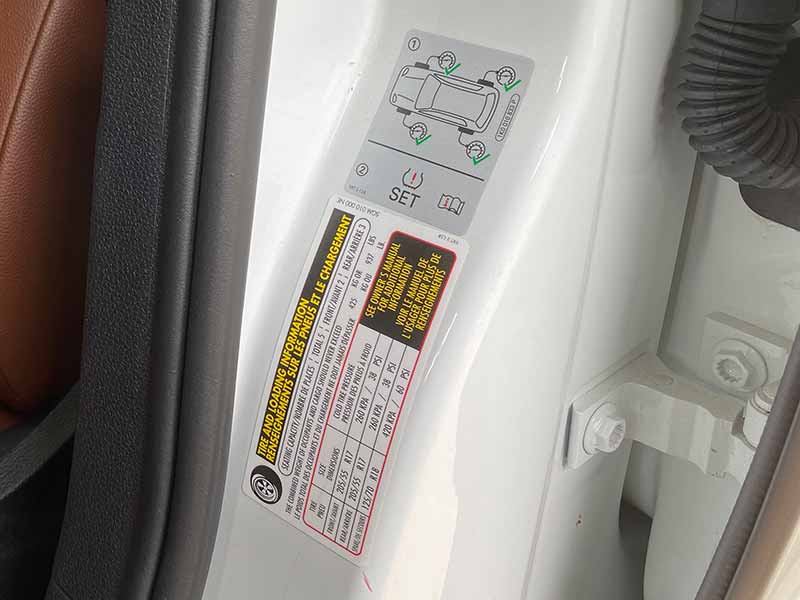 How To Check Nitrogen Tire Pressure
Checking the pressure of your nitrogen-filled tires is important for safety and to help your tires last longer. There isn't any difference between checking the pressure of regular air-filled tires and nitrogen tires. You can use a normal tire pressure gauge to measure the pressure, and be sure to check your car's manual or the sticker on your driver's door jamb to find the correct PSI (pounds per square inch) for your tires. Remember to wait for your tires to cool down after driving before checking the pressure, as this will give you a more accurate reading.
For a more detailed explanation of how to check nitrogen tire pressure, check out this article: How to Check Nitrogen Tire Pressure
By regularly monitoring your nitrogen tire pressure, you can ensure that your tires are safe and perform at their best.
Can You Put Air In Nitrogen-Filled Tires?
If you have tires filled with nitrogen, you might wonder if it's okay to add regular air if they get low. The short answer is yes, you can put air in nitrogen-filled tires. Doing this won't cause any harm to your tires. In fact, it's better to have the correct tire pressure, even if you have to mix nitrogen and air, than to drive with low tire pressure.
When you mix air and nitrogen, the benefits of nitrogen-filled tires might be a little less. This is because the air you add has oxygen, which can make the rubber and metal parts of the tire break down faster. Also, the tire might lose pressure a little quicker than it would with just nitrogen. But the difference is usually small, and it's still better than driving with a low tire.
If you need to add air to your nitrogen-filled tires, you can go to a regular air pump at a gas station or use an air compressor at home. Remember to check the tire pressure with a gauge to make sure it's at the right level. Later, if you want to go back to having pure nitrogen in your tires, you can visit a place that offers nitrogen filling services. They can remove the air you added and fill your tires back up with just nitrogen.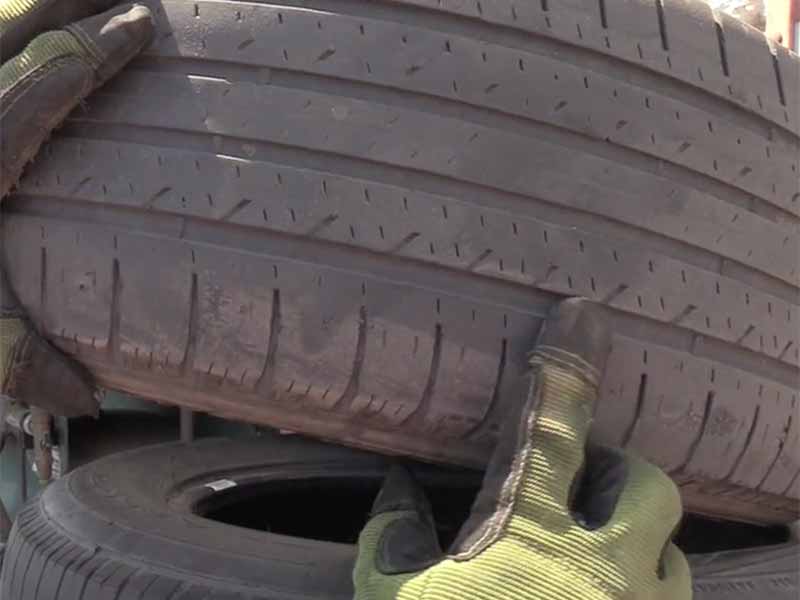 Is Nitrogen In Tires Worth It?
Deciding if nitrogen in tires is worth it depends on what you want. If you like the idea of tires staying full longer, lasting longer, and saving gas, then nitrogen might be a good choice. But if you don't want to spend the extra money and you don't mind checking your tires often, then regular air-filled tires might be enough.
I personally do not use nitrogen-filled tires, nor do I recommend them. I also don't attempt to talk anyone out of using nitrogen gas either. My personal opinion is that the benefits don't warrant the extra cost and inconvenience, but some people may feel differently. If you have easy and free access to a nitrogen refill station, it could be worth it for you.
Green tire caps aren't a status symbol. A green cap just lets others know the tire is filled with nitrogen and to be sure to top it up with nitrogen gas instead of ordinary air.
Resources
Below are some links you may find helpful when learning about tires
Final Thoughts
Green caps on tires mean the tire is filled with nitrogen. This can be good because it helps tires stay full longer, last longer, and save gas. But, there are some bad things, like it's harder to find places to fill your tires with nitrogen, and it costs more money.
In the end, deciding to use nitrogen in your tires depends on what you think is important and how much money you want to spend. If you believe the good things about nitrogen-filled tires are worth it, then it might be a good choice for you. If not, regular air-filled tires can still work just fine.