Ever walked out to your car on a frosty winter morning only to see that pesky tire pressure light on your dashboard? Chances are, you have – and you're not alone! But do you really understand what's going on, or do you just cross your fingers and hope that the light goes off once you start driving?
Low Tire Pressure In Cold Weather

Cold weather causes the air in your tires to contract, which results in lower tire pressure. When tire pressure drops below 25% of recommended, your vehicle's Tire Pressure Monitoring System (TPMS) triggers a warning light.
In this article, we're diving deep into the world of tire pressure in cold weather, from understanding the science behind it, to identifying low pressure, maintaining the correct pressure, and debunking common myths. We'll even explore how low tire pressure affects your car's performance and your safety.
Let's take a closer look.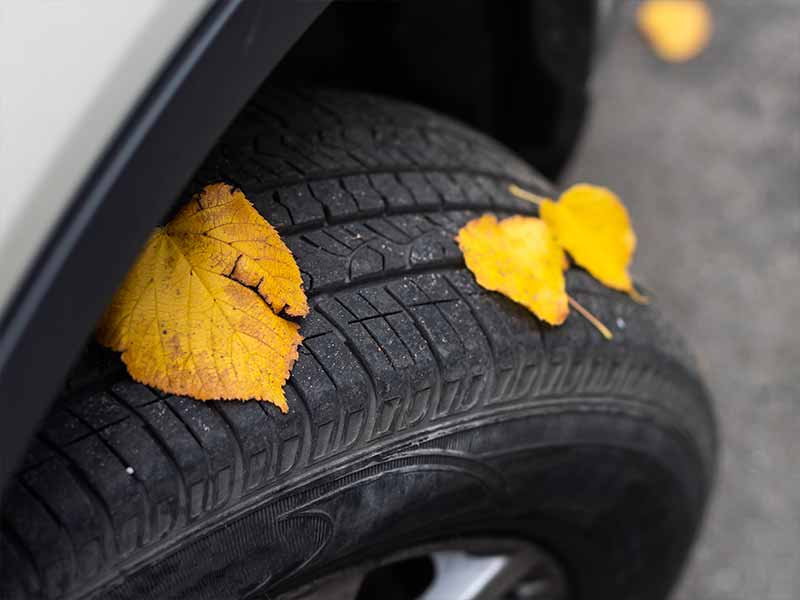 How Cold Weather Affects Tire Pressure
You know how a balloon shrinks when you put it in the fridge? Well, the same kind of thing happens with your tires in cold weather. Here's why:
Temperature and Pressure Relationship: There's a fancy law in physics called Gay-Lussac's Law (don't worry, no pop quiz later). It tells us that the pressure of a gas is directly related to its temperature. So when temperature drops (like on cold winter days), the pressure in your tires drops too. It's as simple as that!
Temperature Fluctuations: Now, you might be thinking, "But the temperature changes all the time, from day to night, or when I drive my car". True, but here's the deal. Your car's tire pressure is set when the tires are cold, known as 'cold pressure'. The recommended tire pressure in your owner's manual takes into account the fact that the pressure will increase as the tires heat up from driving.
Recommended Tire Pressure: Winter vs Summer
Depending on the season, your tire pressure needs can change. Here's what you need to know:
Winter: In the winter, as the temperature drops, so does your tire pressure. You might need to inflate your tires a bit more than usual to keep them at the correct pressure.
Summer: When summer comes along, the opposite happens. As the temperature rises, so does your tire pressure. You might need to let a bit of air out of your tires to prevent overinflation.
So, the changing seasons might mean a bit more work for you to maintain the correct tire pressure. But, like getting your favorite cozy winter jacket or those cool sunglasses out as the seasons change, your car needs a bit of seasonal prep too!
Does Cold Weather Affect Tire Pressure Sensors?
The answer is no! The cold weather doesn't directly affect the sensors themselves. But, since cold weather can lower your tire pressure, it can cause your Tire Pressure Monitoring System (TPMS) to alert you. That's your TPMS doing its job! It's like your tire's personal alarm clock saying "Wake up, we need more air!"
Identifying Low Tire Pressure
So, how can you tell if a tire is flat or just low on air? It might seem a bit tricky, but here are some signs to look out for:
Looks Deflated: If your tire looks squishy and deflated – not round and firm – it might just need some air.
Feels Different: Driving a car with low tire pressure feels different. It might be harder to steer, or your car might seem to sway or lean more than usual when you're turning or changing lanes.
TPMS Light: The easiest sign is the TPMS light on your dashboard. If it's on, check your tire pressure.
Remember, if you're unsure, it's always a good idea to use a tire pressure gauge to check.
Why Only One Tire Might Lose Air
Have you ever wondered why only one tire might lose air in cold weather? Here are a few possible reasons:
Punctures: The most common reason for one tire losing air is a puncture. Even a tiny hole can slowly let air out of your tire.
Valve Stem Leaks: The valve stem is where you pump air into the tire. If it's damaged or leaking, it could be the culprit.
Bead Leaks: The bead is where the tire seals against the rim. If it's not sealed properly, air can escape.
Remember, if only one tire is losing air frequently, it's a good idea to have it checked out at a tire shop.
The Low Tire Pressure Light
Your car's TPMS light is a little hero that lets you know when your tire pressure is too low. But what does "too low" mean?
Well, if your tire pressure is 25% below the manufacturer's recommended level, your TPMS light will come on. It's not just a friendly suggestion – it's a warning that you need to inflate your tires to the correct pressure as soon as possible.
Remember, every car's TPMS light can look a little different, so check your owner's manual to know what yours looks like.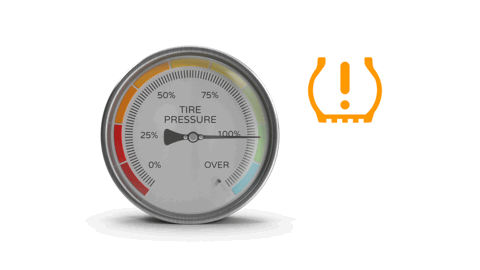 How to Maintain Correct Tire Pressure in Cold Weather
Alright, now that we've mastered the art of identifying low tire pressure, let's move on to the nitty-gritty: how to maintain the right tire pressure, especially when Mother Nature decides to crank down the thermostat. Let's go!
The Right PSI in Cold Weather
The right PSI (pounds per square inch) for your tires in cold weather is… drumroll, please… the same as in warm weather! That's right, the recommended tire pressure doesn't change with the seasons. You can find this magic number in your owner's manual or on a sticker inside your car's door frame.
But remember, cold air can cause your tire pressure to drop, so you might need to inflate your tires more often in the winter to keep them at the correct PSI. So keep that tire pressure gauge handy!
How to Check Your Tire Pressure
Let's do a quick recap on how to use that tire pressure gauge:
Make sure your tires are 'cold' (i.e., you haven't driven for at least 3 hours).
Remove the valve cap from your tire.
Press the tire pressure gauge onto the valve.
Read the PSI on the gauge.
Compare it to the recommended PSI from your owner's manual.
It's like taking your car's pulse – quick and easy!
Adding Air to Your Tires
So, you've checked and your tire pressure is lower than the recommended PSI. Now what? You add air, of course! Here's how:
Find an air compressor. You might have one in your garage, or you can use one at a gas station.
Attach the hose from the air compressor to your tire's valve stem.
Add air in short bursts, checking the pressure with your gauge after each burst.
Stop when your tire's pressure matches the recommended PSI.
Remember, it's always better to add a little less air than you think you need, then check and add more if necessary. You don't want to overinflate your tire!
The Owner's Manual: Your Guide to the Correct Pressure
Your owner's manual is like your car's personal diary. It's full of all sorts of useful information, including the recommended tire pressure. So if you've lost your manual, try to find a copy online. It's definitely worth a read!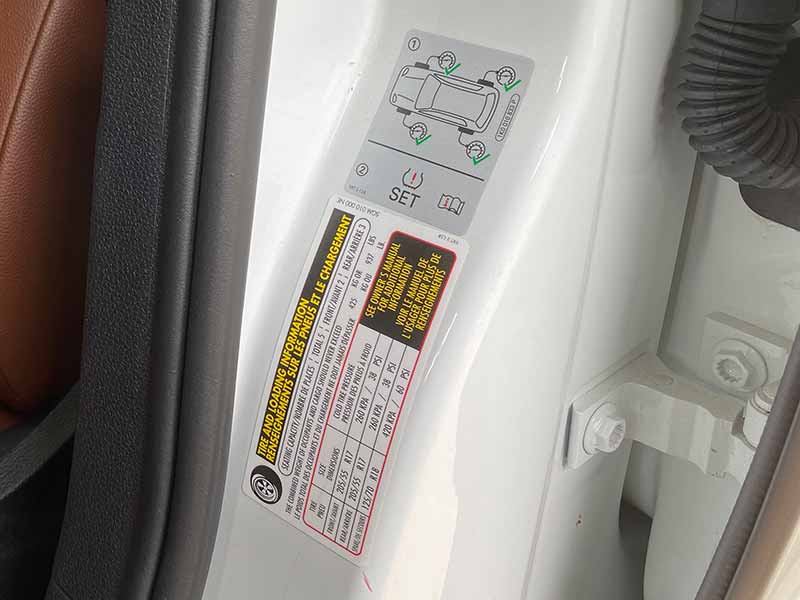 How Low Tire Pressure Affects Your Car Or Truck
Okay, now that we've got all those technical aspects out of the way, let's look at why maintaining the right tire pressure is so important. Get ready to see how low tire pressure impacts your car (and your wallet).
Fuel Efficiency: More Air, Less Gas
Keeping your tires at the recommended pressure is a little like going on a diet. When your tires are properly inflated, they don't have to work as hard, which means your car uses less gas.
But when the tire pressure is too low, your tires make more contact with the road, and your car has to work harder to keep moving. This leads to poor fuel economy – you'll be spending more on gas, and nobody wants that!
Tire Lifespan: Low Pressure = Shorter Life
Think of your tires like a pair of good sneakers. If they're too tight or too loose, they won't be comfortable and they'll wear out faster. It's the same with your tires.
Low tire pressure means your tires wear out unevenly and faster. And that means you'll have to replace them sooner – another hit to your wallet.
Safety: Stay in Control
Finally, let's talk safety. Proper tire pressure gives you better handling and stability when you're driving, which means you can control your car better.
Low tire pressure, on the other hand, can make your car handle poorly, which could lead to accidents. So maintaining the correct tire pressure is a key part of keeping you and your passengers safe.
To summarize, maintaining the correct tire pressure:
Improves your gas mileage (saving you money)
Extends the life of your tires (also saving you money)
Keeps you safer on the road (priceless)
Remember, the next time you're rushing out to your car on a cold, frosty morning, take a minute to check your tire pressure. It's a small task that has a big impact!
Resources
Below are some links you may find helpful when learning about tires
Final Thoughts
Cold weather affects tire pressure by causing the air inside your tires to contract, leading to a drop in pressure. Your car's TPMS light alerts you when tire pressure is too low – a 25% drop below the manufacturer's recommended level. Checking your tire pressure regularly, especially in winter, is crucial, and you can find the recommended PSI in your owner's manual or on a sticker inside your car's door frame. It's a myth that you should overinflate your tires in winter; always maintain the correct tire pressure.
But why does all this matter? Because maintaining the right tire pressure improves your gas mileage, extends the life of your tires, and above all, keeps you safer on the road. So the next time that frosty morning rolls around, take a moment to check your tire pressure.
Good luck and happy motoring.