Ever had that uneasy feeling at the gas station, wondering if you're putting too much air into your tire? Overinflating can be just as bad as underinflating, and getting it just right can sometimes feel like a guessing game. But, with the right knowledge, ensuring the correct tire pressure becomes a breeze.
How To Know When To Stop Putting Air In A Tire

To know when to stop putting air in a tire, always refer to the recommended tire pressure for your vehicle, typically found on a sticker inside the driver's door or in the vehicle's manual. Use a reliable tire pressure gauge to check and ensure you're within the recommended range.
In this article, we'll delve deep into understanding the importance of recommended tire pressure, the basics of using a tire pressure gauge, how to efficiently check and adjust tire pressure at gas stations, and the benefits of the Tire Pressure Monitoring System (TPMS).
Let's take a closer look.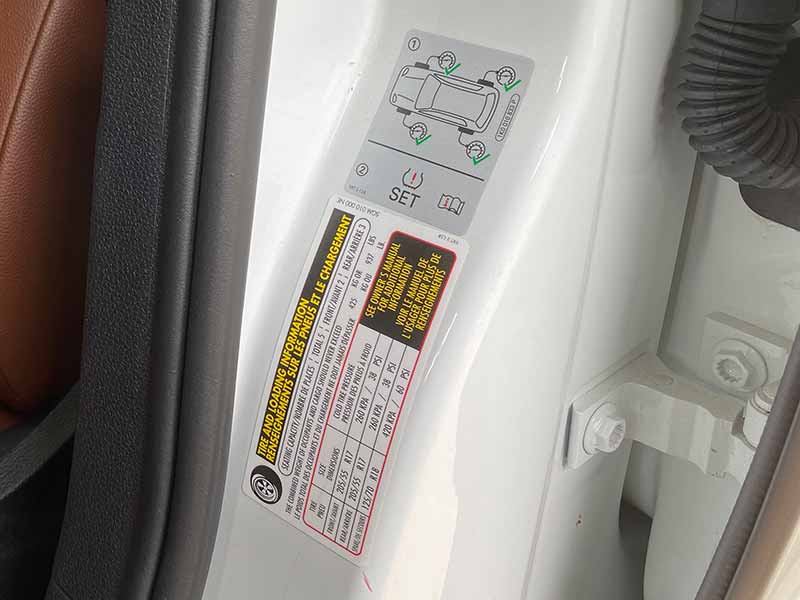 Understanding Recommended Tire Pressure
Tire pressure is like the amount of air inside your tire. Think of it like blowing up a balloon. Too much air, and the balloon might pop. Too little, and it won't float. Your car's tires are similar. They need just the right amount of air to work best.
What is "Recommended Tire Pressure"?
Every car or truck has a special number called the "recommended tire pressure." This number tells you how much air should be in your tires. It's not the same for all cars or trucks. This number is chosen by the people who made your vehicle. They think it's the best amount of air for your tires.
Where to Find It: This special number is usually on a sticker inside the driver's door. If you open your door and look around the edge, you might see it. If not, you can also find it in the vehicle's manual. That's the book that comes with your car or truck.
Why It's Important
Having the right amount of air in your tires is very important. Here's why:
Safety: Tires with the right amount of air can grip the road better. This means you can stop quickly if you need to. It also means your car won't slide around on wet roads.
Saving Money: Tires with the right amount of air don't wear out as fast. They can also help save gas. So, you won't have to buy new tires or gas as often.
Comfort: Your ride will feel smoother and more comfortable.
Front and Rear Tires
Some cars and trucks have different recommended pressures for the front and rear tires. This is because the front and back of your vehicle can weigh different amounts. For example, the engine is usually in the front, so the front tires might need more air.
When you check your tire pressure, make sure to look at the numbers for both the front and rear tires. And remember, it's always a good idea to check all four tires.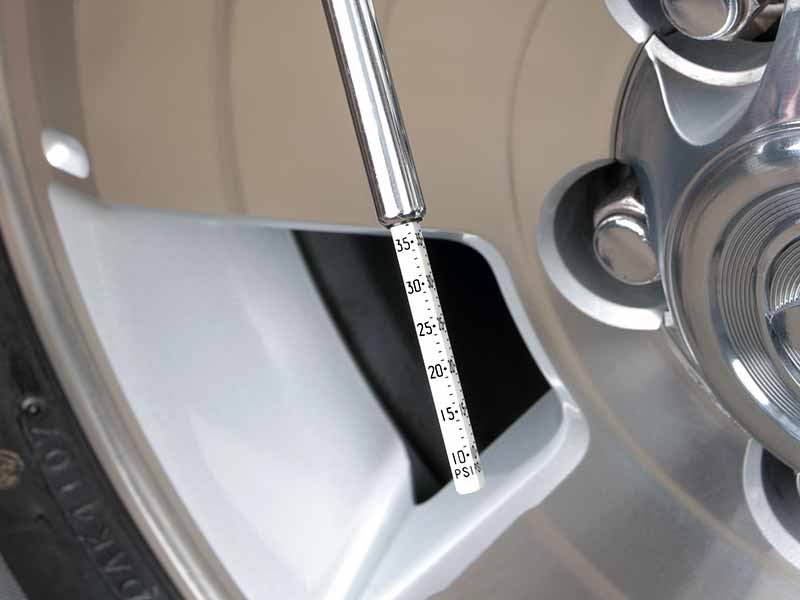 The Basics of Using a Tire Pressure Gauge
A tire pressure gauge is a tool that tells you how much air is in your tires. It's like a thermometer, but instead of telling you the temperature, it tells you the pressure of the air inside your tire.
Different Types of Gauges
There are a few different types of tire pressure gauges. Here are the most common ones:
Stick-Type Gauges: These look a bit like a pen. When you use it, a stick pops out with numbers on it. The number that lines up with the end of the gauge tells you the tire pressure.
Digital Gauges: These have a screen that shows you the tire pressure as a number. They need batteries to work.
Dial Gauges: These have a round face with a needle, kind of like a clock. The needle points to the tire pressure.
From my experience, digital gauges are often easier to read and can give more accurate readings. I remember helping a young driver who was confused by her stick-type gauge. When we tried a digital one, she found it much simpler.
How to Use a Tire Pressure Gauge
Using a tire pressure gauge is easy. Here's a step-by-step guide:
Remove the Cap: Every tire has a small cap on the valve. It's usually black or gray. Twist it off and keep it safe. You'll need to put it back later.
Place the Gauge on the Valve: Push the end of the gauge onto the tire valve. You might hear a hiss of air at first, but that's okay.
Read the Pressure: If you're using a stick-type gauge, look at where the stick stops. That's your tire pressure. If you're using a digital gauge, read the number on the screen. For a dial gauge, see where the needle points.
Replace the Cap: Don't forget to put the cap back on the valve. It keeps dirt out and helps prevent air from leaking.
I always suggest checking your tire pressure when the tires are cold. This means you should check them in the morning or after your car has been sitting for a few hours.
Keeping Your Gauge Handy
It's a good idea to keep a tire pressure gauge in your car. That way, you can check your tires whenever you need to. Some people keep theirs in the glove box or a door pocket.
Checking and Adjusting Tire Pressure at Gas Stations
Gas stations are convenient places to check and adjust your tire pressure. Most of them have air pumps that you can use, either for free or for a small fee.
Finding the Air Pump
When you pull into a gas station, look around for a machine that says "Air" or has a picture of a tire on it. This is the air pump. It's usually near the gas pumps, but sometimes it's on the side or at the back of the station.
How to Use the Gas Station's Equipment
Using the air pump at a gas station is easy. Here's how:
Park Close to the Pump: Make sure your tires are close enough to the air hose. You don't want to stretch the hose too much.
Read the Instructions: Some air pumps are different from others. There might be instructions on the machine. Give them a quick read.
Insert Money (if needed): Some air pumps are free. Others need coins or a credit card. If the machine asks for money, put it in.
Check Your Tire Pressure: Just like before, remove the cap from the tire valve and use the gauge on the air pump to check the pressure.
Add Air if Needed: If your tire needs more air, push the hose onto the valve. You'll hear air going into the tire. Check the pressure every few seconds to make sure you don't add too much.
Finish Up: Once all your tires are at the right pressure, put the caps back on the valves. And don't forget to put the air hose back where you found it.
Things to Remember
Tire Temperature: If you've been driving for a while, your tires might be warm. Warm tires can give a higher pressure reading than they really have. If you can, try to check your tire pressure when they're cold.
All Four Tires: Don't forget to check all four tires. Even if one looks fine, another might be low on air.
Air is Free (Sometimes): Some gas stations offer free air. Others charge money. If you're not sure, you can ask someone who works at the station.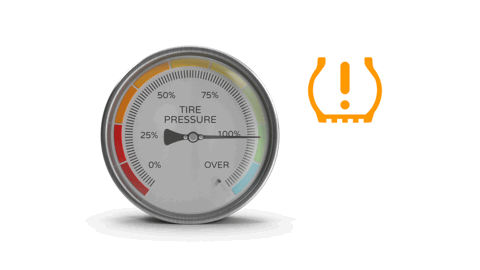 Advanced Monitoring: The Tire Pressure Monitoring System (TPMS)
The Tire Pressure Monitoring System, or TPMS for short, is a special system in your car or truck. It keeps an eye on your tire pressure for you. If the air in your tires gets too low or too high, this system will let you know with a warning light on your dashboard.
What is TPMS and How Does It Work?
TPMS is like a guardian for your tires. It uses sensors, either inside your tires or on the valves, to check the air pressure. If the pressure isn't right, the system sends a message to your car's computer. Then, a light or a message pops up on your dashboard.
Why TPMS is Useful
Here are some reasons why having TPMS in your vehicle is a good idea:
Safety First: If a tire loses a lot of air quickly, it can be dangerous. TPMS warns you before this becomes a big problem.
Saves Money: Tires that have the right amount of air last longer and can save you gas. TPMS helps you keep them at the right pressure.
Peace of Mind: With TPMS, you don't have to worry about checking your tire pressure all the time. The system does it for you.
Things to Remember About TPMS
Not a Replacement: Even though TPMS is great, it's not perfect. It's still a good idea to check your tire pressure yourself every now and then.
Battery Life: The sensors in TPMS use batteries. Over time, these batteries can run out. If your TPMS light comes on and stays on, it might mean a sensor battery is low.
Different Cars, Different Systems: Not all TPMS systems are the same. Some might warn you if the pressure is a little bit off. Others might wait until it's really low. Always check your vehicle's manual to understand how your TPMS works.
Resources
Below are some links you may find helpful when learning about tires
Final Thoughts
By understanding the recommended tire pressure for your vehicle and using a reliable gauge, you can ensure optimal tire performance. 
Regular checks, especially when using gas station equipment, can prevent overinflation and underinflation. And while systems like TPMS provide an added layer of security, a manual check now and then is always a good practice.
Good luck and happy motoring.