Ever been stranded on the side of the road with a flat tire, feeling helpless and frustrated? You're not alone. Flat tires are more common than you might think, and what you don't know about them could put you at risk.
Flat Tire Statistics

1 in 5 Drivers: Approximately one in every five drivers will experience a flat tire each year.
Most Common Cause: Nearly 70% of flat tires are caused by punctures or slow leaks.
Fewer Spares: 1/3 or more of new vehicles don't come with spare tires.
DIY Skills Lacking: Surprisingly, less than 50% of Americans say they can confidently change a flat tire.
Technology to the Rescue: The use of Tire Pressure Monitoring Systems has led to a 55% decrease in tire-related crashes.
Run Flat Popularity: Around 1 in 3 new cars are now equipped with run flat tires as a safety feature.
In this article, we explore key statistics on flat tires, discuss common causes, and offer tips for prevention and handling. We also examine the importance of Tire Pressure Monitoring Systems (TPMS) in modern vehicles.
Let's take a closer look.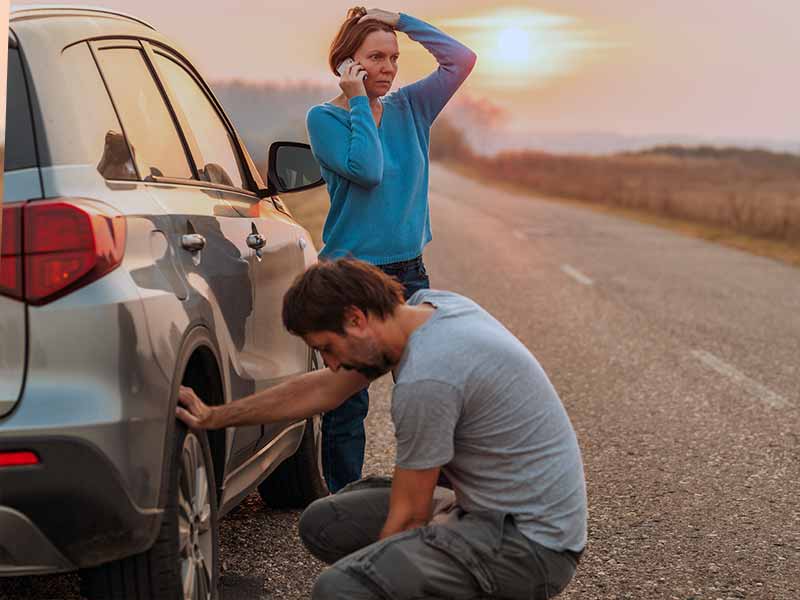 The Frequency of Flat Tires
According to data from organizations like AAA and other transportation agencies, flat tires are a common problem for American drivers. AAA responds to about 4 million calls about flat tires each year. That's a lot! Understanding how often flat tires happen and who they happen to can help you prepare better.
Who Experiences Flat Tires?
Average Drivers: You might be surprised to know that the average person can expect to experience up to 5 flat tires in their lifetime.
New Drivers: If you're a new driver, you're actually less likely to experience a flat in your first few years of driving, mainly because you might not be driving as much or as far as more experienced drivers.
Experienced Drivers: Those who spend more time on the road—like truck drivers or salespeople—might face flat tires more often simply due to more "tire time" on the road.
AAA Flat Tire Statistics
AAA is a reliable source when it comes to roadside emergencies. Their statistics show:
Over 30% of the roadside assistance calls they receive are related to tires.
Among these, nearly half are for flat tires specifically.
Key Takeaways from AAA Data
Flat tires are common: They make up a large portion of roadside assistance calls.
Prevention matters: Many of these incidents could be avoided with proper tire maintenance.
Seasonal and Regional Differences
Believe it or not, the frequency of flat tires can vary based on the season and where you live.
Summer: Higher temperatures can affect your tire pressure, increasing the risk of a flat.
Winter: Cold weather can also change your tire pressure but in the opposite way, making them under-inflated and more susceptible to flats from road debris.
Urban vs Rural: If you're driving in a city, the chances of getting a flat tire from things like potholes or road debris are higher compared to driving in rural areas.
Gender and Age Factors
Younger Drivers: They are more likely to call for roadside assistance rather than fixing the flat themselves, according to AAA.
Older Drivers: More experienced and generally have a better understanding of how to handle a flat.
Gender: Surprisingly, the data shows little difference between men and women when it comes to the frequency of flat tires. What does vary is the likelihood of changing the tire oneself versus calling for assistance.
Common Causes of Flat Tires
Flat tires are a headache for everyone, but knowing the main reasons why they happen can be your first line of defense. Not all flat tires are created equal, and different factors can lead to different types of tire damage.
Types of Flat Tires
Slow Leak: The tire loses air gradually over time.
Blowout: A sudden loss of air pressure leading to an "explosion" of the tire.
Puncture: A sharp object pierces the tire, causing it to deflate.
The Most Frequent Culprit: Tire Punctures
Tire punctures are the most common cause of flat tires. Here's what usually causes these punctures:
Nails and Screws: These are the usual suspects, often found on roadways and construction zones.
Glass: Broken glass can also puncture a tire but is less likely to cause immediate deflation.
Other Debris: Metal pieces, wood, and even large rocks can cause punctures.
How to Avoid Punctures
Regular Checks: Make it a habit to inspect your tires before long journeys.
Avoid Construction Zones: These areas are hotspots for nails and screws.
Mechanical Failures
Sometimes, the tire itself has issues due to poor construction or wear and tear. These can include:
Tire Bead Leaks: The tire bead is the edge of the tire that sits on the wheel. If it's damaged, it can cause a leak.
Valve Stem Issues: The small protrusion where you inflate the tire can get damaged or loosen, causing a slow leak.
What to Look For
Age of Tire: Older tires are more prone to mechanical failures.
Quality: Cheaper tires might not have the same quality controls, increasing your risk of a flat due to mechanical failure.
Impact-Related Causes
Sometimes, the world around you can be the enemy of your tire. Impact-related causes include:
Potholes: Hitting a deep pothole can cause immediate and severe tire damage.
Curbs: Scraping or hitting a curb at high speed can also damage a tire.
Preventive Measures
Driving Style: Being cautious and aware while driving can help you avoid impact-related causes.
Route Planning: Using apps to find roads in good condition can also be a good preventive measure.
Environmental Causes
Last but not least, your surroundings can affect your tire's health.
Temperature: As mentioned in the previous section, both hot and cold temperatures can affect tire pressure.
Road Conditions: Slippery or rough roads can also be detrimental to your tires.
Staying Environmentally Aware
Check the Weather: Knowing what's in store can help you prepare.
Tire Pressure: Check it regularly, especially when the weather changes.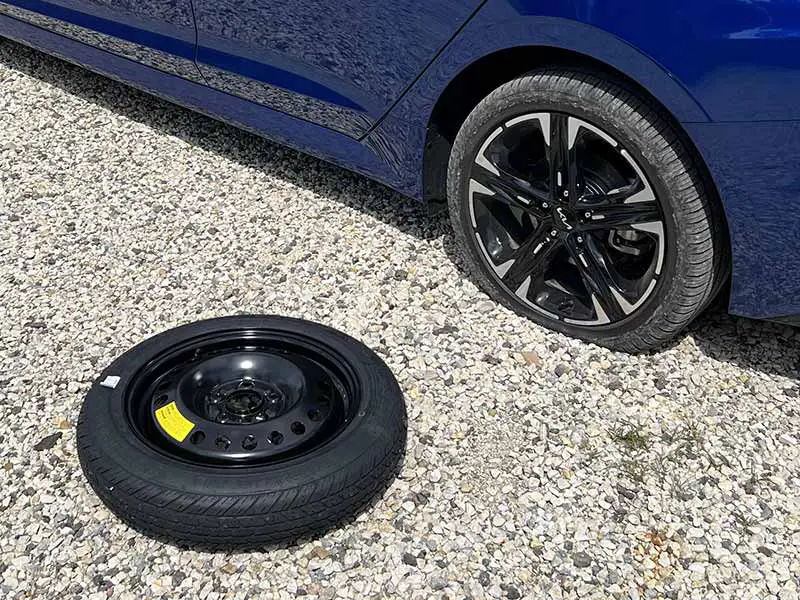 Being Prepared for a Flat Tire
Nobody plans for a flat tire, but you can plan to be prepared for one. Knowing what tools to have and what skills to acquire can be a lifesaver when you're stranded on the side of the road.
Spare Tires
In the United States, the trend of new cars not including a traditional spare tire has been growing. Various estimates suggest that about 36% or more of new cars sold in the U.S. come without a spare tire, opting instead for alternatives such as run-flat tires or tire repair kits.
This practice is especially common in certain types of vehicles, such as hybrids or electric cars, where reducing weight can significantly impact fuel efficiency or range. Luxury vehicles and sports cars are also more likely to feature run-flat tires instead of carrying a spare.
Tools You Need in Your Car
Before you hit the road, make sure you have these essential items in your vehicle:
Spare Tire: Also known as a "donut," this will replace your flat tire temporarily until you can get to a shop.
Lug Wrench: This is the tool you'll use to remove the lug nuts from your flat tire.
Tire Iron: Sometimes a separate tool, but often the other end of a lug wrench, this is used to pry off the flat tire from the wheel.
Jack: This tool will lift your car off the ground so you can change the tire.
Why Each Tool Matters
Spare Tire: It's your immediate solution for getting back on the road.
Lug Wrench and Tire Iron: Without these, removing your flat tire will be nearly impossible.
Jack: You'll need to lift your car safely to change the tire effectively.
The Skills You Need
Changing a tire is something everyone can learn. It's surprising that according to some surveys, fewer than 60% of Americans feel confident changing a flat tire.
Steps to Change a Flat Tire
Find a Safe Spot: Pull over to a safe area away from traffic.
Turn on Hazard Lights: Alert other drivers that you're stopped.
Use the Jack: Place the jack under the car and lift it off the ground.
Remove Lug Nuts: Use the lug wrench to remove the lug nuts from the flat tire.
Replace Tire: Put the spare tire on and secure it with the lug nuts.
Lower Jack: Bring the car back down to the ground.
When to Call for Help: Roadside Assistance
While it's great to know how to change a tire yourself, sometimes the situation calls for professional help.
Complex Breakdowns: If you have more than one flat tire, or if the car is not in a safe position to change the tire, call for help.
Unfamiliarity: If you've never changed a tire and don't feel comfortable doing it, it's better to get assistance.
Lack of Tools: Maybe your car didn't come with a spare, or your jack is missing; these are good reasons to call roadside assistance.
Tire-Related Crashes
In some unfortunate situations, a flat tire can cause you to lose control of your vehicle. If a crash occurs, always call for professional help as the vehicle might be unsafe to drive even after changing the tire.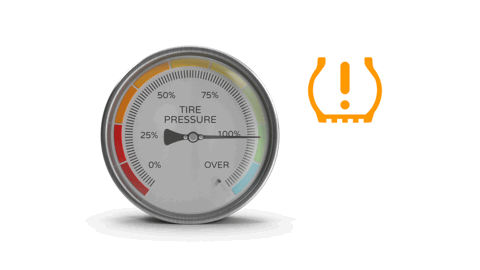 Importance of Tire Pressure Monitoring Systems
Tire Pressure Monitoring Systems (TPMS) have become increasingly crucial in today's vehicles, especially considering the changes in tire design and material. This section will delve into why TPMS is essential, focusing on its role in modern tires with shorter and stiffer sidewalls, as well as its integration in run flat tires.
Modern Tires: Shorter and Stiffer Sidewalls
Contemporary tires are engineered for performance and fuel efficiency, leading to designs with shorter and stiffer sidewalls. While these design changes have their advantages, they also make it difficult to "feel" when a tire is underinflated.
Why is This a Concern?
Difficulty in Detection: With stiffer sidewalls, the classic signs of a low-pressure tire, such as a 'spongy' feel while driving, are less noticeable.
Increased Risk: Failure to detect low tire pressure increases the likelihood of tire failure or even a catastrophic blowout.
Role of TPMS in Monitoring Tire Pressure
Given the challenges with modern tire designs, TPMS serves as an invaluable safety tool.
How Does TPMS Work?
Sensors: TPMS uses sensors in each tire that monitor real-time tire pressure.
Alerts: If the pressure drops below a specific level, an alert appears on your vehicle's dashboard.
TPMS in Run Flat Tires
Integrated System: TPMS is often integrated into run flat tires, which are designed to temporarily run even after a puncture.
Added Layer of Safety: While run flat tires allow you to continue driving for a short distance after a puncture, TPMS will alert you immediately, allowing you to make an informed decision on how to proceed.
Dangers of Driving on Low Tire Pressure
It's crucial to understand that low tire pressure is not just an issue of fuel efficiency or tire longevity; it's a significant safety risk.
Tire Failure: Consistent driving on low-pressure tires can lead to tire failure, as the uneven distribution of weight may cause the tire to deform.
Catastrophic Blowouts: In extreme cases, low tire pressure can result in a blowout, causing a loss of vehicle control and potentially leading to a severe accident.
Resources
Below are some links you may find helpful when learning about tires
Final Thoughts
Flat tires are a common yet preventable occurrence that affects millions of drivers each year. The key to mitigating the risks lies in understanding the causes and taking proactive steps for prevention. Regular tire checks, TPMS, and even knowing when to call for roadside assistance can be lifesavers. 
As technology advances, new systems like TPMS are making it easier to maintain tire health, especially in modern tires with stiffer sidewalls. In a world where less than half of Americans feel confident in their ability to change a flat tire, knowledge truly is power.
Good luck and happy motoring.