Driving on the open highway can be a satisfying experience, but the condition of your tires can dramatically influence your vehicle's performance, safety, and fuel efficiency. Getting the tire pressure spot-on can make a world of difference.
Best Tire Pressure For Highway Driving

The best tire pressure for highway driving to maximize miles per gallon (MPG) is typically the manufacturer's recommended tire pressure for your vehicle. It provides an optimal balance between tire performance, safety, and fuel efficiency.

While slightly higher pressure can reduce fuel consumption, it also reduces traction and causes uneven tire wear.
In this article, we'll delve into the science behind tire pressure, explain why the recommended tire pressure is important, and explore what overinflated and underinflated tires feel like. We'll guide you on how to check and adjust tire pressure, and show you how the correct tire pressure can help maximize your vehicle's MPG.
Let's take a closer look.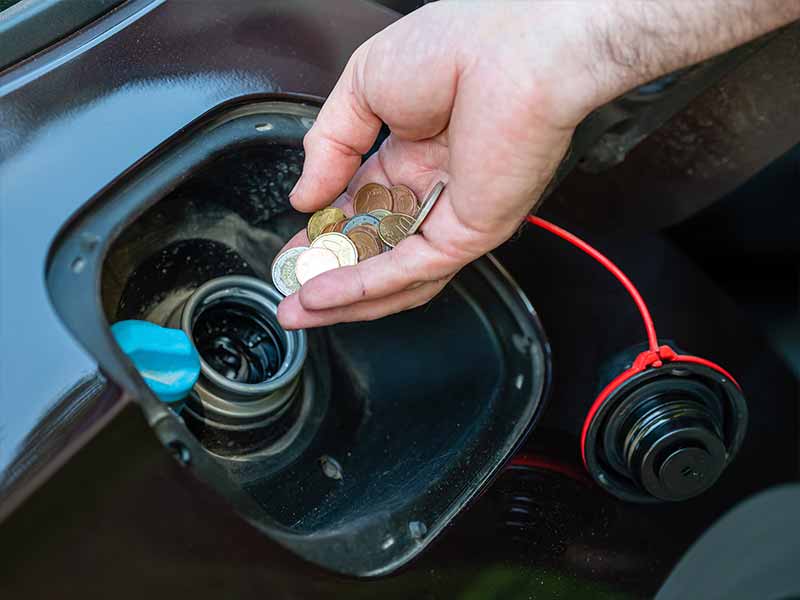 The Science Behind Tire Pressure
Tire pressure, in the simplest terms, is the amount of air in your car's or truck's tires. It's measured in pounds per square inch (PSI). When you pump air into your tires, you're increasing the pressure inside them. This pressure is essential because it supports the weight of your vehicle and affects how your vehicle moves on the road.
The Connection Between Tire Pressure and Fuel Economy
There's a strong link between tire pressure and your vehicle's fuel economy. Here's why:
Rolling Resistance: Tires need to "roll" on the road. When they're at the right pressure, they roll smoothly and with less friction. But if the tire pressure is low, more of your tire's surface touches the road. This increased contact creates more friction or 'rolling resistance.' More rolling resistance means your engine has to work harder, which uses more fuel.
Tire Wear: Your tires wear down over time. When they're not at the right pressure, they can wear out faster. Overinflated tires tend to wear out more in the middle, while underinflated tires wear out more on the edges. Worn-out tires can negatively impact your fuel economy because the irregular surface increases rolling resistance.
Vehicle Performance: The wrong tire pressure can also affect your vehicle's performance. It can make handling more difficult, which could mean you need to accelerate more often to maintain control. This additional acceleration can increase your fuel usage.
How Air Pressure Changes in Tires
Air pressure in your tires isn't always constant. It can change for a few reasons:
Temperature Changes: The air inside your tires expands when it's hot and contracts when it's cold. This change can affect your tire pressure. That's why your tires might seem a bit flat on a cold morning, but just fine in the afternoon sun.
Highway Driving: The friction from driving can heat up your tires. This heating can increase the air pressure inside your tires. So yes, your tire pressure can increase on the highway.
Leaky Tires: Tires aren't 100% airtight. They can lose a tiny bit of air over time. If you have a slow leak, you might notice your tire pressure gradually getting lower.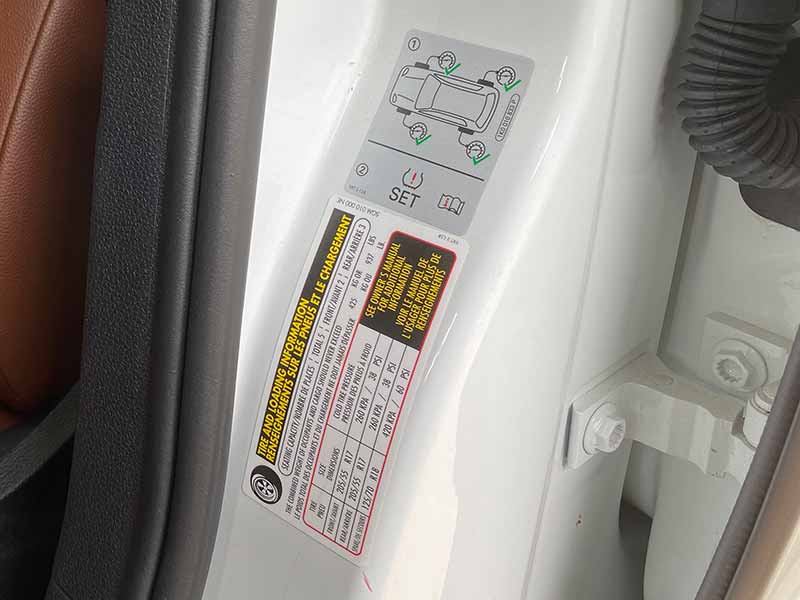 Understanding Recommended Tire Pressure
The term "recommended tire pressure" might sound a little confusing at first, but it's just the air pressure (measured in PSI) that the people who made your vehicle suggest for your tires. They figured out this number based on things like your vehicle's weight, size, and how it's meant to be used.
You can usually find your vehicle's recommended tire pressure in your owner's manual. Sometimes, it's also on a sticker on the driver's side door jamb, or inside the fuel hatch. It'll look something like "32 PSI," which means they recommend you keep your tires inflated to 32 pounds per square inch.
Why You Should Care About Recommended Tire Pressure
Maintaining the recommended tire pressure isn't just about rules, it's about the following:
Performance: Your car or truck was designed to perform best at a certain tire pressure. Sticking to the recommended PSI can help your vehicle handle better, giving you more control when you're driving.
Safety: The correct tire pressure can help your tires grip the road better, making your vehicle more stable. This can make driving safer, especially in bad weather or emergency situations.
Fuel Economy: As we already discussed, the right tire pressure can reduce rolling resistance, which can save you money on gas.
Tire Longevity: Tires can wear out more evenly when they're at the right pressure, which can help them last longer.
Max Tire Pressure Vs Recommended Tire Pressure
When you look at your tire sidewall, you'll see a number indicating the maximum tire pressure. This figure represents the highest amount of air pressure your tire can safely hold. However, it's not the pressure you should inflate your tires to for regular driving, but rather a limit you should not exceed for safety reasons.
The recommended tire pressure is the ideal pressure for your specific vehicle, taking into account factors such as the vehicle's weight, load-carrying capacity, and intended performance characteristics. This is the pressure that will ensure optimal balance between performance, safety, and fuel economy. You can find this information on a label inside the driver's door jamb, in the glove box, or in your vehicle's owner's manual.
Filling your tires to their maximum PSI can lead to a harsh ride, premature tire wear, and in worst cases, a tire blowout. Maintaining the manufacturer's recommended tire pressure ensures a smoother ride, extends your tire's lifespan, and maximizes fuel efficiency.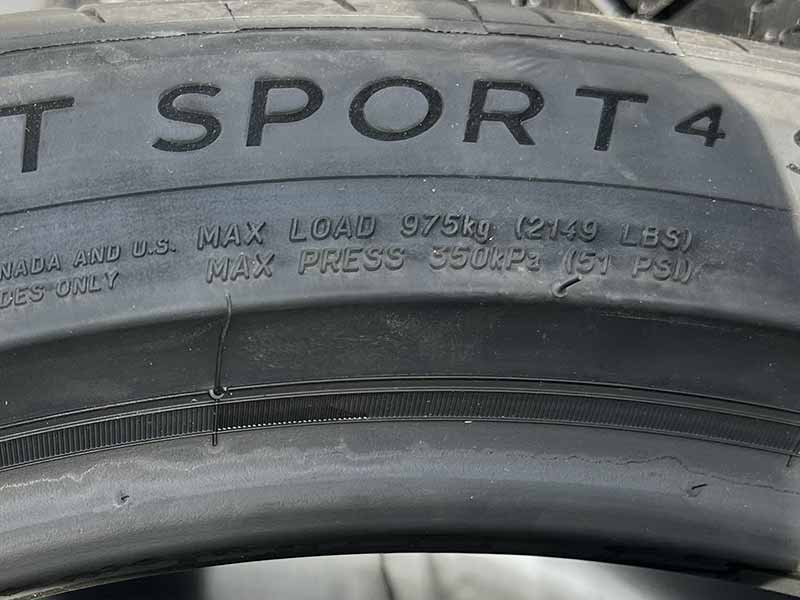 Overinflated Tires Vs Underinflated Tires
The Feel of Overinflated Tires
When your tires are overinflated, it means they're pumped up with too much air. This can make them feel a bit like balloons ready to pop. Here's how this might feel when you're driving:
Your ride might feel "bumpy" or "hard." Overinflated tires don't absorb shocks from bumps in the road as well, so you'll feel those bumps more.
Your vehicle might seem harder to handle, especially when turning corners. This is because overinflated tires have a smaller contact area with the road, which can reduce traction.
The Risks of Overinflated Tires
Overinflated tires aren't just uncomfortable to ride on, they also come with several risks:
They can wear out faster, especially in the middle, because the center of the tire bulges out and contacts the road more.
They're more likely to get damaged by potholes or other road debris.
They can lead to poor traction and increased stopping distances, which might affect your ability to drive safely.
The Feel of Underinflated Tires
Underinflated tires are those that don't have enough air. When you're driving on underinflated tires, you might notice a few things:
Your vehicle might feel sluggish or hard to steer. This is because low tire pressure can make your vehicle work harder to move.
The ride might feel smoother because underinflated tires absorb more shocks from the road.
The Risks of Underinflated Tires
Even though underinflated tires might feel smoother, they come with their own set of problems:
They can wear out faster, especially on the edges. This is because the sides of the tire tend to touch the road more when the tire is underinflated.
They can overheat. Underinflated tires create more friction, which can generate more heat. In extreme cases, this could lead to a tire blowout.
They can reduce your fuel efficiency. The increased rolling resistance of underinflated tires means your engine has to work harder, which can use more gas.
JACO Tire Pressure Gauge With Release Valve
How to Check and Adjust Tire Pressure
Checking Your Tire Pressure
Knowing how to check your tire pressure is crucial. Here's a simple guide:
Get a Tire Pressure Gauge: This is a small tool that measures the PSI of your tires. There are different types, but they all do the same job. Some are digital, while others have a little bar that pops out to show the PSI.
Check the Tires When They're Cold: Remember how we mentioned that heat can increase your tire pressure? That's why it's best to check your tire pressure when your tires are 'cold,' or haven't been driven on for at least a few hours.
Remove the Valve Cap: The valve cap is the little cover on the valve stem, which is the tiny tube sticking out of your tire. Take off the valve cap and keep it safe – you'll need to put it back on later.
Attach the Gauge: Press the tire pressure gauge onto the valve stem. You might hear a little hiss of air, but don't worry – that's normal. The gauge will then show you the tire's PSI.
Adjusting Your Tire Pressure
If your tires aren't at the recommended pressure, you'll need to adjust them. Here's how:
If Your Tires Are Overinflated: Slowly let out some air from the tire by pressing on the tiny pin inside the valve stem. Check the pressure again after a few seconds. Repeat this process until your tires are at the recommended PSI.
If Your Tires Are Underinflated: You'll need to add some air. Many gas stations have air pumps you can use. Just like when you're letting out air, check the pressure regularly to make sure you don't overinflate the tires.
The Role of the Valve Stem
The valve stem on your tire is a small but crucial part. It's basically a door that lets air in or out of your tire. The tiny pin inside it is what you press to let out air. And when you're adding air, the air goes through the valve stem into the tire. Always remember to replace the valve cap after adjusting your tire pressure. This keeps dirt and moisture out of the valve stem, which can help prevent leaks.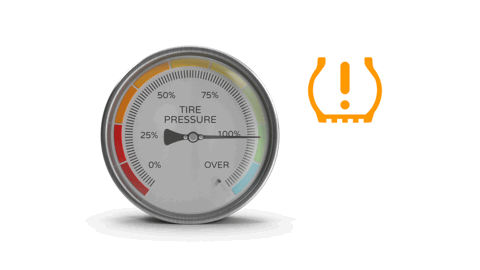 Maximizing MPG with Tire Pressure
Fuel efficiency, often referred to as miles per gallon (MPG), is how far your vehicle can travel on a gallon of fuel. And believe it or not, your tire pressure can significantly impact your MPG. As we've discussed, correctly inflated tires create less rolling resistance, making your vehicle move more efficiently. This can help you get the most miles out of each gallon of fuel.
Steps to Improve MPG with Tire Pressure
Improving your MPG through correct tire pressure isn't rocket science. Here's how you can do it:
Always Maintain Recommended Tire Pressure: Keep your tires inflated to the PSI recommended by your vehicle's manufacturer. This ensures the ideal balance between tire performance and fuel efficiency.
Check Tire Pressure Regularly: Tire pressure can change for many reasons, like temperature changes, tire damage, or simply over time. So, check your tire pressure regularly—at least once a month.
Adjust Tire Pressure as Needed: If you find your tire pressure isn't at the recommended PSI, adjust it. Add air if it's too low or let some out if it's too high.
Consider Your Load: If you're carrying a heavy load or towing something, you might need to adjust your tire pressure. Check your owner's manual for guidance on this.
Keep Your Tires in Good Condition: Regularly inspect your tires for wear and tear. Balding tires or tires with irregular wear patterns can increase rolling resistance, reducing your MPG. If your tires are worn out, it might be time for a new set.
Maximizing MPG: More Than Just Tire Pressure
While tire pressure is vital, remember that maximizing your MPG involves more than just maintaining the correct PSI. Driving habits, like avoiding rapid acceleration and braking, can also help improve your fuel economy. Regular vehicle maintenance, such as timely oil changes and keeping your engine in good condition, also plays a significant role.
Resources
Below are some links you may find helpful when learning about tires
Final Thoughts
When it comes to highway driving, understanding and maintaining the correct tire pressure for your vehicle is crucial. It's not just about meeting manufacturer's guidelines but about maximizing your vehicle's performance, ensuring your safety, and even boosting your fuel economy.
Overinflated and underinflated tires each come with their own set of risks and feel different when driving. Regular checks with a tire pressure gauge and adjustments when necessary can ensure you're hitting the road with the optimum PSI for your specific car or truck. Remember, the best way to maximize your MPG isn't just about the right tire pressure; it also involves smart driving habits and regular vehicle maintenance.
Good luck and happy motoring.