Have you ever stopped to wonder what happens to your old tires once they're no longer roadworthy? We've all been there, changing out old tires for new ones, but the story doesn't end there. With millions of tires discarded every year, we're looking at a significant environmental challenge.
What To Do With Old Tires

When it's time to get rid of old tires, you have a few options. You can recycle them at local recycling centers, dispose of them at tire retailers, or repurpose them into something useful like a tire swing or garden planter.
In this article, we'll delve deep into the world of tire disposal, exploring everything from understanding the problem of improper tire disposal to the process of recycling. We'll provide practical information on where to dispose of old tires, how to handle old tires and rims, and even offer some creative ideas for repurposing tires.
Let's take a closer look.
Where to Dispose of Old Tires
So, you've got a trunk full of old tires. You want to dispose of them properly, but where do you go? Fear not, because there are a number of places that'll take those tires off your hands:
Local Recycling Centers: Many towns and cities have recycling centers that accept old tires. These places are equipped to handle the tire disposal process and will make sure your tires are recycled properly.
Tire Retailers: When you get new tires fitted, the store will often take your old tires for a small fee. They usually have partnerships with recycling facilities, ensuring your tires don't end up in a landfill.
Special Events: Some communities host special recycling events where you can drop off items that aren't typically collected with regular curbside recycling, including tires.
Free Disposal Options: Ditch the Fees
Not a fan of fees? No worries. There are places that will take your old tires for free:
Municipal Drop-Off Sites: Some cities offer free drop-off sites for residents. It's worth checking with your local waste management department to see if this option is available in your area.
Recycling Programs: Certain tire manufacturers and retailers run take-back programs where you can drop off your old tires at no cost. These programs aim to encourage responsible tire disposal.
The Cost of Tire Disposal
There may be times when you need to pay a fee to dispose of your tires. The cost can vary depending on where you live and the disposal method you choose. It's usually a nominal fee per tire, often ranging from $1 to $10.
While there's a cost associated with proper tire disposal, it's a small price to pay when you consider the environmental benefits. Plus, the fee often includes transportation and processing costs, so you know your tires are being taken care of responsibly.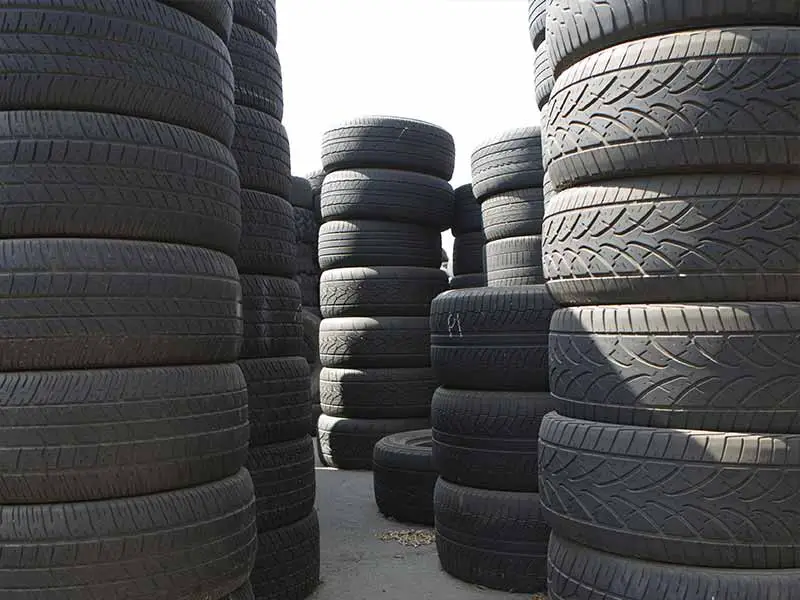 What to Do With Old Tires and Rims
Whether you're changing your tires or upgrading your wheels, here's the lowdown on how to handle those old tires and rims.
Safe Methods to Dispose of Tires and Rims
Before we dive into the specifics, let's cover some basic ground rules:
Don't Dump: We've talked about the problems associated with improper tire disposal, and it's the same deal for rims. Ditching them by the roadside or in a random field isn't cool, folks.
Recycle Responsibly: Both tires and rims can and should be recycled. The exact process varies, but the principle remains the same: aim to give these items a second life rather than sending them to the landfill.
How to Handle Old Tires
As we've discussed earlier, there are several ways to dispose of old tires responsibly. Local recycling centers, tire retailers, and municipal drop-off sites are all good options. Remember, improper disposal is harmful to our environment, so let's make sure we're doing it right!
Dealing with Used Rims
Now, what about those rims? Unlike tires, rims aren't made of rubber – they're usually metal. This means they can be recycled differently:
Metal Recycling Facilities: Most metal recycling facilities will happily accept your old rims. They'll ensure that the metal is properly processed and reused in other products.
Auto Parts Stores: Some auto parts stores will take your old rims, either to refurbish and resell or to recycle.
Scrap Metal Dealers: Rims are pretty hefty and can be worth a bit of cash at a scrap metal dealer. They'll recycle the rims and pay you for the weight of the metal.
Creative Ideas for Repurposing Old Tires
If you've got some old tires lying around and a touch of creativity, there are some pretty awesome ways you can repurpose them. Not only will you be giving your old tires a second life, but you'll also be adding some unique flair to your yard or home!
Tire Swings
What's more nostalgic than a tire swing? All you need is a sturdy tree, some rope, and an old tire, and voila! You've created a playground right in your backyard. It's a fun, cost-effective way to reuse a tire, and it'll provide hours of entertainment.
Create a Garden Planter
Old tires can make quirky and colorful planters for your garden. Simply paint the tire in a vibrant color, fill it with soil, and plant your favorite flowers or edible plants. They're great for adding a pop of color and charm to your yard.
Craft a Pet Bed
Your furry friend can benefit from your old tires too! By adding a cushion to a painted tire, you've got yourself a cozy and stylish pet bed. Your dog or cat will love their new chill-out spot, and you'll love the cost savings.
Build an Obstacle Course
This one's perfect for the kids (or the young at heart). Use several tires to build a fun and challenging obstacle course in your backyard. They can be used for jumping, crawling, or weaving – the only limit is your imagination!
Construct Furniture
Believe it or not, old tires can be transformed into trendy furniture pieces. From outdoor ottomans to coffee tables, all it takes is a bit of creativity and elbow grease. It's a great way to add some unique and sustainable pieces to your home decor.
Remember, when you're repurposing tires, be mindful of safety. Always ensure that the tires are clean and free from sharp edges. If you're painting them, choose non-toxic paint to keep both humans and animals safe.
Understanding The Problem with Improper Tire Disposal
Tires are an integral part of our lives. Without them, our cars and trucks wouldn't be going anywhere. But, when they get old and worn, they can't just be tossed aside like a candy wrapper. Improper disposal of tires has major implications for both our environment and our health. Let's break this down.
Tires and Landfills: A Bad Combo
First off, we need to talk about landfills. These are vast sites where our everyday waste ends up. It might seem like a decent solution to chuck our old tires in there. After all, out of sight, out of mind, right? Unfortunately, it's not that simple. Here's why:
Space Issues: Tires are bulky and take up a lot of space. With millions of tires being discarded every year, landfills can quickly run out of room.
Health Hazards: As tires break down, they release harmful chemicals that can seep into the ground. This process, known as leaching, can contaminate soil and groundwater, leading to potential health problems.
Fire Risk: Old tires can catch fire, and once a tire fire starts, it's tough to put out. It releases toxic smoke into the atmosphere, causing air pollution and posing health risks to nearby residents.
The Chemical Concern
Next, let's talk about chemicals. Tires are made from rubber, but they also contain various chemicals to make them more durable and perform better on the road. Some of these chemicals, however, aren't too friendly to the environment or to us. When we dispose of tires incorrectly, these chemicals can leach into the ground and potentially end up in our water supply. Yikes!
Edible Plants and The Ground
Our gardens and farms aren't immune to the impact of tire waste either. The chemicals that leak from improperly disposed tires can affect the soil quality. This, in turn, can impact the growth of edible plants. And we're not just talking about a couple of sad-looking tomatoes here. Poor soil quality can decrease crop yields and even make our homegrown fruits and veggies unsafe to eat.
Research and Tire Disposal
Lastly, we've got to look at the big picture. Research shows that improper tire disposal has widespread, long-term effects. It's not just about filling up landfills or contaminating our backyards. It's about how our actions today affect our planet and health tomorrow. By understanding and addressing this problem, we can make better choices that protect our environment and future generations.
What Happens When You Recycle Tires
When you recycle a tire, it doesn't just disappear into a black hole, never to be seen again. Instead, it embarks on a journey to become something new and useful. So, what actually happens to a tire when you recycle it? Let's check it out:
Step 1: Collection: The journey begins at the drop-off point. This could be your local recycling center, a tire dealership, or even a special recycling event. From there, the old tires are gathered and transported to a recycling facility.
Step 2: Sorting: Once they reach the facility, the tires are sorted based on size and type. This helps in determining the best method for recycling each tire.
Step 3: Processing: The sorted tires are then processed. This involves removing the metal rims and other components, and then shredding the remaining rubber into small pieces, often referred to as "crumb rubber."
Step 4: Repurposing: The crumb rubber is now ready to be transformed. It can be used to create a variety of new products, such as playground surfaces, rubber mats, or even asphalt for roads!
The Transformation of Old to New
Just like a caterpillar morphing into a butterfly, recycled tires can take on new forms and serve different purposes. The rubber from old tires can be mixed with other materials to create a range of new products. You'll be surprised by some of the things your old tires can become!
Rubber Mulch: This is a great alternative to traditional wood mulch and can be used in gardens and playgrounds.
Road Material: Crumb rubber is often mixed with asphalt to create a more durable and eco-friendly road surface.
Athletic Tracks: The springy nature of rubber makes it perfect for athletic tracks and fields.
Insulation: Believe it or not, shredded tires can be used as insulation material in construction projects.
Recycling: A Step towards a Cleaner Planet
The process of recycling tires is a step in the right direction. By diverting tires away from landfills, we're not only conserving space but also preventing the release of harmful chemicals into the environment. Plus, the use of recycled rubber in creating new products saves on new materials and energy.
Resources
Below are some links you may find helpful when learning about tires
Final Thoughts
Improper tire disposal poses a significant environmental threat, contributing to pollution, potential fires, and health risks. Yet, the tire recycling process opens the door to a world of possibilities, transforming potential waste into valuable materials.
Understanding where and how to dispose of old tires and rims is crucial. Whether we're taking them to local recycling centers, tire retailers, or municipal drop-off sites, we're part of a broader process that benefits our environment. And let's not forget the creative potential in our hands – from nostalgic tire swings to funky planters, there's a wealth of fun and functional ways to repurpose those old tires.
Good luck and happy motoring.