A shaking steering wheel isn't just a fleeting annoyance; it's your vehicle's way of signaling that something might be off. Ignoring it might be tempting, but understanding the underlying causes can be crucial for your safety on the road.
Steering Wheel Shakes When Driving

Steering wheel shakes when driving can be caused by several factors, ranging from wheel imbalances and tire issues to worn-out suspension components or problems within the braking system.
In this article, we'll navigate through the common causes of steering wheel shakes, discerning the difference between high-speed and low-speed vibrations, the safety implications of a quivering steering wheel, and preventive measures to ensure a smoother ride.
Let's take a closer look.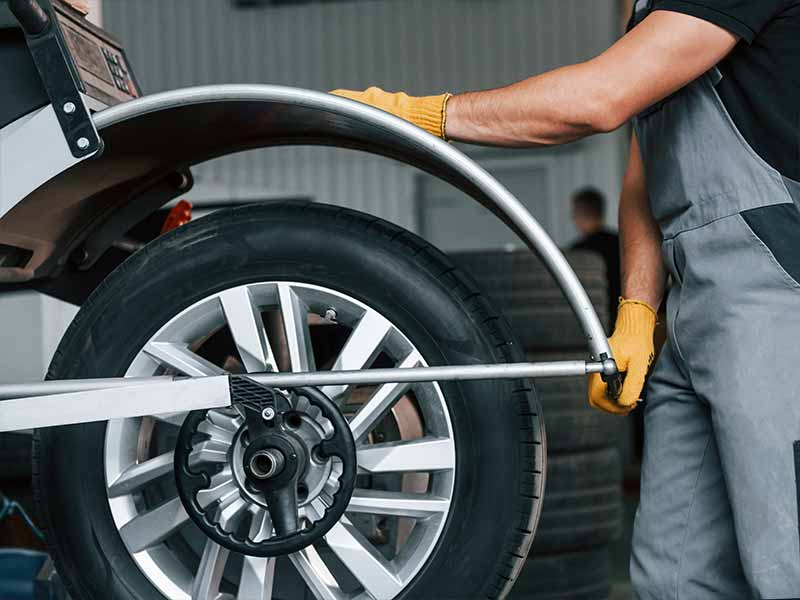 Causes of Steering Wheel Shaking at Low Speeds
Steering wheel shakes at low speeds can be both puzzling and concerning. Understanding the root of the problem can help address it efficiently. Let's delve into some primary reasons, keeping our focus mainly on tires and related components.
Underinflated Tires
Underinflated tires can be a primary reason for your steering wheel's vibrations at low speeds. Here's why:
Driving Response: When a tire lacks the proper amount of air, it affects the vehicle's response time during turns.
Uneven Wear: Underinflated tires don't wear evenly. This uneven wear can cause them to roll inconsistently, resulting in vibrations.
Regular Checks: Ensure you frequently check your tire pressure using a reliable tire gauge. Refill them as necessary to maintain the recommended pressure.
Wheel Balance
Unbalanced wheels are another common cause of steering wheel vibrations. When a segment of your wheel is heavier than the others, it can lead to inconsistent rolling.
Origin of Vibrations: This inconsistency, or wobble, produces vibrations that can travel up to your steering wheel, often more noticeable at low speeds.
Professional Balancing: If you suspect an imbalance, have your tires checked and balanced by professionals. They'll use specialized equipment to pinpoint and rectify the imbalance.
Worn Components
As vehicles age, their components naturally degrade. Certain parts, after extensive use, might not function optimally, causing a less than smooth driving experience. To elaborate:
Worn Ball Joints: These components allow the wheels to move and turn. When they degrade, the motion isn't as fluid, leading to potential vibrations.
Shock Absorbers: These are integral for a smooth ride. If they're worn out, they won't be as effective in dampening road imperfections, which can lead to a shaky ride.
Routine Maintenance: Schedule regular vehicle inspections with a reputable mechanic. This helps identify and replace worn components, ensuring a smoother drive.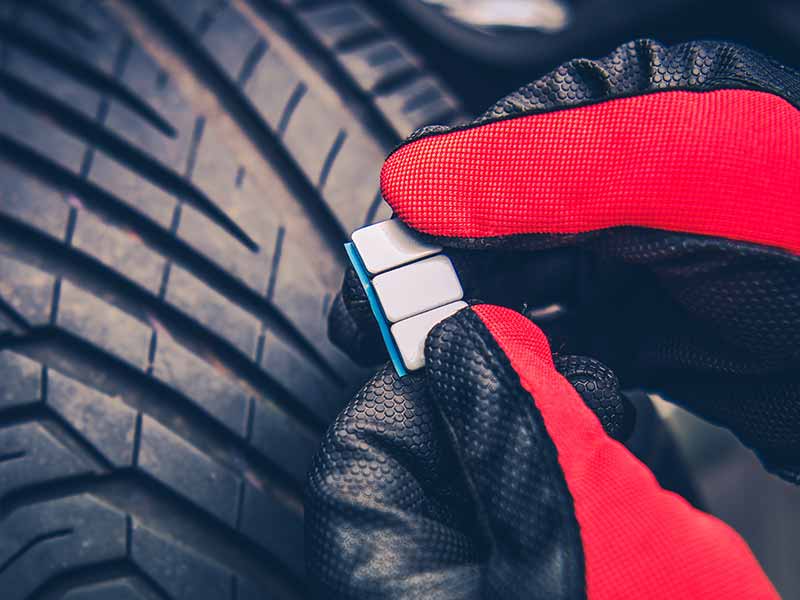 Why Steering Wheel Shakes at High Speeds
When your steering wheel shakes at higher speeds, it's not just an inconvenience; it's a sign that something might be off. While several factors can cause this, let's focus on the most common culprits, especially from the perspective of tires and related components.
Out-of-Balance Wheels and Tires
One of the most predominant causes of a shaking steering wheel at high speeds stems from out-of-balance wheels and tires. Let's break this down.
Balancing Basics: When we talk about wheel and tire balance, we refer to the even distribution of weight around the entire circumference of the wheel-tire assembly. Even a slight deviation in this balance can lead to noticeable vibrations, especially as speeds increase.
Causes for Imbalance: Multiple factors can throw off this equilibrium:

Natural Wear: As tires wear down, they might not wear evenly across the entire tread. This can create imbalances.
Lost Weights: Sometimes, the small weights attached to wheels to ensure balance can fall off, leading to an immediate imbalance.
Damage or Deformities: A dent in the wheel or a bulge in the tire can both create balance issues.

High-Speed Amplification: At slower speeds, these imbalances might go unnoticed or feel minor. However, as you accelerate, these small imbalances get amplified, causing the steering wheel to shake. Think of it like a washing machine with an unevenly distributed load – the faster it spins, the more it shakes.
Brake Rotors
Brake rotors play a crucial role in your braking system. If they're uneven or worn out, they can be a primary source of those annoying vibrations.
Uneven Surface: Rotors can develop an uneven surface due to wear or heat. When this happens, the brake pads can't grip them uniformly, causing the steering wheel to shake.
Replacement Time: If your rotors are warped or too thin, it might be time for a replacement. Regular checks can help identify this issue early.
Wheel Bearings
Wheel bearings have a vital role in the smooth operation of your vehicle. Faulty or worn-out wheel bearings can disrupt this harmony.
Role & Impact: Wheel bearings allow the wheel to spin freely. When they start to wear out, they can cause friction, leading to vibrations felt in the steering wheel.
Maintenance Check: If you hear a humming sound or feel unusual vibrations at high speeds, it might be worth checking the wheel bearings. It's often best to have a professional evaluate and replace them if necessary.
Tie Rod Ends and Tie Rod
The tie rod and its ends are pivotal components of the steering system. When they're not in top shape, steering can feel off, especially at high speeds.
Function Breakdown: The tie rod transmits force from the steering center link or rack gear to the steering knuckle. When its ends wear out, they can cause misalignment issues leading to vibrations.
Regular Inspections: Ensure these components are checked during routine maintenance. Any signs of wear or damage should be addressed promptly.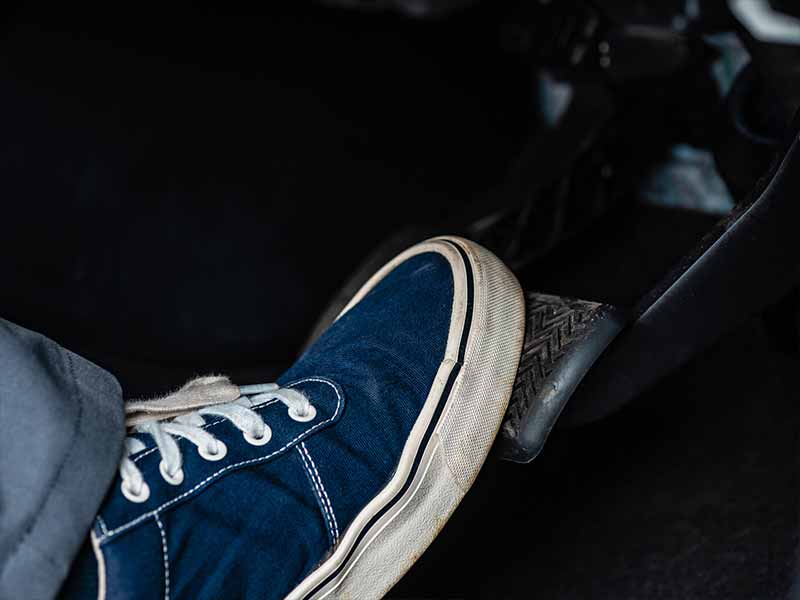 Steering Wheel Shakes When Braking
A smooth brake application should ideally slow your vehicle without any hitches. However, if your steering wheel shakes during this critical action, it's an indicator that something might not be right. Let's focus on the most prevalent reasons, with special emphasis on the relation to tires and braking components.
Brake Pads and Brake Calipers
The braking system's efficiency largely relies on the condition of the brake pads and calipers. If these components falter, they can cause some noticeable shakes.
Worn-out Pads: Brake pads can wear down over time. If they become too thin, they might not make even contact with the rotors, leading to vibrations.
Sticky Calipers: Sometimes, brake calipers might not release fully, causing excessive heat and rotor warping. This can, in turn, result in a shaky steering wheel during braking.
Solution: Regularly inspect your brake pads for wear. Also, ensure the calipers move freely. Replace any parts as needed to maintain efficient braking.
Braking System
The braking system is an assembly of multiple components working in unison. Any discrepancies here can lead to shakes and shivers.
Fluids & Lines: Old or contaminated brake fluid, or air in the brake lines, can cause an inconsistent brake pedal feel and potential vibrations.
Periodic Flushing: It's beneficial to flush and replace brake fluid at intervals recommended by your vehicle's manufacturer or mechanic.
Loose or Worn Components
Sometimes, components that may not be directly related to braking can cause vibrations when the brakes are applied.
Worn Ball Joints & Tie Rods: These parts can cause vibrations during braking if they're excessively worn or loose.
Vehicle's Suspension: Components of the vehicle's suspension, when not in their prime, might amplify the effects of other worn parts when brakes are applied.
Regular Checks: During vehicle maintenance, ensure a thorough inspection of these components. Addressing wear and tear promptly can prevent many vibration issues.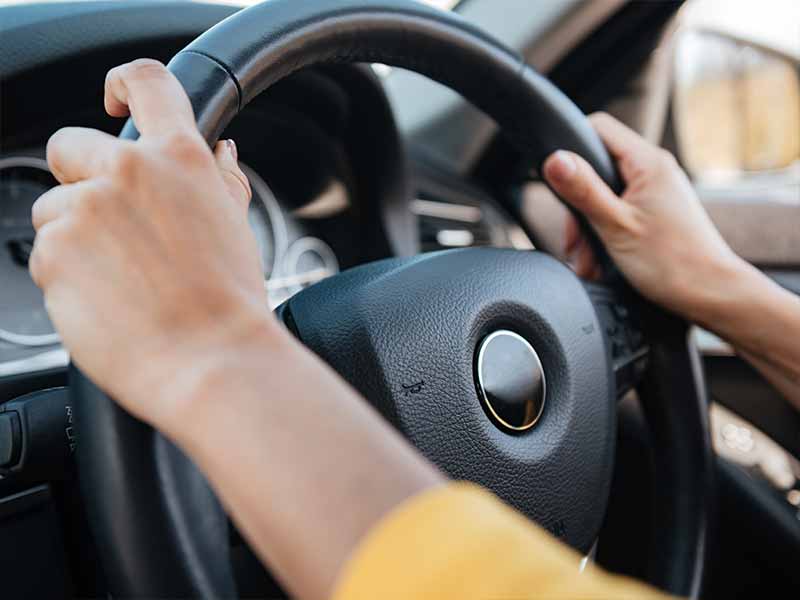 Steering Wheel Shakes and Then Goes Away
Experiencing a momentary shake in the steering wheel that suddenly disappears can be both baffling and concerning. These transient symptoms, though fleeting, are worth understanding and addressing. Let's dive into some of the common reasons for such behavior, with a special emphasis on wheels and associated components.
Intermittent Suspension Issues
The vehicle's suspension system is designed to absorb road imperfections, ensuring a smooth ride. However, some issues might only manifest under specific conditions.
Shock Absorbers: If they're beginning to fail, you might experience momentary vibrations, especially when going over bumps or uneven roads.
Suspension Components: Worn bushings or mounts can cause transient shakes, especially during certain maneuvers or at specific speeds.
Action Plan: If you suspect suspension issues, a thorough inspection at a trusted auto shop can help diagnose and fix the problem.
Temporary Imbalances
Sometimes, road conditions or debris can lead to temporary imbalances in your vehicle.
Stuck Debris: Rocks, mud, or snow stuck in your wheel wells or between tire treads can cause momentary imbalances. These usually resolve as the debris falls away or melts.
Quick Checks: After driving on muddy or snowy roads, it's a good idea to check your tires and wheel wells. Clear away any obstructions that might be causing imbalances.
Steering System Glitches
Occasional hiccups in the steering system can lead to brief periods of shaking.
Steering Fluid & Pump: Low power steering fluid or a faltering power steering pump might cause momentary steering wheel shakes, especially when turning.
Tie Rod Ends: These can sometimes cause a transient shake, especially if they're beginning to wear but haven't completely failed.
Routine Maintenance: Check your power steering fluid levels and ensure that the tie rod ends and other steering components are inspected during regular maintenance.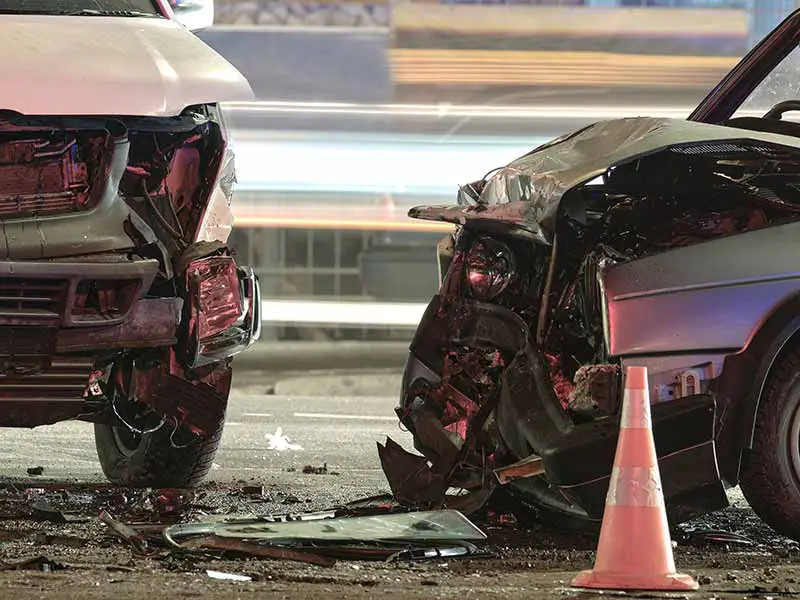 Is It Safe to Drive with a Shaking Steering Wheel?
Experiencing a shaky steering wheel while driving can be unsettling. The crucial question is – how safe is it? While a vibrating steering wheel doesn't always signal a critical problem, understanding the reasons and potential risks is paramount. Let's explore this from our expertise in wheels and associated components.
Recognizing the Severity
First, it's essential to recognize the severity and persistence of the shakes.
Mild and Infrequent Vibrations: Occasional light trembles might be due to temporary factors like uneven road surfaces or minor wheel imbalance.
Strong and Persistent Shakes: These are more concerning and might indicate more serious issues like severely worn components or significant wheel imbalances.
Wheel and Tire Issues
Wheel and tire problems are among the most common causes of steering wheel vibrations.
Wheel Balance: A minor imbalance can cause vibrations, but it's typically safe for short drives. However, long-term driving with an imbalance can wear out other components faster.
Underinflated Tires: Driving with a slightly deflated tire might be okay for short distances, but it's risky in the long run due to potential blowouts or uneven wear.
Critical Component Wear
Worn or failing critical components can significantly compromise safety.
Steering System: A faulty steering system can impact your ability to control the vehicle, especially at higher speeds or in challenging conditions.
Braking System: If the shaking intensifies when braking, it can indicate issues with brake rotors or other braking system components. This can compromise stopping ability.
Suspension Components: Severely worn suspension parts can affect vehicle stability, especially on rough terrains or during turns.
The Safety Verdict
While a slight vibration might not be immediately hazardous, it's essential to:
Avoid Long Journeys: Until the cause is identified and rectified, it's wise to avoid long or high-speed journeys.
Consult a Mechanic: If you're unsure about the cause or if the shaking is severe, consult a professional. They can pinpoint the problem and advise on safety.
Regular Maintenance: Periodic checks and maintenance can preempt many issues, ensuring a safer drive.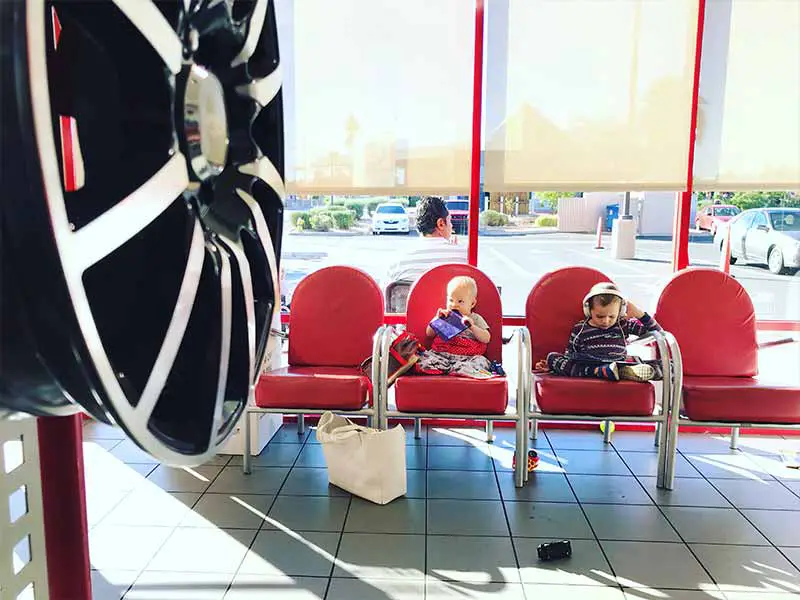 How to Prevent Steering Wheel Shakes
A steady steering wheel is not only a comfort but also an indication of a well-maintained vehicle. While occasional shakes might be unavoidable, consistent care and observation can help prevent many issues. Drawing from our expertise in wheels and related components, here are some measures to keep your steering wheel steady.
Prioritize Tire Maintenance
Tires play a pivotal role in a smooth driving experience. Keeping them in top shape is a preventive measure against many vibration issues.
Regular Rotation and Balancing: Ensuring your tires are rotated and balanced as per manufacturer's recommendations can prevent uneven wear and imbalance-related vibrations.
Check Tire Pressure: Maintaining the right tire pressure is crucial. Underinflated tires can lead to vibrations, not to mention they reduce fuel efficiency and tire lifespan.
Promptly Address Damages: If you notice any damage or punctures, get them repaired or replace the tire if necessary.
Keep an Eye on the Braking System
A well-functioning braking system is vital for safety and a shake-free ride.
Inspect Brake Rotors and Pads: Regularly check for signs of wear, damage, or warping. Replace components as necessary.
Fluid Check: Ensure that brake fluid is at the recommended level and free from contaminants.
Regularly Inspect Steering and Suspension Systems
The interconnected nature of steering and suspension components means a fault in one can affect the other.
Steering Fluid & Components: Regularly check the power steering fluid levels. Also, inspect the tie rods, ball joints, and other related components for signs of wear or damage.
Suspension Check: Ensure that shock absorbers, bushings, and other suspension components are in good condition. Replace worn-out parts as needed.
Address Wheel Issues Promptly
Wheel Bearings and Alignment: Regularly inspect wheel bearings for signs of wear. Additionally, if your vehicle pulls to one side, it might be time for an alignment check.
Address Debris and Obstructions: Especially after off-road trips or driving in snowy conditions, inspect wheels for any lodged debris or obstructions that could cause imbalances.
Stay Informed and Educated
Know Your Vehicle: Familiarize yourself with the recommended maintenance intervals and procedures for your specific make and model.
Seek Professional Advice: If in doubt or if you notice unusual behaviors, consult a trusted mechanic. Their expertise can help identify and address issues before they become significant problems.
Resources
Below are some links you may find helpful when learning about tires
Final Thoughts
It's evident that a shaking steering wheel is more than just a minor inconvenience; it's a clear signal from your vehicle demanding attention. From wheel imbalances and tire concerns to deeper issues within the suspension or braking systems, several factors can contribute to these unsettling tremors.
The key takeaways? Always prioritize regular maintenance to prevent vibrations, be proactive in addressing any issues, and never underestimate the importance of consulting with a trusted mechanic.
Good luck and happy motoring.