Every car owner knows the importance of regular oil changes and brake checks, but how often do you think about your vehicle's alignment? Neglecting this crucial aspect can lead to unnecessary wear on your tires, reduced fuel efficiency, and even dangerous driving conditions.
What Suspension Parts Affect Alignment?

Suspension parts that affect alignment include control arms, ball joints, wheel bearings, cam bolts, and various components of the vehicle's suspension system. Ensuring proper alignment involves adjusting these parts to optimize wheel orientation for safe and efficient driving.
In this article, we'll delve deep into the world of wheel alignment, exploring key terms like camber, caster, and toe, unraveling the complex role suspension components play in alignment, detailing the alignment process, and identifying signs that indicate your vehicle needs an alignment check. Whether you're a seasoned driver or just got your first car, this guide is your roadmap to understanding the intricacies of wheel alignment.
Let's take a closer look.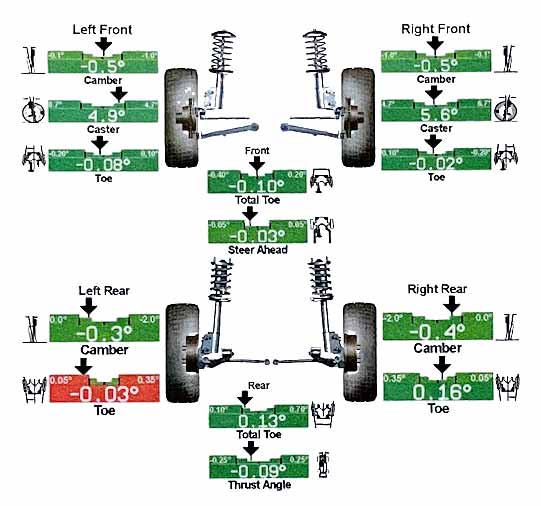 Suspension Components and Their Role in Alignment
Control Arms and Ball Joints
Control arms and ball joints are vital parts of a vehicle's suspension system, allowing the tires to move up and down smoothly while maintaining a consistent position relative to the road.
Control Arms:

Act as a bridge between the wheels and the vehicle's frame.
Pivot up and down, allowing the wheel to move in response to road conditions.

Ball Joints:

Serve as the pivot points that connect control arms to the vehicle's steering knuckles.
Allow for a range of motion, ensuring the tires remain on the ground, especially during turns.
Wheel Bearings
Wheel bearings allow the wheels to rotate smoothly and with minimal friction. They play a critical role in the efficiency and stability of a vehicle.
Importance in Alignment:

Ensure the wheel rotates correctly and doesn't wobble.
A worn-out or damaged bearing can affect alignment by causing irregular tire movement, leading to uneven tire wear.
Cam Bolts
Cam bolts play an essential role in adjusting the camber and caster angles. These bolts are a part of vehicle suspension systems and can be adjusted to set the correct angles for correct camber alignment.
Role in Alignment:

Allow for fine-tuning of camber and caster angles.
Essential for ensuring the vehicle's wheels are set to the manufacturer's alignment specifications.
Other Relevant Components
There are several other components in the suspension system that indirectly influence alignment.
Steering Axis:

The imaginary line around which the wheel and tire rotate.
Influenced by both camber and caster angles.

Suspension Components:

Include parts like shocks, struts, and springs.
Ensure the vehicle maintains proper contact with the road, influencing overall alignment.

Steering Systems:

Enable the driver to guide the vehicle.
Components, such as tie rods, play a role in the toe alignment.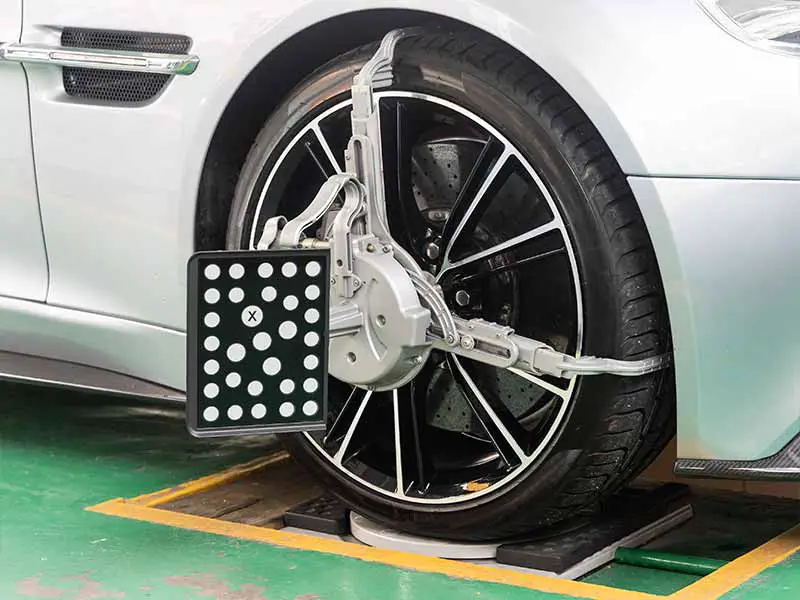 The Wheel Alignment Procedure
Overview of the Process
Wheel alignment is a meticulous process that requires precise equipment and expertise. It ensures that the tires are set to the vehicle manufacturer's specifications, which leads to optimized performance, safety, and tire longevity.
Steps Involved in Wheel Alignment
Vehicle Preparation:

The vehicle is placed on an alignment rack, where it's securely hoisted to allow for easy access to the wheels and suspension.
Before measurements begin, it's essential to check for any worn-out suspension parts that might affect the alignment results.

Initial Measurement:

Modern alignment machines use cameras and lasers to measure the alignment of all four wheels quickly.
The readings obtained (for camber, caster, and toe) are then compared to the manufacturer's specifications.

Adjusting the Angles:

If discrepancies are found in the initial measurements, technicians will adjust the angles accordingly.
Cam bolts, tie rods, and other components are tweaked to get the wheels perfectly aligned.

Checking the Thrust Angle:

Ensuring the rear wheels are perfectly aligned with the vehicle's centerline is crucial.
Any misalignment here can cause the vehicle to drift or pull to one side.

Test Drive:

After adjustments are made, a test drive is often conducted.
This ensures that the changes have been effective and the vehicle drives straight without any drift or pull.

Final Inspection:

The vehicle is once again measured to confirm that all adjustments have been successful.
A report is often provided, showing the before and after measurements.
Importance of Regular Checks
While wheel alignment is not a daily or monthly routine, it's essential to have it checked:
After Hitting a Pothole or Curb: A significant jolt can knock the wheels out of alignment.
When Replacing Tires: Ensuring the new tires wear evenly and last longer.
Noticing Irregular Tire Wear: This can indicate misalignment.
If the Vehicle Pulls to One Side: Another sign that alignment is off.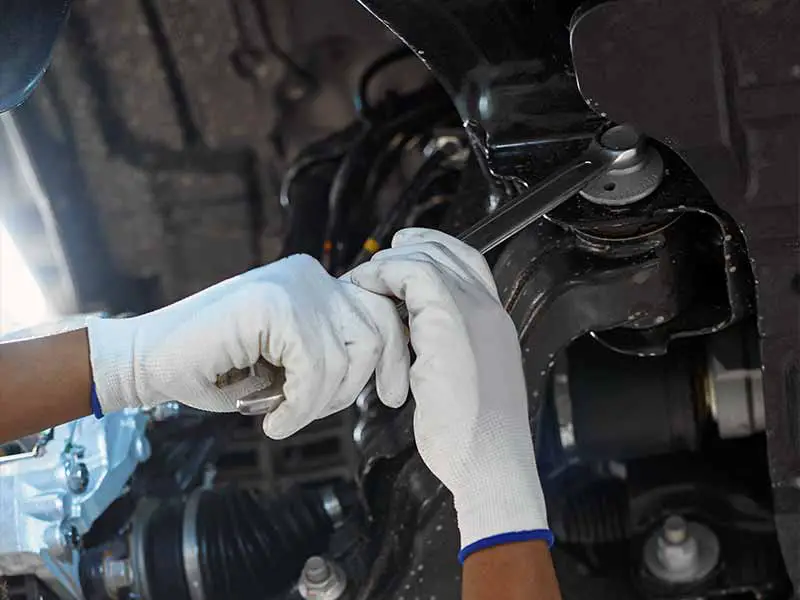 Key Alignment Terms and What They Mean
Camber Alignment
Camber refers to the tilt of the wheels when viewed from the front of the vehicle. If the top of the wheel tilts inward towards the vehicle, it's called negative camber. If it tilts outward, it's positive camber.
Negative Camber:

Tires lean toward the vehicle.
Can improve handling during sharp turns.
May result in uneven tire wear on the inside edge if too excessive.

Positive Camber:

Tires lean away from the vehicle.
Can lead to reduced handling capability.
May cause wear on the outside edge of the tire if too excessive.
Caster Alignment
Caster, related to the steering axis inclination, determines the forward or backward tilt of the steering axis. This plays a significant role in balancing steering effort, vehicle stability, and cornering.
Forward Tilt (Negative Caster):

May offer easier steering but can be less stable at high speeds.

Backward Tilt (Positive Caster):

Provides greater stability at high speeds but may require more effort when steering.
Toe Alignment
Toe alignment deals with the direction the tires are pointed in relation to the centerline of the vehicle when viewed from above.
Toe-In:

Front of the tires point inward.
Can cause accelerated wear on the outside edge of tires.

Toe-Out:

Front of the tires point outward.
May result in increased wear on the inside edge of tires.
Thrust Alignment
Thrust alignment ensures that the vehicle's rear axle angles are properly aligned. It focuses on the direction in which the rear wheels are pointed.
Correct Thrust Angle:

Rear wheels are perfectly aligned with the centerline of the vehicle.
Ensures the vehicle drives straight and doesn't pull to one side.

Incorrect Thrust Angle:

Can lead to the vehicle drifting or "dog tracking."
Causes unnecessary wear and tear on the tires.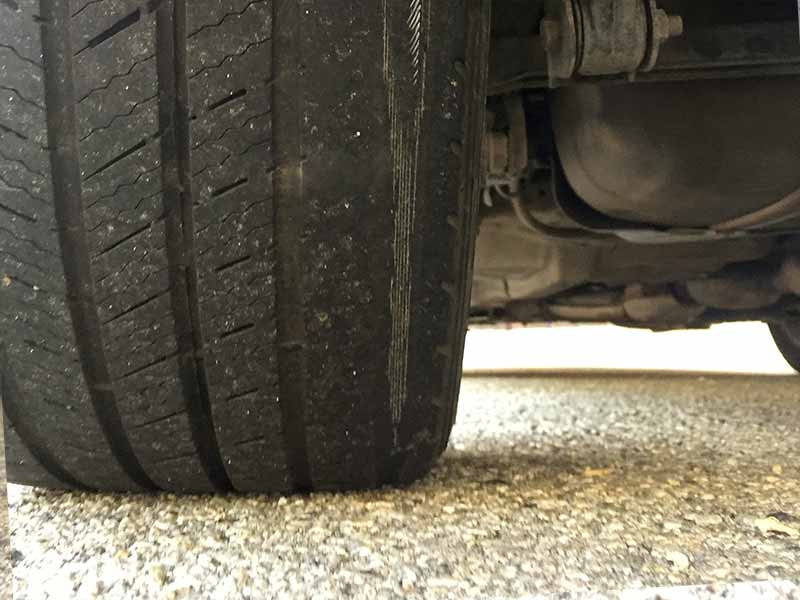 Understanding Wheel Alignment and its Importance
Wheel alignment, often simply referred to as "alignment", is the process of adjusting the angles of wheels on a vehicle to ensure they are set to the manufacturer's precise specifications. This adjustment ensures the tires are correctly oriented to the road and to each other.
The Connection Between a Steering Wheel and Alignment
Direct Feedback: When driving, the steering wheel offers direct feedback. If the alignment is off, the steering wheel might not return to center after a turn or may feel unstable.
Off-Center/Crooked Steering Wheel: Proper alignment ensures the steering wheel is centered. An off-center steering wheel, even when driving straight, may indicate an alignment issue.
Why Proper Alignment Matters
Proper alignment isn't just about ensuring your vehicle drives straight. It's about optimizing the longevity and performance of your tires, enhancing fuel efficiency, and ensuring safe driving. Here are some key reasons:
Tire Lifespan and Condition
Even Tire Wear: When wheels are properly aligned, they wear out evenly. This means all four tires will have the same amount of tread, ensuring consistent grip and performance on the road.
Prevent Premature Tire Wear: Misaligned wheels can lead to uneven tire wear, causing them to degrade faster than they should. This not only means replacing tires sooner (and incurring additional costs) but also poses a safety risk as unevenly worn tires can reduce grip and increase the likelihood of a tire blowout.
Safety and Vehicle Performance
Improved Handling: A vehicle with proper alignment is easier to steer and handles more predictably, especially in challenging driving situations like wet roads.
Reduced Drift: If you've ever felt your vehicle "pulling" to the left or right while driving on a straight road, that's often a sign of misalignment. Correct alignment eliminates this drift, ensuring the vehicle travels straight and true.
Fuel Efficiency
Reduced Rolling Resistance: Tires that are misaligned can increase resistance on the road, making the engine work harder and consume more fuel. Properly aligned tires, on the other hand, offer optimal contact with the road and reduce unnecessary resistance, improving fuel efficiency.
Resources
Below are some links you may find helpful when learning about tires
Final Thoughts
From understanding key alignment terms like camber, caster, and toe, to recognizing the intricate role that suspension components like control arms, ball joints, and cam bolts play in maintaining proper alignment, it's clear that regular attention to this facet of auto care can prevent premature tire wear and ensure a smoother, safer drive. 
As drivers, staying vigilant for signs of misalignment, such as uneven tire wear or a drifting vehicle, is pivotal.
Good luck and happy motoring.