Ever had your car suddenly start behaving like it has a mind of its own, not going straight when you want it to? Maybe you've noticed your tires wearing out faster than they should, or your fuel efficiency taking a hit. What if we told you that the culprit could be hiding in plain sight, right in your wheel alignment? More specifically, the toe-in.
Too Much Toe-In Alignment

Too much toe-in alignment in a vehicle can cause symptoms like uneven tire wear, especially along the inner edges, off-center steering wheel position, reduced straight-line stability, and decreased fuel efficiency. It is primarily caused by worn or damaged steering or suspension components, or by wheel impact events like hitting a curb.
In this article, we're going to dive deep into the world of toe-in alignment. We'll explore what toe-in is, what causes too much of it, the symptoms to watch out for, how it impacts your tires, and most importantly, how to fix it. We'll also guide you on how much toe-in your car should ideally have, helping you understand this essential aspect of your vehicle's suspension.
Let's take a closer look.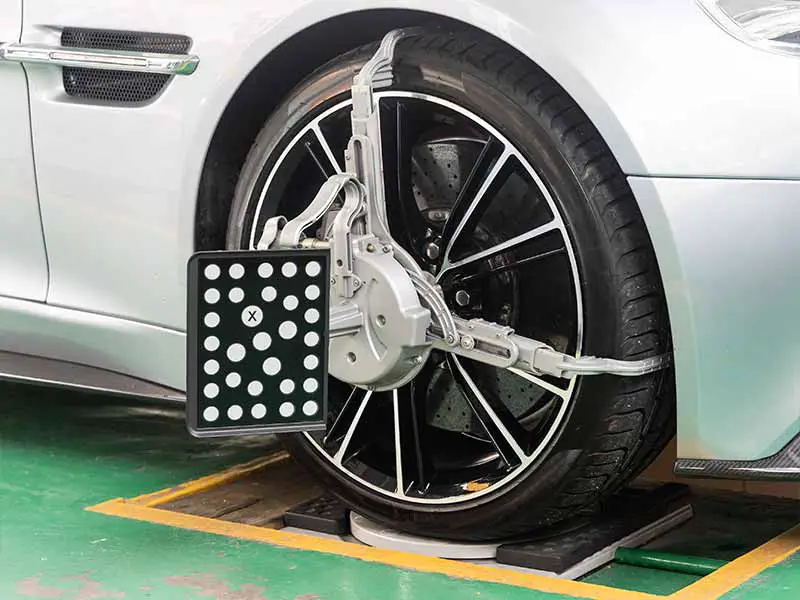 Symptoms of Excessive Toe-In Alignment
Having a solid understanding of toe-in alignment is helpful, but what's equally important is being able to identify the signs of excessive toe-in. After all, catching the issue early can help you avoid bigger problems down the road. So, here are the things you should keep an eye out for:
Steering Wheel Position and Straight Line Driving
One of the first signs you might notice is related to the position of your steering wheel and how your vehicle handles.
Off-Center Steering Wheel: If your steering wheel isn't centered when you're driving straight, this could be a sign of too much toe-in. Your steering wheel should be pretty much straight when you're going straight. If it's noticeably off to one side, your alignment could be to blame.
Poor Straight Line Driving: You might also notice that your vehicle doesn't want to go in a straight line. If you have to constantly correct the steering to keep going straight, that's another clue that your toe-in might be off.
The Tale of the Tires
Your tires can tell a detailed story about the state of your wheel alignment. Here's what to look for:
Uneven Tire Wear: The most common symptom of too much toe-in is irregular or uneven tire wear. If your tires are wearing out more on the inside or outside edge, this is a telltale sign that your alignment could be out of whack.
Increased Tire Noise: If your tires are making more noise than usual, especially on smooth roads, this could be due to excessive toe-in alignment.
Reduced Tire Life: If your tires are wearing out quicker than they should, too much toe-in could be the culprit.
Other Possible Symptoms
Besides the steering wheel position and tire wear, there are a few more symptoms that could point to excessive toe-in:
Reduced Fuel Efficiency: When your alignment is off, your vehicle has to work harder, which can reduce your gas mileage.
Loose or Hard Steering: If steering your vehicle feels more difficult or unusually loose, this could also indicate a toe-in problem.
Vehicle Pulling to One Side: If your vehicle tends to drift or pull to one side when you're trying to drive straight, this could signal an alignment issue.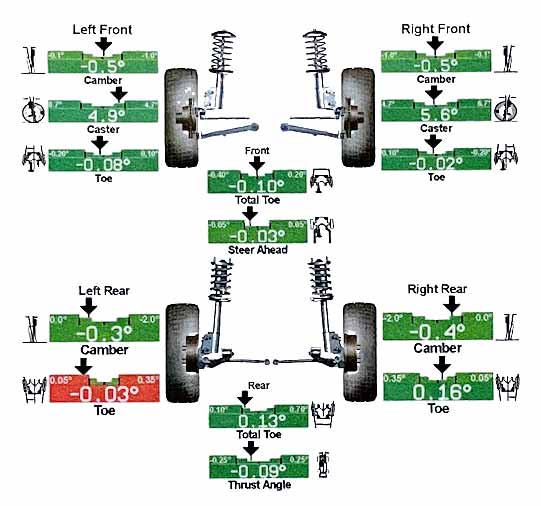 How Much Toe-In Should a Car Have?
Navigating the world of wheel alignment can be a bit tricky. After all, every vehicle is a bit different, and what's optimal for one might not work for another. However, understanding some general guidelines about toe-in can definitely steer you in the right direction.
Standard Toe-In Measurements
Although the exact toe-in specifications can vary depending on your car's make and model, there are some typical values that can serve as a rough guideline:
Passenger Cars: Most passenger cars will have a toe setting that falls in the range of 1/16 inch to 1/8 inch toe-in. This means that each front tire is slightly angled inwards.
Trucks: Trucks usually require slightly more toe-in, often in the range of 1/8 inch to 3/16 inch.
Remember, these values are just a ballpark, and it's essential to check your vehicle's specific manufacturer recommendations for the most accurate toe-in specifications.
Variation Across Different Vehicle Models
It's important to remember that not all vehicles are created equal when it comes to toe-in specifications. For example:
Front-Wheel Drive vs. Rear-Wheel Drive: As discussed before, front-wheel drive cars usually require a bit of toe-in for stability, while rear-wheel drive cars often use a bit of toe-out on the front wheels to improve straight-line stability.
Sports Cars vs. Family Sedans: A sports car might have different toe-in specifications compared to a family sedan, as sports cars are designed for higher performance and often have different handling characteristics.
New vs. Older Models: Newer models may have different toe-in specifications compared to older ones due to advances in design and technology.
What Is Toe-In Alignment?
Toe-in alignment, also simply referred to as 'toe', is a key part of your vehicle's wheel alignment. This term describes the direction in which your tires are pointed. When viewed from above, if the front edges of your tires are closer together than the rear edges, this is known as 'toe-in'. On the other hand, if the front edges are further apart than the rear edges, we call this 'toe-out'.
Toe-In Alignment in Different Drives
Both front-wheel drive and rear-wheel drive cars use toe-in alignment, but it plays a slightly different role in each:
Front-Wheel Drive Cars: For front-wheel drive vehicles, a little bit of toe-in helps keep the car stable. It also compensates for the natural tendency of the wheels to move outwards while driving, helping to ensure that the car drives in a straight line.
Rear-Wheel Drive Cars: Rear-wheel drive vehicles, on the other hand, typically need a bit of toe-out in the front wheels. This helps the wheels to 'parallelize' or align straight when the car is moving, improving straight-line stability.
The Role of Camber in Toe-In Alignment
While toe-in alignment focuses on the angle you see when looking at your car from above, 'camber' is another important alignment term you should understand. Camber is the angle of the wheel in relation to a straight line drawn perpendicular to the ground when viewed from the front or rear of the car. Positive camber means the top of the tire leans outwards from the center of the car, and negative camber means it leans inwards.
Camber and toe-in are connected because if your camber is off, it can create toe problems, and vice versa. For instance, if the wheels have too much negative camber (leaning inward at the top), they will naturally try to 'toe-in' as well.
Why Is Correct Toe-In Alignment Important?
Correct toe-in alignment is a big deal for your car's performance and safety. It affects:
Steering Response: A correct toe-in ensures that your vehicle responds well to steering wheel movements and maintains a straight line when needed.
Tire Lifespan: Proper alignment helps reduce uneven tire wear, which means your tires will last longer.
Fuel Efficiency: When your wheels are properly aligned, your car doesn't have to work as hard, which can improve your gas mileage.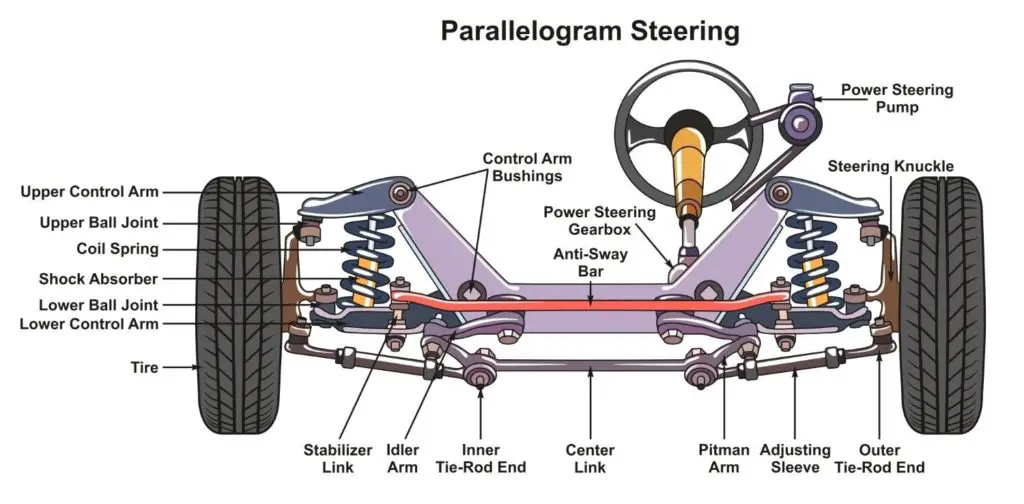 Steering or Suspension Components and Their Role
Toe-in alignment doesn't just happen by chance. Various components of your vehicle's steering and suspension systems play a critical role in maintaining or disrupting this alignment. Let's get to know some of these key players:
Tie Rods: These rods act as a link between your vehicle's steering system and the wheels. When they're in good shape, they help your wheels to remain in the correct alignment. But when a tie rod is damaged or worn out, it can cause your wheels to toe-in or toe-out excessively.
Wheel Bearings: The wheel bearings allow your wheels to rotate smoothly and are vital for maintaining proper wheel alignment. If these bearings become worn or damaged, they can cause your wheels to toe-in or toe-out.
Inner Tie Rod: The inner tie rod, a part of the steering rack assembly, helps control the angle of your wheels when you turn the steering wheel. Just like the outer tie rods, any damage to these can result in incorrect toe alignment.
Other Issues That Can Lead to Too Much Toe-In
Sometimes, toe-in can be thrown off by problems not directly related to the toe alignment itself:
Wheel Impact: If a wheel hits a curb or pothole, it can throw off the alignment.
Worn Suspension Components: As parts of the suspension wear out, such as control arm bushings, they can indirectly cause toe-in alignment issues.
Incorrect Wheel Balance: If your wheels aren't balanced properly, they may cause vibrations that can eventually lead to alignment issues, including toe-in.
Resources
Below are some links you may find helpful when learning about tires
Final Thoughts
Spotting the signs of excessive toe-in, such as uneven tire wear and an off-center steering wheel, allows for early detection and correction, preventing further problems down the line.
Your car's ideal toe-in measurement depends largely on its make, model, and year. Therefore, it's crucial to refer to the manufacturer's specifications or consult a professional. Regular maintenance, including alignment checks, tire rotations, and inspections of steering and suspension components, can help prevent toe-in problems. In essence, understanding and managing toe-in alignment is a vital part of car ownership, ensuring a smooth, safe, and efficient ride.
Good luck and happy motoring.