Ever noticed your car pulling to one side or your tires wearing out faster than they should? These could be more than just random occurrences—they might be shouting at you about the urgent need for a wheel alignment that could cost you in the long run.
Signs You Need An Alignment

Signs you need an alignment include an off-center steering wheel, uneven tire wear, vibrations while driving, and the vehicle pulling to one side. Addressing these promptly ensures vehicle safety, reduced repair costs, and enhanced driving experience.
In this article, we'll dive deep into understanding wheel alignment, uncover the financial implications of neglecting it, answer frequently asked questions, and help you identify the unmistakable symptoms indicating your vehicle is due for this essential maintenance.
Let's take a closer look.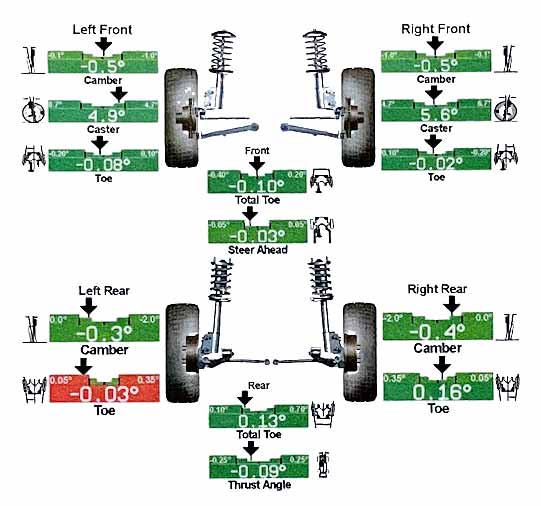 Understanding Wheel Alignment
Wheel alignment, commonly referred to as "tire alignment," is an essential maintenance procedure that ensures your vehicle's tires are set to the vehicle manufacturer's specifications. Proper wheel alignment provides optimal drivability, prolongs the lifespan of tires, and ensures a comfortable ride without vibrations.
What is Wheel Alignment?
Wheel alignment is the process of adjusting the angles of wheels to the car's manufacturer's specifications. These angles determine how the tires are positioned relative to the vehicle's frame and the road. The primary purposes are:
Maximizing tire lifespan: Properly aligned tires experience even wear, which prolongs their usability.
Ensuring straight vehicle tracking: Proper alignment prevents the vehicle from pulling to one side or the other.
Optimizing handling: A car with correct alignment responds predictably to steering and handles smoothly.
Components of Wheel Alignment
There are three main components that technicians monitor and adjust during an alignment:
Camber: This is the inward or outward angle of the tire when viewed from the front of the vehicle. Too much inward or outward tilt, known as negative or positive camber, can indicate bad alignment and can cause uneven tire wear.
Toe: This refers to the extent to which the tires turn inward or outward when viewed from above. It affects how evenly the tires wear and how the vehicle handles turns.
Caster: This is the angle of your steering axis when viewed from the side of your vehicle. Positive caster means the steering axis tilts toward the driver, while negative caster means the steering axis tilts toward the front of your vehicle. It influences the stability of your steering.
Why Proper Alignment Matters
Safety: Misaligned tires can make your vehicle harder to steer and control, especially in emergency situations.
Tire Longevity: Even slight misalignments can cause uneven tire wear, which can lead to earlier tire replacements. This not only increases costs but is also wasteful.
Fuel Efficiency: Properly aligned tires can increase fuel efficiency since there's less rolling resistance when tires are straight and evenly in contact with the road.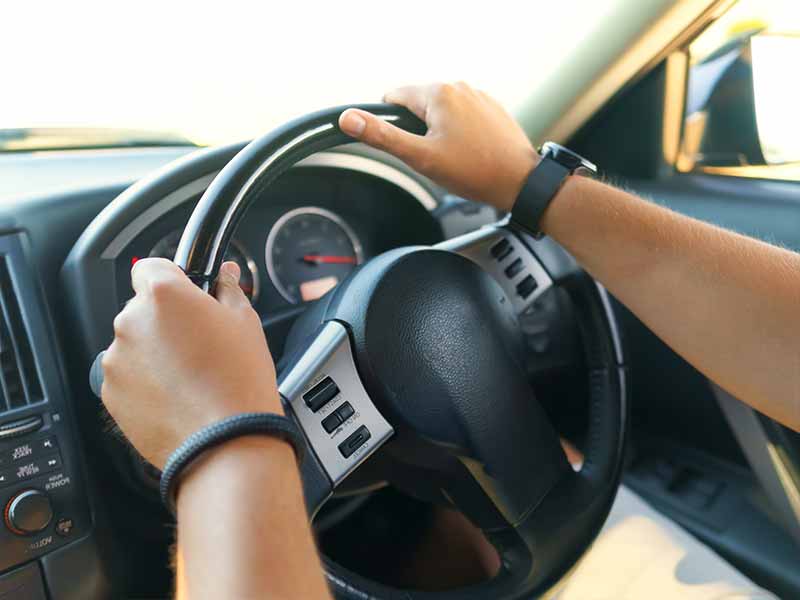 Common Symptoms Indicating Alignment Issues
Recognizing the signs of alignment problems is crucial for ensuring the longevity of your tires and maintaining the safety of your vehicle. Addressing these issues promptly can save you money in the long run and provide peace of mind on the road.
Steering Wheel Problems
One of the most noticeable signs of alignment issues is directly linked to the steering wheel.
Off-Center Steering Wheel: If you find that your steering wheel isn't centered when driving straight, this can indicate an alignment issue. The vehicle may be driving straight, but the steering wheel could be tilted to the left or right.
Vibrating Steering Wheel: A vibrating or shaking steering wheel, especially at certain speeds, can be a symptom of misaligned wheels. This vibration is caused by the tires pulling against each other.
Uneven Tire Wear
Tire wear patterns can offer insightful clues about the state of your vehicle's alignment:
Feathering: Tires are said to be "feathered" when the tread is smooth on one side and sharp on the other. This is often due to an improper toe alignment.
Camber Wear: This type of wear pattern is seen on either the inner or outer edge of the tire, but not both. It's a clear indication of a camber misalignment.
Heel/Toe Wear: This pattern appears when one side of the tire tread blocks wears down faster than the other in a circumferential direction. This type of wear can be caused by under-inflation and lack of rotation, but also from misalignment.
Vehicle Pulling
If your vehicle drifts or pulls to one side without steering input, it's a telltale sign of alignment problems:
Gradual Pulling: This is when the vehicle slowly drifts to one side. It can be due to slightly misaligned wheels or uneven tire wear.
Immediate Pulling: If the vehicle abruptly pulls to one side as soon as you let go of the steering wheel, this can indicate a more severe alignment issue or other related problems like brake issues.
Vibrations While Driving
While not exclusively an alignment issue, vibrations can be exacerbated by misalignment:
Harmonic Vibrations: These are repetitive shakes or vibrations that may intensify with speed. They might originate from imbalanced tires but get worse with alignment issues.
Isolated Vibrations: Vibrations felt only in specific parts of the vehicle, like the steering column or the seat, may indicate a combination of balance and alignment problems.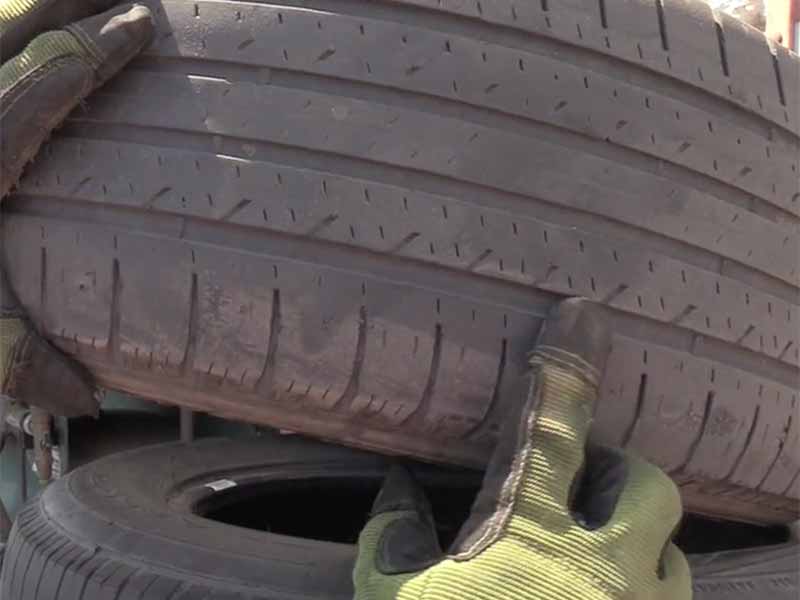 Financial Implications and Risks
Having a car with misaligned wheels might seem like a minor issue, but it can have a significant impact on your wallet and safety. Understanding these risks can help you make an informed decision about the urgency of addressing alignment problems.
Reduced Lifespan of Tires
Misalignment often results in uneven tire wear, which can severely shorten the life of your tires:
Increased Costs: Tires that wear unevenly need to be replaced more often than those that wear evenly. This means more frequent expenses for new tires.
Wasted Resources: Frequently changing tires due to uneven wear means more tires end up being discarded, leading to environmental concerns and wastage.
Potential Damage to Vehicle
Misalignment doesn't just affect your tires. Over time, it can lead to wear and tear on other vehicle parts:
Suspension System: Continuous driving with misaligned wheels can put undue stress on the car's suspension system, potentially leading to costly repairs down the line.
Decreased Brake Efficiency: If tires aren't evenly touching the ground due to misalignment, it can reduce the efficiency of braking, posing safety risks and potentially leading to more wear on the brake system.
Increased Fuel Consumption
A car that's not aligned properly may experience increased rolling resistance:
Rolling Resistance: When tires aren't aligned, they can have uneven contact with the road, increasing resistance and making the engine work harder.
Fuel Efficiency: With increased rolling resistance, your car requires more fuel to move forward. This means more frequent trips to the gas station and increased expenses.
The Actual Cost of Alignment
Many drivers hesitate to get their wheels aligned due to the upfront cost. However, it's essential to consider:
Upfront Expenses: The initial cost of getting a wheel alignment, answering the question, "how much is an alignment?" Typically, this is a small expense compared to potential savings in the long run.
Long-term Savings: By investing in regular wheel alignments, you save money on more frequent tire replacements, fuel costs, and potential repairs to the car's suspension and brake system.
Resources
Below are some links you may find helpful when learning about tires
Final Thoughts
From the clear symptoms like an off-center steering wheel and uneven tire wear to the more subtle signs like slight vibrations, it's essential to remain vigilant. Neglecting these warnings can lead not only to a compromised driving experience but also to mounting financial costs due to premature tire replacements and increased fuel consumption. 
As with many aspects of vehicle care, a proactive approach—addressing alignment issues as they arise and ensuring regular checks—can save both money and potential safety hazards in the long run. Remember, a well-aligned vehicle isn't just a pleasure to drive; it's a testament to a responsible owner who values safety and efficiency.
Good luck and happy motoring.