Ever noticed your car pulling to one side, or your tires wearing out unevenly? These are signs your vehicle might be suffering from a camber issue, specifically positive camber. Don't panic though, because there's a remedy!
How To Fix Positive Camber

Fixing positive camber involves adjusting camber bolts and control arms, and in some cases, camber plates connected to your vehicle's front and rear wheels.

For greater range and ease of adjustment, consider using adjustable camber bolts or aftermarket camber plates. If the suspension setup is complicated or unfamiliar, professional help is recommended.
In this article, we'll demystify what camber is, delve into the causes of positive camber, and explore its effects on your vehicle. We'll discuss how to measure camber and share step-by-step guides to adjust the camber on both front and rear wheels. Finally, we'll cover when it's best to seek professional help and how regular maintenance can help you avoid positive camber issues in the future.
Let's take a closer look.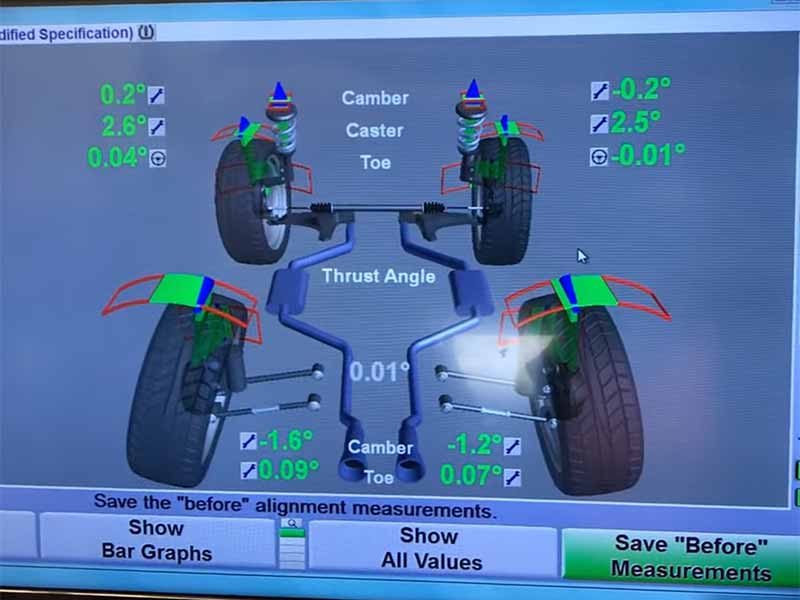 Understanding Camber
So, you've heard about this "camber" thing, right? But what exactly does it mean? Don't sweat it; we're here to clear things up.
What Is Camber?
In simple terms, "camber" refers to the tilt of your vehicle's wheels. Look at your car or truck from the front. If the tops of the wheels lean towards the car, that's called "negative camber". On the other hand, if the tops of the wheels lean away from the vehicle, that's called "positive camber". And if they stand perfectly upright, we call that "zero camber".
The Three Camber Positions
Let's take a closer look at the three types of camber:
Positive Camber: This is when the tops of the wheels are tilting outward away from the center of the vehicle. Imagine your wheels saying, "Give me some space, please!"
Negative Camber: When the tops of the wheels tilt inward, towards the center of your vehicle, we call that negative camber. It's like your wheels are trying to huddle together.
Zero Camber: This is the Goldilocks situation where everything is just right. The wheels are standing perfectly straight, neither tilting in nor out.
Relation To Wheel Alignment
You may wonder why camber matters. Well, camber plays a significant role in how your car handles on the road, and it is a crucial part of wheel alignment. Proper alignment makes sure your vehicle handles correctly and helps your tires last longer.
If you've ever heard the term "camber alignment," it refers to adjusting the tilt of the wheels so they make optimal contact with the road. And remember, "optimal" doesn't always mean straight up and down; sometimes a bit of tilt (either positive or negative) can be a good thing, depending on your vehicle and how you use it.
The Causes of Positive Camber
Understanding the root of any problem is the first step in fixing it, right? It's the same with positive camber. Let's look at what's behind it.
What Causes Positive Camber?
Positive camber is usually not something you'd set on purpose. More often than not, it's a sign of something gone awry in your vehicle's suspension system. Here's what might cause it:
Worn Out Ball Joints: These are key parts of your vehicle's suspension system, allowing your wheels to move up and down and your steering to function. Over time, they can wear out and cause positive camber.
Damaged Control Arms or Bushings: These are also important suspension components. If they're damaged, they can mess with your camber.
Improper Wheel Alignment: If your wheels aren't properly aligned, you could end up with positive camber.
Lifted Trucks and More Positive Camber
Do you drive a lifted truck? These can be a bit tricky. When you lift a truck, it changes the angles of the suspension components. This can result in more positive camber. If you've recently lifted your truck and noticed a change in how it drives or how the tires wear, positive camber might be the culprit.
The Impact of Too Much Positive Camber
Now that we know what causes positive camber, let's delve into why it's a big deal. Excessive positive camber can throw a wrench into your driving experience, and here's how:
Effects on Driving and Tire Wear
Positive camber doesn't just affect how your vehicle looks—it can change how it behaves on the road. Here are some things you might notice:
Decreased Cornering Grip: When your wheels tilt away from your vehicle (positive camber), they make less contact with the road. This reduces your vehicle's ability to grip the road when cornering. In simpler terms, your vehicle might feel less stable when you take a turn.
Abnormal Tire Wear: Too much positive camber can lead to your tires wearing out unevenly. This happens because the outside edges of your tires bear more weight and make more contact with the road, wearing out faster than the inside edges.
Comparing to Too Much Negative Camber
In contrast, too much negative camber (wheels tilting inward) can lead to different problems. While it can improve handling in high-speed corners (great for race cars, not so much for everyday driving), it can also cause:
Reduced Straight-Line Stability: Your vehicle might feel "darty" or unstable when you're driving straight ahead.
Uneven Tire Wear: In this case, though, it's the inside edges of the tires that wear out faster because they're making more contact with the road.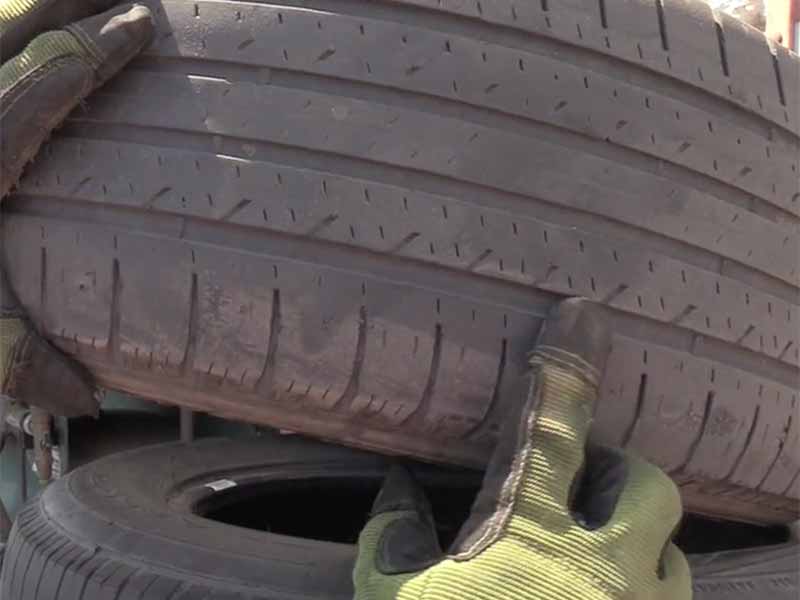 How Much Positive Camber is Acceptable
We've talked a lot about "too much" positive camber, but what about the right amount? How much positive camber is okay for your vehicle? Let's clear that up.
The Ideal Camber Range
Most vehicles are designed to have a bit of negative camber – that's the tilt towards the inside. This helps improve stability and cornering grip. However, some positive camber can be acceptable, depending on your vehicle and how you drive it.
As a general rule of thumb, anywhere between 0.5 to 2.0 degrees of positive camber is considered acceptable for regular street driving. If you drive a heavy-duty truck, or you use your vehicle for off-roading, the acceptable range could be slightly higher.
What Is The Perfect Camber Angle?
The perfect camber angle isn't the same for all vehicles or all driving conditions. It depends on a lot of factors, including your vehicle's design, the type of driving you do most (highway, city, off-road), and even the kind of tires you use.
For everyday driving, a bit of negative camber (around -1.0 to -0.5 degrees) is usually considered ideal. This setup ensures that the tires can make optimal contact with the road, providing a smooth ride and good cornering grip, without causing uneven tire wear.
However, if you have a lifted truck or a high-performance sports car, the ideal camber might be different. For lifted trucks, a little more positive camber might be necessary to account for the changes in suspension geometry. In high-performance sports cars, more negative camber might be required to maximize cornering grip.
Camber Plates
How to Measure Camber
You now know what camber is, its causes, impacts, and even the acceptable range. The next question you might ask is, "How do I measure it?" Well, let's dive right into it.
Camber Gauges to The Rescue
To measure your wheel's camber, you'll need a tool known as a "camber gauge." It helps you find out how much your wheels tilt inwards or outwards.
Here's a simple step-by-step guide on how to use a camber gauge:
Park Your Vehicle on a Level Surface: This is crucial. If your vehicle isn't level, you won't get accurate measurements.
Attach the Camber Gauge: Your camber gauge will have instructions on how to attach it to your wheel. Follow them carefully. It usually attaches magnetically to your wheel's hub or via a stand that sits against the tire.
Read the Gauge: Once the gauge is attached, read the measurement. It will tell you the degree of tilt your wheel has, either positive or negative.
Verifying With Professional Alignment
While camber gauges are handy tools for home use, they might not provide the most precise measurements. To ensure that your measurements are spot on, it's a good idea to have your alignment checked professionally from time to time.
How to Fix Positive Camber on Front and Rear Wheels
To fix positive camber issues, various suspension components on both the front and rear wheels can be adjusted. These adjustments are often done through various parts that allow for easier or more precise changes to the wheel alignment. Let's look at how to do this.
Front Wheels: The Key Role of Camber Bolts and Control Arms
In the front of most vehicles, the main components that are adjusted to correct positive camber are the camber bolts and control arms. Here's a basic step-by-step process:
Loosen the Bolts: You'll start by loosening the bolts attached to the control arm, namely the camber bolts and eccentric washer bolts.
Adjust the Control Arm: The control arm, which connects the vehicle frame to the steering knuckle, is where the adjustments happen. By adjusting the positioning of the control arm, you change the tilt of the wheel.
Tighten the Bolts: After the adjustments are made, tighten the bolts back up.
Sometimes, it might be beneficial to replace the standard camber bolts with adjustable ones. Adjustable camber bolts give you a greater range of adjustment, making it easier to correct significant alignment issues.
Rear Wheels: Considering Camber Bolts, Control Arms, and Camber Plates
Similar to the front, the rear wheels' alignment can be corrected by adjusting the camber bolts and control arms. However, you might also need to consider camber plates if your vehicle has independent rear suspension. Here are the steps:
Loosen the Bolts: Start by loosening the cam bolts and the bolts on the control arm.
Adjust the Control Arm or Camber Plates: Depending on your vehicle's setup, you'll either adjust the position of the control arm or the camber plates. Both changes will adjust the tilt of the wheel.
Tighten Everything Up: As with the front, tighten up the bolts once your adjustments are made.
In some cases, installing aftermarket camber plates can provide additional adjustability to the rear wheels, especially if the vehicle has been lowered or lifted. These plates replace the top mount of the suspension strut and allow for a wider range of camber adjustments.
When to Seek Professional Help
We've walked through DIY fixes for positive camber, but there's no shame in admitting when a task is beyond your reach. Here's when it might be best to put the wrench down and call a professional:
Complex Suspension Systems
Modern vehicles can have pretty complex suspension systems. Some use struts, others use multi-link systems, and others yet might have something entirely different. If your vehicle's suspension system feels like a puzzle you can't solve, it might be time to call in the pros.
Precision Alignment Checks
DIY alignment checks can give you a good ballpark figure, but they're not always as accurate as professional checks. A pro has equipment calibrated for precise measurements. If you're noticing uneven tire wear, poor handling, or if you just want the peace of mind that comes with knowing your alignment is spot on, a professional alignment check might be worth it.
Replacement of Suspension Components
If the cause of your positive camber is worn out or damaged suspension components (like ball joints, control arms, or bushings), you'll need to replace these parts. While some DIY enthusiasts might feel comfortable tackling this task, it's usually best left to a professional. Incorrectly installed suspension components can cause a whole host of problems, from poor handling to premature tire wear, and can even be dangerous.
Adjusting Camber After Lifting a Truck
If you've lifted your truck and noticed more positive camber, adjusting it can be tricky. The process might involve additional components like camber plates or control arms, and might even require different specifications than your standard alignment. In these cases, a professional who's experienced with lifted trucks can be a big help.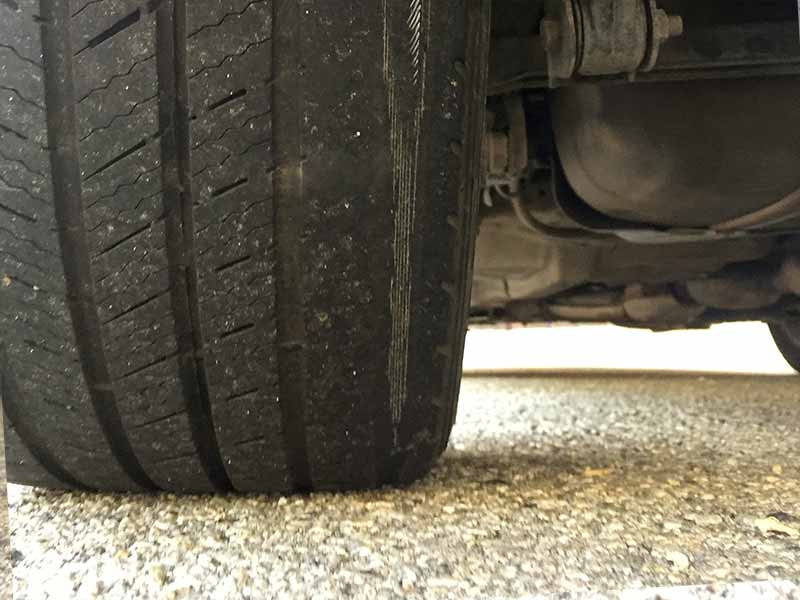 Regular Maintenance to Avoid Positive Camber Issues
We've covered a lot of ground on fixing positive camber issues, but remember the old saying "prevention is better than cure?" It applies here too. Let's talk about how regular maintenance can keep positive camber issues at bay.
Regular Wheel Alignment Checks
One of the simplest ways to avoid alignment issues is to have regular alignment checks. These are often done as part of your vehicle's routine service. Regular checks can spot small alignment issues before they become big problems.
Timely Replacement of Worn Suspension Parts
Suspension parts like ball joints and control arms can wear out over time. Keeping an eye on these components and replacing them when necessary can prevent alignment issues from cropping up. Remember, though, replacing suspension parts can be a complex job. If you're not comfortable doing it yourself, seek professional help.
Avoid Hitting Potholes and Curbs
Hard impacts, like hitting a pothole or curb, can knock your vehicle's wheels out of alignment. While sometimes these impacts are unavoidable, try your best to steer clear of them when you can. It's not just good for your alignment – it can also help prevent damage to your tires and rims.
Check Tire Pressure Regularly
While it won't directly cause positive camber, incorrect tire pressure can affect your vehicle's handling and tire wear, which could indirectly impact your alignment. Check your tire pressure regularly and adjust it according to your vehicle manufacturer's specifications.
Regular maintenance is the key to a well-functioning vehicle. Keeping on top of your vehicle's needs can not only save you from alignment woes, but it can also help your vehicle live a longer, healthier life.
Resources
Below are some links you may find helpful when learning about tires
Final Thoughts
Understanding and addressing camber issues, specifically positive camber, is critical for your vehicle's optimal performance and your safety on the road. Camber refers to the tilt of your car's wheels when viewed from the front. Too much positive camber can lead to uneven tire wear, reduced cornering grip, and even potential vehicle handling issues.
To manage camber, you can perform DIY adjustments with tools like camber gauges, camber bolts, and eccentric washer bolts, adjusting the tilt of your wheels. However, it's crucial to remember that professional help might be necessary in some cases, especially for complex suspensions, precise alignment checks, replacement of suspension components, or adjustments after lifting a truck.
Maintaining your vehicle regularly, including routine wheel alignment checks and timely replacement of worn suspension parts, is key to avoiding positive camber problems.
Good luck and happy motoring.