Ever found yourself in the waiting room of an auto service shop, wondering how long it'll take for your wheel alignment to be done? Or perhaps you've pondered if you can skip your next alignment, or if you need a two-wheel or a four-wheel alignment?
The mysterious world of wheel alignment can leave even the most car-savvy among us with more questions than answers. But worry not! We've got the inside scoop on everything wheel alignment.
How Long Does A Wheel Alignment Take?

A standard wheel alignment on a passenger car or truck typically takes approximately 60 to 90 minutes.

However, factors such as the condition of the vehicle, type of alignment, and the workload at the service center can impact the duration.
In this article, we'll take you on a detailed journey into the world of wheel alignment, covering everything from the basic understanding of the process, to the average time it takes at specific providers like Firestone.
We'll discuss the necessity of wheel alignment, signs that you might need one, and the benefits of keeping your wheels properly aligned. Plus, we'll also explore how often you should get your wheels aligned.
Let's take a closer look.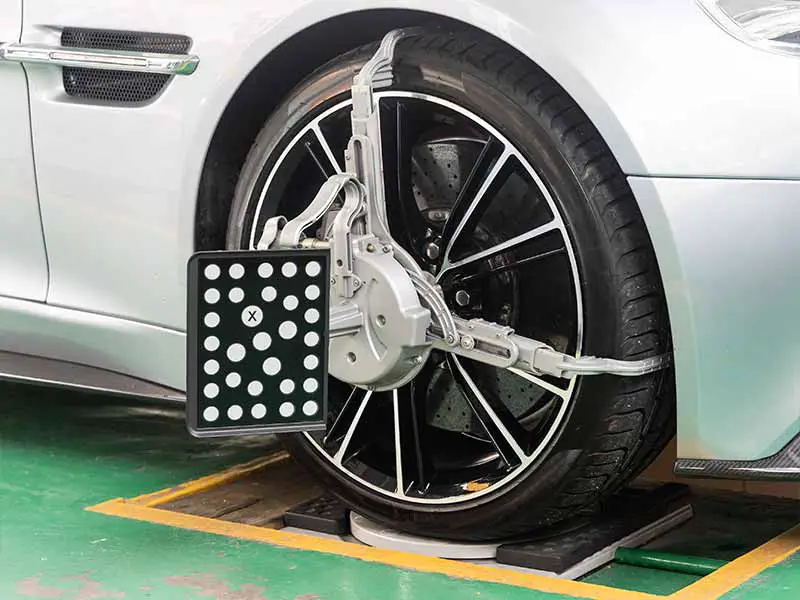 How Long Does Wheel Alignment Take?
Let's crack on and explore how long it actually takes to get your wheels aligned. Spoiler alert: it's probably not as long as you think!
The Average Time For Wheel Alignment
On average, wheel alignment can take anywhere from 1 to 2 hours. However, several factors can affect this timing:
Vehicle Make and Model: Some vehicles, like certain trucks or luxury cars, might have more complex suspension systems that require extra time to align properly.
Alignment Type: As we mentioned earlier, a four wheel alignment typically takes longer than a two wheel alignment. That's because the mechanic is adjusting all four wheels instead of just the front two.
Existing Condition of the Vehicle: If your vehicle has worn parts or damage, it might need repairs before the alignment can be done. This can add time to the overall process.
But Can An Alignment Be Done in 20 Minutes?
Well, in some cases, yes. If your vehicle is in good shape and doesn't have any major suspension problems, a skilled mechanic using a modern alignment machine might finish a simple front end alignment in 20 minutes. However, this is the exception rather than the rule, and it's always good to plan for a bit more time to ensure the job is done right.
What To Expect During The Alignment Process
Here's a little sneak peek into what goes on during a wheel alignment:
Pre-alignment Inspection: Before the actual alignment, the mechanic checks your vehicle's suspension and steering systems for any issues that could affect the alignment. This might include checking tire pressure and wear, suspension parts, and the steering bushing.
Vehicle Mounting: Your vehicle is then mounted onto the alignment machine. This machine uses special sensors and lasers to measure the alignment angles of your wheels.
Alignment: The mechanic adjusts your vehicle's suspension angles to the correct specifications. They'll ensure your wheels are properly aligned to roll in the same direction and that your steering wheel is centered.
Post-alignment Check: After the alignment, the mechanic will test drive your vehicle to make sure everything feels right and that the steering wheel is centered when driving straight.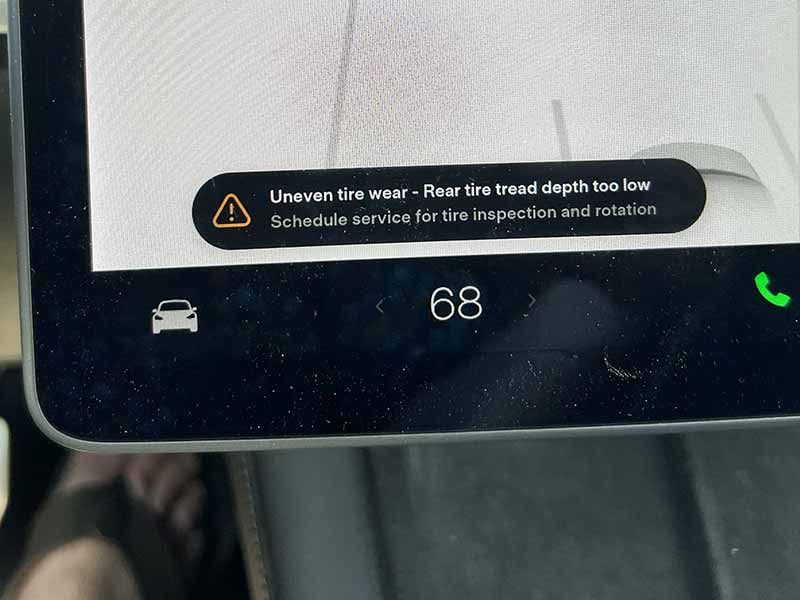 Alignment Procedures: Specific Providers
Now that we know what alignment is and how long it generally takes, let's get more specific and see how long it might take at a popular provider, like Firestone.
Wheel Alignment at Firestone
When it comes to Firestone, one of the big names in automotive services, you're looking at an average of 60 to 90 minutes for a standard wheel alignment. This includes both two and four-wheel alignments.
However, this timeline can vary based on factors similar to what we mentioned in the previous section:
The Condition of Your Vehicle: If your vehicle has any suspension damage, worn-out parts, or other issues that need to be addressed before the alignment, it could take longer.
The Type of Alignment: Again, a four-wheel alignment typically takes longer than a two-wheel alignment.
Shop's Business Volume: If the shop is particularly busy, you might have to wait a bit longer.
What to Expect During Your Visit
Here's a quick rundown of what a typical alignment appointment at Firestone might look like:
Check-In: You'll start by speaking with a service advisor who will discuss your needs, explain the process, and check your vehicle in for service.
Pre-Alignment Inspection: A technician will perform a pre-alignment inspection to check for any potential issues.
Alignment: Next, your vehicle is mounted onto the alignment rack, and the alignment is performed using state-of-the-art equipment.
Quality Check: The technician will do a final check to ensure everything is perfectly aligned, including a test drive to make sure your vehicle handles properly.
Check-Out: Finally, the service advisor will review the service with you, answer any questions, and check your vehicle out.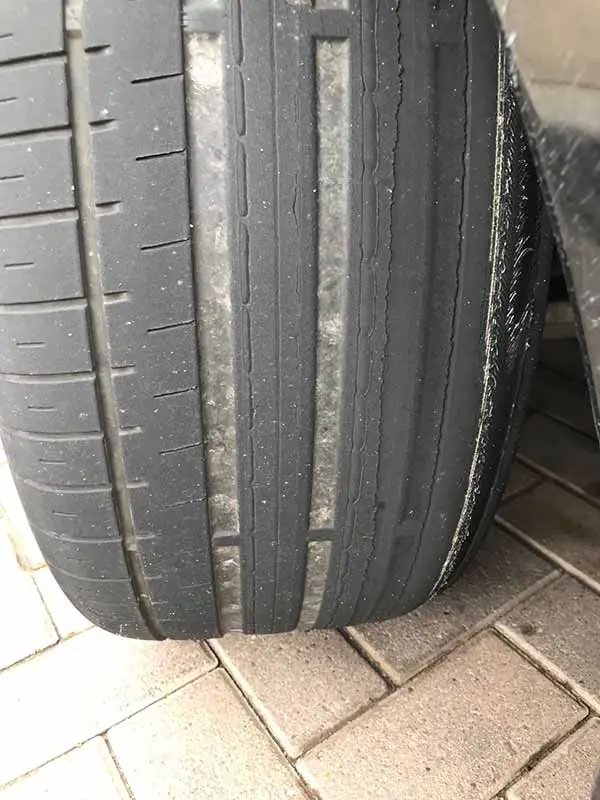 Why is Wheel Alignment Necessary?
You bet! Now that we've gotten into the nitty-gritty of how long wheel alignment takes and what to expect, let's talk about why it's so important.
Your Car's Health Depends on It
Wheel alignment is essentially a health check for your car. And just like how you'd visit a doctor for a check-up, your car needs its regular alignments to stay in tip-top shape. Here's why:
Uneven Tire Wear: When your wheels aren't aligned properly, certain areas of your tires can wear down more quickly than others. Over time, this can lead to you needing to replace your tires sooner than expected.
Poor Fuel Efficiency: Misaligned wheels can cause your car to work harder and burn more fuel. So keeping them aligned helps you get more miles per gallon and save money at the pump.
Unsafe Handling: Misalignment can also lead to poor car handling. This includes things like your car pulling to one side, your steering wheel being off-center, or a steering wheel vibration. All of these can make your car less safe to drive.
The Risks of Skipping an Alignment
Now you might be thinking, "Well, what if I just skip an alignment?" Here's the low-down on that:
Increased Wear and Tear: Without regular alignments, your tires can wear down prematurely and unevenly. You might even notice that your steering wheel isn't straight, which can be a sign that your car's alignment is off.
Costly Repairs: Skipping an alignment might save you money in the short term, but it can lead to more costly repairs down the line. This could include things like having to replace tires more frequently or needing to repair parts of your suspension system.
Less Safe Ride: As we mentioned earlier, misalignment can lead to your car not handling as it should. This could make your car less safe to drive, especially in challenging conditions like wet or icy roads.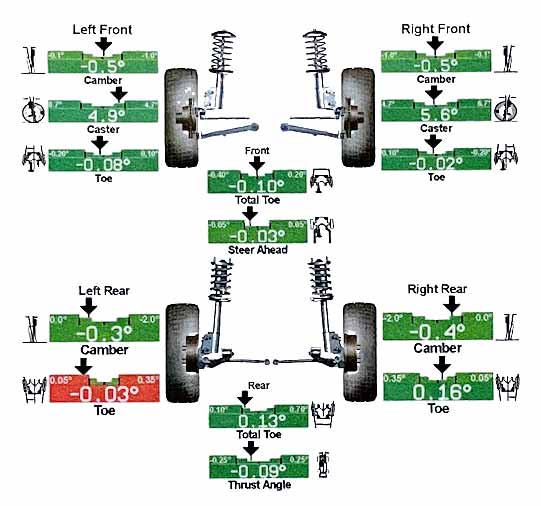 Understanding Wheel Alignment
Hey there! If you've ever wondered what goes on when your car's wheels are being aligned, you're in for a treat. Let's dive right in!
What Is Wheel Alignment Anyway?
First things first, wheel alignment, also known as tire alignment, is all about making sure your tires are set to the right angles. This ensures they hit the road at the correct angle, move in the same direction, and work together to give you the best possible drive.
When we say 'correct angles', we're talking about three key suspension angles, which get adjusted during an alignment. These are:

Camber: This is the inward or outward tilt of the tire when viewed from the front. Too much tilt either way means your tires could wear unevenly.
Toe: Imagine looking down at your feet. If you point your toes inward, that's toe-in. If you point them outward, that's toe-out. Now imagine your tires doing the same thing. We want them straight to avoid uneven wear!
Caster: This one's a bit trickier. Viewed from the side of your vehicle, caster is the angle of your steering axis. It affects balance, stability, and steering.
Four Wheel Alignment Vs. Two Wheel Alignment
Depending on your vehicle, you might need a two wheel or a four wheel alignment.
Two wheel alignment, also called a front end alignment, is where the mechanic adjusts only the front wheels. This is common for cars with a solid rear axle.
Four wheel alignment is when all four wheels get adjusted. This is typical for vehicles with independent rear suspension systems. It's more detailed, thus might take a bit longer.
Steering Wheel Position Matters
The position of your steering wheel plays a crucial role in proper wheel alignment. Ever noticed your steering wheel not centered while you're driving straight? That's a common sign of misalignment! Your mechanic will ensure the steering wheel is perfectly centered during the alignment process.
And let's not forget about steering bushings – those little buffer guys in your steering system. If worn out, they can cause your steering wheel to vibrate or your vehicle to wander, which might mean you need an alignment.
Resources
Below are some links you may find helpful when learning about tires
Final Thoughts
The key takeaways are that wheel alignment typically takes between 60 to 90 minutes, depending on various factors. More than a chore, wheel alignment is a necessary maintenance step that can increase your vehicle's fuel efficiency, improve its handling, and prolong tire life.
Signs of needed alignment might include a crooked steering wheel, uneven tire wear, or your vehicle pulling to one side. So don't ignore these! Remember, while you may need a four-wheel alignment, sometimes only the front wheels need aligning. Stay proactive with routine alignments – every 2 to 3 years or as per your vehicle manufacturer's recommendation – and your car will thank you for it.
Good luck and happy motoring.