Every time you get behind the wheel, the smoothness of your ride, the efficiency of your fuel use, and even the lifespan of your tires hinge on a seemingly mundane detail: wheel alignment. But what happens when you throw new tires into the mix without proper alignment? The results might surprise — and concern — you.
Driving On New Tires Without Alignment

Driving on new tires with poorly aligned tires can lead to uneven wear, reduced fuel efficiency, safety concerns, and a shortened lifespan for your tires.

If you've had a tire alignment service performed within the last 10,000 miles, you don't notice uneven tire wear, and your car or truck drives straight ahead without pulling, you may not need an alignment.
In this article, we'll delve deep into the world of wheel alignments, why they're crucial, especially with new tires, and how to recognize when your vehicle urgently needs one
Let's take a closer look.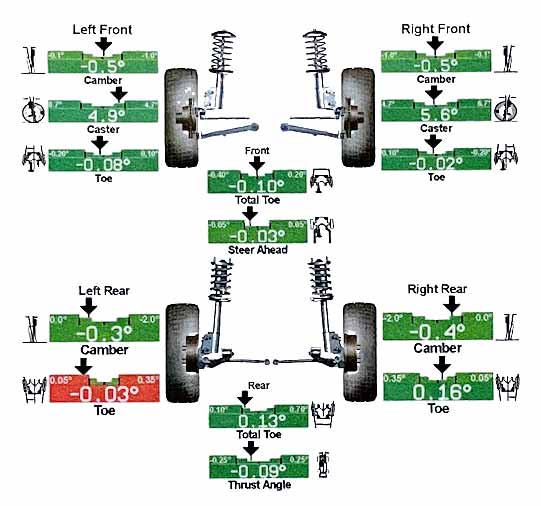 Understanding Wheel Alignment and Its Importance
Wheel alignment, at its core, is about ensuring your vehicle's wheels are set to the optimum position as per the car manufacturer's specifications. Here's a deeper dive into what wheel alignment is and why it's essential, especially when you've got new tires on your car.
What is Wheel Alignment?
Definition: Wheel alignment refers to the adjustment of a vehicle's wheels, making sure they're parallel to each other and perpendicular to the ground.
Components: There are typically three primary angles adjusted during the wheel alignment process:

Camber: This is the inward or outward tilt of the top of the tire as viewed from the front of the vehicle. Too much inward or outward tilt, also known as negative or positive camber, indicates improper alignment.
Toe: Refers to the extent to which the front of the wheels turn inward or outward when viewed from above. Think of this as the angle at which your feet point when you stand.
Caster: This angle evaluates the amount the wheel and axle pivot when steering. It's viewed from the side and can be positive or negative depending on the vehicle design.
Why is Wheel Alignment Important?
Tire Longevity: Properly aligned wheels can significantly extend the lifespan of your tires. Misaligned tires can cause uneven tire wear, necessitating more frequent replacements.
Vehicle Safety: Misalignment can cause the car to pull to one side, which can be dangerous, especially at high speeds or in wet conditions. An aligned vehicle will have a better grip on the road, ensuring safer driving.
Improved Fuel Efficiency: When wheels are misaligned, they can create more resistance on the road. This resistance means your vehicle has to work harder, consuming more fuel in the process.
Smoother Ride: Misaligned wheels can lead to issues like vibrations or the vehicle pulling to one side, making for an uncomfortable driving experience. Aligning your wheels ensures a smoother ride.
Maximize New Tire Performance: For new tires, it's crucial they start their lifecycle in an aligned state. This ensures they wear evenly and gives you optimal performance from the get-go.
Alignment and New Tires: A Special Note
When you invest in new tires, you're essentially resetting the stage. Here's why alignment is particularly critical with new tires:
Even Wear from Start: New tires provide an opportunity for even wear right from the beginning. If you start off with misaligned wheels, you're setting the stage for premature wear and suboptimal performance.
Optimized Performance: New tires are designed to give you improved grip, better fuel efficiency, and a smoother ride. By aligning your wheels when these tires are new, you're ensuring you get the maximum benefit from these features.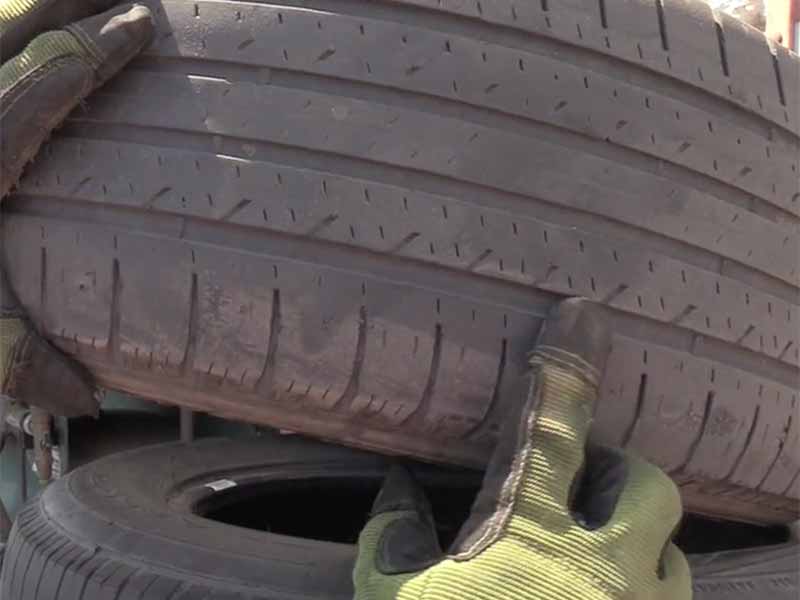 Effects of Driving Without Alignment After Installing New Tires
When new tires are fitted to a vehicle, it's essential to ensure they are in alignment. Driving without the proper alignment can lead to several issues, some of which can be immediate, while others may become apparent over time.
Uneven Wear
What is it? Uneven tire wear refers to one part of your tire wearing down faster than other parts.
Why does misalignment cause this?

Misaligned tires aren't parallel to each other or aren't perpendicular to the ground.
This means one part of the tire might be taking on more stress and weight than it should, leading to faster wear in that area.

Spotting the Problem: Look for areas of the tire that are smoother or have less tread compared to other parts of the same tire.
Off Center Steering Wheel
What is it? When driving straight, the steering wheel isn't centered but rather tilted to the left or right.
Caused by: The front wheels of the vehicle not being aligned to the rear thrust line.
Why it matters: An off-center steering wheel can be disconcerting for the driver, making the vehicle feel unstable or unpredictable.
Decreased Gas Mileage
What's happening? Misaligned wheels create increased road resistance, making the vehicle work harder and consume more fuel.
Financial Impact: Over time, even a slight misalignment can cost you more at the pump due to the reduced fuel efficiency.
Reduced Tire Lifespan
The Connection: Tires are designed to have their entire tread area in contact with the road under normal driving conditions. Misalignment prevents this even contact, causing certain parts of the tire to wear out faster.
The Result: Tires wear out more quickly, leading to more frequent replacements and increased costs.
Signs Your Vehicle Might Be Misaligned
Beyond observing your tires and steering wheel, here are some additional signs your vehicle might be misaligned:
Vehicle Pulling: If your car seems to drift to one side without steering in that direction, it might be an alignment issue.
Vibrations: A vibrating steering wheel can indicate misaligned tires.
Loud Noises: Misalignment can sometimes cause your tires to squeal.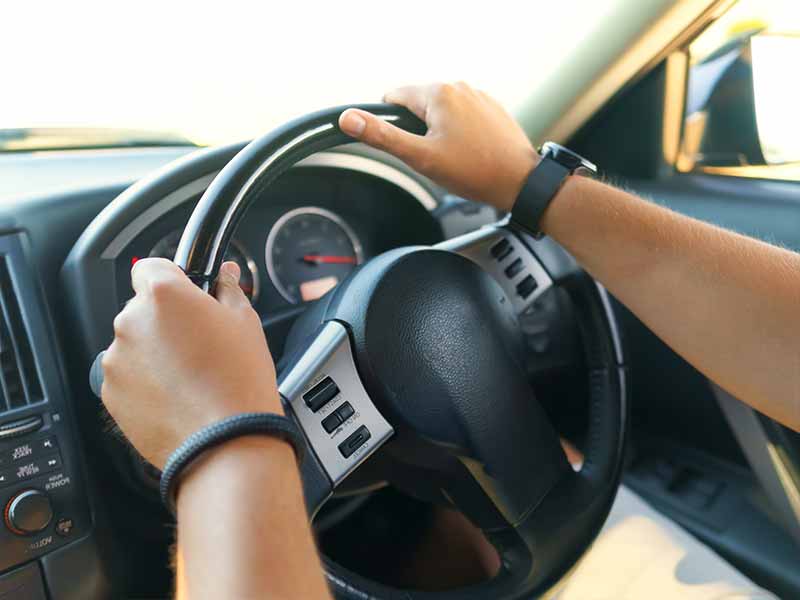 Do You Need an Alignment After Replacing Tires?
One common question among vehicle owners is whether they need to have their wheels aligned after replacing their tires. Let's explore this in detail.
Replacing All Four Tires
The Best Practice: Whenever you're replacing all four tires, it's generally recommended to get a four-wheel alignment.

This ensures all tires start their lifecycle on an even playing field.

Why it Matters: Misalignment in any wheel, front or rear, can cause uneven wear on your new tires.
Performance: New tires are an investment meant to give you better performance, safety, and efficiency. Ensuring proper alignment maximizes these benefits.
Replacing Just Two Tires
Depends on the Vehicle: Not all vehicles need a full four-wheel alignment when only two tires are replaced.

For example, vehicles with solid rear axles might not need their rear wheels aligned as frequently.

Still Consider Front Wheels: Even if you're only replacing two front tires or two rear tires, an alignment check for the front wheels is often still beneficial.
Consideration of Alignment Before New Tires
Tire Lifespan: Misalignment can cause uneven wear. If your old tires wore out unevenly, this might indicate an alignment issue that should be addressed before new tires are installed.
Savings in the Long Run: Addressing alignment before putting on new tires ensures you won't prematurely wear out your new investment.
Alignment after Accidents or Major Bumps
Always Check: If your vehicle has been in an accident or experienced a major bump (like hitting a deep pothole), it's wise to check the alignment. Even if the tires seem okay, internal damage might necessitate an alignment.
Resources
Below are some links you may find helpful when learning about tires
Final Thoughts
In the realm of automotive care, wheel alignment stands as a pivotal factor influencing the performance, safety, and longevity of your tires. Especially when integrating new tires onto your vehicle, ensuring they're properly aligned is paramount.
Driving without the right alignment can usher in a cascade of issues, from uneven wear and reduced fuel efficiency to steering challenges and a diminished lifespan for your tires. In essence, to safeguard your investment in new tires and guarantee a smoother, more efficient driving experience, always prioritize proper wheel alignment.
Good luck and happy motoring.