Imagine your car's tires dragging sideways across the road surface every time they spin, working overtime but slowly destroying themselves in the process. That's the damaging reality of poor wheel alignment—a hidden culprit compromising both your ride and tire lifespan.
Driving A Car With Bad Alignment

Driving a car with bad alignment can lead to uneven tire wear, reduced fuel efficiency, and compromised vehicle control. Over time, these issues can result in increased repair costs, decreased safety, and reduced vehicle lifespan.
In this article, you'll delve into the intricacies of wheel alignment, learn to recognize its symptoms, understand the dangers of neglecting it, and discover the economic implications of proper maintenance.
Let's take a closer look.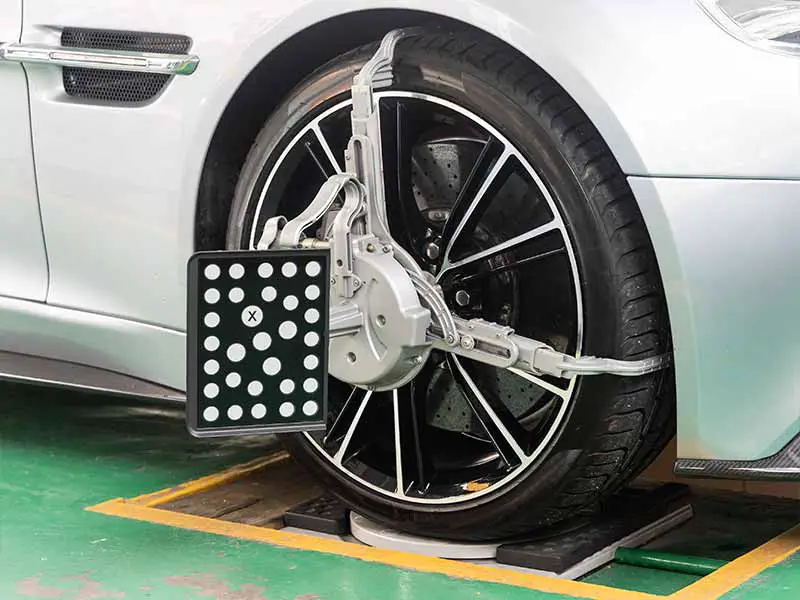 Understanding Wheel Alignment
Wheel alignment is a fundamental aspect of vehicle maintenance that directly affects tire performance, vehicle handling, and the safety of the vehicle's occupants.
What is Wheel Alignment?
Wheel alignment, often simply termed as 'alignment', refers to the adjustment of a vehicle's wheels in relation to each other and the vehicle's body. The aim is to ensure that the tires are contacting the road in an optimal way, providing even tire wear and stable steering.
Three main components define wheel alignment:
Camber: The inward or outward tilt of the top of the tire as viewed from the front of the vehicle.

Positive camber: top of the tire tilts outwards.
Negative camber: top of the tire tilts inwards.

Toe: The direction the tires are pointed compared to a centerline drawn through the vehicle.

Toe-in: the fronts of the tires are closer to each other than the backs.
Toe-out: the backs of the tires are closer to each other than the fronts.

Caster: The forward or rearward tilt of the steering axis viewed from the side of the vehicle. This angle helps with the vehicle's stability and steering feel.
Proper Wheel Alignment vs Improper Wheel Alignment
Proper Wheel Alignment:
Ensures even contact of tire tread with the road.
Minimizes tire wear.
Provides stable and predictable steering.
Enhances fuel efficiency.
Increases safety by reducing steering and stability issues.
Improper Wheel Alignment:
Causes uneven tire wear, reducing tire lifespan.
Leads to poor vehicle handling.
Reduces fuel efficiency due to increased rolling resistance.
Can lead to safety concerns like the car pulling to one side.
Causes of Misalignment
Various factors can contribute to misaligned wheels:
External Impacts:

Hitting potholes, curbs, or road debris.
Accidents, even minor fender-benders.

Suspension Wear and Tear:

Worn out bushings, bearings, or other suspension components.
Prolonged driving with worn out parts can cause alignment to drift.

Improper Adjustments:

Incorrect wheel alignment services.
Replacements of suspension parts without proper realignment.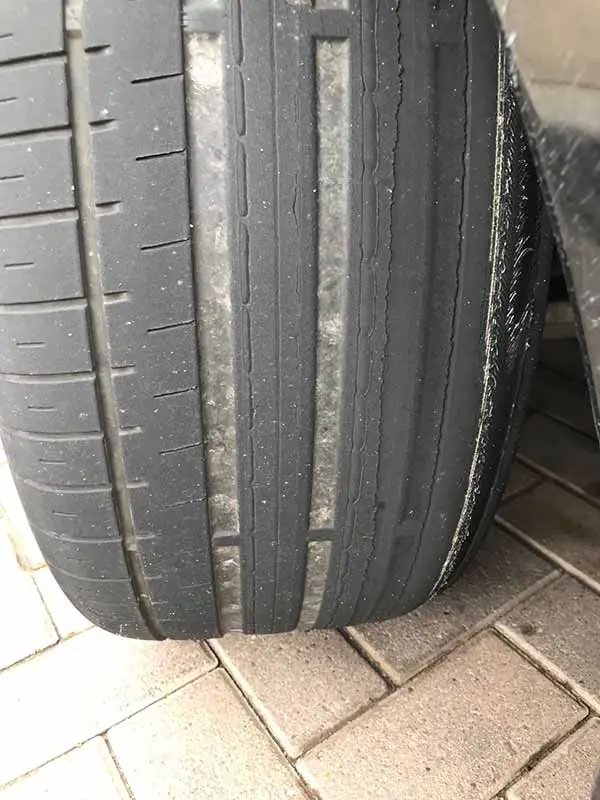 Symptoms of Bad Wheel Alignment
Recognizing the symptoms of bad wheel alignment can aid vehicle owners in addressing potential issues before they escalate into bigger problems or costly repairs.
Steering Wheel Issues
One of the most immediate and noticeable indicators of alignment problems is seen and felt through the steering wheel.
Steering Wheel Not Centered:

If the steering wheel is off-center when driving straight, this is a clear indicator of alignment issues.

Loose or Wandering Steering:

A steering wheel that feels loose or causes the car to wander from one side of the lane to the other may signal misaligned wheels.

Steering Wheel Vibration:

Vibrations felt through the steering wheel, particularly at certain speeds, can indicate an alignment issue or even imbalances in the tires.
Uneven Tire Wear
Misalignment often manifests itself through abnormal patterns of tire wear.
Inner or Outer Edge Wear:

Wear on the inside or outside edge of the tire can suggest problems with the camber adjustment.

Feathering or Saw-toothed Wear:

This occurs when the edge of each tread section wears down, creating a rough and inconsistent pattern. It often indicates issues with the toe alignment.

Cupping or Dipping Wear:

This kind of wear appears as dips or cups in the tread and often signifies problems with suspension parts or imbalances in the tire.
Vehicle Pulling to One Side
A common and easily recognizable symptom is when the vehicle drifts or pulls to one side even when you intend to drive straight. This can be a result of:
Uneven tire pressure.
Uneven tire wear due to misalignment.
Damaged or worn-out suspension parts.
Checking Tread Depth
It's essential to regularly inspect tire tread depth for signs of uneven wear.
Using a Tread Depth Gauge:

This tool provides an accurate reading of tread depth, allowing you to identify uneven wear patterns early.

The Penny Test:

Insert a penny into the tread with Lincoln's head facing down. If you can see the top of his head, it's time to consider replacing the tire.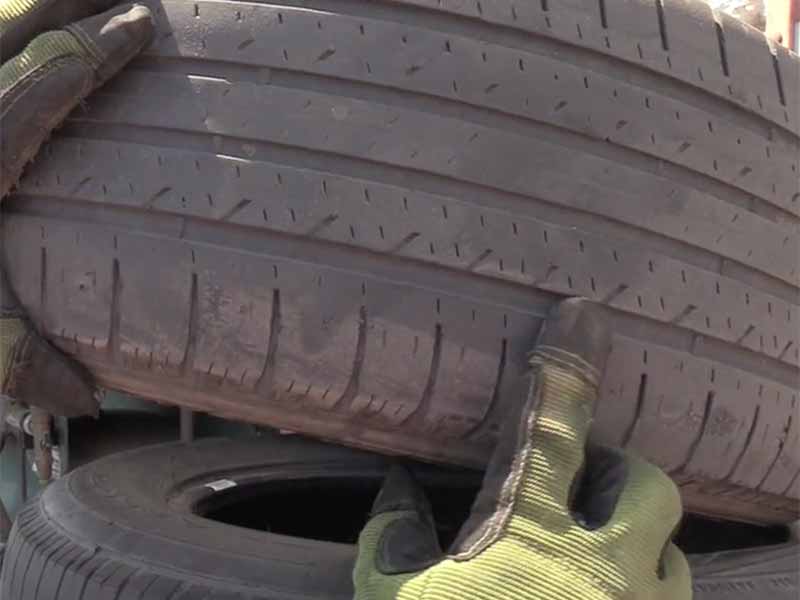 Effects of Driving with Misaligned Wheels
Driving with misaligned wheels can lead to a range of problems affecting the vehicle's performance, safety, and overall driving experience. It's crucial to be aware of these effects to prioritize proper wheel alignment.
Impact on Car Performance and Lifespan
Misaligned wheels can severely affect the overall performance and lifespan of various parts of the car.
Reduced Tire Lifespan:

Misalignment results in uneven tire wear, which can reduce the lifespan of the tires, leading to frequent replacements.

Decreased Fuel Efficiency:

When wheels are not aligned correctly, they can increase rolling resistance. This means the engine has to work harder, leading to decreased fuel efficiency.

Compromised Brake Efficiency:

Uneven tire wear can lead to uneven braking, which might cause the car to pull to one side during braking.
Dangers of Misalignment
Driving with misaligned wheels can pose several risks.
Reduced Vehicle Control:

A car with alignment issues might not respond predictably to steering, especially in emergency situations, increasing the risk of accidents.

Increased Wear and Tear:

Beyond just the tires, misalignment can strain other vehicle parts, including suspension and braking systems.

Safety Concerns:

A car that pulls to one side, or has a vibrating steering wheel, can be distracting and reduce the driver's control over the vehicle.
Duration of Driving with Bad Alignment
How long one can drive with misaligned wheels varies based on the severity of the misalignment and driving conditions.
Short-Term Effects:

Even after a short duration, drivers might notice uneven tire wear, reduced fuel efficiency, or a pulling sensation.

Long-Term Effects:

Continuous driving with bad alignment can lead to permanent damage to the tires, suspension, and other critical systems. It's not advisable to drive extensively with misalignment issues.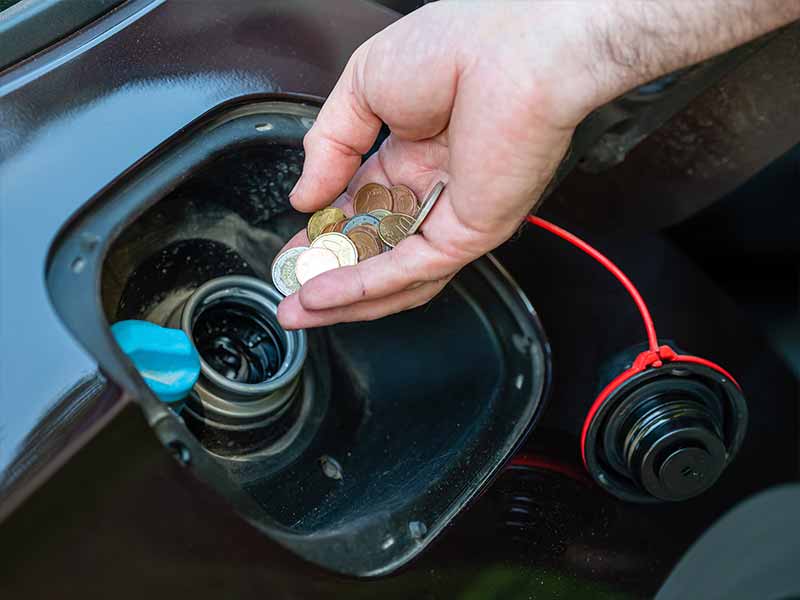 The Economic Impact of Ignoring Bad Alignment
Overlooking the importance of wheel alignment can have substantial economic implications. By understanding these consequences, vehicle owners can make more informed decisions regarding their car's maintenance.
Cost of Alignment vs Neglected Repairs
Addressing wheel alignment is an upfront cost, but it's essential to compare this to potential repair costs from neglecting the issue.
Alignment Services Cost:

Getting wheels aligned is relatively inexpensive. Costs can vary based on vehicle type and service provider but are generally affordable.

Cost of Ignored Misalignment:

Replacement of prematurely worn-out tires.
Repairs or replacements of damaged suspension components.
Increased fuel expenses due to decreased fuel efficiency.
Potential for more extensive damages or accidents resulting from decreased vehicle control.
Frequent Tire Replacements
One of the most immediate economic impacts of ignoring misalignment is the need for regular tire replacements.
Uneven Wear Leads to Shortened Tire Lifespan:

Tires with uneven wear patterns tend to have a reduced overall lifespan, requiring more frequent replacements.

Higher Long-Term Costs:

While one set of tires might seem like a manageable expense, frequent replacements over the life of the vehicle quickly add up.
Impacts on Fuel Efficiency
A misaligned vehicle doesn't just wear down tires faster; it also burns more fuel.
Increased Rolling Resistance:

Misaligned wheels can increase the rolling resistance, meaning the engine has to expend more energy, thus consuming more fuel.

Economic Implication:

With fuel prices being a significant portion of vehicle running costs, even a small drop in fuel efficiency can lead to substantial expenses over time.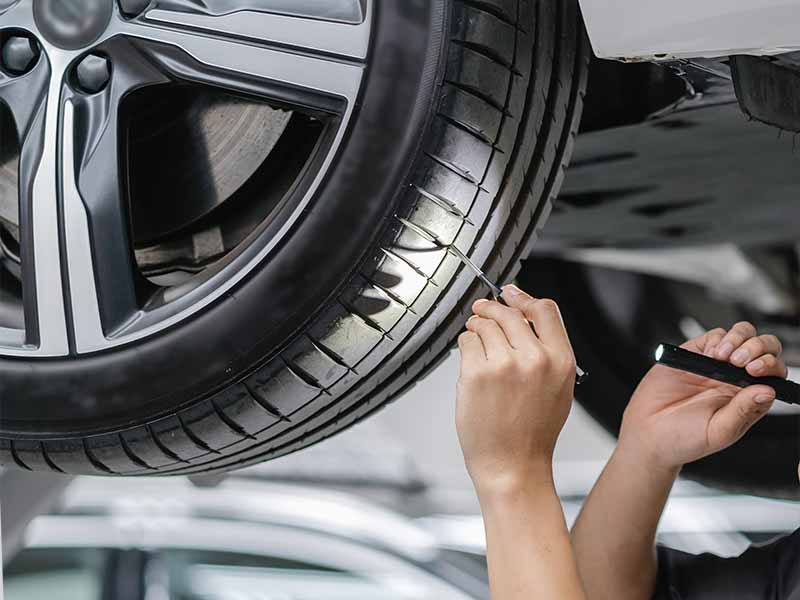 Importance of Regular Check-Ups
Routine maintenance and checks are paramount for any vehicle. When it comes to wheel alignment, regular evaluations not only ensure the longevity of tires but also guarantee the overall health and safety of the vehicle.
Frequency of Alignment Checks
Knowing when to get your wheels checked can make a difference in your vehicle's performance.
After Specific Milestones:

It's advisable to check wheel alignment every 5,000 to 6,000 miles. However, the exact interval can vary based on the vehicle's make and model.

Post External Impacts:

After any significant impact, like hitting a pothole or curb, it's good practice to have the alignment checked.

When Changing Tires:

Whenever you're replacing old tires with new ones, it's an opportune time to ensure the wheels are properly aligned.
Benefits of Regular Check-Ups
There are numerous advantages to maintaining a consistent check-up routine:
Maximized Tire Lifespan:

Ensuring that your wheels are correctly aligned helps evenly distribute wear, increasing the overall lifespan of your tires.

Enhanced Vehicle Performance:

Properly aligned wheels lead to better handling, making driving smoother and more predictable.

Safety Assurance:

Regular checks reduce the risk of alignment-related issues, ensuring the vehicle responds as expected, especially in emergency situations.

Cost Savings:

By preemptively addressing alignment issues, you can avoid the more significant costs associated with worn-out tires and damaged vehicle parts.
Recognizing the Need for Alignment
While regular intervals for checks are crucial, it's equally important to recognize symptoms indicating alignment needs:
Uneven Tire Wear:

If you notice inconsistent wear patterns on your tires, it's a strong sign they're not aligned correctly.

Vehicle Pulling:

Should your vehicle drift to one side while driving straight, it may be due to alignment issues.

Steering Wheel Abnormalities:

If the steering wheel vibrates or isn't centered when driving straight, an alignment check should be considered.
Resources
Below are some links you may find helpful when learning about tires
Final Thoughts
In the journey of understanding wheel alignment, it's clear that this seemingly minor aspect plays a monumental role in vehicle performance, safety, and economics. Misaligned wheels can significantly reduce tire lifespan, compromise vehicular control, and incur added costs in both repairs and fuel. Regular check-ups and staying attuned to the symptoms of poor alignment are not just advisable—they're essential. By prioritizing proper wheel alignment, vehicle owners ensure not only a smoother ride but also longevity, safety, and savings in the long run.
Good luck and happy motoring.