Think back to your last long drive, zipping down the highway, sun shining, tunes blaring. Everything was perfect, right? Well, you can thank two hidden heroes of your vehicle's design for that smooth and stable ride: caster and camber.
These often-overlooked angles in your wheel alignment play a major role in your vehicle's performance and safety, turning your drives from nerve-wracking to nirvana.
Caster Vs Camber

Caster primarily influences straight-line stability and steering control. Camber affects how your tires connect with the road, playing a key role in cornering performance.
In this article, we'll dive deep into the roles of caster and camber, their effects on your vehicle's performance, and the differences between them. We'll explore how they're adjusted during wheel alignment, how they impact tire wear, and what's typical for most cars and trucks.
Let's take a closer look.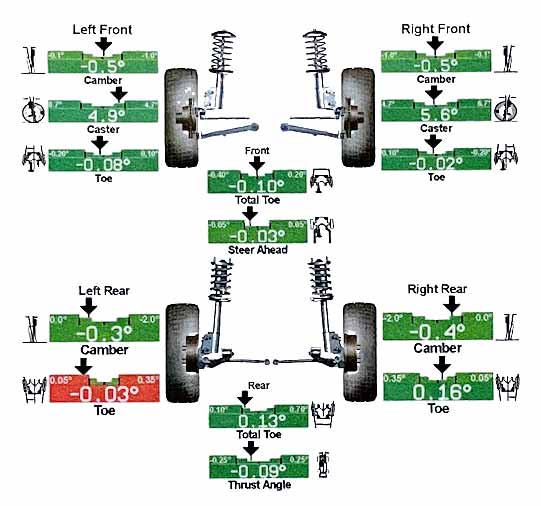 What Is Caster?
Caster is all about the angle of your steering pivot, which is the line drawn through your car's upper and lower steering pivot points. These points are where your vehicle's wheels rotate around, like a spinning top. This pivot line is also known as the 'steering axis'.
The Role of Caster
The caster angle plays a significant role in the balance and stability of your vehicle, especially when you're out on a joyride. Here's why:
It helps your steering wheel return to the center when you finish a turn.
It supports your vehicle's weight and helps balance the steering.
It contributes to your vehicle's straight-line stability.
Positive and Negative Caster: What's The Difference?
Here's where things can get a bit tricky, but no worries, we've got you!
Positive Caster
Imagine a side view of your vehicle. If the steering axis tilts toward the driver, that's called a 'positive caster'. Here's what it does:
Enhances your vehicle's stability
Provides better steering feel
Helps the wheel return to the straight-ahead position after a turn
Negative Caster
On the other hand, if the steering axis tilts toward the front of your vehicle, we call that a 'negative caster'. Here are its effects:
Makes the steering wheel easier to turn
Reduces stability at high speeds
Is rarely used in modern vehicles because it can cause your tires to wear out faster
What Happens When Caster Is Incorrect?
Good question! If your caster is out of whack, you're going to feel it:
Your steering might feel heavy or difficult to control.
Your vehicle might wander or feel unstable during straight-line driving.
You could notice uneven or rapid tire wear.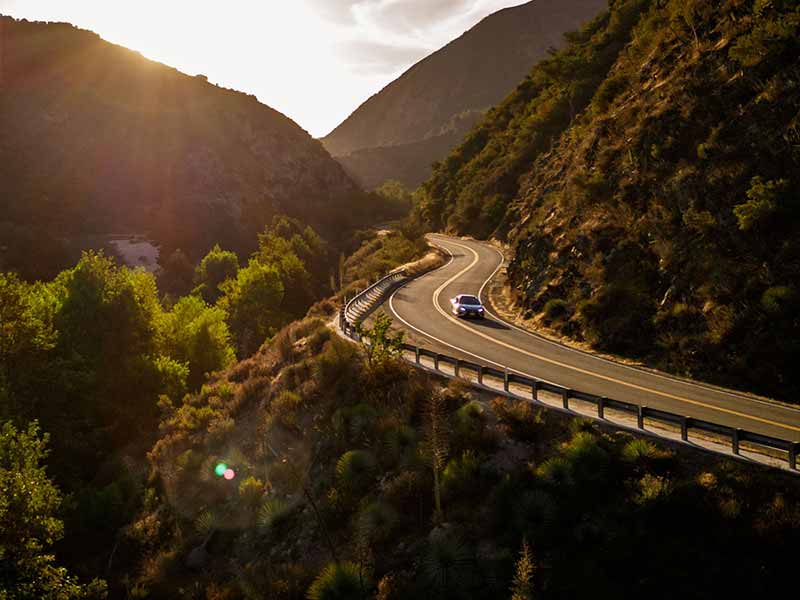 What Is Camber?
Simply put, camber is the tilt of your vehicle's wheels from vertical when viewed from the front. If that sounds like a mouthful, picture this: stand in front of your car and look directly at your tires. If the tops lean out away from the car, that's positive camber. If they lean in towards the car, that's negative camber. Still with us? Great!
The Inward or Outward Tilt
Here's where it gets a bit technical but hang in there!
Positive Camber
When the top of your tire leans away from your vehicle (imagine the letter 'A'), we call that 'positive camber'. Here's what it does:
Helps distribute load across the entire tread
Provides better steering and stability for heavy vehicles
Can cause the outer tire edge to wear down faster if it's excessive
Negative Camber
If the top of your tire leans towards your vehicle (imagine the letter 'V'), that's what we call 'negative camber'. Here are its effects:
Provides better grip when cornering
Improves handling in high-performance vehicles
Can cause the inner edge of the tire to wear out faster if it's too much
What Happens When Camber Is Incorrect?
Just like caster, if your camber is off, you'll know it:
Your vehicle might pull to one side while driving.
You may notice unusual or rapid tire wear, especially on one edge.
You might feel like your car's handling is off, especially around corners.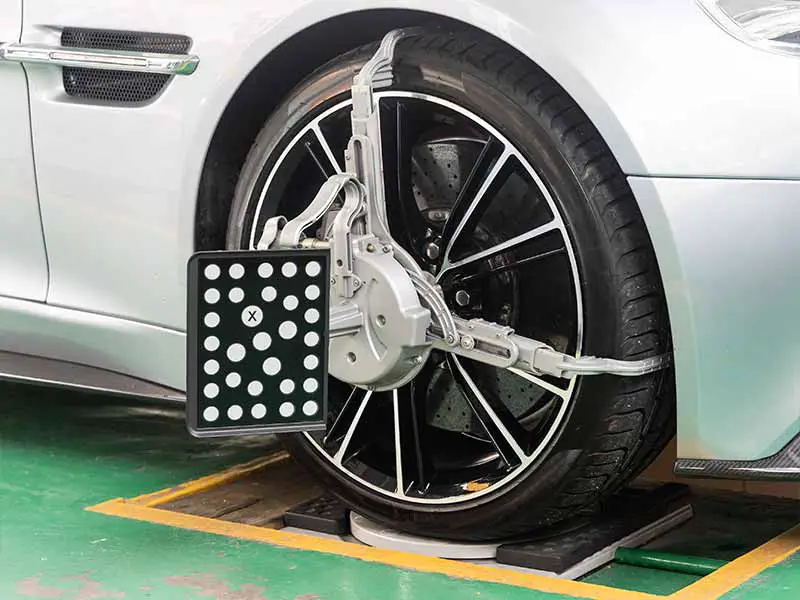 Caster vs Camber: The Differences
So, we've talked about both caster and camber, but how do they really differ? Let's break down the effects they have.
Caster or Camber: Who Affects Driving More?
Caster and camber, these two fellas work together to keep your ride smooth, but they handle different aspects of your driving experience.
Caster primarily influences your steering and the self-centering of the wheel. It's all about control and stability when cruising in a straight line or taking a sharp turn.
Camber, on the other hand, is the balancing act for your tires, affecting their tilt and how they hit the road. It's a key player when you're cornering, keeping your tires firmly grounded for that grippy feel.
Does Caster Affect Camber and Vice Versa?
Here's the biggie: does changing one affect the other? The answer is usually no. Caster and camber are designed to do their jobs independently. That said, drastic adjustments to one can subtly influence the other, but in most cases, they keep to their own lanes.
In a Straight Line, Which Is More Impactful, Caster or Camber?
While driving in a straight line, caster takes the wheel (pun intended!). With its role in straight-line stability and steering control, caster is the boss of highway drives and straight roads.
The Dance Between Camber and Caster During Driving
When you drive, caster and camber do a choreographed dance to give you the best handling and stability. Here's how:
Caster: During a turn, caster causes your inside wheel to tilt slightly, creating negative camber for a better grip.
Camber: While caster is doing its thing, camber ensures your tires stay flat on the road for the best traction, especially during those tight turns.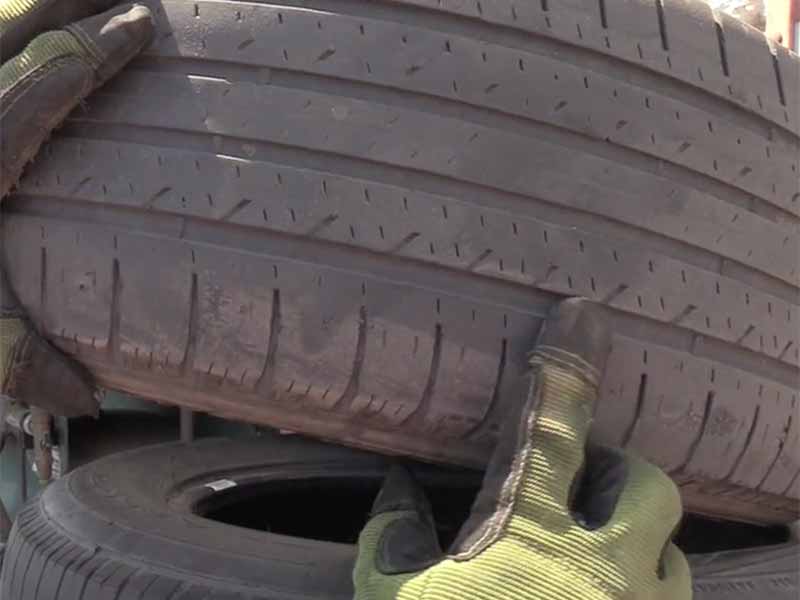 The Importance of Proper Wheel Alignment
Wheel alignment is a big deal for a few reasons:
It helps your tires last longer.
It makes your ride smoother and safer.
It saves you money on gas by improving efficiency.
The Procedure for Caster and Camber Adjustment
Adjusting caster and camber involves changing the angles of your vehicle's wheels. The process includes:
Putting your vehicle on an alignment rack
Taking initial measurements with computerized equipment
Making necessary adjustments to align your wheels
Do You Align Camber or Caster First?
It's like the chicken and egg situation, right? But in this case, there's a clear winner. Technicians usually adjust the camber first and then move to caster. Why? Because adjusting the camber can sometimes affect the caster angle slightly. So, doing camber first just makes sense.
How Caster and Camber Adjustments Affect Tire Wear
You know by now that incorrect caster and camber can cause your tires to wear down faster. Here's how alignment helps:
Proper caster settings help your tires wear down evenly and improve tire lifespan.
Correct camber angles keep your tire tread flat against the road, reducing uneven wear.
The Toe In, Toe Out Connection
While we're on the topic of alignment, let's talk about 'toe'. This is another adjustment that's part of a wheel alignment:
Toe In: If the fronts of your tires are closer together than the backs, that's called 'toe in'. It can help with straight-line stability but might cause the outsides of your tires to wear faster.
Toe Out: If the fronts of your tires are further apart than the backs, that's 'toe out'. It can make your car feel more responsive but might cause the insides of your tires to wear faster.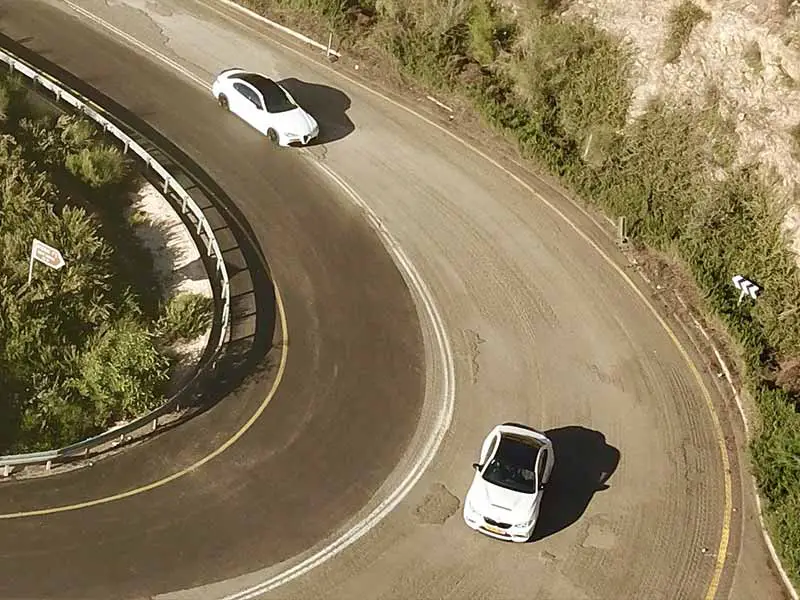 The Typical Caster and Camber for Most Vehicles
Cars and trucks come in all sorts of shapes and sizes. But despite the variety, most vehicles have a few things in common when it comes to caster and camber. Let's take a look common settings and their effects on tire wear.
Do Most Cars and Trucks Have Positive or Negative Caster?
Get ready for a fun fact! Most modern passenger cars and trucks have positive caster. Why, you ask?
Positive caster improves straight-line stability, which is crucial for highway driving.
It helps your steering wheel return to the center after you make a turn, which we can all agree is pretty important!
Do Most Cars and Trucks Have Positive or Negative Camber?
Now onto camber. Most vehicles are designed with just a smidge of negative camber. Here's why:
A little bit of negative camber can improve grip when cornering, which makes your ride safer and more enjoyable.
It also distributes tire wear more evenly across the tread, which means fewer trips to the tire shop.
The Impact of These Typical Settings on Tire Wear and Vehicle Performance
Having the right caster and camber isn't just about making your car drive straight or turn better. It's also about the longevity of your vehicle and the comfort of your ride. Here's how:
The right caster angle can improve tire lifespan, save fuel, and make steering easier.
The correct camber angle can prevent rapid tire wear, especially on the edges, and improve handling.
Resources
Below are some links you may find helpful when learning about tires
Final Thoughts
Caster, with its control over steering stability and straight-line performance, and camber, with its firm grip on tire-road contact and cornering prowess, work together to ensure your drives are smooth and secure.
Remember, maintaining the correct caster and camber angles through regular wheel alignments is key to keeping your ride smooth and extending your tires' life. Plus, with most modern cars and trucks designed with positive caster and slight negative camber, understanding these angles can help you better appreciate the engineering that goes into every vehicle.
Good luck and happy motoring.