We've all been there. You notice an unusual wear pattern on your tires that seems to be getting worse over time. It can be frustrating, right? These are signs of a camber issue, a common yet often overlooked problem.
Camber Wear On Tires

Camber wear on tires is caused by improper alignment of the wheels, specifically an excessive inward or outward tilt at the top of the tire. Fixing camber wear involves proper wheel alignment, regular tire rotation, maintaining correct tire pressure, and replacing worn suspension components if necessary.
In this article, we will explore everything about camber wear on tires, from understanding what it is, recognizing its signs, and the implications of ignoring it.
Let's take a closer look.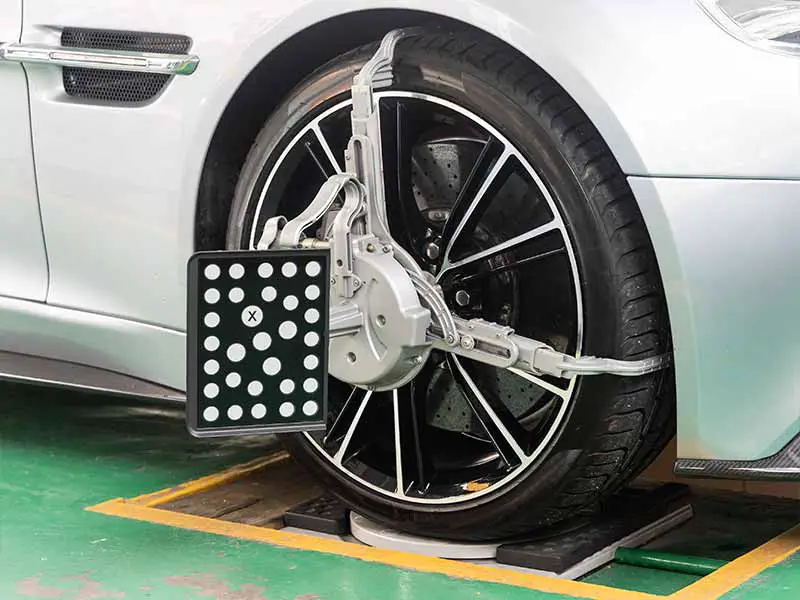 What Is Camber?
In the simplest terms, camber refers to the angle of the wheel when viewed from the front of the vehicle. If the top of the wheel is tilting outward away from the car, that's called 'positive camber'. On the other hand, if the top of the wheel is tilting inward towards the car, it's referred to as 'negative camber'.
So, the 'camber angle' is the degree of this inward or outward tilt. And yes, this tilt matters!
Positive or Negative Camber: What's the Difference?
Positive Camber: In a vehicle with a positive camber, the top of the tires tilt away from the car. This was commonly seen in old cars to help with stability. But too much positive camber can lead to uneven wear on the outer edges of the tires.
Negative Camber: With negative camber, the tops of the tires tilt towards the vehicle. It's common in high-performance cars and trucks because it helps maintain grip when cornering. However, excessive negative camber can lead to inner tire wear.
Remember, the terms 'positive' and 'negative' don't mean 'good' or 'bad'. They just describe the direction of the tilt.
Camber and The Tire And Wheel Assembly
The camber angle plays a significant role in how your tires touch the road. It's part of a complex system known as the 'tire and wheel assembly'. Here's why it matters:
Steering Control: The camber angle can affect the vehicle's steering and stability. For example, a significant positive or negative camber can make the steering wheel feel 'heavy' or 'light', respectively.
Tire Wear: As mentioned before, the camber angle can cause uneven tire wear. This wear can happen on the inner or outer edges of the tires, depending on whether the camber is positive or negative.
Ride Comfort: Incorrect camber angles can also make your ride less comfortable by causing vibrations or a bumpy ride.
Causes of Camber Wear on Tires
Understanding what causes camber wear on tires is essential for maintaining your vehicle's health. It helps you take preventive measures before any significant damage occurs. Let's dive into the major culprits behind camber wear.
Worn Ball Joints and Their Impact
'Ball joints' might sound like something from a construction site, but they're actually a crucial part of your vehicle. They're like your car's shoulder joint, allowing the wheels to move up and down and pivot left and right.
Over time, these ball joints can wear down. When this happens, it can affect the camber angle. If the ball joints are severely worn, your tires may tilt excessively inward or outward. This leads to uneven tire wear, specifically camber wear.
The Role of Tire Pressure
The air in your tires isn't just there to keep them inflated. It plays a critical role in how your tires wear over time. Both underinflated and overinflated tires can lead to camber wear.
Underinflated Tires: If your tires don't have enough air, they can sag, putting more pressure on the inner or outer edges. This extra pressure can cause faster wear in these areas, leading to camber wear.
Overinflated Tires: Too much air can also be problematic. Overinflated tires might cause the middle part of the tire to bulge, causing uneven contact with the road. While this doesn't directly cause camber wear, it can still lead to uneven tire wear overall.
The best way to avoid camber wear due to tire pressure issues? Regularly check your tire pressure and keep it at the recommended level!
Impact of Worn Bearings on Camber Wear
The bearings in your wheels help the wheels turn smoothly around the axle. However, like any other part of a vehicle, these bearings can wear down over time.
Worn bearings can cause the wheels to tilt, affecting the camber angle. This tilt can lead to increased wear on the inner or outer edges of your tires – yes, camber wear.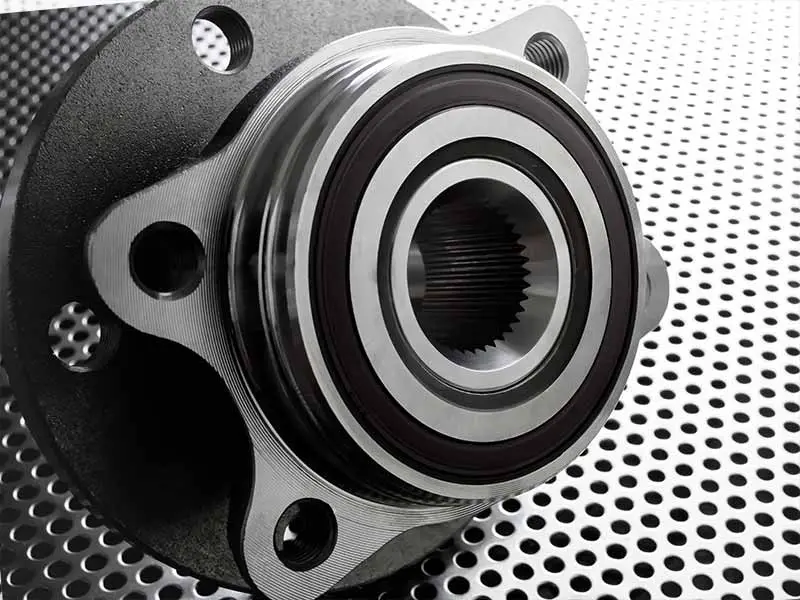 Other Causes: What Makes Camber Go Bad?
Several other factors can cause your camber to go bad. Here are a few:
Suspension Wear: Over time, the components of your suspension system can wear down. This wear can alter the camber angle, leading to camber wear.
Accidents and Bumps: A major accident or even a minor bump can bend parts of your suspension system. This can change the camber angle and lead to uneven tire wear.
Recognizing Camber Wear
Now that we know what causes camber wear, the next logical step is learning how to identify it. Spotting the signs early on can save you a lot of trouble down the road. Let's explore how to recognize camber wear.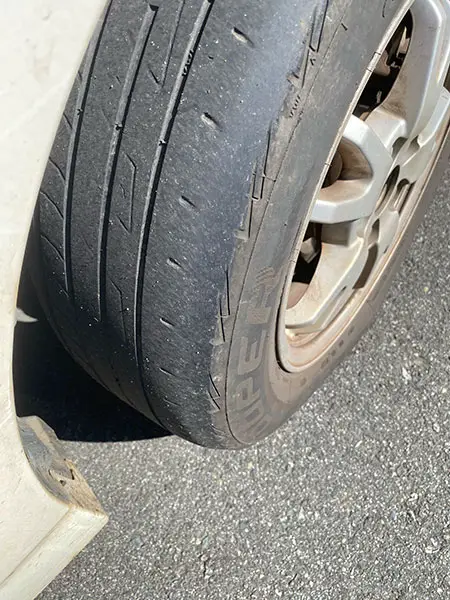 Inner Tire Wear and Outer Edge Wear
One of the first signs of camber wear is uneven tire wear. This usually appears on either the inner or outer edges of your tires.
Inner Edge Wear: If the wear is more on the inside edge of the tire, it could be due to negative camber. This means the tops of the tires are tilting inward.
Outer Edge Wear: Conversely, if the wear is more on the outside edge of the tire, positive camber could be the culprit. This means the tops of the tires are tilting outward.
Remember, it's always a good idea to visually inspect your tires regularly. If you see uneven wear on the inner or outer edges, it might be time to get your camber angles checked.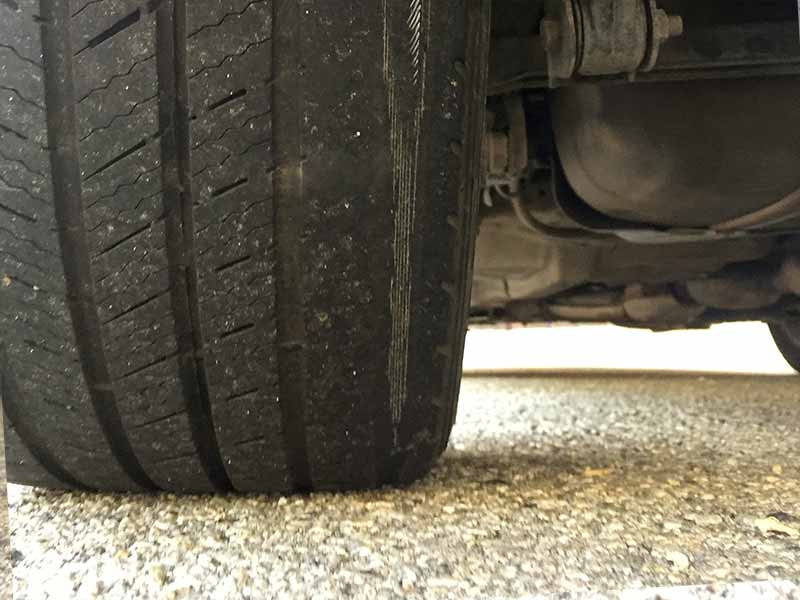 Uneven Tire Wear and the Steering Wheel
Your steering wheel can give you hints about camber wear. If you feel a pull in the steering wheel while driving straight, it could indicate a camber issue.
Also, if you notice uneven tire wear along with these steering issues, you may be dealing with camber wear.
Camber Wear vs Toe Wear
It's essential to distinguish between camber wear and toe wear, as they both cause uneven tire wear but require different fixes.
Camber Wear: As we've discussed, camber wear usually presents as wear on the inner or outer edges of the tire.
Toe Wear: On the other hand, toe wear or 'feathering' causes a more diagonal pattern of wear across the entire tread. If you run your hand along the tread, it might feel smooth in one direction and rough in the other.
Understanding the difference between these two types of wear is vital in diagnosing the problem and finding the right solution.
The Front Tires
Camber wear commonly affects the front tires, but it can also occur on the rear tires. However, it's more noticeable on the front tires due to their direct connection with the steering wheel.
If you notice that your front tires are wearing unevenly, or if your vehicle pulls to one side when driving, these could be signs of camber wear.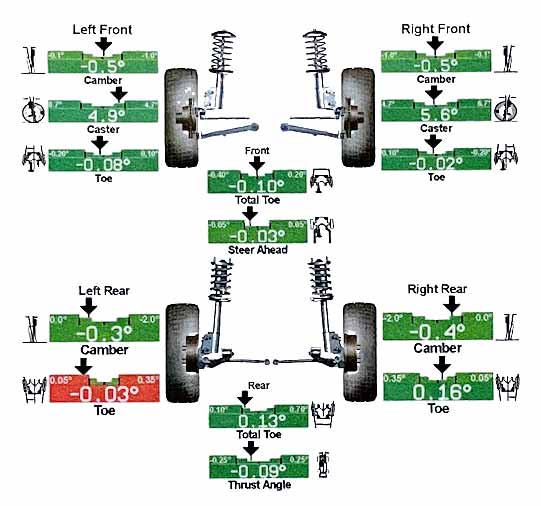 How to Fix Camber Wear on Tires
If you've noticed signs of camber wear on your tires, don't panic. There are several steps you can take to fix the issue. Let's dive into these solutions.
Proper Wheel Alignment
The first step to fixing camber wear is ensuring proper wheel alignment. This process adjusts the angles of your wheels so that they're perpendicular to the ground and parallel to each other. Here's how it can help:
Preventing Camber Wear: Proper alignment ensures that your tires make even contact with the road. This helps prevent uneven tire wear, including camber wear.
Improving Vehicle Handling: Proper alignment can also make your vehicle easier to steer and help it drive straighter, enhancing your overall driving experience.
Increasing Tire Lifespan: When your tires wear evenly, they'll last longer, which means you won't need to replace them as often.
Remember, even if your vehicle seems to be driving fine, it's a good idea to have your alignment checked periodically. This helps prevent minor alignment issues from becoming big problems.
Regular Tire Rotation
Tire rotation involves swapping your tires from front to back or side to side, according to a specific pattern. This process can help reduce camber wear in the following ways:
Evening Out Wear: By periodically changing each tire's position, you can help ensure that they wear more evenly.
Increasing Tire Lifespan: When tires wear evenly, they last longer. This means you can delay buying new tires, saving you money in the long run.
The frequency of tire rotations can vary based on your vehicle and driving habits, but a general rule of thumb is to rotate your tires every 5,000 to 8,000 miles.
Maintaining Optimal Tire Pressure
We've already discussed how incorrect tire pressure can lead to camber wear. To prevent this, it's essential to maintain the right tire pressure.
Checking Tire Pressure: Regularly check your tire pressure using a tire pressure gauge. Most vehicles also have a tire pressure monitoring system (TPMS) that will alert you if your tire pressure is low.
Inflating Tires: If your tire pressure is low, inflate your tires to the recommended pressure. You can find this information in your vehicle's owner's manual or on a sticker inside the driver's door.
Maintaining the correct tire pressure is a simple step that can go a long way in preventing camber wear.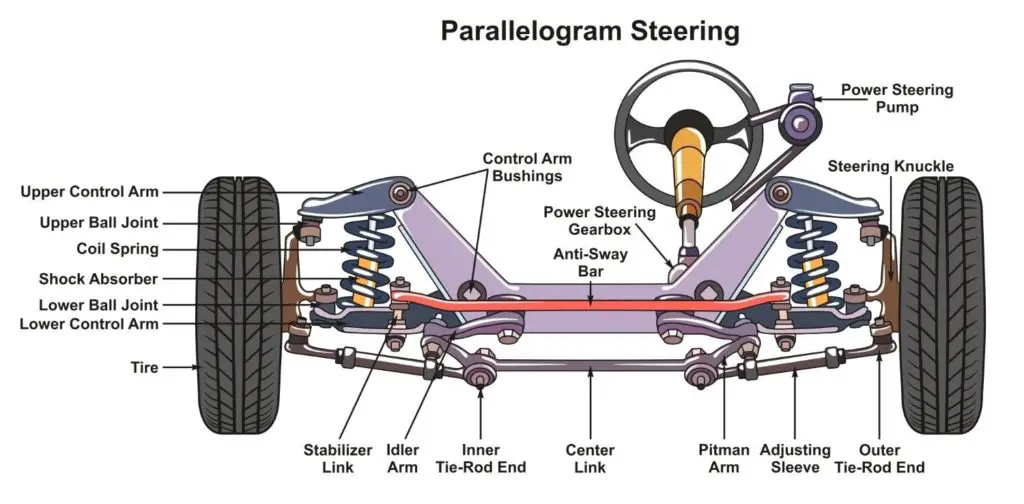 Replacing Worn Suspension Components
If worn suspension components are causing your camber issues, you may need to replace them. This includes worn ball joints and bearings.
Identifying Worn Parts: A mechanic can help identify any worn suspension components during a routine inspection or wheel alignment check.
Replacing Parts: If any parts are worn out, have them replaced promptly to prevent further damage and maintain proper camber alignment.
While replacing these parts can be a bit pricey, it's less costly than ignoring the issue and dealing with the potential damage down the line.
Resources
Below are some links you may find helpful when learning about tires
Final Thoughts
Camber wear results from improper wheel alignment, specifically when there's an excessive inward or outward tilt. This can cause your tires to wear unevenly, compromise your vehicle's handling, and potentially damage your suspension components and steering axis.
To fix this issue, maintaining proper wheel alignment, regular tire rotation, and optimal tire pressure are key. Don't forget to replace any worn suspension components promptly as well. More importantly, prevention is better than cure, so be proactive! Regular vehicle inspections, maintaining proper tire pressure, and routine tire rotations and wheel alignments can significantly help prevent camber wear.
Good luck and happy motoring.