When it comes to innovative automotive technology, Tesla is often at the forefront. But beyond their cutting-edge electric motors and sleek designs, there's an intriguing feature that many overlook: the tires. What's so special about Tesla tires, and why is there foam inside them?
Do Tesla Tires Have Foam In Them?

Yes, some Tesla tires have foam in them. This internal acoustic foam is designed to reduce tire noise, enhancing the quietness and comfort of the electric vehicle experience. 

Importantly, the foam serves solely for noise reduction and does not impact the tire's performance, alter ride comfort, or replace the role of air pressure in supporting the tire.
In this article, we'll delve deep into the world of Tesla tires, exploring the reasons behind the foam inclusion, its benefits, and addressing common concerns and misconceptions. We'll also touch upon the role of tire manufacturers and the feasibility of using convenstional tires on Tesla vehicles.
Let's take a closer look.
Why Do Teslas Have Tires With Foam Inside?
Tesla's decision to incorporate foam into some of their tires isn't arbitrary. There are specific reasons and benefits behind this choice, especially when considering the unique nature of electric vehicles.
The Quiet Nature of Electric Vehicles
Electric vehicles (EVs), including those manufactured by Tesla, operate much more quietly than traditional gasoline-powered vehicles. This silence has its advantages, but it also brings to light other noises that might have been previously masked by engine sounds.
Highlighting Other Noises: With the absence of engine noise, other sounds become more pronounced. One of the most noticeable is tire noise, especially at highway speeds.
Enhancing the Quiet Ride: To maintain and enhance the quietness associated with EVs, Tesla sought ways to minimize these newfound prominent noises. Enter the foam-filled tires.
Foam's Role in Noise Reduction
The foam's primary role is to act as a noise dampener. Here's how it achieves this:
Absorbing Vibrations: When tires roll on the road, they produce vibrations. These vibrations can lead to noise. The foam helps absorb these vibrations before they can become sound.
Blocking Sound Waves: The foam acts as a barrier, preventing some of the noise from reaching the vehicle's cabin.
Enhancing the Driving Experience
Beyond noise reduction, the foam offers other benefits:
Smoother Rides: The foam can absorb minor imperfections on the road, leading to a smoother driving experience.
Consistent Tire Performance: While the foam offers comfort benefits, it doesn't compromise on the tire's performance. Drivers can expect the same level of safety, grip, and handling from foam-filled tires as they would from normal tires.
Common Concerns and Misconceptions
With the introduction of foam-filled tires in some Tesla models, a range of questions and concerns have arisen among consumers and enthusiasts. Addressing these concerns is crucial to ensure that potential and current Tesla owners have accurate information.
Tesla Tire Foam Separation Problem
One concern that has been voiced is the potential for the foam to separate from the tire. Let's address this:
Rare Occurrence: While there have been some reports of foam separation, it's essential to note that these instances are rare.
Safety First: Tesla and its tire manufacturing partners prioritize safety. In the unlikely event of foam separation, the tire's fundamental performance and safety features remain intact.
Warranty and Support: Tesla provides robust customer support. If any issues arise, owners are encouraged to reach out to Tesla service centers for assistance.
Removing Foam from Tesla Tires
Another question that pops up is whether the foam can be removed from the tires. Here's the answer:
Not Recommended: The foam is integrated into the tire during the manufacturing process. Attempting to remove it can compromise the tire's integrity and safety.
Voiding Warranty: Tampering with the tire, including trying to remove the foam, might void any warranties associated with the tire or even the vehicle.
Difference Between Regular and Foam-Filled Tires
Understanding the difference between regular and foam-filled tires is crucial:
Noise Reduction: The primary difference is the noise reduction capability of foam-filled tires. They offer a quieter ride compared to regular tires.
Performance: Both types of tires are designed to offer optimal performance, safety, and durability. The presence of foam doesn't compromise these essential features.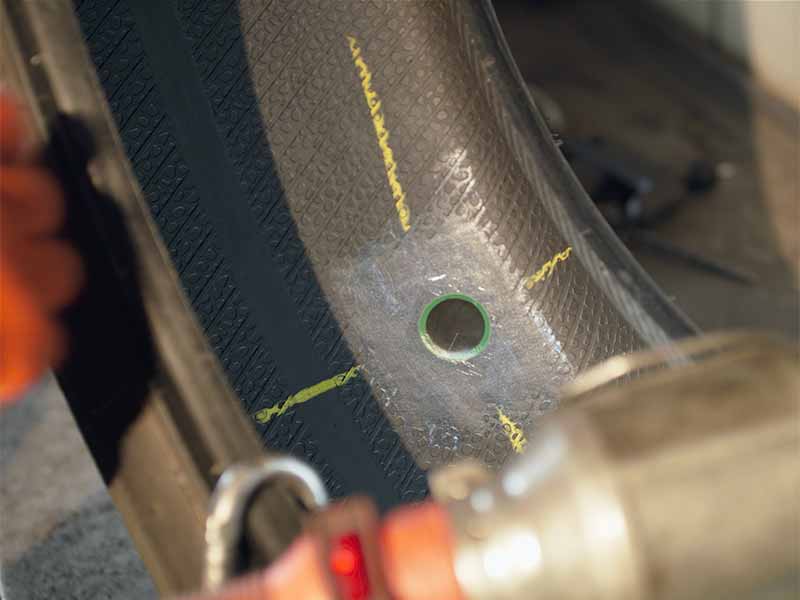 Repairing Tires with Acoustical Foam
Tires equipped with acoustical foam, like those found on some Tesla models, present unique challenges when it comes to repairs. The presence of this internal foam layer can affect traditional tire repair methods. Let's explore the intricacies of repairing foam-filled tires and address common concerns.
Traditional Tire Repair Methods
For normal tires without foam, common repair methods include:
Plugging: This involves inserting a plug into the puncture from the outside of the tire.
Patching: This method requires the tire to be removed from the rim, and a patch is applied to the inner lining of the tire over the puncture.
Temporary Tire Sealants: These are liquid solutions that can be injected into the tire to temporarily seal small punctures.
Challenges with Foam-Filled Tires
The presence of acoustical foam complicates some of these traditional repair methods:
Access to Puncture: The foam can make it challenging to locate and access the puncture from the inside, which is necessary for patching.
Compromised Foam: When a puncture occurs, the foam around the puncture site can get compressed or damaged, potentially reducing its effectiveness in noise reduction.
Sealant Issues: Temporary tire sealants might not adhere well to the foam, making them less effective. Additionally, the sealant can further damage or degrade the foam.
Repair Recommendations for Foam-Filled Tires
Given the challenges, here are some recommendations for repairing tires with acoustical foam:
Avoid Temporary Sealants: Due to potential compatibility issues with the foam and the risk of further damage, it's advisable to avoid using temporary tire sealants on foam-filled tires.
Plugging: While plugging can still be an option, it's essential to ensure that the plug doesn't compress or damage the foam. It's a more viable solution for small punctures.
Patching: Patching can be more challenging due to the foam, but it's not impossible. The key is to ensure that the foam remains intact and functional after the repair. It might be necessary to consult with a tire specialist familiar with foam-filled tires.
Replacement: In some cases, especially if the foam has been significantly damaged or if the puncture is large, it might be more practical to replace the tire.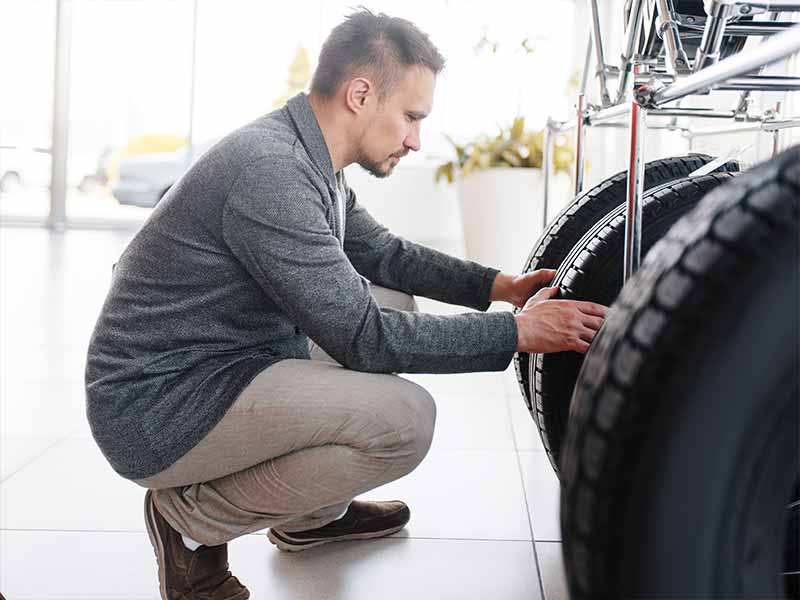 Can You Put Normal Tires On Teslas?
When it comes to equipping a Tesla with tires, many owners wonder if they can opt for conventional tires instead of the specialized foam-filled ones. Let's delve into this topic to provide clarity.
Understanding "Normal" Tires
First, it's essential to define what "normal" tires mean in this context:
Conventional Tires: These are standard tires without any specialized features like internal acoustic foam. They are the typical tires you'd find on most vehicles on the road.
Foam-Filled Tires: These are the tires that come with an internal layer of acoustic foam, designed primarily for noise reduction.
Compatibility with Tesla Vehicles
The straightforward answer is yes, you can fit Teslas with regular tires. Here's what you need to know:
Size and Specifications: While you can opt for normal tires, it's crucial to choose the right size and specifications that match your Tesla model. Incorrect tire sizes or types can affect performance, safety, and efficiency.
Performance: Conventional tires will provide excellent performance, but there might be a noticeable difference in noise levels compared to foam-filled tires.
Safety: As long as the tires are of the correct size and type and are from a reputable manufacturer, there should be no compromise on safety.
Considerations When Choosing Tires
If you're thinking of opting for regular tires for your Tesla, consider the following:
Driving Conditions: Think about where and how you drive. If you frequently drive in noisy environments or at high speeds on highways, foam-filled tires might offer a more comfortable experience.
Cost: Conventional tires might be less expensive than specialized foam-filled ones. However, consider the potential trade-offs in terms of comfort and noise.
Wear and Tear: All tires, whether regular or foam-filled, will wear out over time. It's essential to monitor their condition and replace them when necessary.
Environmental Impact: Some tire manufacturers are focusing on producing eco-friendly tires, aligning with the sustainable ethos of electric vehicles. If this is a concern for you, research and choose tires that have a lower environmental impact.
Resources
Below are some links you may find helpful when learning about tires
Final Thoughts
Tesla's decision to incorporate foam in some of their tires showcases their commitment to enhancing the electric vehicle driving experience. The foam, known as internal acoustic foam, plays a pivotal role in reducing tire noise, making rides smoother and quieter. 
While foam-filled tires offer specific advantages, Tesla vehicles are also compatible with regular tires, giving owners flexibility in their choices. It's essential for Tesla owners and enthusiasts to be well-informed, ensuring they make decisions based on accurate information and enjoy the best possible driving experience.
Good luck and happy motoring.