When it comes to electric vehicles, every component plays a crucial role in optimizing performance and efficiency. Tires, often overlooked, are no exception. If you've ever wondered about the type of tires that grace the wheels of a Tesla, especially given the brand's reputation for innovation, you're not alone.
Are Tesla Tires Run Flats?

No, Tesla vehicles do not come equipped with run flat tires as standard. Likely reasons for Tesla's decision are the potential for reduced driving range due to increased rolling resistance, firmer ride compared to regular tires, and higher replacement costs.
In this article, we'll delve deep into the world of Tesla tires, exploring the reasons behind Tesla's tire choices, the pros and cons of using run flat tires, and other essential considerations every Tesla owner or enthusiast should be aware of.
Let's take a closer look.
What are Run Flat Tires?
Run flat tires, often referred to as "self-supporting tires," are a specialized type of tire designed to remain functional for a short distance even after they lose air pressure. This means that if you get a puncture while driving, you can continue to drive for a limited distance without the tire going completely flat. This technology provides drivers with an added layer of safety and convenience.
Key Features of Run Flat Tires
Self-Supporting Structure: The primary feature that distinguishes run flat tires from regular tires is their reinforced sidewall. This structure allows the tire to support the weight of the vehicle even when it's deflated.
Limited Driving Range: Once punctured, run flat tires can typically be driven on for about 50 to 100 miles, depending on the tire's design and the vehicle's load. This gives drivers ample time to reach a safe location or service center.
Pressure Monitoring: Most vehicles equipped with run flat tires also have a Tire Pressure Monitoring System (TPMS). This system alerts the driver when a tire loses pressure, ensuring they're aware of the situation.
Benefits of Run Flat Tires
Safety: One of the main advantages of run flat tires is enhanced safety. In the event of a sudden puncture, these tires reduce the risk of losing control of the vehicle, especially at high speeds.
Convenience: With run flat tires, drivers don't need to change a tire on the side of a busy road. They can continue driving to a safer location or a nearby service center.
No Need for Spare: Vehicles equipped with run flat tires often don't come with a spare tire. This can save space and reduce weight in the vehicle.
Drawbacks to Consider
Cost: Run flat tires tend to be more expensive than regular tires. Additionally, once damaged, they often need to be replaced rather than repaired.
Ride Comfort: Due to their stiffer construction, some drivers find that run flat tires offer a firmer ride compared to regular tires.
Limited Availability: Not all service centers stock run flat tires, which might pose a challenge when seeking a replacement.
Tesla Tires: Are They Run Flats?
Tesla, a leading name in the electric vehicle industry, is known for its innovative approach to car design and technology. One of the frequently asked questions about Tesla vehicles pertains to their tires, specifically whether they come equipped with run flat tires.
Tesla's Stance on Run Flat Tires
Factory Settings: Tesla vehicles do not come equipped with run flat tires as standard as of the writing of this article. Instead, they use regular performance or all-season tires depending on the model and configuration.
Reasoning: Tesla prioritizes efficiency and range in its vehicles. Run flat tires, due to their reinforced sidewalls, can add weight and potentially reduce the efficiency of the vehicle, impacting its overall range.
Why Some Tesla Owners Consider Run Flat Tires
Safety Concerns: Just like other car owners, some Tesla drivers value the safety benefits offered by run flat tires, especially the ability to continue driving after a puncture.
Absence of a Spare: Tesla vehicles do not come with a spare tire. This makes the prospect of run flat tires appealing to those who want an added layer of security during long trips or in areas where service centers might be sparse.
Space Savings: While Tesla vehicles don't come with a spare, some owners might consider the trunk space that would be saved without the need for a tire repair kit.
Tesla's Recommendations
Tire Repair Kits: Instead of providing a spare tire, Tesla includes a tire repair kit in many of its vehicles. This kit can temporarily seal small punctures, allowing the driver to reach a service center.
Roadside Assistance: Tesla offers roadside assistance for tire-related issues, ensuring that drivers are never left stranded due to a flat tire.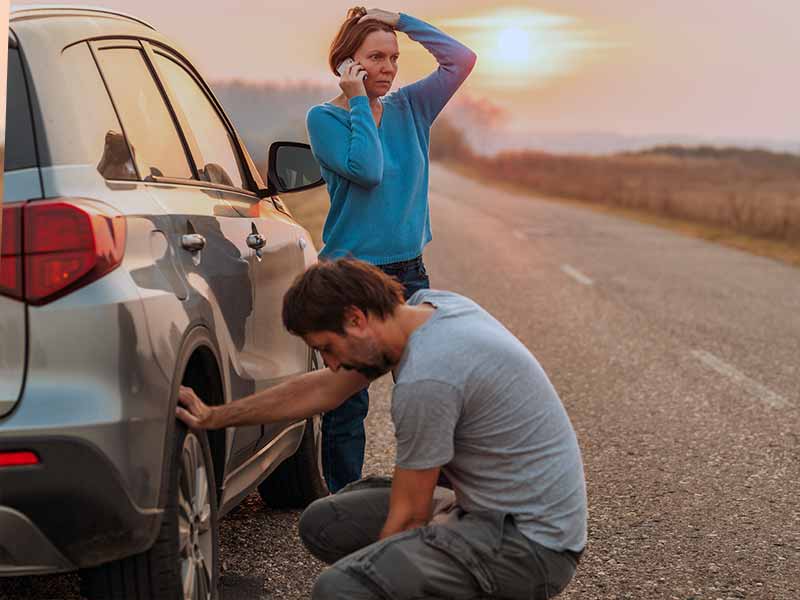 Addressing Common Queries
When it comes to Tesla and its tire choices, several questions frequently arise. Let's address some of the most common queries related to Tesla tires.
Spare Tires and Tesla: Why No Spare?
Weight and Efficiency: Carrying a spare tire adds weight to the vehicle. For electric vehicles like Tesla, added weight can reduce the overall driving range.
Space Considerations: Tesla designs prioritize space for passengers and cargo. A spare tire would take up valuable space that can be used for other purposes.
Modern Alternatives: With advancements in tire technology and roadside assistance availability, the need for a spare tire has diminished.
Flat Tire Situations: What to Do?
Stay Calm and Safe: If you suspect a flat tire while driving a Tesla, it's crucial to remain calm, slow down safely, and pull over to a secure location.
Use the Tire Repair Kit: Many Tesla vehicles come with a tire repair kit that can temporarily seal small punctures.
Contact Tesla Roadside Assistance: If the tire is severely damaged or the repair kit doesn't work, Tesla offers roadside assistance to help drivers in such situations.
Tire Replacement: Can You Change Tesla Tires Anywhere?
Tesla Service Centers: Tesla recommends getting tires replaced at their service centers to ensure the right fit and quality.
Third-Party Options: While Tesla tires can technically be replaced at any tire shop, it's essential to ensure that the chosen tire meets Tesla's specifications for safety and efficiency.
Why Some Believe Tesla Tires Can't Be Repaired
Unique Requirements: Tesla vehicles are heavier than many traditional cars due to their battery packs. This means their tires are subjected to different stresses, leading some to believe they require special treatment.
Potential Barrier: The sound-deadening foam could act as a barrier, potentially preventing the sealant from reaching and effectively sealing a puncture. The foam might absorb some of the sealant, reducing its effectiveness.
Safety First: While many punctures can be repaired, Tesla emphasizes safety. If there's any doubt about the tire's integrity after damage, replacement might be the recommended option.
Tesla's Flat Tire Solutions: What's in the Kit?
Sealant: The primary component of Tesla's tire repair kit is a sealant that can fill and temporarily seal punctures.
Compressor: The kit also includes a compressor to reinflate the tire after applying the sealant.
Instructions: Detailed instructions guide users on how to use the kit effectively and safely.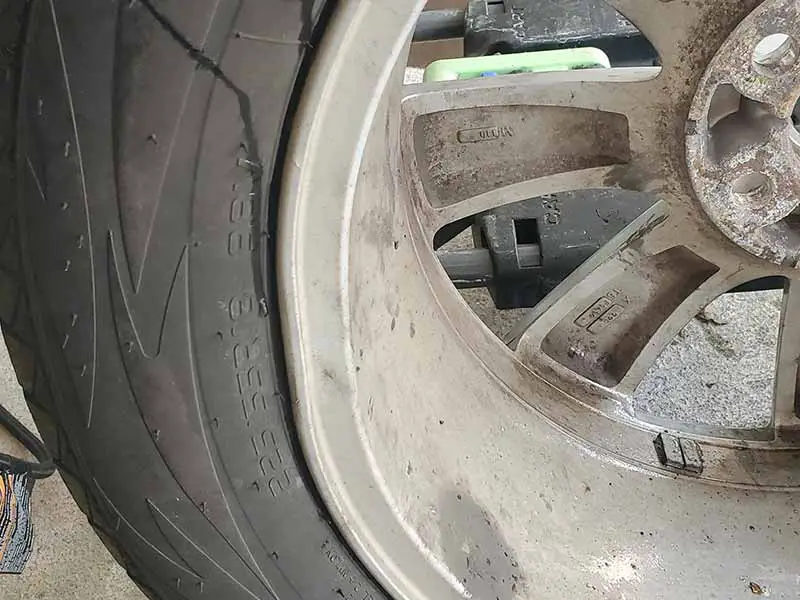 Pros and Cons of Using Run Flat Tires on a Tesla
Choosing the right tires for a vehicle is crucial, and when it comes to Tesla, the decision becomes even more significant due to the unique nature of electric vehicles. Let's explore the advantages and disadvantages of using run flat tires on a Tesla.
Benefits of Using Run Flat Tires on a Tesla
Enhanced Safety:

Run flat tires reduce the risk of accidents resulting from sudden tire deflation.
They provide stability, allowing drivers to maintain control even after a puncture.

Convenience on the Road:

No need to immediately pull over or change a tire in potentially unsafe conditions.
Drivers can continue to a preferred location or service center.

Space Savings:

Tesla vehicles don't come with a spare tire. Using run flat tires eliminates the need for carrying a tire repair kit, freeing up more trunk space.
Drawbacks of Using Run Flat Tires on a Tesla
Potential Range Impact:

The added weight and rolling resistance of run flat tires might reduce the driving range of a Tesla, albeit slightly.

Ride Comfort:

Some drivers find run flat tires to be stiffer, leading to a firmer ride compared to regular tires.

Cost Implications:

Run flat tires tend to be pricier than standard tires.
They often need to be replaced rather than repaired after damage, leading to higher long-term costs.

Availability:

Not all tire shops stock run flat tires suitable for electric vehicles, which could pose challenges when seeking replacements.
Do You Need Run Flats for a Tesla?
Personal Preference: The decision largely depends on individual preferences regarding safety, convenience, and driving experience.
Driving Conditions: Those frequently traveling in remote areas or on highways might value the security run flat tires offer.
Cost Consideration: Budget constraints and long-term costs should also be factored into the decision.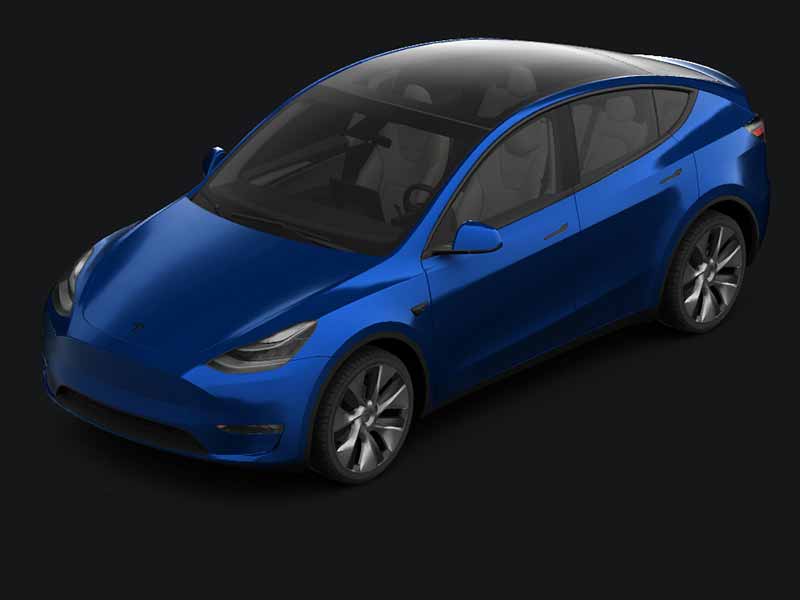 Other Considerations for Tesla Owners
Owning a Tesla, or any electric vehicle, comes with a unique set of considerations, especially when it pertains to tires. Beyond the debate of run flat versus regular tires, there are other factors Tesla owners should keep in mind.
Importance of Choosing the Right Tire
Weight Distribution:

Electric vehicles, including Teslas, are generally heavier than their gasoline counterparts due to battery packs.
This weight distribution requires tires that can handle the added stress and weight.

Efficiency Matters:

Tires play a significant role in a vehicle's efficiency. The right tire can optimize range, while the wrong choice can reduce it.

Performance:

Tesla vehicles are known for their impressive acceleration and performance. The right tire can enhance these attributes, ensuring optimal grip and handling.
Impact on Fuel Efficiency
Rolling Resistance:

Tires with low rolling resistance improve fuel efficiency by reducing the amount of energy lost as heat.
For electric vehicles, this means an extended battery range.

Tire Pressure:

Maintaining the recommended tire pressure is crucial for efficiency. Under-inflated tires increase rolling resistance and, consequently, energy consumption.
All Season Tires and Their Compatibility
Versatility:

All season tires are designed to perform well in a variety of conditions, from dry summer roads to wet and mildly snowy conditions.

Tesla's Recommendation:

Depending on the region and typical driving conditions, Tesla might recommend all season tires for their vehicles.

Trade-offs:

While all season tires are versatile, they might not excel in extreme conditions. For snowy and icy climates, winter tires might be a better choice.
Resources
Below are some links you may find helpful when learning about tires
Final Thoughts
Choosing the right tires for a vehicle, especially one as innovative as a Tesla, is paramount for safety, efficiency, and performance. While Tesla does not equip its vehicles with run flat tires as standard, the reasons are rooted in the brand's commitment to delivering optimal range and driving experience.
However, the decision to switch to run flat tires is a personal one, influenced by individual preferences and driving conditions. Regardless of the choice, it's essential for Tesla owners to be informed, ensuring that any tire they select aligns with the vehicle's specifications and their own driving needs.
Good luck and happy motoring.