Ever wondered what it would take for your light truck or SUV to be ready for any road and weather conditions you want to tackle? Rough terrain like gravel and dirt roads, rocky surfaces, light snow, and even deep snow. Well, there's one upgrade over regular all-season tires that could do the trick: all-terrain tires.
What Are All-Terrain Tires?

All-terrain tires are designed to handle a wide range of surfaces, from paved roads to dirt trails. They provide improved grip and performance in various conditions including summer heat, heavy rain, and even snowy roads.
In this article, we're diving into the world of all-terrain tires. We'll look at what makes them unique, discuss their advantages, and answer important questions like whether you can use them in the summer or if they're good for highway driving. We'll also tackle the nitty-gritty stuff, like whether they're noisy and if they make the ride rougher.
Let's take a closer look.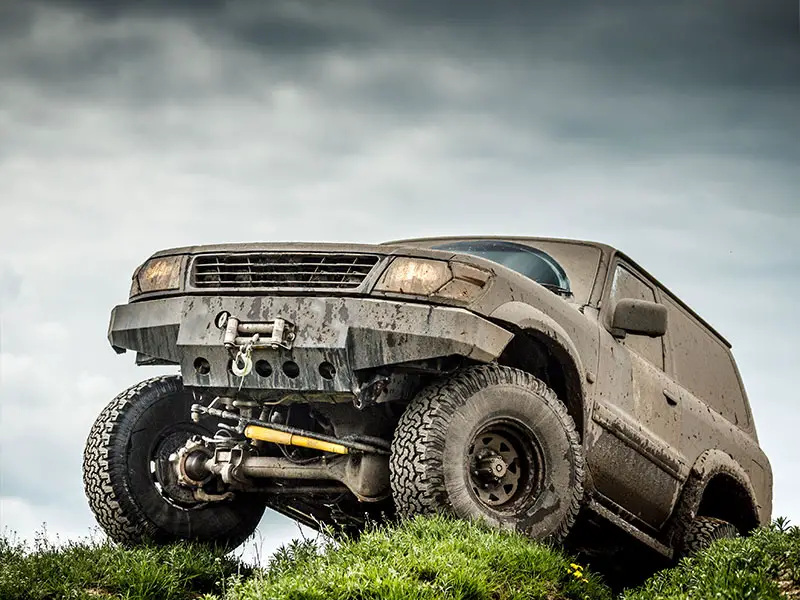 Understanding All-Terrain Tires
All-terrain tires, often called AT tires, are a special kind of tire made for trucks and SUVs. But what makes them so special, you ask? Well, let's dive into that.
All-terrain tires are like the superheroes of the tire world. Just like your favorite superhero, these tires are ready to take on any challenge, any place, any time. Whether it's a smooth highway, a slippery rain-soaked street, a snowy path, or a dusty off-road trail, all-terrain tires say, "bring it on!"
Design and Features
Now, let's take a peek under the hood, or rather, under the tread. The design of all-terrain tires is what gives them their superpowers. Here's what you'll typically find:
Chunky Tread Blocks: These are like the big boots of the tire. They give the tire a good grip on uneven surfaces, like gravel or muddy trails. They're much bigger and deeper than what you'll find on regular street tires.
Wide Grooves: Imagine you're trying to walk across a muddy field in flat shoes. Not easy, right? Now imagine you've got shoes with wide grooves on the soles. The mud would slide right out, and you wouldn't get stuck. That's what wide grooves do for all-terrain tires, they help clear out mud, snow, and stones so the tire doesn't get stuck.
Reinforced Sidewalls: All-terrain tires often have tougher sidewalls. That's the part of the tire that faces outwards, between the wheel and the tread. It's like armor that protects the tire from getting damaged by rocks, sticks, and other stuff you might come across on the road or trail.
Where the Rubber Meets the Road
The rubber compound used in all-terrain tires is a careful blend designed for different types of surfaces. It's not too hard, not too soft, but just right. This 'Goldilocks' compound allows the tire to grip well on both regular pavement and rougher trails.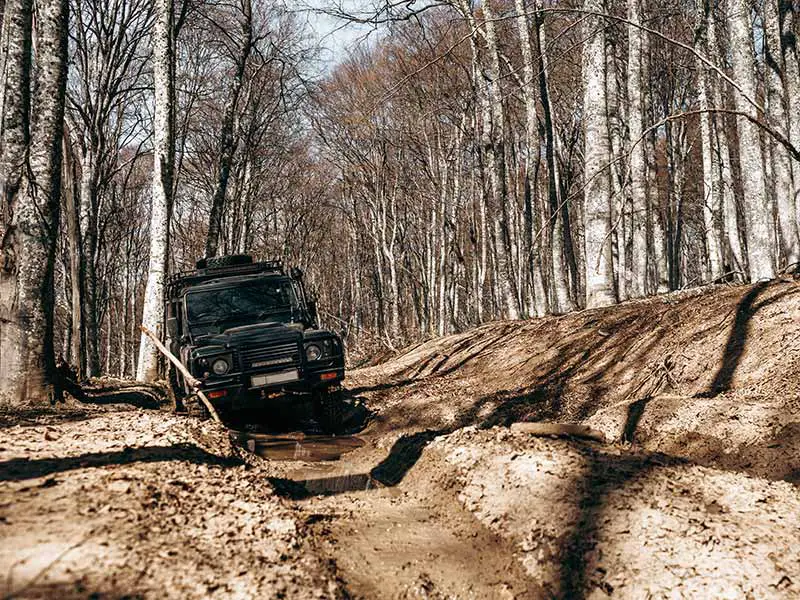 Advantages of All-Terrain Tires
After learning about all-terrain tires' design and features, you might be wondering about their advantages. Why might someone choose these over other types of tires? Well, buckle up! We're about to hit the road and discover why all-terrain tires can be the perfect companion for your driving adventures.
Versatility is Their Middle Name
Just like a multitasking superhero, all-terrain tires can handle a variety of surfaces. They're designed to perform in many conditions, from smooth pavement to rocky trails.
Summer Performance: You can absolutely use all-terrain tires in summer. Their special rubber compound doesn't mind heat and keeps a good grip on hot, dry asphalt.
Snowy Paths: Worrying about getting stuck in the snow? Not with all-terrain tires! Their deep treads and wide grooves mean they can handle snowy conditions quite well. They dig into the snow, giving your vehicle the traction it needs to keep moving. They may not be as specialized as winter tires, but they certainly hold their own when the flakes start falling.
Rainy Days: And what about the rain? All-terrain tires have got you covered there too. Their wide grooves help to channel water away from the center of the tire, reducing the risk of hydroplaning. That means you get a more stable, safer ride when the weather gets wet.
Ready for Adventure
All-terrain tires love going off the beaten path. With their chunky tread blocks and reinforced sidewalls, they're equipped to handle gravel, mud, sand, and rocky trails. If you're the adventurous type who enjoys off-road trips, these tires can make those journeys safer and more enjoyable.
Long-Lasting Companions
All-terrain tires are often more durable than regular street tires. Thanks to their tough construction and resilient rubber compound, they can handle rough roads without getting damaged easily. This means they can last longer, saving you from frequent tire changes.
Using All-Terrain Tires on Highways
Highways and interstates, they're like the fast-paced cities where superhero movies are often set. Can our superhero all-terrain tires handle these urban challenges? You bet they can! But let's break it down to see how they fare on highways.
High-Speed Performance
All-terrain tires aren't just for dirt and rocks. They can also handle high-speed roadways. Their durable construction and versatile tread design provide good stability at higher speeds. That's a big plus when you're cruising down the interstate.
Long-Distance Travel
Got a road trip planned? All-terrain tires are up to the task. They're tough and made for long-lasting performance, so they can take on those mile after mile of asphalt. They also offer a comfortable ride for long trips, but we'll get more into that later.
Fuel Efficiency
What about fuel economy? All-terrain tires are a bit heavier than regular tires due to their robust construction. This might make your vehicle work a bit harder and use a bit more fuel. So, while they're superheroes in many ways, they don't have the power to save on your gas bill.
Tread Wear
Because all-terrain tires are made to take on tough conditions, their tread usually lasts longer than regular tires, even when driven on highways. However, like all tires, they'll wear down eventually and need replacing. To keep them in tip-top shape, it's important to maintain proper tire pressure and get them rotated regularly.
The Sound and Feel of All-Terrain Tires
If all-terrain tires were superheroes, this would be the part where we talk about their secret identities. You see, driving with all-terrain tires feels a bit different than regular tires, and they have a unique soundtrack too. Let's dive into what it's like to ride with these tire champions.
Noise Level
An all-terrain tire has an aggressive tread pattern which gives it a bit of a rumble and growl. These give the tires great grip off-road but can make a bit of noise on smooth pavement. It's not a deafening sound, but it's a bit more than you'd get with regular street tires.
So, are all-terrain tires noisy? Well, compared to street tires, they do make a bit more noise. But think of it as the sound of adventure!
Ride Comfort
Do all-terrain tires ride rough? They're designed off road performance. They handle rough and uneven surfaces, so yes, they might feel a bit bumpier than all-season tires when you're driving on a smooth road. That's because those big tread blocks and reinforced sidewalls that make them great for off-roading can make the ride feel a bit stiffer on the pavement.
However, it's important to note that many modern all-terrain tires are designed with technologies to minimize these effects and provide a comfortable ride. It might feel a bit different at first, but most drivers get used to the feel of all-terrain tires pretty quickly.
Resources
Below are some links you may find helpful when learning about tires
Final Thoughts
Just as we started off talking about all-terrain tires as the superheroes of the tire world, we now know that's not far from the truth. They're designed to tackle a multitude of challenges, from summer heat to winter snow, from highway cruising to off-road adventures.
If there's one thing to take away from this journey into the world of all-terrain tires, it's this: these tire heroes are all about versatility. They may not be perfect for every situation, but they offer a balanced performance across a wide variety of conditions. So, whether you're looking to hit the trails or simply want a tire that can handle whatever the weather throws at it, all-terrain tires could be your vehicle's superpower.
Good luck and happy motoring.