Ever wonder why we change our clothes with the changing seasons? Just like we wouldn't wear flip-flops in a snowstorm or a heavy coat on a hot summer day, our cars also need the right "outfit" – the right tires – to handle different weather conditions safely and efficiently.
Winter Tire Temperature Range

The optimal temperature range for winter tires is at or below 45 degrees Fahrenheit (7 degrees Celsius). It's best to switch to summer tires when the temperature consistently stays above this range, and to winter tires when it consistently falls below it.
In this article, we'll dive into the differences between winter and summer tires, why switching them according to the seasons is crucial for safety and performance, and how to store off-season tires properly.
Let's take a closer look.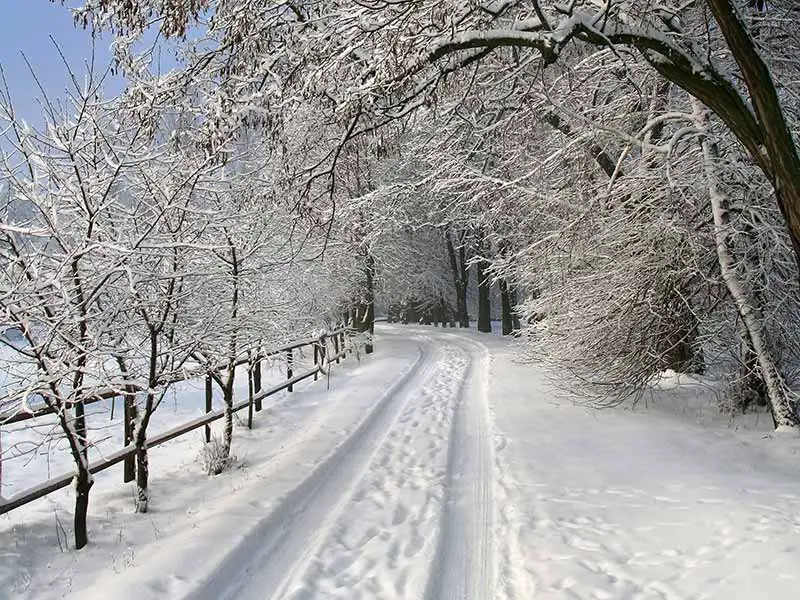 Understanding Tires and Seasons
Let's dive into the world of tires and seasons. It's like a dance between a car and the road, and the tire is the car's dancing shoe. Get the wrong pair, and the car may stumble, slip, or even fall.
What Are Winter and Summer Tires?
Winter tires, sometimes called snow tires, are specially designed for icy, snowy, and cold conditions. Picture the sole of a snow boot – lots of deep grooves for traction, right? Well, winter tires are like that, but for your car. They're made from a rubber compound that stays soft in the cold, which helps the tire grip the road better.
On the other hand, summer tires, also known as performance tires, are like your favorite pair of sneakers. They're made for dry, hot conditions, and also handle wet roads pretty well. They're made from a harder rubber compound that can stand up to high temperatures without getting too soft and squishy.
Differences Between Winter and Summer Tires
Let's get to the nitty-gritty differences between these two types of tires.
Tread Patterns: Winter tires have more grooves and cuts in the tread. This design gives them a better grip on snow and ice. Summer tires, meanwhile, have simpler tread patterns, which provide a better grip on dry and slightly wet roads.
Rubber Composition: Winter tires use a softer rubber that keeps them flexible in cold weather. Summer tires use a harder rubber that can stand up to hot pavement without getting squishy.
Performance: Winter tires are champs in the snow and ice. They help you brake better and steer more accurately in wintry conditions. Summer tires, on the other hand, give you superior control, speed, and braking capabilities in warm weather.
Importance of Switching Between These Types at the Right Time
It's all about safety and performance. Using the right tires in the right season makes a big difference to your car's grip on the road, braking distance, and general handling. It's like wearing the right shoes for the right occasion. You wouldn't wear flip-flops in the snow or snow boots on the beach, right? The same logic applies to your car's tires.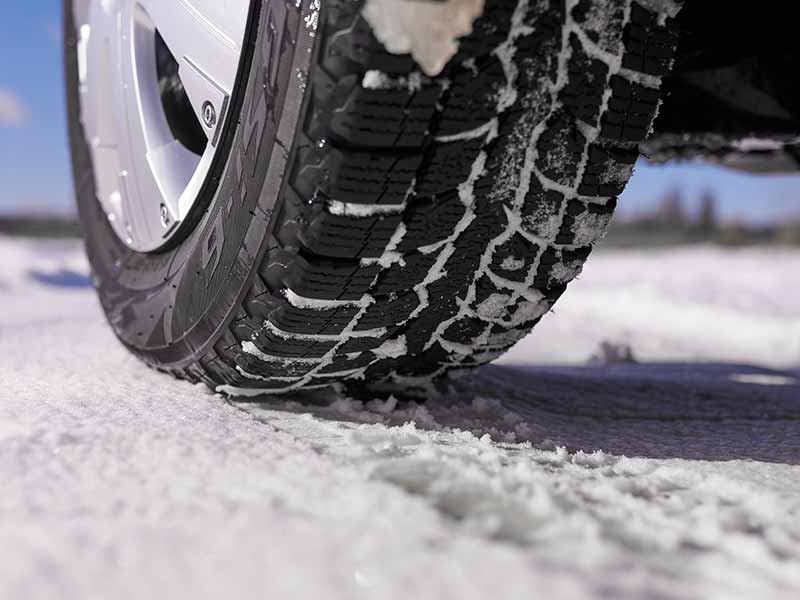 Winter Tires Explained
Winter tires are like your warm and cozy winter boots – always ready to tread confidently on snow, slush, and ice. Let's delve into the details.
Special Features of Winter Tires
Tread Depth and Patterns: Winter tires have deeper tread depths and more complex tread patterns than summer or all-season tires. They have what we call "sipes" – tiny slits in the tread that provide more biting edges for better traction on ice and snow.
Rubber Compound: Winter tires use a softer rubber compound. This special rubber stays flexible even when it's freezing outside, helping the tires grip the road better.
Biting Edges: These are small, sharp edges on the tire treads. Winter tires have more of these than summer tires. The more biting edges a tire has, the better it can grip slippery surfaces.
Temperature Range for Winter Tires
Winter tires are designed to perform best when temperatures are at or below 7 degrees Celsius (around 45 degrees Fahrenheit). Think of it as their comfort zone. When it's colder than this, they're in their element and will perform at their best.
When and Why to Switch to Winter Tires from Summer Tires
It's best to switch to winter tires when the temperature consistently drops below 7 degrees Celsius (around 45 degrees Fahrenheit). Why, you ask? That's when the rubber on your summer tires begins to harden and lose its grip on the road. It's like trying to run on ice with sneakers – not much fun, and pretty risky, too.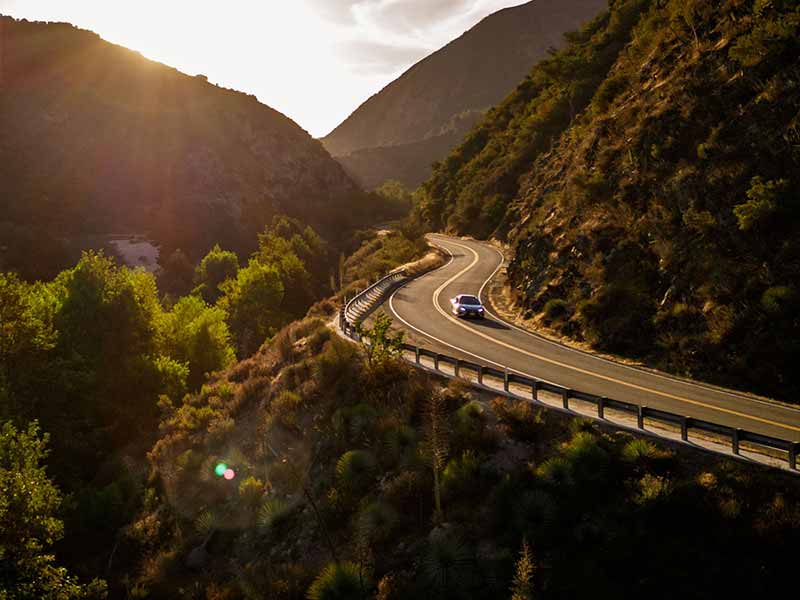 Summer Tires Explained
Summer tires are like your lightweight, breathable running shoes – perfect for those warm, sunny days. Let's jump into the specifics.
Unique Characteristics of Summer Tires
Tread Patterns: Summer tires have simpler, shallower tread patterns than winter tires. They're designed for excellent grip on both dry and wet roads during the hot months. Think of them as the ultimate sun-loving road huggers.
Rubber Compound: Summer tires use a harder rubber compound that doesn't get too soft in hot weather. This means they can handle high road temperatures while providing excellent speed and agility.
Contact with the Road: Summer tires are designed to have maximum contact with the road. The more tire touching the pavement, the better the grip and handling, especially at higher speeds.
Temperature Range for Summer Tires
Summer tires perform best in temperatures above 7 degrees Celsius (around 45 degrees Fahrenheit). They're like sun-worshippers, basking in the warm temperatures and ready to grip onto those hot, dry pavements.
When and Why to Switch to Summer Tires from Winter Tires
When the snow melts away and the temperature consistently stays above 7 degrees Celsius (around 45 degrees Fahrenheit), it's time to switch back to summer tires. That's because, above this temperature, winter tires start to wear out faster and don't handle as well. They're like a snowman in the sun – they just don't hold up well.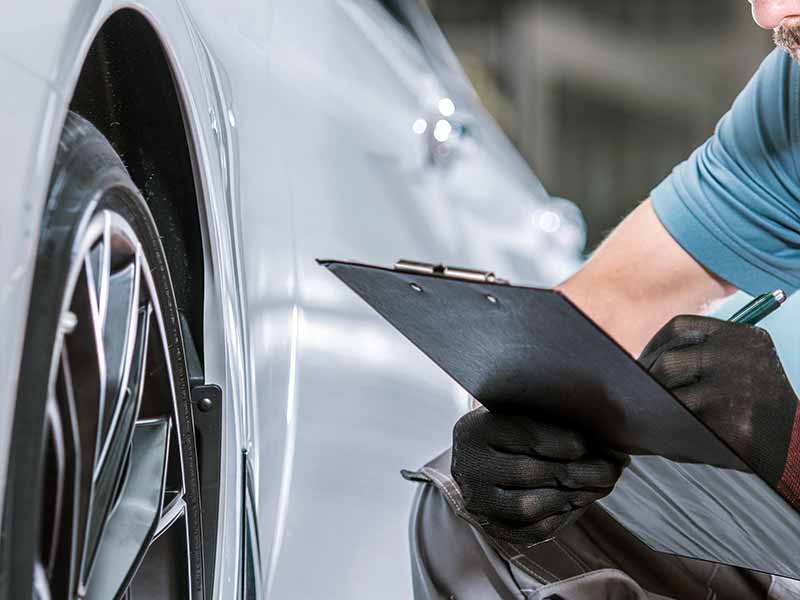 Why Proper Tire Selection Matters
Choosing the right tires for your car is like choosing the right outfit for the weather. Let's talk about why it's so important.
The Benefits of Using Winter Tires During Colder Months
Just as you benefit from wearing a warm coat in winter, your car benefits from wearing winter tires in colder months. Here's how:
Better Traction: Winter tires provide better traction on snowy and icy roads. That means your car can grip the road better, helping you stay in control.
Shorter Stopping Distances: Winter tires can help your car stop quicker on icy roads. That's a big deal when every second counts.
Safer Driving: All of this adds up to safer driving. And when it comes to driving, safety is always number one.
Risks of Using Winter Tires in the Summer
Using winter tires in the summer is like wearing a heavy winter coat on a hot day – uncomfortable and unnecessary. Here's why it's a bad idea:
Faster Wear: Winter tires are made of a softer rubber that wears down faster in warm weather.
Longer Stopping Distances: Winter tires don't stop as quickly on hot, dry roads as summer tires.
Poorer Handling: Your car might not handle as well or be as responsive with winter tires on hot roads.
The Advantages of Using Summer Tires During Warmer Months
Just like you enjoy the comfort of light clothing in the summer, your car enjoys the benefits of summer tires. Here's why:
Excellent Grip: Summer tires provide great grip on hot, dry roads and also perform well on wet roads.
Better Handling: They allow for better car handling and responsiveness at higher speeds.
Improved Fuel Efficiency: Using summer tires can also improve your car's fuel efficiency in warm weather.
Storing Your Off-Season Tires
Storing your off-season tires is like packing away your winter clothes when summer rolls around. It's all about keeping them in good shape for the next season. Here's how to do it right.
How to Properly Store Winter or Summer Tires When Not in Use
Storing your tires properly can help them last longer and perform better. Here are some tips to keep them in tip-top shape during their off-season:
Clean Your Tires: Before you store your tires, make sure they're clean. Remove any dirt, grime, or brake dust that's built up on them. You can use a tire-cleaning spray and a brush for this.
Store in Cool, Dry Place: Tires like cool, dry places. So, find a spot in your garage, basement, or a storage unit that's out of direct sunlight and away from any chemicals or sharp objects.
Cover Them Up: Consider investing in some tire bags or totes to protect your tires from dust and moisture while they're in storage. They'll keep your tires looking good as new.
Stack or Stand, Not Hang: If your tires are mounted on rims, you can stack them. If they're not on rims, store them upright and rotate their position every few weeks to prevent flat spots.
Resources
Below are some links you may find helpful when learning about tires
Final Thoughts
Just as we began our journey comparing our wardrobe changes with the seasons to our car's tires, let's circle back to that. Much like how you'd swap your cozy winter boots for comfortable sandals when the weather warms up, it's essential for the safety, performance, and efficiency of your car that you switch between winter and summer tires at the right times.
The key takeaway? Treat your car's tires like you would your own wardrobe – suitable for the season. Remember, winter tires are designed to perform best at or below 7 degrees Celsius, while summer tires excel above this range. Moreover, proper storage of your off-season tires can keep them in good shape for when their time comes again. In essence, your car's footwear matters just as much as yours does.
Good luck and happy motoring.