Have you ever wondered how your winter tires actually perform on dry roads, whether it's a chilly morning below 50 degrees or a surprisingly warm day above 50? Understanding how different temperatures affect your winter tires is crucial, especially if you're driving on dry pavement.
Snow Tires On Dry Roads

Snow tires on dry roads provide enhanced grip and safety in temperatures below 50 degrees due to their softer rubber compound and specialized tread design.

However, above 50 degrees, their performance rapidly diminishes, leading to faster wear and less efficient handling.
In this article, we explore the performance of winter tires on dry pavement in both colder (below 50°) and warmer (above 50°) temperatures, including insights into studded snow tires and their specific reactions to dry roads.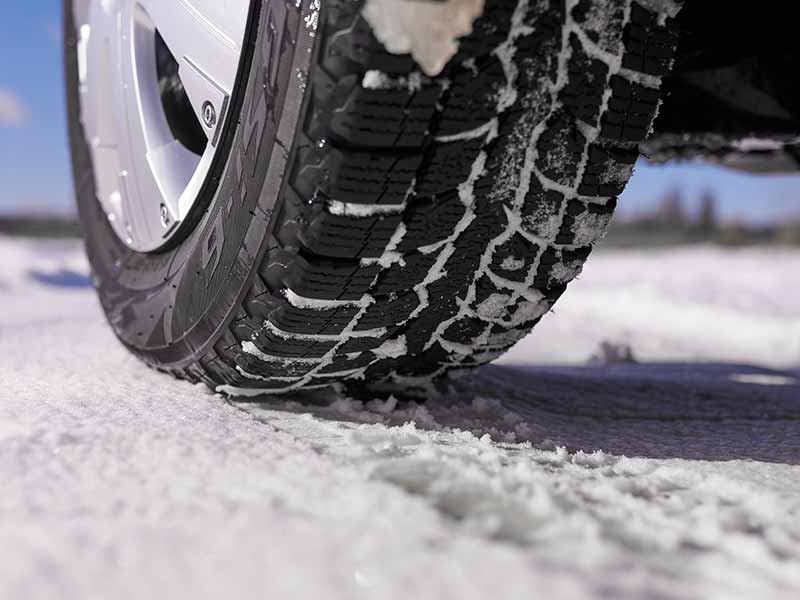 Understanding Winter Tires
Winter tires and their unique features, like the softer rubber compounds and special tread designs, provide the necessary grip and safety on cold, dry roads. The right time to switch to winter tires is not just when it snows, but as soon as the temperature consistently drops below 45°F.
Let's break down what makes winter tires special and why they're important for your vehicle in colder climates.
The Design and Purpose of Winter Tires
Winter tires, often referred to as snow tires, are specifically designed for cold weather. Unlike standard tires, they are made to handle the challenges of driving in winter conditions. Here's what sets them apart:
Softer Rubber Compound: Winter tires are made with a softer rubber. This rubber stays flexible even when it's cold, allowing the tire to grip the road better.
Special Tread Design: The tread on winter tires is deeper and has unique patterns. This design helps to channel snow and slush away from the tire, improving traction.
Biting Edges: These tires have small slits in the tread, known as sipes. These sipes provide extra edges to bite into snow and ice, offering better control.
Why Winter Tires Matter in Cold Weather
In my experience, the difference between winter tires and regular tires in cold weather is night and day. Here's why they are crucial:
Improved Grip: The softer rubber compound of winter tires provides a better grip on cold, dry roads. This means your car will handle better and be safer to drive.
Enhanced Safety: With better traction, winter tires reduce the risk of skidding on icy patches that can form on dry roads in cold weather.
Optimal Performance: Even without snow or ice, winter tires perform better in cold temperatures. They help maintain control and stability, which is essential for safe driving.
When to Use Winter Tires
I often get asked when it's appropriate to switch to winter tires. Here's my rule of thumb:
Temperature Threshold: Consider switching to winter tires when the temperature consistently drops below 45°F (7°C). This is when regular tires start to lose their effectiveness.
Seasonal Change: In areas with harsh winters, it's best to use winter tires from late fall to early spring. This ensures you're prepared for sudden weather changes.
For more detailed information on the differences between winter tires and other options like studded tires or chains, you can explore Studded Tires vs Chains and What Are Winter Tires on our website.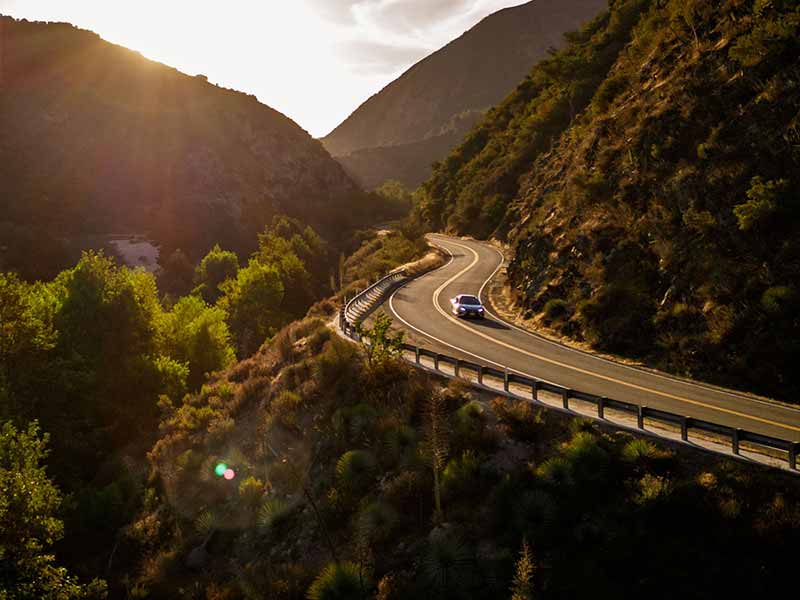 Winter Tires On Dry Pavement Below 50°
In cold temperatures, especially below 50 degrees, winter tires are not just an option; they are a necessity for safe driving. Their design and material composition provide the necessary grip and handling needed for cold, dry roads. 
Even on dry roads, cold temperatures present unique challenges, and here's where winter tires truly shine.
Performance of Winter Tires on Cold, Dry Roads
When the temperature falls, the performance of your tires is critical. Here's what happens with winter tires in cold conditions:
Maintained Flexibility: Unlike regular tires that can harden in cold weather, winter tires maintain their flexibility. This flexibility is key to providing better traction and control.
Consistent Grip: The softer rubber compound of winter tires ensures that they grip the road effectively, even when it's dry but cold. This means improved handling and safety.
Reduced Braking Distance: One of the most significant advantages of winter tires in cold conditions is the reduced braking distance. They help you stop quicker than regular tires, which can be a lifesaver in emergency situations.
Benefits of Using Winter Tires in Cold Conditions
Having the right tires in cold weather isn't just about comfort; it's about safety. Here are the benefits of using winter tires when it's cold:
Enhanced Safety: The improved grip and handling of winter tires translate to a safer driving experience. You're less likely to lose control, especially in sudden maneuvers.
Better Fuel Efficiency: Properly functioning winter tires can also lead to better fuel efficiency. When tires grip the road correctly, your car doesn't have to work as hard, saving you fuel in the long run.
Peace of Mind: Knowing that your vehicle is equipped to handle cold conditions gives you peace of mind. You can drive confidently, knowing that your tires are up to the task.
When to Consider Winter Tires
I recommend considering the switch to winter tires based on temperature, not just snowfall. Here's why:
Temperature-Based Switch: Once your local temperature consistently falls below 50 degrees, it's time to switch to winter tires. Even if there's no snow, the colder temperatures alone justify the change.
Pre-Winter Preparation: Don't wait for the first snowfall to change your tires. Being prepared ahead of time is key to safe winter driving.
For a deeper understanding of how winter tires compare to other options like snow chains, you might find our article on Snow Tires vs Chains helpful.
Winter Tires On Dry Pavement Above 50°
While winter tires are indispensable in cold temperatures, their performance and durability is compromised in warmer weather. It's important to switch to summer or all-season tires when the temperature rises consistently above 50 degrees. 
Understanding these effects is key, as they can impact both your driving experience and the longevity of the tires.
How Winter Tires React to Warmer Temperatures
Driving with winter tires in warmer weather can have some noticeable effects. Here's what you should be aware of:
Softer Rubber Compounds: The same feature that makes winter tires excellent in cold conditions – their softer rubber – can become a drawback in warmer temperatures. The tires may feel more 'squishy' and less responsive.
Increased Wear: Warmer temperatures can accelerate the wear on winter tires. Their softer compound can wear down faster on hot pavement, leading to a shorter lifespan.
Reduced Performance: While winter tires provide superior grip in cold conditions, this advantage diminishes in warmer weather. You might notice less precise handling and longer braking distances.
Considerations for Using Winter Tires in Warm Weather
Using winter tires in warm weather isn't ideal, but sometimes it's unavoidable. Here are some considerations to keep in mind:
Temporary Use: If you find yourself using winter tires in warmer weather, try to limit it to a short period. Prolonged use can lead to quicker wear and reduced performance.
Monitor Tire Condition: Pay extra attention to the tread depth and overall condition of your winter tires if they're used in warm weather. This will help ensure they remain safe and effective.
Plan for Tire Change: Ideally, plan to switch back to all-season or summer tires once the temperature consistently stays above 50 degrees. This will preserve your winter tires for when they're really needed.
Switching Between Winter and Summer Tires
As someone who values the right equipment for the right conditions, I recommend having a set of summer or all-season tires for warmer months. Here's why:
Optimized Performance: Summer and all-season tires are designed to perform better in warm conditions. They offer better handling and durability when it's hot outside.
Cost-Effectiveness: Switching tires seasonally can actually save you money in the long run. By preserving the condition of your winter tires, you won't need to replace them as often.
Safety First: Above all, using the appropriate tires for the season ensures your safety on the road. Each type of tire is designed for specific temperature ranges and conditions.
Studded Snow Tires on Dry Pavement
Studded snow tires have their specific use-case scenarios, primarily in severe winter conditions with lots of ice and hard-packed snow. However, on dry pavement, their disadvantages, like increased road wear and reduced comfort, become more apparent.
Let's delve into the specifics of studded snow tires and their behavior on dry roads.
Understanding Studded Snow Tires
Studded snow tires are winter tires equipped with metal studs. These studs provide extra traction on ice and hard-packed snow. However, their performance on dry pavement is a different story:
Reduced Comfort: On dry roads, studded tires can make your ride noisier and less comfortable. You might feel more vibrations and hear a distinct rumbling sound.
Road Wear: The metal studs in these tires can be harsh on dry pavement. They can cause wear and tear on the road surface, especially if used extensively in non-icy conditions.
Handling Differences: While studded tires are great for icy conditions, on dry roads, they may not provide the same level of handling and grip as regular winter tires or all-season tires.
When to Use Studded Snow Tires
Choosing when to use studded snow tires is crucial. Here's my advice based on experience:
Icy Conditions: Studded tires are best reserved for icy road conditions or during heavy winter weather. They are particularly effective on hard-packed snow and ice.
Legal Restrictions: Be aware of local laws regarding studded tires. Some regions have specific dates when you can legally use them, or they might be banned altogether.
Alternatives: If you live in an area with occasional snow and ice, consider non-studded winter tires or snow chains as alternatives. These options can be more suitable for mixed winter conditions.
Comparing Studded Tires to Alternatives
It's important to weigh your options when it comes to winter driving. Here's a comparison to help you decide:
Studded Tires vs. Chains: Studded tires offer more convenience since they don't require the manual installation that chains do. However, chains can be put on as needed and removed easily. For a detailed comparison, check out our article on Studded Tires vs Chains.
Studded Tires vs. Regular Winter Tires: Regular winter tires are generally sufficient for most winter conditions and are less damaging to road surfaces. They also provide a quieter, more comfortable ride on dry roads.
Resources
Below are some links you may find helpful when learning about tires:
Final Thoughts
We've explained that while winter tires are indispensable in colder temperatures, offering improved grip and safety, their advantages can wane in warmer conditions. The discussion also highlighted the specific case of studded snow tires, which are ideal for icy conditions but less so for dry pavement. 
The key takeaway is the importance of using the right tires for the right conditions – not just for optimal performance, but for your safety on the road. Remember, being informed about your tires is a crucial aspect of responsible and safe driving.
Good luck and happy motoring.