Have you ever wondered if snow socks are as good as traditional chains for driving safely on snowy roads? This article breaks down the truth about snow socks' performance, helping you find the best way to handle icy and snowy conditions during your drives.
Do Snow Socks Work?

Yes, snow socks help your tires grip better on snowy and icy roads, offering an alternative to regular tire chains. But they can't match the snow traction performance of chains.
In this article, we'll learn about how snow socks compare to tire chains and winter tires. We'll look into how well they work on snowy and icy roads, talk about using them right, and help you choose the best one for your winter driving.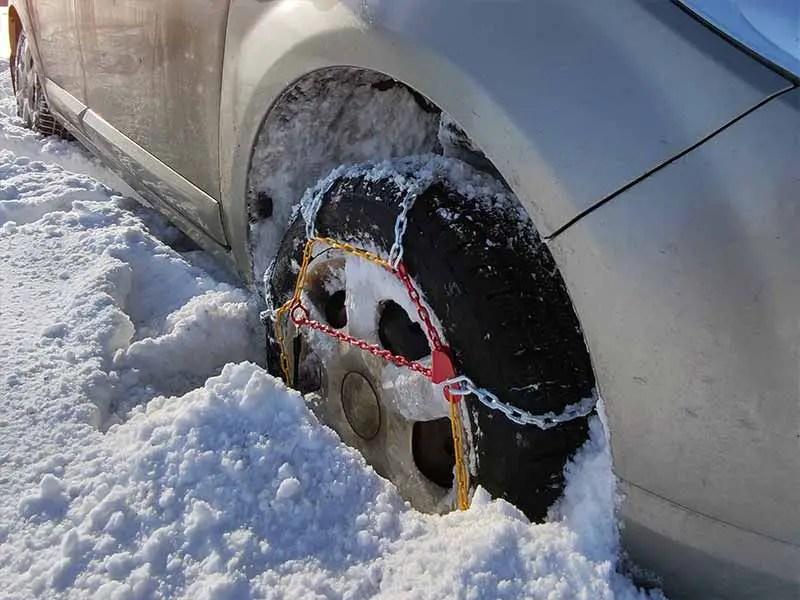 Understanding Snow Socks and Snow Chains
Understanding the difference between when it's best to use snow socks or snow chains helps you decide which one is best for your driving needs. They're both important for driving safely when it's snowy or icy. Let's dig into what makes them different and how they help your car grip the road.
Snow Socks: What Are They?
Snow socks are like fabric tire covers made to give your tires better traction on snowy roads. They're made from tough materials, like strong fabric blends, and are stretchy to fit over your tires easily. Snow socks are much lighter compared to regular snow chains.
Key Points about Snow Socks:

Made of strong fabric.
Easy to put on tires because they stretch.
Lighter than normal chains.
These socks are a temporary fix for improving grip when driving on snow, slush or ice covered roads. They help your tires stay in contact with the road, stopping your car from slipping too much and giving you better control.
Snow Chains: How Are They Different?
Snow chains are heavy-duty chains made from metal links or cables that wrap around tires. They're there to create a strong grip between the tire and the road, especially on icy and snowy roads. Unlike snow socks, chains are bigger and might be harder to put on since they need to fit exactly right.
Key Points about Snow Chains:

Made of bulky metal links or cables.
Provide a strong grip on icy surfaces.
Might be harder to install compared to snow socks.
These chains are meant for tough conditions, like when there's a lot of snow or steep hills where regular winter tires struggle. But because they're so tough, they can make your ride rough and noisy when the roads are clear.
For more detailed info on different traction devices, you can explore Snow Chains Vs. Cables Vs. Socks for other options.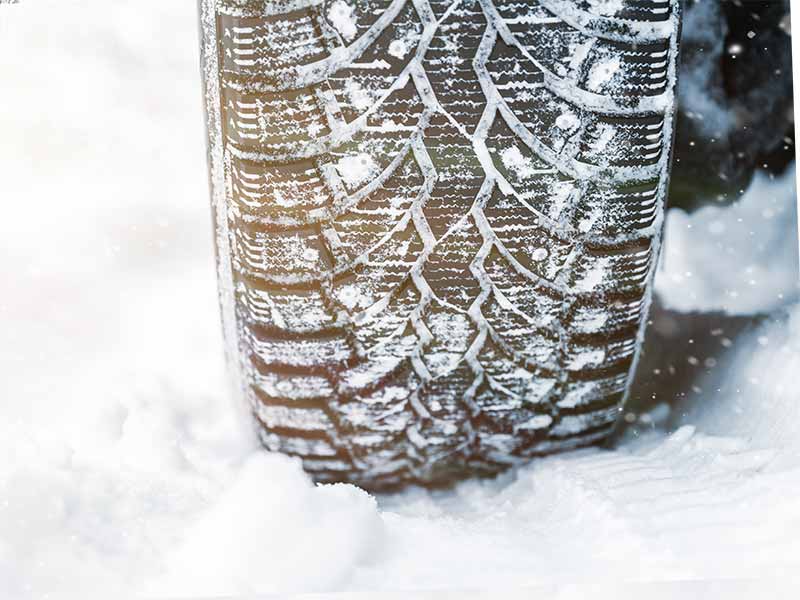 Snow Sock Effectiveness and Performance
Understanding how snow socks, tire chains, and winter tires work on snowy and icy roads is important for driving safely in winter weather. Let's check out how these things perform in different situations, so you can pick the right one when roads get icy or snowy.
Snow Socks: Performance on Snowy Roads
Snow socks help your tires get a better grip on snow-covered roads. They make more contact between your tires and the snow, so your car doesn't slide around as much, giving you more control. But when you compare snow socks with tire chains and winter tires, they might not do as well, especially in really deep or heavy snow.
Comparison with Tire Chains:

Snow socks are good on normal snow, but tire chains give better grip, especially in heavy snow.
Tire chains have bigger, stronger links that dig into the snow more, providing better grip in deep snow compared to snow socks.

Comparison with Winter Tires:

Snow socks help on snowy roads, but winter tires, designed just for winter, have better grip on snow-covered roads than snow socks.
Winter tires have special rubber and patterns that grip snow better, making them work better in winter conditions compared to snow socks.
Snow Socks: Performance on Ice-Covered Roads
On icy roads, snow socks can give you a little more grip, but they will not be as good as tire chains or winter tires. Ice is tough for these things, and while snow socks help a bit, they might not be as good as tire chains or winter tires.
Comparison with Tire Chains:

Snow socks help a bit on icy roads, but tire chains usually offer better grip because they're designed to dig into ice better.
Tire chains have a stronger build, which gives better grip on icy surfaces compared to snow socks.

Comparison with Winter Tires:

Snow socks might help a bit on ice, but winter tires, made with special stuff, give way better grip on icy surfaces than both snow socks and tire chains.
Winter tires are made to grip ice better, so they're safer to drive on icy roads compared to snow socks.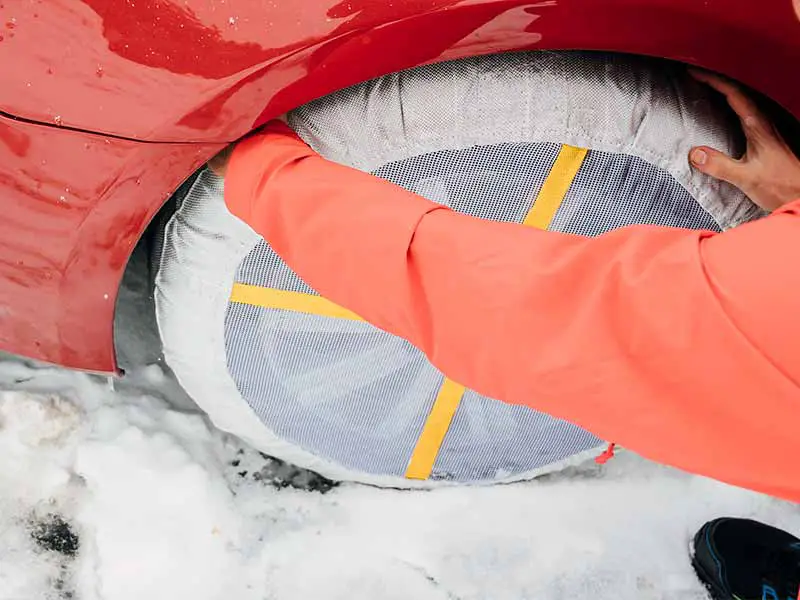 Practical Considerations and Usage
Knowing how to use traction aids like snow socks or chains properly is very important for driving safely in snow and ice. Let's check out some practical tips and rules for using these devices the right way.
Number of Snow Socks Needed: 2 or 4?
When using snow socks, you need to put them on at least the wheels that are powered by the motor. For example, if your car is front-wheel-drive, it's better to put snow socks on the front wheels. But if you want the best grip and control, it's even better to use snow socks on all four wheels, especially if your car has all-wheel-drive or four-wheel-drive.
Speed Limits and Driving Guidelines with Snow Socks
Even though snow socks make your car grip better, you should still drive carefully and not too fast when roads are snowy or icy. Usually, it's safest to drive at around 30-40 mph (48-64 km/h) when using snow socks. Going too fast might make the socks less effective, especially on slippery roads.
Can You Leave Snow Socks on Overnight?
It's a good idea to take off snow socks when you're not using them or when roads are clear. Leaving them on overnight could damage both the socks and your tires. Snow socks are meant for short-term use and might wear out faster if you leave them on for a long time, especially if you drive on dry roads.
Durability and Lifespan of Snow Socks
How long snow socks last depends on things like the roads you drive on, how you drive, and how good the socks are. Usually, a set of snow socks can last for a few winters if you don't use them too much and take care of them. But if you use them frequently on rough roads, they will wear out more quickly.
Resources
Below are some links you may find helpful when learning about tires:
Final Thoughts
Snow socks and tire chains are both helpful for driving safely in snow. Snow socks are easier to use, but tire chains and winter tires give you better grip in really tough conditions.
Knowing how they're different can help you pick the right one for your winter drives. Always follow the guidelines for using them to stay safe on snowy and icy roads.
Good luck and happy motoring.