Deciding which tires to buy for your vehicle can feel like being lost in a maze – there are so many types, and they all seem to have their own pros and cons. But what if you had a clear map guiding you through that maze, helping you understand the difference between all-weather tires and snow tires?
All-Weather Tires Vs Snow Tires

While all-weather tires offer versatility for varying conditions throughout the year, snow tires provide optimal performance and safety during severe winter weather conditions.
In this article, we'll delve into the specifics of both all-weather and snow tires. We'll cover their construction, performance, the right time to use each type, and guide you in deciding which tire is the best fit for your specific needs.
Let's take a closer look.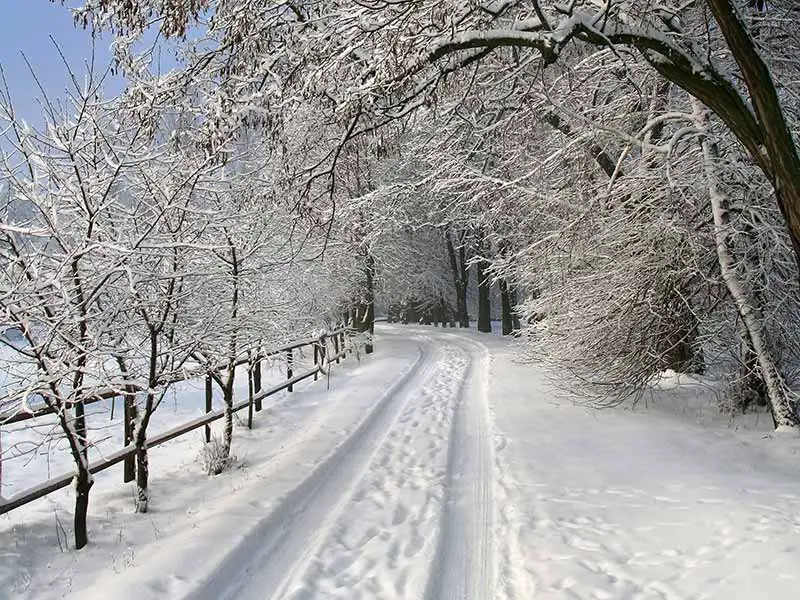 The Basics: Understanding Different Types of Tires
Alright, let's dive right into the heart of the matter: tires. We see them every day, they take us to our work, school, and exciting road trips, but do we really know what they're all about? Let's get down to the nitty-gritty, starting with the basics.
What Are All-Weather Tires?
All-weather tires are like the Swiss Army knife of tires. They're designed to handle pretty much anything Mother Nature can throw at them, be it sunshine, rain, or a decent amount of snow. They're a solid "jack-of-all-trades" option, with features that offer a good balance between winter and summer performance. These all-around heroes come with the "Three-Peak Mountain Snowflake" symbol, which means they've been tested and approved for severe winter conditions. But remember, while they're versatile, they're not always the absolute best at handling severe winter or summer conditions.
All About Snow (Winter) Tires
Snow tires, also known as winter tires, are the winter warriors of the tire world. They're specifically designed to perform in cold weather and tough winter conditions. Imagine them like boots for your car, giving you better traction in snow, slush, and ice. Their rubber compound stays flexible in the cold, and their tread patterns are made to grip and bite into winter roads. Some snow tires even come with metal studs for extra traction, but be careful: these studded winter tires are not allowed in some places due to the damage they can do to the roads.
Introducing All-Season Tires
All-season tires are the standard tires you'll find on most new cars. They're like a good pair of sneakers: comfortable and reliable for most situations. They work pretty well in many conditions, including dry and wet roads, and even light snow. However, they're not designed for heavy snow or very cold temperatures. And despite their name, "all-season" might not include "all" seasons if you live somewhere with severe winters.
The Skinny on Summer Tires
Lastly, let's chat about summer tires. No, they're not just for beach trips! Summer tires are designed for performance and agility in warm weather, but they're not great for winter conditions. They're made with a special rubber that stays firm in the heat for better handling and grip on both dry and wet roads. However, when the temperature drops, they can become hard and lose grip.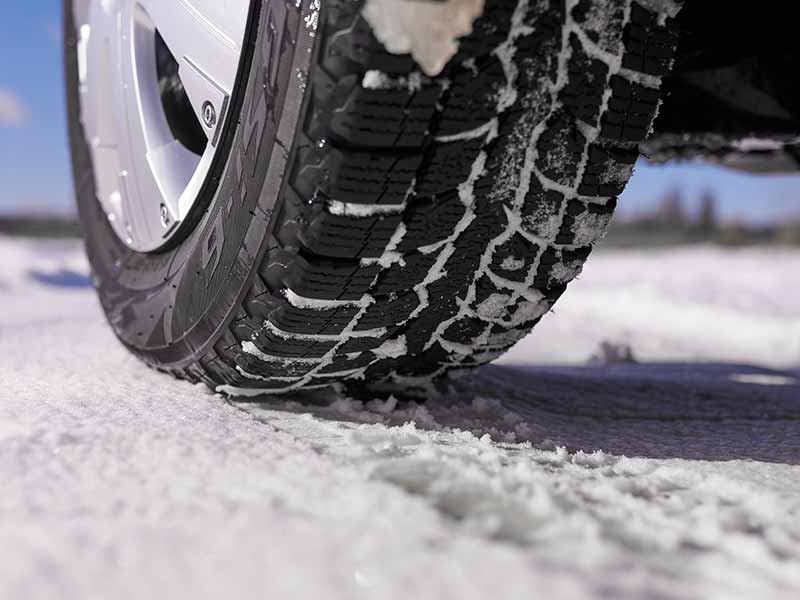 Detailed Comparison: All-Weather Tires Vs Snow Tires
Now that we've got a good grip on the basic types of tires, let's delve a bit deeper into the question of which tire you should choose. We'll break down their performances, especially in winter conditions, to help you make the best call.
The Performance of All-Weather Tires in Winter
When we talk about all-weather tires, think of them as superheroes with year-round powers. But like any superhero, they do have their limitations.
Can All-Weather Tires Be Used in Winter?
Yes, they can! All-weather tires are designed to handle a variety of conditions, from dry and wet roads to light and moderate snow. They have a more aggressive tread pattern than all-season tires and a rubber compound that stays flexible in cold weather, which helps them grip the road in winter conditions.
Do All-Weather Tires Have the Snowflake Symbol?
The "Three-Peak Mountain Snowflake" symbol, which you'll find on the sidewall of some tires, signifies that the tire has been tested and approved for severe snow conditions. Good news – all-weather tires do carry this symbol! This means they're a step up from all-season tires when it comes to winter driving.
The Downside of All-Weather Tires in Winter
While all-weather tires can handle winter weather, they may not be the best option for extreme conditions. In heavy snow or icy conditions, they might not offer the same level of traction and control as a dedicated snow tire. They're a good all-round option, but for consistently harsh winter conditions, snow tires might be your safest bet.
The Performance of Snow Tires
Now let's take a look at snow tires, the winter specialists of the tire world. Here's why they shine in colder climates.
The Special Features of Snow Tires
Snow tires, including the studded version, are designed with a special rubber compound that stays flexible in the cold. This helps them grip the road better than other tires in winter conditions. The tread patterns are also designed to bite into snow and ice, and to channel out slush. Studded snow tires have metal studs embedded in the tread to give extra traction on icy roads.
The Benefits of Mounting Winter Tires
Mounting winter tires on your vehicle when the weather turns cold can significantly improve your safety. They can help you get better traction, shorter stopping distances, and more control when you're driving in snow, slush, or ice.
What Temperature Is Too High for Winter Tires?
While snow tires are fantastic in the cold, they don't fare so well in warmer weather. Once temperatures consistently hit around 45 degrees Fahrenheit (7 degrees Celsius), it's time to think about swapping those snow tires out. The reason? The softer rubber compound that works so well in the cold can wear out quickly in warm weather.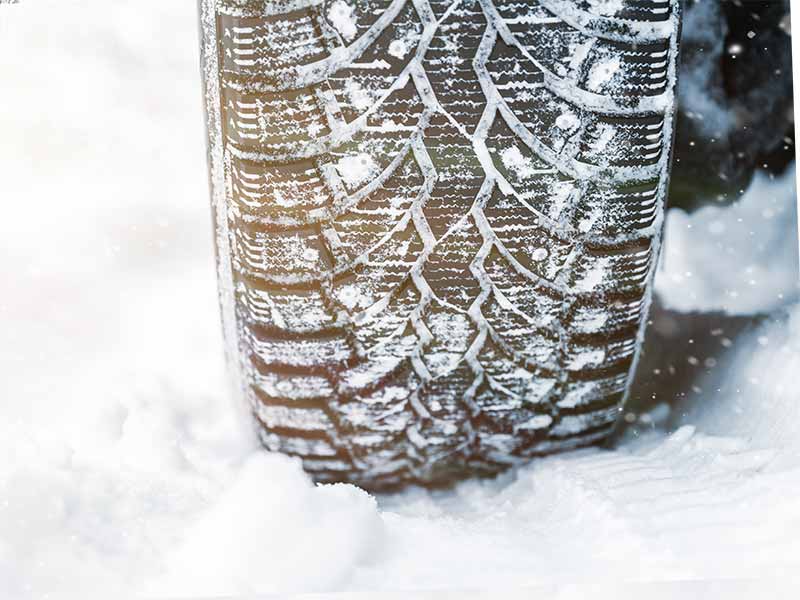 Deciding Between All-Weather and Snow Tires
Now that we've dissected the performance of both all-weather and snow tires, let's tackle some common questions. After all, choosing tires isn't just about understanding their functions, it's about knowing which one will suit your needs best.
Can All-Weather Tires Be Used Year-Round?
Absolutely, all-weather tires are built for just that – all kinds of weather! They're a versatile option that can handle summer heat, rainy springs, and even light-to-moderate snowfall in winter. But remember, although they're well-rounded, they might not always be the best for extreme summer heat or severe winter conditions.
What Happens If You Use Winter Tires All Year?
Winter tires, or snow tires, are like heavy winter coats – great for a blizzard, but not so comfortable in the summer heat. The soft rubber compound in winter tires that's so useful in cold temperatures can wear out faster in warmer weather. Plus, their deep treads can make for a noisy and less smooth ride when the roads are clear. Using them all year could mean replacing your tires more often, which can be a bit hard on the wallet!
Are All-Weather Tires as Good as Snow Tires?
This is a bit like asking if a Swiss Army knife is as good as a chef's knife. They're both excellent, but for different reasons. Snow tires are the winter experts; they offer the best performance on snowy and icy roads. On the other hand, all-weather tires are versatile, offering decent performance in both summer and winter conditions. So, the answer depends on where you live and what weather conditions you frequently encounter.
Do You Really Need Snow Tires for Winter?
Well, it depends on how severe your winters get. If you often find yourself driving through heavy snow, slush, or icy conditions, then yes, snow tires could be a good investment for your safety. But if your winters are milder with only occasional snow, then all-weather tires could be a more economical and practical choice.
Practical Application: When to Use Each Type of Tire
We've covered the basics and dissected the performance of all-weather and snow tires. Now, let's get practical and talk about when to actually use each type of tire.
When to Switch to Winter or Snow Tires
Switching to winter tires isn't just about seeing the first snowflake of the season. It's about temperature too. When the thermometer consistently dips below 45 degrees Fahrenheit (that's about 7 degrees Celsius), it's time to consider mounting your winter tires. They're designed to perform best in these cold conditions. On the flip side, once temperatures climb consistently above this mark, it's time to say goodbye to the snow tires until the next cold season.
The Role of Temperature and Severe Winter Weather Conditions in Tire Choice
Temperature plays a big part in how your tires perform. All-weather tires can handle a wide range of temperatures, but they might struggle in extreme cold or heat. Snow tires, on the other hand, excel in the cold but wear out quickly as things heat up. So, keep an eye on your local weather forecast and adjust your tire choice accordingly.
The Impact of Cold Weather on All Types of Tires
Cold weather affects all tires, but in different ways. Snow tires are made with a special rubber compound that stays flexible in the cold, providing better grip and control. All-weather tires also stay flexible in cold temperatures, but maybe not as much as snow tires. All-season and summer tires can harden in cold weather, which means they won't grip the road as well.
The Suitability of All-Terrain Tires in Different Weather Conditions
Now, you may be wondering about all-terrain tires, another player in the tire game. All-terrain tires are designed for a mix of on-road and off-road driving. They have aggressive tread patterns that can handle a variety of conditions, including dirt, mud, gravel, and even light snow. However, for severe winter weather, snow tires are still the best choice.
Resources
Below are some links you may find helpful when learning about tires
Final Thoughts
Choosing the right tires for your vehicle is no small task. Your choice can significantly impact your driving experience, especially when weather conditions get tough. The main takeaway is that while all-weather tires offer commendable versatility for year-round use, they may not excel in extreme weather situations.
On the other hand, snow tires outperform others in severe winter conditions, providing superior grip and control. However, their utility diminishes in warmer weather, and using them all year can lead to faster wear and tear. Always remember, the best tire for you is one that aligns with your specific driving needs and the typical weather conditions you encounter.
Good luck and happy motoring.