You've heard about the marvels of run flat tires, the promise of driving even after a puncture. But as you're on the road, a nagging question lingers in your mind: What truly happens when a run flat tire goes flat? Is it as seamless as they say, or is there more to the story? Dive in as we unravel the mystery behind these innovative tires.
What Happens When A Run Flat Tire Goes Flat?

When a run flat tire goes flat, it can still support the vehicle's weight for a limited distance, typically up to 50 miles, due to its reinforced sidewalls. This allows drivers to reach a safe location or service station without the immediate need to pull over and mount a spare tire.
In this article, we'll delve deep into the mechanics of run flat tires, comparing them with regular tires, understanding the potential damage from running on a flat, and offering insights on when to visit a tire shop.
Let's take a closer look.
The Magic Behind Run Flat Tires: How Do They Work?
Run flat tires are a marvel of modern engineering, designed to provide drivers with peace of mind and enhanced safety on the road. But what's the science and technology behind these tires that allow them to function even when they're punctured? Let's explore.
The Anatomy of a Run Flat Tire
Reinforced Sidewalls: The most distinguishing feature of run flats is its reinforced sidewalls. These sidewalls are made of tough, resilient materials that prevent the tire from collapsing when it loses air pressure. This design ensures that the tire retains its shape, allowing the vehicle to be driven for a limited distance.
Inner Support Ring: Some run flat tire designs come with an inner support ring. This ring is a rigid structure placed inside the tire, providing additional support in case of a puncture. It ensures that the tire remains functional and doesn't get damaged from the vehicle's weight.
The Science Behind the Stability
When a tire is punctured, air escapes rapidly, leading to a loss of pressure. In regular tires, this sudden deflation can cause the tire to collapse, making it difficult to control the vehicle. However, run flat tires are designed to counteract this:
Pressure Distribution: The reinforced sidewalls of run flat tires distribute the vehicle's weight evenly across the tire's surface. This even distribution ensures that the tire remains stable and doesn't buckle under pressure.
Heat Dissipation: Driving on a deflated tire generates heat due to increased friction. Run flat tires are designed with materials and structures, like cooling fins, that help dissipate this heat, preventing damage and ensuring the tire's longevity.
Driving on Zero Pressure: Is It Possible?
One of the most frequently asked questions about run flat tires is, "Can you drive a run flat with zero pressure?" The answer is yes, but with some caveats:
Limited Range: While it's possible to drive on a deflated run flat tire, it's only advisable to do so for a short distance, typically up to 50 miles. This range gives drivers enough time to reach a safe location or service station.
Reduced Speed: When driving on a deflated run flat tire, it's essential to reduce your speed. Most manufacturers recommend not exceeding 50 mph to ensure safety and prevent further damage to the tire.
The Role of Tire Pressure Monitoring Systems (TPMS)
Vehicles equipped with run flat tires usually come with a TPMS. This system plays a crucial role in the safety and functionality of run flat tires:
Immediate Alerts: The TPMS continuously monitors the air pressure in the tires. If a drop in pressure is detected, the system immediately alerts the driver, allowing them to take appropriate action.
Ensuring Safety: By providing real-time data on tire pressure, the TPMS ensures that drivers are always aware of their tire's condition. This awareness is vital for making informed decisions, especially when driving on a deflated run flat tire.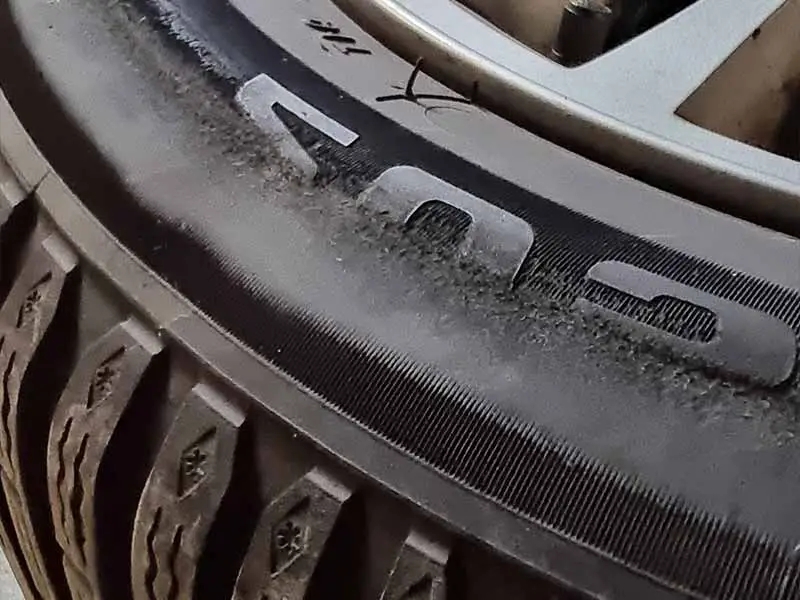 Potential Damage from Running on a Flat
Driving on a flat tire, whether it's a run flat or a regular tire, can have consequences not just for the tire itself but also for the vehicle. Understanding the potential damages can help drivers make informed decisions when faced with a tire puncture.
Risks to the Tire
Driving on a deflated tire, even if it's a run flat, can lead to:
Increased Wear: The friction between the road and the deflated tire can cause rapid wear, especially on the tire's edges.
Internal Damage: The tire's internal structures can get damaged, compromising its integrity and safety.
Heat Build-up: A deflated tire generates more heat due to increased friction. Excessive heat can weaken the tire's materials, leading to potential blowouts.
Irreparable Damage: In some cases, driving on a flat can cause damage that's beyond repair, necessitating a tire replacement.
Impact on the Vehicle
Beyond the tire itself, driving on a flat can affect other parts of the vehicle:
Wheel Damage: The rim or wheel can get damaged if it comes into direct contact with the road.
Suspension and Alignment: The vehicle's suspension system and alignment can be affected, leading to uneven tire wear and reduced handling capabilities.
Braking System: Uneven tire pressure can impact the braking system, potentially leading to longer stopping distances.
Increased Fuel Consumption: Driving on a flat tire can reduce fuel efficiency due to increased rolling resistance.
Safety Concerns
Loss of Control: A deflated tire can affect the vehicle's handling, making it harder to steer and potentially leading to accidents.
Blowouts: If a deflated tire is subjected to excessive heat and stress, it can lead to a blowout, posing significant safety risks.
Secondary Accidents: Stopping on busy roads to address a flat tire can lead to secondary accidents, especially if other drivers are not attentive.
What to Do If You're Driving on a Flat
Stay Calm: If you suspect you have a flat tire, remain calm and avoid making sudden maneuvers.
Reduce Speed: Slow down gradually and avoid braking suddenly.
Find a Safe Spot: Look for a safe place to pull over, away from busy traffic.
Inspect the Damage: Once you're safely parked, inspect the tire for visible damage.
Seek Professional Help: If you're unsure about the extent of the damage or the next steps, call for professional assistance or visit a tire shop.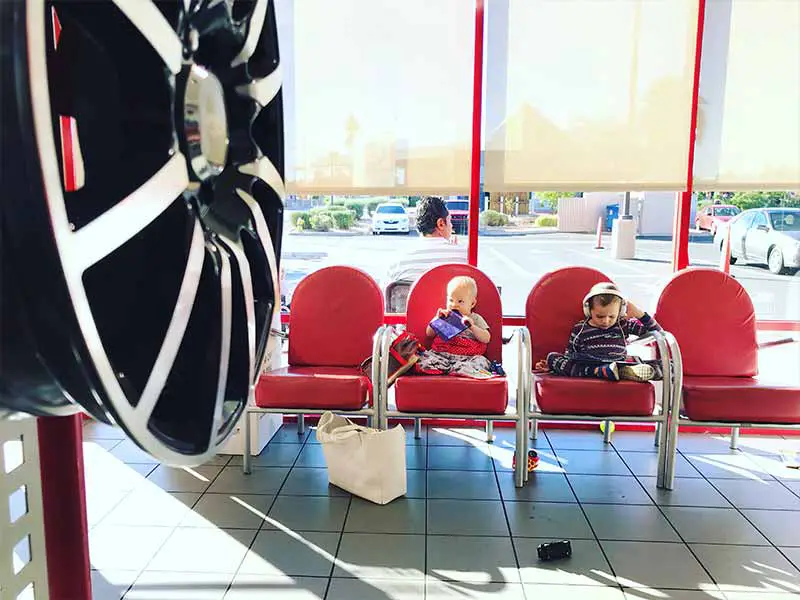 When to Visit a Tire Shop
Tires are a critical component of any vehicle, ensuring safety, performance, and comfort on the road. Knowing when to visit a tire shop can make a significant difference in prolonging the life of your tires and ensuring optimal driving conditions. Here's a guide to understanding the right time to seek professional assistance.
Signs Your Tires Need Attention
Visible Damage: Look for cuts, punctures, cracks, or bulges on the tire's surface. Any visible damage can compromise the tire's integrity.
Tread Wear: The tread on your tires provides grip. If the tread depth is below the recommended level, usually 2/32 of an inch, it's time for a replacement.
Vibration or Unusual Noises: If you feel excessive vibration while driving or hear unusual noises coming from the tires, it could indicate internal damage or misalignment.
Age: Even if they look fine, tires have a lifespan. Most manufacturers recommend replacing tires every six to ten years, regardless of wear.
Air Pressure Issues: If you find yourself needing to inflate your tires frequently or if the Tire Pressure Monitoring System (TPMS) consistently alerts you, there might be a slow leak or another issue.
Benefits of Regular Tire Check-ups
Safety: Regular inspections can identify potential issues before they become significant problems, ensuring safety on the road.
Performance: Well-maintained tires provide better handling, braking, and acceleration.
Fuel Efficiency: Properly inflated and aligned tires can improve fuel efficiency, saving you money at the pump.
Longevity: Regular check-ups and maintenance can extend the life of your tires, reducing the need for frequent replacements.
Services Offered at Tire Shops
When you visit a tire shop, professionals can provide a range of services:
Inspection: A thorough check of all tires to identify any issues or potential concerns.
Inflation: Adjusting the air pressure to the recommended levels for your vehicle.
Rotation: Rotating the tires to ensure even wear. This service can extend the life of your tires.
Alignment: Adjusting the vehicle's suspension to ensure that the tires are correctly aligned. Proper alignment reduces uneven wear and improves handling.
Repair: Fixing punctures or other minor damages to restore the tire's functionality.
Replacement: If a tire is beyond repair, professionals can recommend and install suitable replacements.
When in Doubt, Seek Expertise
If you're ever unsure about the condition of your tires or if you experience any unusual symptoms while driving, it's always best to consult with professionals. They can provide expert advice, ensuring that your tires are in top condition and that you're safe on the road.
Resources
Below are some links you may find helpful when learning about tires
Final Thoughts
With their reinforced sidewalls, run flat tires provide the unique ability to continue driving even after a puncture, eliminating the immediate need for a roadside tire change. 
However, like all automotive components, they require proper care, attention, and timely checks to ensure optimal performance.
Good luck and happy motoring.