You're cruising along the highway, and suddenly, you feel it – that unmistakable thud signaling a tire issue. As you pull over, you're relieved to remember you have run flat tires. But then the question hits you: If one is damaged, do you really need to replace all four? It's a question many drivers grapple with, and the answer might surprise you.
Do You Have To Replace All 4 Run Flat Tires?

No, you don't always have to replace all four run flat tires simultaneously. However, for optimal safety and performance, it's crucial to consider factors like tread depth, tire age, and vehicle type.
In this article, we'll dive deep into the world of run flat tires, exploring their basic construction, the pros and cons of mixing them with regular tires, the debate around replacing them in pairs, the role of the spare tire, and the circumstances under which you might consider replacing all four tires.
Let's take a closer look.
Replacing Just One Run Flat Tire
When it comes to tire maintenance and replacement, one common question is whether it's possible or advisable to replace just one run flat tire. The answer isn't always straightforward, as several factors come into play. Let's explore these considerations in detail.
Can You Replace a Single Run Flat Tire?
The short answer is yes, you can replace a single run flat tire. However, whether you should replace only one depends on various factors:
Tread Depth: Tread depth plays a crucial role in tire performance, especially in terms of grip and water dispersion. If the remaining tires have significantly reduced tread compared to a new tire, it can lead to uneven wear and potentially unsafe driving conditions.
Age of the Other Tires: Tires degrade over time, even if they aren't used. If the other tires are old, even with decent tread depth, they might not perform at their best.
Vehicle Handling: Mismatched tires can affect the vehicle's handling, especially in adverse conditions like rain or snow.
Factors to Consider
When thinking about replacing just one tire, consider the following:
Tire Position: If you're replacing only one tire, it's often recommended to place the new tire on the rear axle, especially for rear-wheel-drive vehicles. This helps in maintaining better control during sudden turns or stops.
Tire Brand and Model: While not always a strict requirement, it's generally a good idea to match the brand and model of the new tire with the existing ones. Different tires can have varying performance characteristics.
Tire Size: Ensure the new tire is of the same size as the others. A mismatch in size can lead to issues with vehicle stability and handling.
Importance of Tread Depth
Tread depth is more than just a measure of how much life a tire has left. It directly impacts the tire's ability to grip the road, especially in wet conditions. Here's why it's essential:
Water Dispersion: Deep treads help channel water away from the tire, reducing the risk of hydroplaning.
Grip: As treads wear down, the tire's grip on the road diminishes, especially on slippery surfaces.
Even Wear: Ensuring all tires have similar tread depth promotes even tire wear, which can extend the overall life of your tires.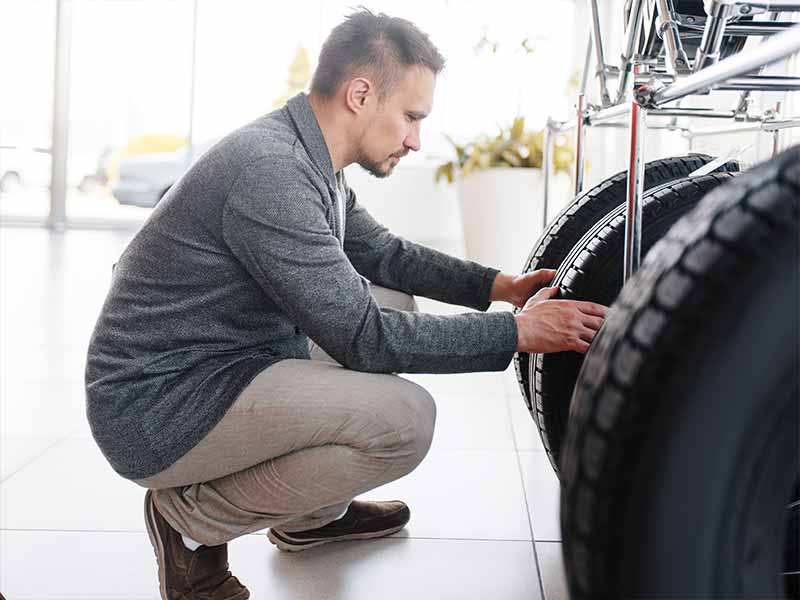 Replacing Tires in Pairs
The question of whether to replace tires individually or in pairs is a topic of much debate among automotive enthusiasts and experts. While individual circumstances can influence the decision, there are general guidelines and considerations to keep in mind.
Why Consider Replacing in Pairs?
Replacing tires in pairs, especially those on the same axle, offers several advantages:
Balanced Handling: Tires with similar wear levels and characteristics provide consistent handling, especially during turns, braking, and acceleration.
Even Wear: By ensuring both tires on an axle are of the same age and wear level, they tend to wear down at a similar rate, potentially extending their lifespan.
Reduced Mechanical Stress: Mismatched tires can lead to uneven distribution of load and stress on the vehicle's suspension and drivetrain components.
All Wheel Drive (AWD) Cars: A Special Consideration
For vehicles with all-wheel drive:
Sensitive Systems: AWD systems are designed to distribute power to all four wheels. Mismatched tires can disrupt this balance, potentially causing strain on the drivetrain.
Tire Rotation: Regular tire rotation is crucial for AWD vehicles to ensure even wear across all four tires. If tires are replaced individually, this balance can be disrupted.
Situations Favoring Individual Replacement
While replacing in pairs is often recommended, there are scenarios where replacing a single tire might be appropriate:
Minimal Wear Difference: If the other tire on the same axle has minimal wear and is relatively new, replacing just the damaged or worn tire can be a viable option.
Budget Constraints: Financial considerations might lead some to opt for a single replacement, especially if the other tire is in good condition.
When to Consider Replacing All Four Tires
Tires are a vehicle's only contact point with the road, playing a pivotal role in safety, performance, and fuel efficiency. While there are times when replacing one or two tires is sufficient, certain situations warrant the replacement of all four tires. Let's delve into the reasons and benefits of such a decision.
The Importance of Even Tread Depth
Having even tread depth across all four tires is more than just an aesthetic concern:
Balanced Handling: Uniform tread depth ensures consistent grip across all tires, leading to predictable and balanced handling, especially during cornering, acceleration, and braking.
Optimal Traction: In wet or slippery conditions, tires with adequate tread depth can channel water effectively, reducing the risk of hydroplaning.
Uniform Wear: When all tires have the same tread depth, they tend to wear at a similar rate, potentially extending the overall lifespan of the set.
Situations Warranting Full Replacement
There are specific scenarios where replacing all four tires is the best course of action:
Age of the Tires: Rubber degrades over time. Even if the tread depth seems adequate, old tires can become brittle and lose their grip, especially in extreme temperatures.
Uneven Wear Patterns: If your tires show uneven wear patterns, it might indicate alignment or suspension issues. After addressing the root cause, it's advisable to replace all tires to ensure uniform performance.
Upgrading Tires: If you're looking to upgrade to a different type of tire, for performance, seasonal, or terrain reasons, it's best to replace all four to maintain consistent handling characteristics.
Vehicles with AWD Systems: As mentioned earlier, all-wheel-drive systems rely on even distribution of power to all wheels. Significant differences in tread depth can strain the system.
Benefits of a Full Set Replacement
Opting to replace all four tires offers several advantages:
Peace of Mind: With a brand-new set, there's a level of confidence in the vehicle's handling and safety.
Cost-Efficient in the Long Run: Some tire retailers offer discounts or deals when purchasing a full set, leading to potential savings.
Resetting the Clock: Replacing all tires means resetting the wear clock, allowing for regular rotations and maintenance checks, ensuring even wear for the lifespan of the set.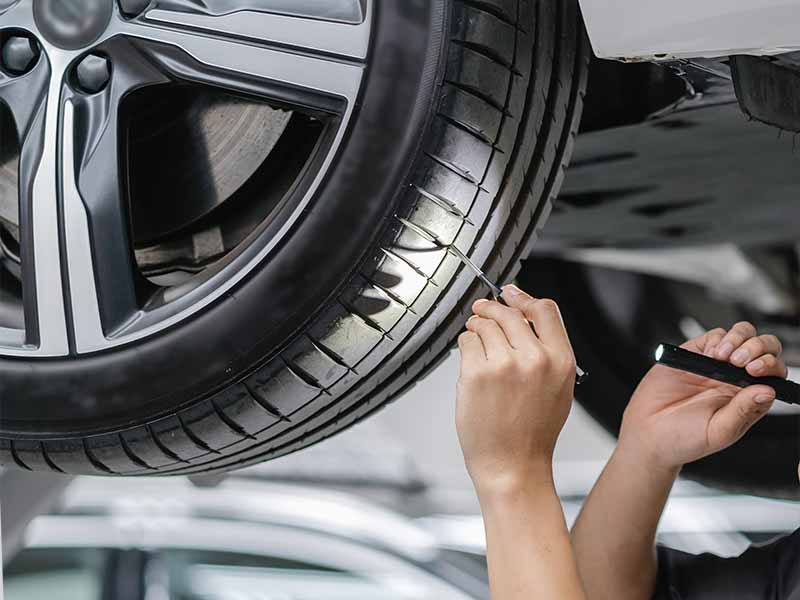 Mixing Run Flat Tires with Regular Tires
The idea of mixing different types of tires on a single vehicle often raises eyebrows among automotive experts. While it might seem like a cost-effective solution or a temporary fix, mixing run flat tires with regular tires has its implications. Let's break down the considerations and potential issues:
Performance Mismatch: Run flat tires and regular tires have different handling, braking, and traction characteristics. This can lead to unpredictable vehicle behavior, especially in challenging driving conditions.
Uneven Wear: Due to their different constructions, run flat and regular tires might wear at different rates, leading to the need for more frequent replacements.
Potential Safety Concerns: In emergency situations, such as sudden braking or evasive maneuvers, having mixed tires can affect the vehicle's stability.
Resources
Below are some links you may find helpful when learning about tires
Final Thoughts
Navigating the realm of run flat tires can seem daunting, but with the right knowledge, you can make informed decisions that prioritize safety and performance.
Key takeaways include the importance of even tread depth across all tires, the potential risks of mixing run flat and regular tires, and the benefits of replacing tires in pairs, especially for vehicles with all-wheel-drive systems. 
While run flat tires offer the advantage of driving for a limited distance after a puncture, it's essential to understand their limitations and ensure they are replaced or repaired as soon as possible after damage.
Good luck and happy motoring.