Ever noticed a crack on your car's rim and thought, "Is this a big deal?" Well, consider this: Your rims aren't just there to look cool—they play a critical role in your vehicle's safety and performance. Let's find out why a cracked rim is more than just a cosmetic issue—it's a call to action!
How To Fix A Cracked Rim

Fixing a cracked rim involves identifying the type and severity of the crack, deciding whether a repair or replacement is necessary, and possibly carrying out a DIY fix or seeking professional help. While minor superficial cracks can often be repaired at home using materials like JB Weld, larger, deeper cracks usually require professional attention or replacement.
In this article, we'll dive deep into the world of cracked rims. We'll explore different types of rims and what causes them to crack, why driving with a cracked rim is a no-no, how to decide between fixing or replacing a cracked rim, and how to attempt a DIY repair. Lastly, we'll discuss when it's time to hang up your DIY hat and bring in a professional wheel repair specialist.
Let's take a closer look.
Wheel Materials & Construction
Understanding your rims is the first step towards managing the damage to cracked wheels. So let's get to know them a bit better:
Steel Wheels
Steel rims are the old-school, sturdy option. They're great for durability and can withstand a lot of wear and tear. When it comes to repair, minor surface cracks on steel rims can often be addressed at home using materials like JB Weld. But remember, for deeper cracks or if you're unsure about the damage, it's safer to consult a professional.
Alloy Rims
An all0y wheel, often made of an aluminum and nickel blend, is lighter and more stylish. These wheels are popular for their performance and aesthetic benefits. However, they are a bit more delicate than their steel counterparts. Minor cracks in the barrel or wheel spokes might be fixed at home, but due to aluminum's softer nature, it's generally safer to have aluminum rims inspected and repaired by a professional.
Magnesium Wheels
Magnesium wheels are a notch above alloy in terms of performance and are favored in racing due to their extremely light weight. However, they can be brittle and prone to cracks. Given their high performance nature and cost, it's advisable to get professional help when a crack appears on a magnesium wheel.
Carbon Fiber Wheels
Carbon fiber wheels are at the pinnacle of wheel technology. They're super light, super strong, and yes, super expensive. If you're lucky enough to have these and unlucky enough to get a crack, don't try a DIY fix. These advanced wheels demand expert attention from a professional wheel repair specialist.
Knowing what your rims are made of can guide you in how to respond to a crack. While some minor damages can be handled at home, remember: when in doubt, it's better to seek professional advice to ensure safety and performance aren't compromised.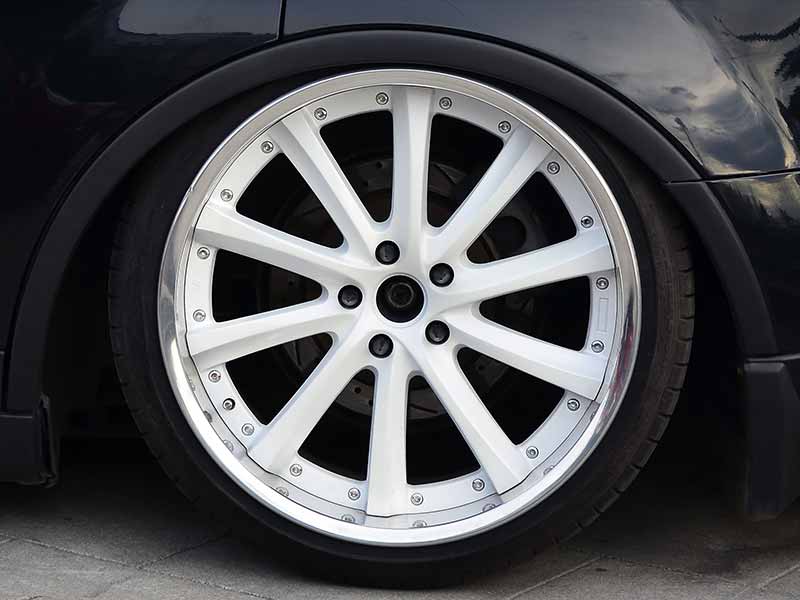 What Causes a Cracked Wheel?
There are quite a few reasons why a rim might crack. Most often, it's because of something we like to call 'Road Hazards'. Road hazards can be anything from hitting a pothole too hard, smacking into a curb, or even driving on rough or unpaved roads. These sudden shocks can cause rims, especially alloy rims, to crack.
Sometimes, the cause of a rim crack might be a little less obvious. For instance, Overloading Your Vehicle can put extra stress on your rims, leading to cracks over time. Remember, every vehicle has a weight limit, and pushing past that isn't just bad for your suspension, it can be bad for your wheels too.
Lastly, we can't forget about Wear and Tear. Just like everything else in life, rims wear out over time. If you've been rocking the same rims for a decade or two, they might be more prone to cracking. Regular check-ups can help spot these problems early.
Symptoms of Cracked Rims
Now you might be thinking, "How do I know if my rim is cracked?" Well, here are a few telltale signs to look out for:
Leaking Air: If you find yourself needing to top off the air in your tires more often than usual, you might have a crack in your rim.
Vibrations: Feeling some weird shakes and vibrations while driving, especially at high speeds? A cracked rim might be to blame.
Visibly Damaged Rim: Of course, if you can see a crack or deformity on your rim, that's a pretty clear sign that something's up.
One specific type of damage to look out for is a Hairline Crack in Alloy Wheels. These are small, thin cracks that might be hard to see, but can still cause problems. They often show up in the bead seat of the wheel, where the tire meets the rim, and can cause slow air leaks.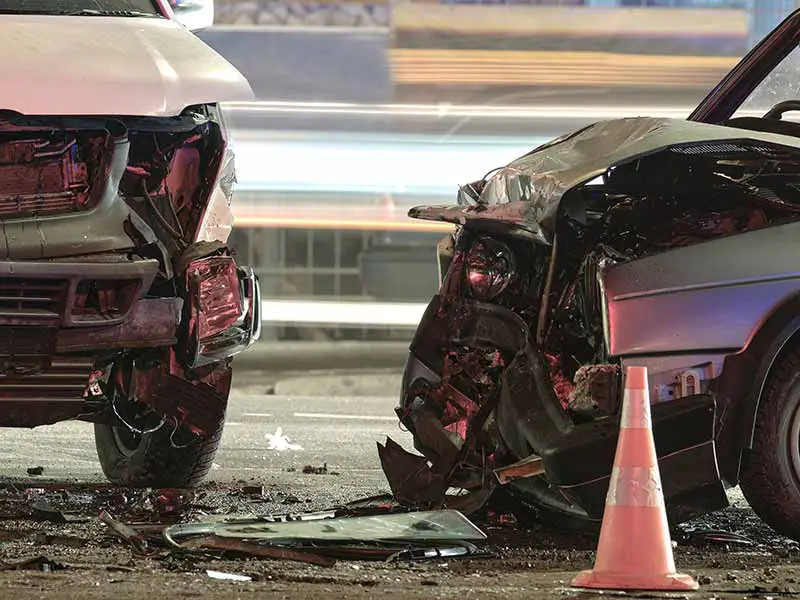 Can You Drive on a Cracked Rim?
Imagine you're about to hit the road for a weekend trip when you spot a crack in your rim. Bummer, right? Now the question on your mind might be, "Can I still drive with this?" Short answer: It's not a good idea. Here's why.
Dangers of Driving on a Cracked Rim
Driving with a cracked rim is a bit like trying to run a marathon with a sprained ankle – it's just asking for trouble. Cracked rims can lead to a slew of problems, such as:
Tire Damage: A cracked rim can damage your tire, leading to air leaks, or worse, a flat tire. Trust me, a flat tire is not something you want to deal with, especially while you're cruising down the highway.
Poor Handling: Cracks in your rims can mess up your car's handling, making your ride feel unstable or wobbly. Not exactly what you want when you're trying to navigate through traffic.
Potential for Accident: In the worst-case scenario, a cracked rim could lead to a tire blowout. If this happens while you're driving at high speed, it could cause an accident.
How Long Can You Ride on a Cracked Rim?
You might be wondering, "Okay, but how long can I really drive on a cracked rim?" Well, it's hard to say exactly, as it depends on the size and location of the crack. But in general, the more you drive on a cracked rim, the worse the damage can become.
It's a bit like a small crack in a dam. At first, it might just let a little water through, but over time that crack can grow, leading to more serious problems. Similarly, a small crack in your rim can grow larger the more you drive, potentially leading to the issues we discussed earlier.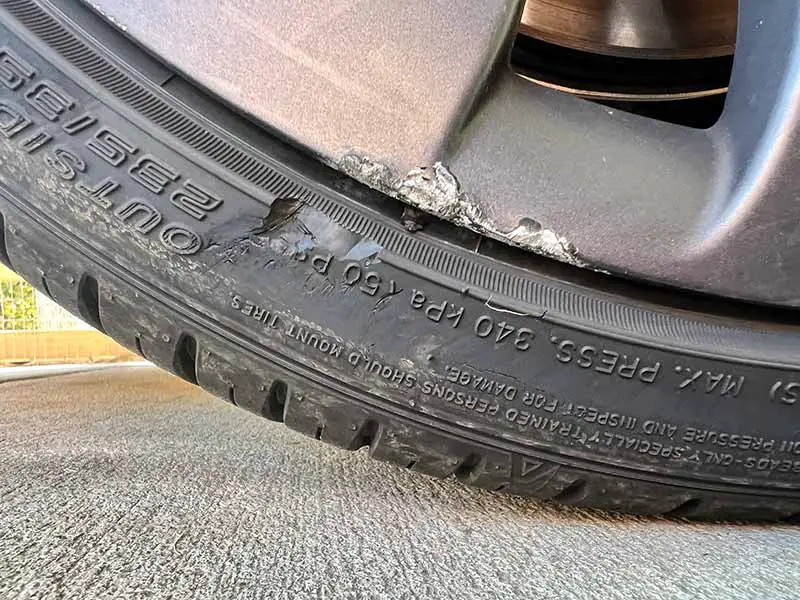 Repair vs. Replace: Making the Right Choice
So, you've spotted a crack in your rim. Bummer! But don't sweat it too much. Now you've got two main options: repair or replace. The question is, which one is right for you? Let's dive in.
Cracked Rim Repair Cost
First up, let's talk about repairing a cracked rim. The cost can vary widely depending on the severity of the crack and the type of rim you've got. You might be looking at anywhere from $50 to $150 per wheel for a simple repair at a professional rim repair shop. But if the crack is more severe or if it's on a fancy alloy or carbon fiber wheel, the price could jump up quite a bit.
Replacement Cost
On the flip side, replacing a cracked rim can also be a bit of a wallet cruncher. A new alloy rim might cost you anywhere from $200 to $400 per wheel, while a high-end carbon fiber wheel could set you back well over $1,000. And don't forget, if you're replacing one rim, it's usually a good idea to replace all four to keep things balanced.
When is it Worth Fixing a Cracked Rim?
So, with all these costs in mind, when is it actually worth fixing a cracked rim? Well, if the crack is small and on the surface of the rim, a repair might be all you need. But if the crack is deep, near the base of the rim, or if the rim is severely bent or damaged, replacement might be the safer option.
Can You Replace Just One Rim?
Now, you might be thinking, "Can I save some cash and just replace the one cracked rim?" The answer is yes, but with a caveat. If the other rims are in good condition and the same make, model, and age as the one you're replacing, you might be able to get away with replacing just one. But if your rims are older or if they've seen a lot of wear and tear, replacing all four could be a good idea to ensure even wear and handling.
Fixing a Cracked Rim at Home: A Step-by-step Guide
So, you've spotted a crack in your rim and decided to take matters into your own hands. Good for you! But before you roll up your sleeves and dive in, let's go over the basics. Here's a step-by-step guide on how to fix a cracked rim at home.
Fixing a Cracked Rim Leaking Air
Identify the Leak: First, you need to find the source of the air leak. This can usually be done by inflating the tire and listening for a hissing sound or looking for bubbles while the tire is submerged in water.
Prepare the Area: Once you've found the crack, the next step is to thoroughly clean and dry the area around it. This will ensure a good seal when you apply the repair material.
Seal the Crack: Use a high-quality, heat-resistant epoxy, like JB Weld, to seal the crack. Be sure to apply it evenly and fill the crack completely.
Let it Cure: Allow the epoxy to cure fully according to the manufacturer's instructions. This is critical to ensure a strong, long-lasting repair.
Check the Repair: Once the epoxy is fully cured, inflate the tire and check the repair for leaks. If there are no more leaks, you're good to go!
Fixing a Cracked Rim with JB Weld
JB Weld is a popular choice for DIY rim repairs because of its strength and heat resistance. Here's how to use it:
Clean the Area: Thoroughly clean the cracked area to remove any dirt or grease.
Apply JB Weld: Mix the JB Weld according to the package instructions and apply it to the crack, making sure to fill it completely.
Let it Cure: Allow the JB Weld to cure fully. This usually takes a few hours, but it's best to wait at least 24 hours to be sure.
Sand the Area: Once the JB Weld is fully cured, you can sand the area to create a smooth finish.
Paint (if needed): If you want the repair to blend in with the rest of the rim, you can paint the repaired area with a color that matches your rim.
Fixing a Cracked Aluminum Rim
When it comes to fixing a cracked aluminum rim, the process is similar to the steps above. However, due to aluminum's softer nature, you may need to use a different type of epoxy designed for aluminum repairs. Remember, when it comes to repairs, always follow the instructions on the repair product you're using.
Fixing a Cracked Rim Without Welding
If you don't have access to welding equipment, don't worry! You can still fix a cracked rim using epoxy or a cold-weld formula like JB Weld. Just remember to prepare the area well, apply the repair material evenly, and let it cure fully before driving on the repaired rim.
Wheel Repair Specialists
DIY repairs can be satisfying, but they aren't always the best solution. Sometimes, it's better to call in the experts. But when should you put down your tools and pick up the phone? Let's discuss.
Understanding the Limitations of DIY Repairs
The first thing to understand is that DIY repairs have their limitations. Repair materials like JB Weld are great for small, superficial cracks. But when it comes to deeper cracks, structural damage, or cracks near the base of the rim where there's a lot of stress, DIY repairs might not cut it.
Keep in mind, improper repairs can lead to a failure of the rim while driving, which can be dangerous. So when in doubt, it's always better to consult a professional.
Spotting the Signs of Serious Damage
If you spot any of the following signs, it's a good idea to seek help from a wheel repair specialist:
Deep or Wide Cracks: These can compromise the structural integrity of the rim and are beyond the scope of a DIY repair.
Multiple Cracks: If you spot multiple cracks, especially hairline cracks, this could be a sign of metal fatigue. This needs professional attention.
Damage Near the Base of the Rim: The base of the rim is a high-stress area. If there's damage here, it's safer to get it checked out by a pro.
Cracked or Damaged Spokes: The spokes on your rim are essential for its structural integrity. If these are damaged, it's time to call in the cavalry.
Professional Rim Repair Services
Professional rim repair services have the equipment and expertise to fix cracks, bends, and other types of damage that are beyond the scope of a DIY repair. They can repair steel rims, alloy rims, magnesium wheels, and even high-tech carbon fiber wheels.
Here's what you can expect when you take your wheel to a repair specialist:
Assessment: The wheel repair specialist will thoroughly inspect your rim to assess the damage.
Repair or Replacement Recommendation: Based on their assessment, they'll recommend either a repair or a replacement.
Repair or Replacement Execution: If a repair is possible, they'll fix the crack, often by welding, then refinish the rim to make it look like new. If a replacement is needed, they'll help you find the right rim for your vehicle.
Resources
Below are some links you may find helpful when learning about tires
Final Thoughts
We've covered a lot in this article, so let's recap the crucial points:
Rim Basics: Different materials (steel, alloy, carbon fiber) mean different crack risks and repair methods.
Cracked Rim Dangers: Driving with a cracked rim can lead to serious damage or accidents—act swiftly if you spot a crack.
Repair or Replace: Consider crack severity, costs, and the condition of your other rims to make the best decision.
DIY Repair: Minor rim cracks can often be fixed at home with patience and the right materials.
Professional Help: For severe damage or complicated cases, it's best to consult a wheel repair specialist.
Remember, your vehicle's safety is paramount—don't underestimate the importance of maintaining your rims.
Good luck and happy motoring.