It's important to have reliable tires that keep you safe and sound. But what if the tires you're looking at don't have a mileage warranty?
You might be wondering if that's a big deal or not.
What Does "No Mileage Warranty" Mean On Tires?

A "No Mileage Warranty" on tires means that the manufacturer isn't making any promises about the tire's lifespan based on miles driven.

This is commonly found on performance-oriented tires, winter or specialty tires, and lower-priced or budget tires, and may require more frequent replacements or budgeting for new tires without warranty assistance.
In this article, we'll help you understand what "No Mileage Warranty" means and how it might affect your tire-buying decision.
Let's take a closer look.
Understanding Tire Warranties
Tire warranties are like promises that tire makers give to you, the car or truck owner. These promises say that if something goes wrong with your tires during a certain time or for a specific number of miles, the manufacturer will help you out.
This could mean fixing the tire, giving you a new one, or giving you a discount on a new tire. Tire warranties are great because they protect you from unexpected tire problems and save you money.
Benefits Of Tire Warranties For Consumers
There are a few big reasons why tire warranties are helpful for folks who own cars and trucks. First, they give you peace of mind. You can feel more relaxed knowing that if something goes wrong with your tires, you won't be left all alone to deal with it.
Second, warranties can save you cash. Tires can be pretty expensive, so having a warranty can help you avoid paying full price for a new one. Lastly, warranties often mean that the tires are good quality.
A company that offers a warranty is usually confident in its product, so you can trust that you're getting a decent tire.
Common Types Of Tire Warranties
There are a few different kinds of warranties you might come across when buying tires. Let's talk about three main types:
Tire Manufacturer's Warranty
This is the most basic type of warranty, and it comes straight from the company that made the tire. A manufacturer's warranty usually covers any problems that are caused by mistakes in how the tire was made.
For example, if your tire has a weird bump in it because it wasn't put together right, the manufacturer's warranty should have your back.
Road Hazard Warranty
This warranty is all about covering any damage that happens because of stuff on the road. You know, like potholes, nails, or glass. If you get a flat tire because of something like that, a road hazard warranty could help you out.
Some tire stores offer this type of warranty as an extra, so you might have to pay a bit more for it.
Tire Mileage Warranty
The last type of warranty we'll talk about is the mileage warranty. This one's all about how many miles you can drive on your tires before they wear out. If your tires wear out too fast, the mileage warranty might get you a new set or a discount on new ones.
Tire Mileage Warranty Calculator
What Is A Tire Mileage Warranty?
A mileage warranty, also known as a tread life warranty, is a type of tire warranty that guarantees your tires will last for a specific number of miles before they wear out. Tire manufacturers set a mileage limit for their tires, which means if your tires wear out before reaching that limit, the manufacturer might replace them or offer a discount on new ones.
How Mileage Warranty Works
When you buy a set of tires with a mileage warranty, you'll need to keep track of the miles driven on those tires. It's important to follow the manufacturer's guidelines for tire maintenance, such as rotating and balancing them regularly.
If your tires wear out faster than the promised mileage limit, you can make a claim with the manufacturer. They will typically inspect the tires and, if they agree that the tires wore out too soon, they may offer a prorated discount on new tires based on the remaining mileage left on the warranty.
Coverage And Limitations Of A Mileage Warranty
While mileage warranties can be a great benefit, it's essential to know their limitations. They usually only cover normal wear and tear and might not cover issues resulting from improper inflation, poor alignment, or damage from road hazards.
Also, some manufacturers may require proof of regular maintenance, such as tire rotations, to honor the warranty. Make sure you read and understand the terms of the warranty before making a purchase, so you know what is covered and what isn't.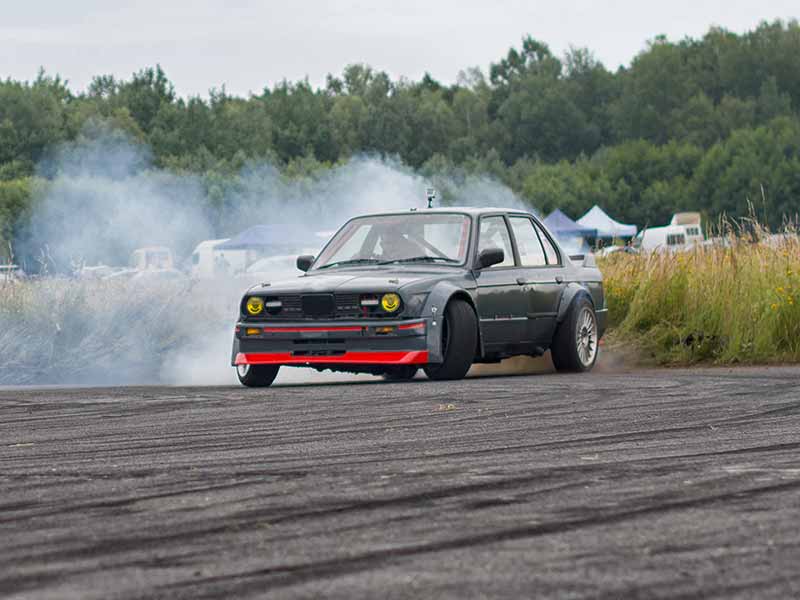 What Does "No Mileage Warranty" Mean?
Sometimes, you might find a tire that doesn't come with a mileage warranty. This means that the tire maker isn't making any promises about how long the tire will last based on the number of miles you drive.
If the tire wears out faster than you expect, you'll be responsible for buying a new one without any help from the warranty.
Reasons Some Tires Don't Have A Mileage Warranty
There are a few reasons why a tire might not have a mileage warranty. Let's check out some of the most common ones:
Performance-Oriented Tires
These tires are built for speed, handling, and a super smooth ride. But, they usually wear out faster because they're made of softer materials. Since the tire maker knows that these tires won't last as long as regular ones, they might not offer a mileage warranty.
Winter Or Specialty Tires
Some tires are designed for specific situations, like driving in snow and ice. Winter tires, for example, have a special tread pattern that helps them grip the road better in slippery conditions. But, these tires wear out faster when you use them on regular roads. Because of this, the manufacturer might decide not to offer a mileage warranty on these types of tires.
Lower-Priced Or Budget Tires
Sometimes, tire makers create less expensive tires to fit smaller budgets. These tires might not have all the fancy features or the same high-quality materials as more expensive ones, so they might wear out quicker. In these cases, the tire maker might not offer a mileage warranty to keep the price low for customers.
How "No Mileage Warranty" Affects Consumers
If you buy a tire that doesn't have a mileage warranty, it's important to know what that means for you. First, you might need to replace your tires more often because they could wear out faster.
This means you'll have to budget for new tires more frequently. Second, if you have any issues with your tires wearing out too fast, you won't be able to rely on a mileage warranty to help you out. It's important to consider these factors when deciding whether to buy tires with or without a mileage warranty.
Should You Choose Tires With No Mileage Warranty?
Deciding whether to get tires with or without a mileage warranty can be tricky. To make the best choice for your car or truck, think about these factors:
Your Driving Habits And Conditions
Consider how and where you drive. If you drive a lot of miles or often drive on rough roads, a mileage warranty could be valuable. On the other hand, if you don't drive much or mostly drive on well-maintained roads, a tire without a mileage warranty might work just fine.
The Type Of Vehicle You Own
Different vehicles need different types of tires. Sports cars might need performance tires, while trucks or SUVs might need tougher, all-terrain tires. Consider what kind of tire is best for your vehicle, and whether it typically comes with a mileage warranty.
Your Budget And Priorities
Think about how much you're willing to spend on tires and what's most important to you. If you want top-quality, long-lasting tires and don't mind paying more, you might prefer a tire with a mileage warranty.
If you're on a tight budget, you might be okay with choosing a more affordable tire without a mileage warranty.
It Depends On Your Needs And Preferences
There's no one-size-fits-all answer to whether you should choose tires with or without a mileage warranty. It all depends on your personal needs and preferences.
Some people might be willing to pay more for tires with a mileage warranty because it gives them peace of mind. Others might be okay with taking a chance on tires without a mileage warranty if it means saving some money.
Ask A Tire Professional For Advice
If you're still not sure what to do, don't worry! You can always talk to a tire professional for personalized advice. They can help you figure out what kind of tires are best for your vehicle and your driving habits, and whether a mileage warranty is worth it for you.
Just remember that the final decision is up to you. Trust your instincts and make the choice that feels right for your needs and your budget.
Resources
Below are some links you may find helpful when learning about tires
Final Thoughts
Knowing about tire warranties, including what "No Mileage Warranty" means, can help you make smarter decisions when buying new tires.
You'll be better prepared to choose the right tires for your car or truck, and you'll have a better understanding of what to expect from your tires in terms of performance and durability.
So, the next time you're in the market for new tires, remember to consider the warranty options and choose the one that's best for you.
Good luck and happy motoring.