Ever wondered if that sneaky pothole damage or unexpected tread wear is covered by your tire's warranty? Dive into the lesser-known details and surprises that could be lurking in the fine print of your tire agreement. 
There might be more in your favor than you think!
What Does A Tire Warranty Cover?

A tire warranty covers defects in workmanship and materials, ensuring that the tire meets performance standards. Depending on the type, it may also cover tread life, uniformity issues, and even some road hazards.
In this article, we'll dive deep into the world of tire warranties, comparing manufacturer guarantees against road hazard protection, the layers of typical tire warranties, the importance of regular maintenance, and everything in between to keep you informed and road-ready.
Let's take a closer look.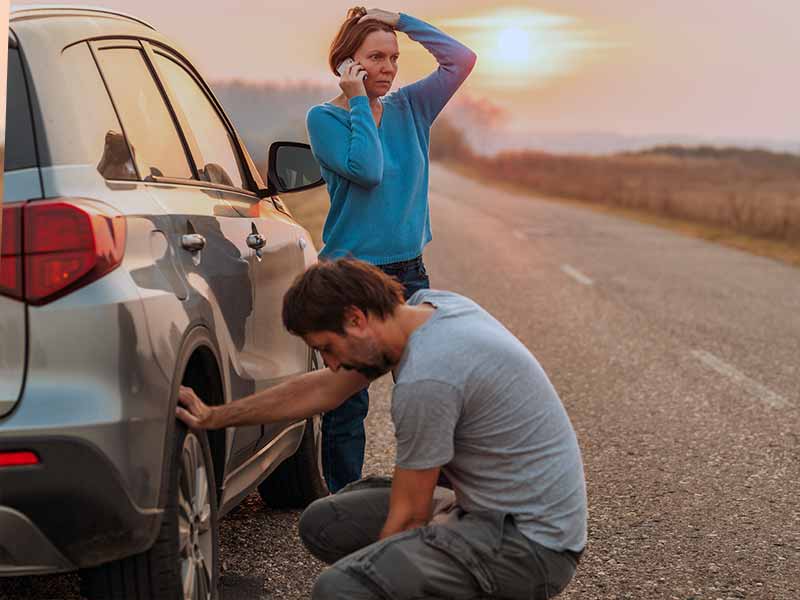 Tire Manufacturer Warranties Vs. Road Hazard
We've got tire manufacturer warranties on one side and road hazard warranties on the other. Let's break down the differences and see how each one has your back (or wheel, in this case).
Tire Manufacturer Warranties
This is like the standard protection that comes with your tire, right out of the factory. Think of it as the default setting.
Focus on Quality: This warranty is the manufacturer's promise that your tire meets certain quality standards. They're saying, "Hey, we did our job right, and this tire is good to go!"
What's Covered?: Here, you're primarily looking at issues like defects in the tire's materials or how it was put together. It's all about the tire's innate quality.

Workmanship and Materials: If there's an issue in how the tire was crafted or with the stuff it's made of, this warranty steps in.
Mileage and Tread Life: The manufacturer sets an expected "lifespan" for the tire. If it wears out sooner than expected (and not because of other external factors), you might be eligible for a replacement or compensation.
Road Hazard Warranties
Road hazard warranties are like the superheroes swooping in when things go south on the road.
The Extra Shield: This is typically an add-on. It's like buying an extra protective case for your phone. You hope you won't need it, but it's great to have just in case.
Facing the Unexpected: Road hazard warranties are all about those unforeseen mishaps—things out of your control.

Punctures and Nails: Step on a nail in your living room, and it's a quick ouch. Drive over one, and it's a different story. Road hazard warranties often cover these types of punctures.
Sidewall Woes: Hit a curb too hard or fall victim to a sneaky pothole? Some road hazard warranties will have you covered for that sidewall damage.
Random Debris: Whether it's aftermath from a storm or some mystery object on the freeway, these warranties can step in when you face tire damage from unexpected debris.
Weighing the Costs
Manufacturer Warranty: This one's on the house. When you buy the tire, this warranty is typically included in the price.
Road Hazard Warranty: Think of it as insurance. There's usually an extra fee, but for many, the peace of mind it provides is well worth it.
Understanding the Layers of a Tire Manufacturer's Warranty
When you buy a set of tires, it isn't just rubber you're investing in. You're also often purchasing peace of mind in the form of various warranties. However, these warranties can sometimes be a little confusing. So, let's decode the different components that make up a typical tire manufacturer's warranty.
1. Workmanship and Materials Warranty
This one's pretty much the foundational warranty that covers the basics.
What It Means: If there's a defect in the tire's construction or the materials used, this warranty has you covered.
Duration: Usually, this lasts for the entire usable life of the tire, down to the tread wear indicators.
Real-Life Scenario: Imagine noticing a bubble on your tire's sidewall a few months after purchase. This is likely a manufacturing defect, so this warranty would step in.
2. Tread Life Warranty (or Mileage Warranty)
This is where manufacturers put their money where their mouth is regarding tire longevity.
What It Means: The manufacturer promises that the tire's tread will last for a specific number of miles. If it doesn't reach that mileage (and you've maintained proper care), you could get a pro-rated refund or a discount on a new tire.
Duration: Until the tire reaches the promised mileage or the tread wears down to its indicators.
Real-Life Scenario: Let's say your tire promises 60,000 miles, but by 40,000 miles, it's worn out. You'd likely get compensation for those missing 20,000 miles.
3. Uniformity Warranty
A bit more on the technical side, but it's all about a smooth ride.
What It Means: This warranty covers irregularities in a tire that could cause it to become unbalanced, like if it's not perfectly round.
Duration: Typically short-lived, often only 30 days to a year from the purchase date.
Real-Life Scenario: Ever felt a weird vibration shortly after getting new tires? If it's due to the tire's lack of uniformity, this warranty kicks in.
4. Road Hazard Warranty
Not always included, but it's a sweet bonus when it is.
What It Means: Some manufacturers include limited protection against damages from regular driving hazards, like potholes or debris.
Duration: Varies, but often it's for the first year or first 2/32″ of tread wear.
Real-Life Scenario: Three weeks into driving with your new tires, a rogue pothole damages one. A road hazard warranty would be your hero in this instance.
5. Satisfaction Trial
It's like a test drive, but for tires.
What It Means: If you're not satisfied with your tires after a short period, you can return them for a refund or exchange.
Duration: Often around 30 days from the purchase date.
Real-Life Scenario: You buy new tires but find they're too noisy for your liking. This warranty lets you swap them out without a fuss.
Remaining Tire Life Calculator
What's Covered and What's Not
Understanding what's typically covered—and what's not—can give you clarity. Let's break it down.
Tire Manufacturer's Warranty
What's Usually Covered:
Defects in Workmanship and Materials: If there's an issue with how the tire was made or the materials it's made of, you're likely covered.
Tread Life: Some manufacturers promise a certain mileage lifespan for their tires. If your tire's tread wears out faster than promised (under normal driving conditions), the warranty might step in.
Uniformity: If your tire is out-of-round in the first couple thousand miles, causing vibrations or a rough ride, some manufacturers will replace it.
What's Typically Not Covered:
Improper Maintenance or Misuse: Tires damaged due to underinflation, overloading, or speeding? That's usually on you.
Road Hazards: Things like punctures, cuts, or bulges from hitting an object on the road aren't covered.
Normal Wear and Tear: As time goes by, tires naturally wear down. If it's just regular aging, the warranty might not cover it.
Tires Used in Professional Racing: Using the tires for any racing or competitive events? Most warranties won't cover that.
Weather Conditions: Damage caused by natural disasters, fire, or other environmental factors isn't typically covered.
Road Hazard Warranty
What's Usually Covered:
Unexpected Punctures: If you run over a nail or any sharp object and it punctures your tire, this warranty steps in.
Sidewall Damage: If you hit a pothole or curb and it damages your tire, you're likely covered.
Other Road Debris: Random debris on the road causing damage? This warranty's got you.
What's Typically Not Covered:
Vandalism or Theft: If someone intentionally damages your tires or steals them, this warranty won't typically help.
Accidents: If you're in a car accident and your tires are damaged as a result, it's often not covered under this warranty.
Routine Maintenance: Things like rotations, alignments, or balancing are your responsibility.
Improper Maintenance: If you didn't take care of your tires (like not maintaining proper air pressure), the warranty might not cover the damages that result.
Tires Transferred to Another Vehicle: Most road hazard warranties are specific to the vehicle the tires were originally installed on.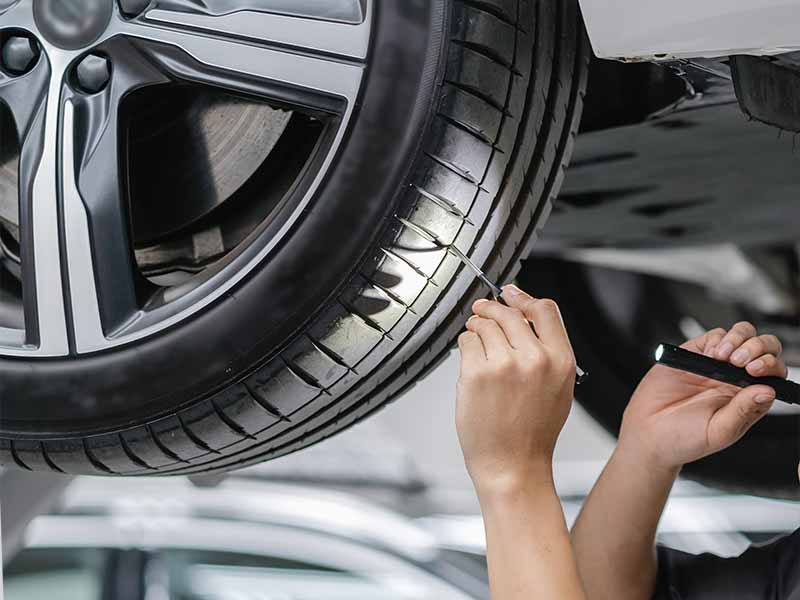 Regular Tire Maintenance and Its Role in Warranty Claims
Let's discuss tire maintenance. Just like you'd get a regular check-up at the doc's or brush your teeth daily, your tires need a little TLC to keep them rolling smoothly. More than just keeping them in good shape, regular maintenance can also be crucial when making a warranty claim. Let's break it down.
Regular Tire Maintenance Must-Dos
Every tire has its day, but with proper care, those days can be full of smooth rides and safe adventures.
Tire Rotations:

Why?: This ensures even tire wear. Tires don't wear out uniformly. For instance, front tires often wear out faster because they do most of the steering.
How Often?: Typically, every 5,000 to 8,000 miles, but always check your vehicle's manual or consult with your tire provider for specific recommendations.

Tire Balancing:

Why?: Balancing helps prevent premature wear and extends tire life. It ensures that the weight of the tire is evenly distributed around the wheel.
How Often?: It's a good practice to balance tires when they're rotated.

Air Pressure Checks:

Why?: Maintaining the right tire pressure ensures optimal tire performance and can help in preventing unexpected blowouts.
How Often?: Monthly is a good rule of thumb, and always before long trips.

Tire Inspections:

Why?: You're looking for any signs of damage, like punctures, cuts, or bulges. Additionally, checking tread depth can give you an idea of how worn the tire is.
How Often?: A quick glance once a month and a more thorough check with every oil change can do wonders.
Records for Warranty Claims
If you ever need to make a warranty claim, being organized can be your superpower.
Proof of Purchase:

What?: Your receipt or invoice when you bought the tires.
Why?: To prove that the tires are under warranty and that you're the original purchaser.

Rotation and Maintenance Records:

What?: Documentation from each service, detailing what was done, when, and at what mileage.
Why?: Some warranties require regular maintenance for the warranty to remain valid. These records can prove you've met the requirements.

Vehicle Alignment Records:

What?: Reports from any alignment checks or corrections you've had done.
Why?: Misalignment can cause uneven tire wear. If you've maintained proper alignment, it can support your claim that a tire defect wasn't due to misuse.

Tire Damage or Issue Reports:

What?: If you've had any issues checked out before the claim, have reports on what was observed and done.
Why?: These can give context to the problem, showing it's a recurring issue or one that wasn't caused by recent events.
Resources
Below are some links you may find helpful when learning about tires
Final Thoughts
Tire warranties serve to protect consumers from defects and the unexpected, be it from manufacturing flaws or rogue potholes. The main distinction rests between the manufacturer's own promises and the added security of road hazard warranties. 
It's crucial to be proactive, from regular tire maintenance to keeping a sharp eye on warranty specifics. As you hit the road, remember that it's not just about the journey or the destination—it's also about ensuring a smooth and assured ride, every mile of the way.
Good luck and happy motoring.