Did you know that around 7 tire puncture incidents happen every second in the United States? That's a mind-boggling number! With that in mind, let's talk about tire warranties and punctures.
If you've ever found yourself with a flat tire and wondered whether your warranty has got you covered, this article is for you.
Do Tire Warranties Cover Punctures

A tire warranty may cover punctures, but it depends on the type of warranty you have.

Road hazard warranties typically cover punctures, while tire manufacturer warranties, like treadwear and workmanship and materials warranties, usually do not.
In this article, we'll explore the different types of tire warranties, how they cover punctures, repair methods, and tips to protect your tires and warranty.
Let's take a closer look.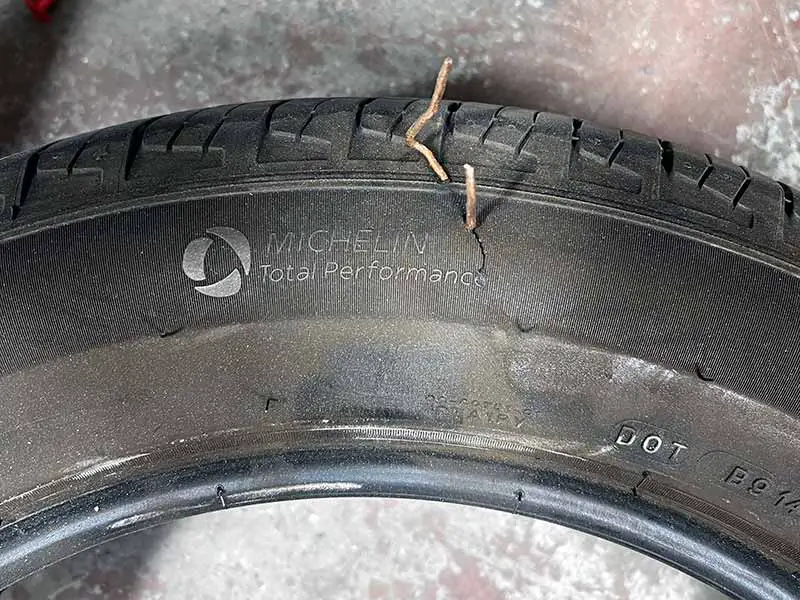 Types of Tire Warranties
There are two main types of warranties you should know about: Manufacturer Warranties and Road Hazard Warranties. These warranties can offer you peace of mind and help protect your investment in tires.
Manufacturer Warranties
Manufacturer warranties come from the tire makers themselves. They're like a promise that your tires will last a certain amount of time or miles. There are two main types of manufacturer warranties: Treadwear warranties and Workmanship and Materials warranties.
Treadwear WarrantyA treadwear warranty is all about how long your tire's treads will last. When you buy tires, they have a certain number on them called the "treadwear rating." This number tells you how long the tire maker thinks the treads should last compared to other tires. The higher the number, the longer the tread life. If your tire's treads wear out faster than they should, the manufacturer might replace them for free or at a reduced cost. Keep in mind, though, that you'll need to prove that you took good care of your tires, like keeping them properly inflated and rotated.
Workmanship and MaterialsWarranty A workmanship and materials warranty covers you if there's a problem with how the tire was made or the materials used. If your tire has a defect, like a weird bump or a sidewall that starts cracking, the manufacturer could replace it for free or at a lower cost. Just remember that this warranty usually lasts a certain amount of time, like 5 or 6 years from when the tire was made, or a specific number of miles.
Road Hazard Warranties
Road hazard warranties are like a safety net for the wild, unpredictable world of driving. They cover you when your tire gets damaged by things you can't really control, like potholes, nails, or other road debris. Road hazard warranties can be offered by the tire manufacturer or the retailer where you bought the tires.
Offered By Retailers Or ManufacturersSome tire stores or manufacturers provide road hazard warranties as a bonus when you buy a set of tires from them. Other times, you might have to pay a little extra to get this coverage. Make sure you check with your tire retailer or manufacturer to see if they offer a road hazard warranty and what it covers.
Coverage For Tire Damage From Road HazardsRoad hazard warranties can help you out if you get a flat tire or damage from hitting a pothole, nail, or other debris. They might cover the cost of repairing or replacing the damaged tire, which can save you money and hassle. Just keep in mind that these warranties often have limits, like covering only a certain percentage of the tire's cost or lasting a specific amount of time or miles.
Punctures and Tire Warranties
Now that we've covered the basics of tire warranties, let's talk about how punctures fit into the picture. Punctures can be a real bummer, but sometimes warranties can help you out when you're dealing with a flat tire.
Punctures Defined
Causes of PuncturesPunctures happen when something sharp, like a nail, screw, or piece of glass, pokes a hole in your tire. This can cause air to leak out and leave you with a flat tire. Punctures are super common and can happen to anyone, no matter how careful you are on the road.
Effects on Tire Performance and SafetyA punctured tire can be a real problem for your car's performance and safety. When a tire loses air, it can't support the weight of your car as well, which can make it harder to control, especially when you're turning or stopping. Plus, driving on a flat tire can damage the tire even more or cause other problems with your car, like messed up wheel alignment.
Coverage of Punctures in Warranties
Manufacturer Warranties
Workmanship And Materials Warranty LimitationsWhen it comes to punctures, the workmanship and materials warranty probably won't help you out. This warranty is focused on defects in the tire itself, not damage from things like nails or glass. So, if you get a puncture, this warranty likely won't cover the cost of fixing or replacing your tire.
Treadwear Warranty LimitationsSimilarly, the treadwear warranty won't do much for you if you get a puncture. This warranty is all about the tire's treads wearing out too fast, not damage from punctures. If your tire gets a hole, the treadwear warranty won't be your hero.
Road Hazard Warranties
Coverage For PuncturesThis is where the road hazard warranty shines! Since this warranty is all about protecting you from the unexpected stuff that can happen on the road, it often covers punctures. If you have a road hazard warranty and you get a puncture, the warranty might cover the cost of repairing or replacing your tire. Just remember that there might be some limits or exclusions, like only covering a certain percentage of the tire's cost.
Limitations and ExclusionsWhile road hazard warranties can be super helpful for punctures, they do have some limits. They might only cover your tires for a certain amount of time or miles, and they could have rules about what kind of damage is covered. For example, they might not cover punctures from things like vandalism or accidents. Make sure you read the fine print on your road hazard warranty to know exactly what's covered and what's not.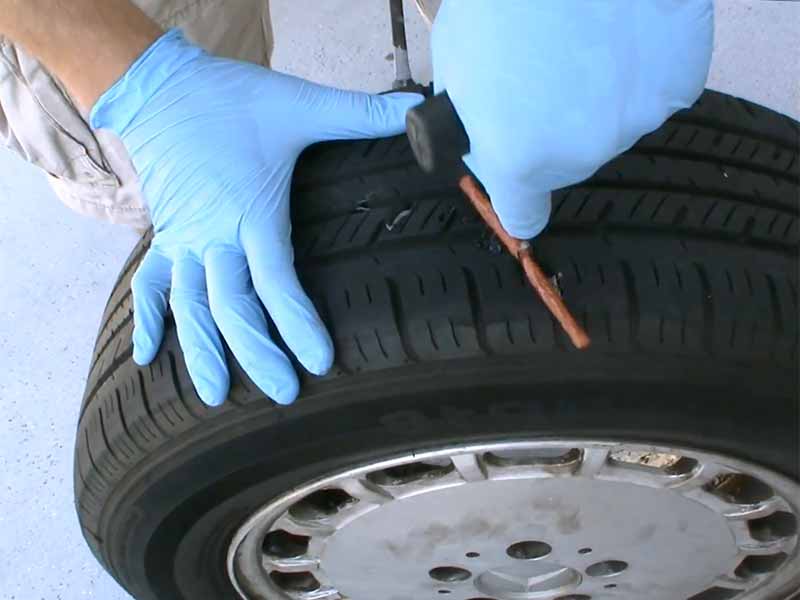 Repairing Punctured Tires
Dealing with a punctured tire is no fun, but sometimes it can be fixed instead of replaced. Let's take a look at different repair methods and how they might affect your tire warranty.
Repair Methods
PluggingPlugging is one way to fix a punctured tire. It involves putting a small, sticky piece of rubber, called a plug, into the hole where the puncture happened. This plug helps seal the hole and keep air from leaking out. Plugging is a pretty quick and easy fix, but it might not be the best solution for all punctures.
PatchingPatching is another way to repair a punctured tire. This method involves putting a rubber patch on the inside of the tire, right over the hole. Patching can be a stronger, more long-lasting fix than plugging, but it takes a little more time and effort because the tire has to be taken off the wheel to apply the patch.
Plug and Patch CombinationSometimes, the best way to fix a punctured tire is to use a combination of plugging and patching. This involves putting a plug in the hole and then applying a patch on the inside of the tire for extra support. This combo can provide a stronger, more reliable repair, but like patching, it means taking the tire off the wheel to get the job done.
Impact On Warranty Coverage
Proper Repair Methods And WarrantyPreservation If your tire gets a puncture and you have it repaired the right way, your warranty might still be good. A tire warranty, especially a road hazard warranty, will still cover your tire after a proper repair, as long as the puncture didn't cause any other damage. Just make sure to keep any paperwork or receipts from the repair, in case you need to show them later to prove that the repair was done correctly.
Improper Repairs And Voided WarrantiesOn the other hand, if your tire gets a puncture and is repaired in a not-so-great way, your warranty could be voided. Some repair methods, like just plugging the tire without patching, might not be strong enough to keep your tire safe and could cause more problems down the road. If your warranty provider finds out that your tire was repaired improperly, they might not cover any future issues with that tire.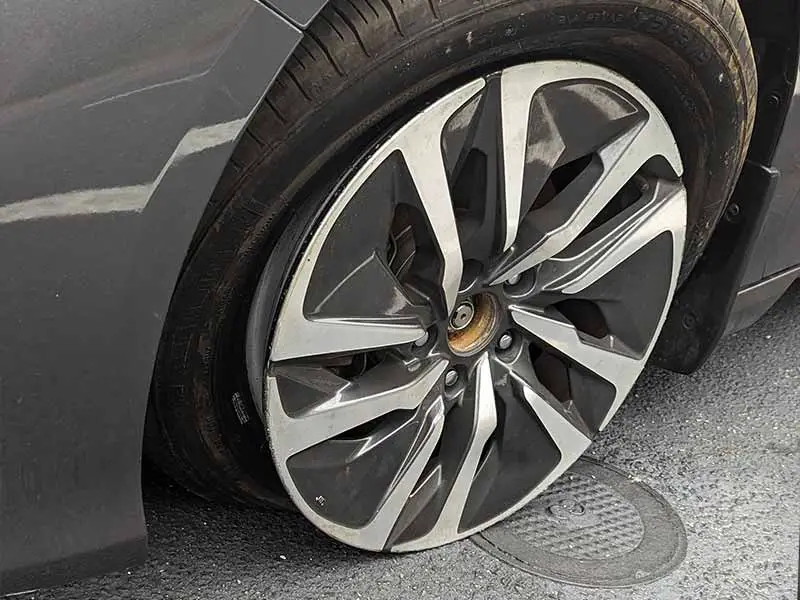 Frequently Asked Questions
Maybe you're considering the pros and cons of an extended warranty like road hazard insurance. Or you have a road hazard warranty and want to make a claim. People have lots of questions in these situations. Below are a few answers to some common questions:
Do Most Tires Come With A Road Hazard Warranty?
Most tires do not automatically come with a road hazard warranty. Road hazard warranties are often sold separately as an additional protection plan when you purchase your tires. Some tire manufacturers and dealers might offer road hazard coverage as part of a promotional deal or a package, but it's important to check with your specific tire provider to know whether a road hazard warranty is included or available for purchase.
How Long Does A Road Hazard Warranty Last?
The duration of a road hazard warranty can vary depending on the tire manufacturer or provider. Generally, road hazard warranties last for a specific period, like 1 to 2 years, or until the tire reaches a certain amount of treadwear, usually measured in miles or as a percentage of the original tread depth. It's essential to carefully read the terms and conditions of your specific road hazard warranty to understand the coverage period and any limitations or exclusions that may apply.
Does Road Hazard Warranty Cover Sidewall Damage?
Road hazard warranties may cover sidewall damage, but it depends on the specific terms and conditions of the warranty. Typically, these warranties cover damage caused by common road hazards, such as potholes, nails, or debris. If the sidewall damage is a result of a covered road hazard, the warranty may provide coverage for repair or replacement. However, if the damage is due to other factors like vandalism, improper inflation, or an accident, the road hazard warranty might not cover it. Be sure to review the details of your specific warranty to understand what types of sidewall damage are covered.
Are Road Hazard Warranties Worth It?
Determining whether a road hazard warranty is worth it depends on your individual driving habits and the conditions of the roads you frequently travel. If you often drive on rough or debris-filled roads, a road hazard warranty could provide valuable peace of mind and financial protection in case of tire damage. However, if you mostly drive on well-maintained roads and experience few tire issues, the extra cost of a road hazard warranty might not be as beneficial.
When deciding whether to purchase a road hazard warranty, consider the cost of the warranty in comparison to the potential expenses of tire repair or replacement, as well as the likelihood of encountering tire-damaging hazards in your day-to-day driving.
Resources
Below are some links you may find helpful when learning about tires
Final Thoughts
We've gone full circle, exploring the world of tire warranties and how they relate to punctures. Remember, road hazard warranties are your best bet when it comes to covering punctures, while manufacturer warranties like treadwear and workmanship and materials usually won't help in those situations.
It's important to know the ins and outs of your tire warranty and take good care of your tires with regular maintenance and safe driving practices.
Good luck and happy motoring.