Understanding the specifics of Load Range E and how it relates to your vehicle's load-carrying capacity is crucial. This article will help you grasp these concepts in simple terms, ensuring you're well-equipped to make an informed decision.
What Load Index Is Load Range E?

Load Range E typically corresponds to a few Load Indexes that range from 112 to 123, which translates to a maximum load capacity of between 2,470 to 3,415 lbs per tire when properly inflated.

To determine the exact Load Index of your Load Range E tire you'll need to refer to the tire manufacturer's specifications.
In this article, you will find a straightforward explanation of Load Index and Load Range, particularly focusing on Load Range E tires. You'll learn about their weight capacities, the importance of maximum pressure, and how to ensure their longevity through proper maintenance.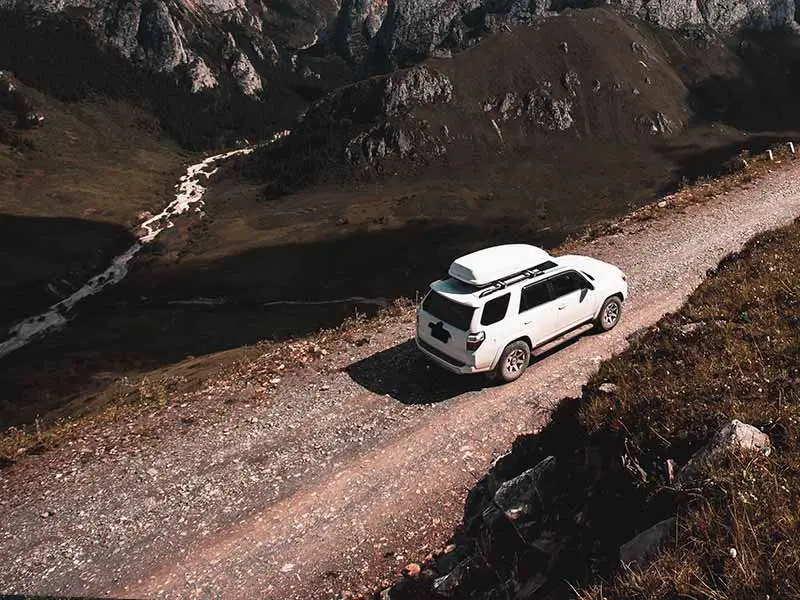 Understanding Load Index
The Load Index is a number that you'll find on the side of your tire. It's part of a code, and it tells you how much weight that tire can safely carry. It's not just a random number; it's based on a standardized chart. For example, a Load Index of 82 means the tire can carry 1,047 pounds safely.
How Load Index is Determined
To determine the Load Index, tire manufacturers test the tires to see how much weight they can handle before they have any problems. They use machines that press down on the tire to make sure it can support the weight it's supposed to. They do this testing in a controlled environment to ensure that the Load Index is accurate.
The Relationship Between Load Index and Vehicle Safety
The Load Index is directly tied to the safety of your vehicle. If you use a tire with a Load Index that's too low for your vehicle's weight, you could be risking a tire blowout or failure. That's why it's so important to choose the right Load Index for your vehicle.
For passenger tires, the Load Index might not need to be as high as for light truck tires, because the vehicle's weight is usually less. But no matter what kind of vehicle you have, you need to make sure the Load Index is right. It's not just about the law; it's about keeping you and everyone else on the road safe.
| Load Index | Carrying Capacity (pounds) |
| --- | --- |
| 70 | 739 |
| 71 | 761 |
| 72 | 783 |
| 73 | 805 |
| 74 | 827 |
| 75 | 853 |
| 76 | 882 |
| 77 | 908 |
| 78 | 937 |
| 79 | 963 |
| 80 | 992 |
| 81 | 1,019 |
| 82 | 1,047 |
| 83 | 1,074 |
| 84 | 1,102 |
| 85 | 1,135 |
| 86 | 1,168 |
| 87 | 1,201 |
| 88 | 1,235 |
| 89 | 1,279 |
| 90 | 1,323 |
| 91 | 1,356 |
| 92 | 1,389 |
| 93 | 1,433 |
| 94 | 1,477 |
| 95 | 1,521 |
| 96 | 1,565 |
| 97 | 1,609 |
| 98 | 1,653 |
| Load Index | Carrying Capacity (pounds) |
| --- | --- |
| 99 | 1,709 |
| 100 | 1,764 |
| 101 | 1,819 |
| 102 | 1,874 |
| 103 | 1,929 |
| 104 | 1,984 |
| 105 | 2,039 |
| 106 | 2,094 |
| 107 | 2,149 |
| 108 | 2,205 |
| 109 | 2,271 |
| 110 | 2,337 |
| 111 | 2,403 |
| 112 | 2,469 |
| 113 | 2,535 |
| 114 | 2,601 |
| 115 | 2,679 |
| 116 | 2,756 |
| 117 | 2,833 |
| 118 | 2,910 |
| 119 | 2,998 |
| 120 | 3,086 |
| 121 | 3,197 |
| 122 | 3,307 |
| 123 | 3,417 |
| 124 | 3,527 |
| 125 | 3,638 |
| 126 | 3,748 |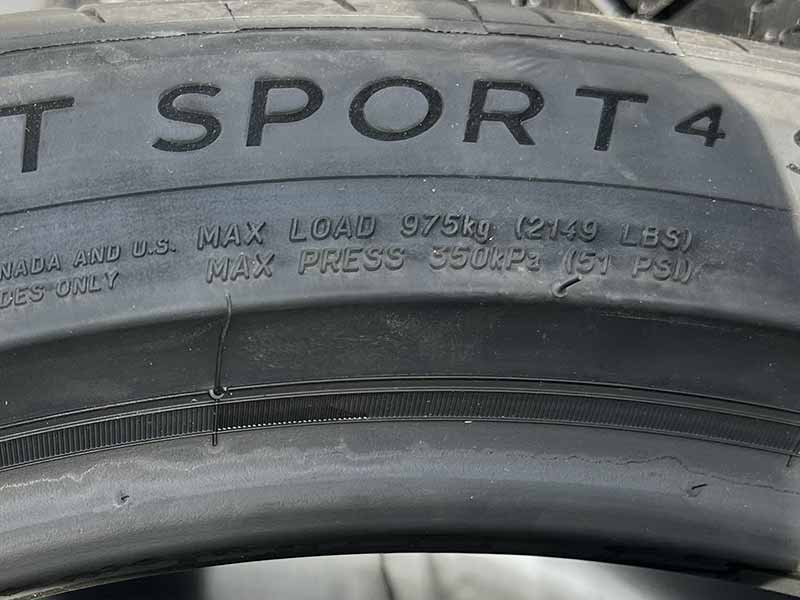 Understanding Load Range
'Load Range' refers to the tire's ability to carry a certain amount of weight at a specific tire pressure. It's marked on the tire sidewall with letters like B, C, D, or E. Each letter indicates a different level of load-carrying capacity and air pressure. For instance, a Load Range E tire can carry more weight and be inflated to a higher pressure than a Load Range B tire.
The History and Evolution of Load Range Terminology
The concept of Load Range has evolved over time. In the past, we used to talk about 'ply rating.' Ply rating was a measure of the tire's strength based on the number of layers of material it had. For example, a '10-ply' tire had ten layers of reinforcing material. However, with advancements in tire technology, fewer layers are needed to make a tire strong. Today, we use Load Range to describe a tire's strength and capacity without referring to the number of plies.
Differences Between Load Ranges
Load Ranges are categorized from A to E for passenger vehicles and light trucks, with each range indicating a higher capacity to carry weight and withstand pressure:
Load Range A: The lowest capacity, suitable for light-duty applications.
Load Range B: A step up from A, for slightly heavier loads.
Load Range C: Common for many passenger vehicles, balancing performance and load capacity.
Load Range D: Higher pressure and weight capacity, often used for light trucks and SUVs.
Load Range E: The strongest in this series, designed for the heaviest loads in light trucks and trailers, with the ability to operate at higher pressures.
| | | | |
| --- | --- | --- | --- |
| Load Range | Ply Rating | Typical Load Capacity | Max Load Carrying PSI |
| B | 4 | 1,100 to 1,520 lbs | @ 35 PSI |
| C | 6 | 1,760 to 2,270 lbs | @ 50 PSI |
| D | 8 | 2,205 to 3,000 lbs | @ 65 PSI |
| E | 10 | 2,470 to 3,415 lbs | @ 80 PSI |
| F | 12 | 3,500 to 3,960 lbs | @ 95 PSI |
| G | 14 | 3,960 to 4,400 lbs | @ 110 PSI |
| H | 16 | 4,805 to 5,675 lbs | @ 125 PSI |
| J | 18 | 6,005 to 6,610 lbs | @ 140 PSI |
| L | 20 | 7,000 to 7,800 lbs | @ 160 PSI |
Load Range E Explained
Load Range E is a category within the tire load range classification system that indicates a tire's ability to carry heavy weights. This range is designed for vehicles that require a higher load capacity due to the heavy-duty nature of their use. Tires with a Load Range E rating are capable of handling more stress and higher inflation pressures, which are essential for supporting heavier loads.
Load Range E Ply Rating and What It Signifies
The term 'ply rating' historically referred to the number of layers of rubber and fabric used in the construction of a tire. However, modern tires use stronger, more advanced materials, so the actual number of plies may not correspond to the ply rating. Load Range E is often associated with a ply rating of 10. This doesn't mean the tire has 10 physical plies, but rather it has the strength equivalent to the older 10-ply tires. This rating is a reflection of the tire's reinforced construction and its ability to operate at higher air pressures, which is necessary for supporting heavier loads.
Load Range E for Light Trucks (LT) and Trailer (ST) Tires
When it comes to light truck (LT) and special trailer (ST) tires, Load Range E is a common requirement due to the demanding conditions these vehicles often encounter. Light trucks, which include pickups, vans, and SUVs, often carry heavy cargo or tow trailers. Similarly, trailers need tires that can support the weight of the cargo they haul. Load Range E tires are built to sustain the extra weight and pressure without compromising on performance or safety.
For light truck tires, Load Range E means that the vehicle can confidently carry heavy loads, whether it's for construction work, towing boats, or hauling goods.
For trailer tires, it ensures that the trailer remains stable and secure under the weight of the load, providing peace of mind during transportation.
Trailer Tire Load Capacity Calculator
Load Range E Weight Capacity
Interpreting the weight capacity for Load Range E tires involves looking at two key pieces of information: the Load Index and the tire's sidewall markings. The Load Index will give you a specific number that corresponds to the maximum weight each tire can handle when inflated to the maximum permissible pressure. This number is crucial because it helps you understand the max load your tire can safely support.
For example, if a Load Range E tire has a Load Index of 120, it can support a weight of approximately 3,086 pounds at the maximum air pressure recommended. It's important to match this number with the load you expect your vehicle to carry to ensure safety and optimal performance.
The Significance of Maximum Pressure in Load Range E Tires
Maximum pressure is the highest amount of air pressure that your Load Range E tires can safely hold. It's a critical factor because:
It ensures that the tire can carry the maximum load it's rated for.
It affects the tire's footprint – the area of the tire that makes contact with the road – which impacts handling and wear.
Properly inflated tires are less prone to overheating, which is especially important under heavy loads.
Always adhere to the recommended maximum pressure, especially when loading your vehicle or trailer near the tire's maximum load capacity. This will not only extend the life of your tires but also contribute to the safety and stability of your vehicle.
Comparing Load Range E Capacity with Other Ranges
Load Range E tires are designed for heavier loads compared to other ranges like B, C, or D. Here's what sets them apart:
They can handle more weight and higher air pressure, which is essential for heavy-duty applications.
They are often used on vehicles that are expected to perform in more demanding situations, such as towing heavy trailers or carrying heavy equipment.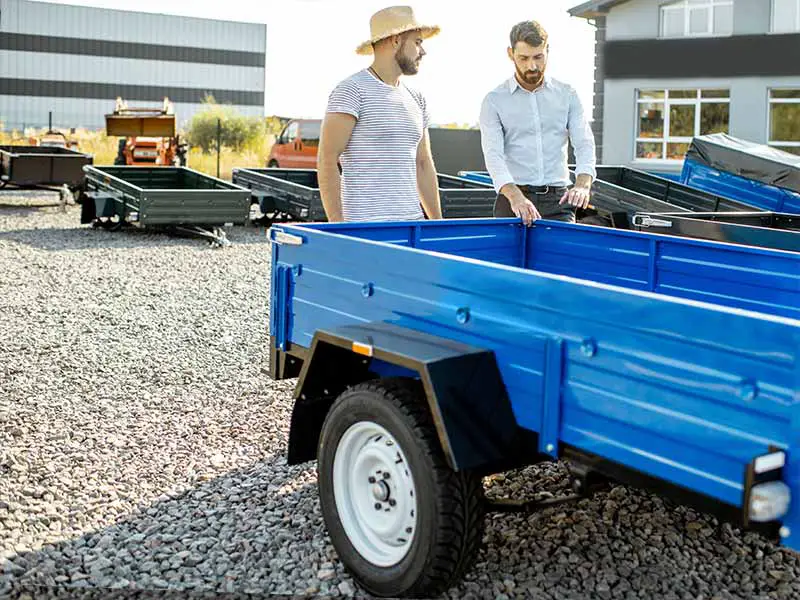 Load Index vs. Load Range
Understanding the difference between Load Index and Load Range is key to choosing the right tire for your vehicle:
Load Index is a numerical value assigned to a tire based on its ability to carry a specified maximum weight. This number is crucial because it helps you understand the tire load, or how much weight each tire can support when properly inflated.
Load Range, on the other hand, indicates the tire's capacity to withstand the load at certain air pressure levels. It reflects the tire's strength and durability under load carrying conditions.
How Both Load Index and Load Range Inform Tire Selection
When selecting tires, it's important to consider both the Load Index and Load Range:
The Load Index ensures that the tire can handle the weight of your vehicle plus any additional load you may carry. It's about matching the tire's load carrying capacity to the demands of your vehicle.
The Load Range affects how the tire behaves under load, especially in terms of stability, handling, and how much air pressure the tire can safely hold.
For instance, if you have a light truck that you use for heavy-duty tasks like towing or carrying heavy equipment, you would look for a tire with a high Load Index to support the weight. At the same time, you would need a tire with a Load Range E to ensure that the tire can handle the high pressure needed for those heavy loads.
Resources
Below are some links you may find helpful when learning about tires:
Final Thoughts
This article aimed to demystify the terms Load Index and Load Range E, giving you the knowledge to select the right tires for your light truck or trailer. Remember, the Load Index is about the weight each tire can handle, while Load Range E refers to the tire's ability to carry heavy loads at higher pressures. 
Keeping an eye on your tire's tread depth and maintaining proper pressure are key to ensuring safety and longevity. Whether you're hauling heavy loads or simply preparing for a family vacation, understanding these concepts will help you travel with confidence.
Good luck and happy motoring.