Maybe the tire shop is out of your exact size tires and the replacement tires they have are a slightly larger tire. Or maybe you're looking to increase wheel size with lower profile tires.
No matter your reason, replacing tires is expensive and you want to be sure you do it right.
How Much Difference In Tire Size Is Acceptable?

Acceptable difference in tire size generally falls within a 3% range in overall diameter compared to the original tire size. You also need to remain within the width your current wheels fit properly and have no rubbing on the fender or suspension.
In this article, we'll explore the fascinating effects of changing tire size on your vehicle's performance, safety, and fuel economy.
We'll also cover helpful tools like tire size calculators and tips on recalibrating your speedometer.
Let's take a closer look.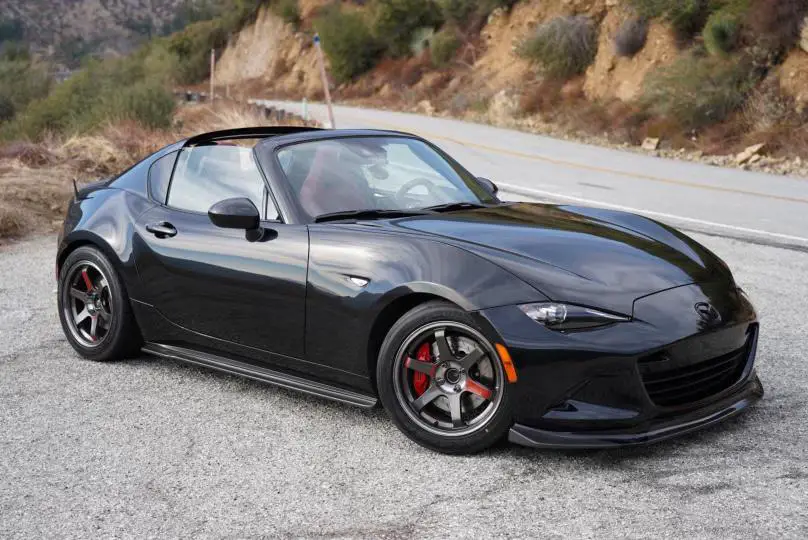 Effects Of Changing Tire Size
Switching up your tire size can make your vehicle feel different, and sometimes even look cooler! But it's important to know what can happen when you change the size of your tires. Let's explore some of the effects that might come with this change.
Handling And Performance
Cornering Stability: When you go around corners, you want your vehicle to feel steady and secure. If you change to a larger or wider tire, you might improve your car's grip on the road. This could make cornering more stable. On the flip side, smaller or narrower tires might make your vehicle less stable when turning.
Braking Distance: Stopping your car quickly and safely is super important! Changing your tire size can affect how fast your vehicle comes to a stop. Larger tires can help shorten your braking distance, while smaller tires might make it take longer to stop. Be aware that changing your tire size might change how your brakes feel, too.
Ride Comfort: The size of your tires can have an impact on how smooth your ride is. Bigger tires with more air in them can absorb bumps better and give you a more comfortable ride. Smaller tires might make your ride feel bumpier and less comfortable.
Fuel Economy
Increased Or Decreased Rolling Resistance: Tire size can also affect how much gas your car uses. Rolling resistance is how much a tire resists rolling. The higher the resistance, the more fuel you'll need to keep your car moving. Larger tires might increase rolling resistance, which could make your vehicle less fuel-efficient. Smaller tires might decrease rolling resistance and save you some gas money.
Engine Load And Efficiency: Changing your tire size might also affect your engine's workload. Bigger tires can make the engine work harder to move the vehicle, using more fuel. Smaller tires might be easier for the engine to move, which could improve fuel efficiency. Keep this in mind when you're considering a change in tire size.
Safety Concerns
Risk Of Tire Failure: It's important to think about safety when changing tire size. If you put on tires that are too big or too small for your vehicle, you could increase the risk of a tire blowing out. This might happen because the tires aren't properly supporting the weight of the car or because they don't fit right on the wheel.
Suspension And Brake System Compatibility: Changing your tire size can affect how well your suspension and brakes work together. If your new tires don't match your car's suspension and brake systems, you could have problems like uneven tire wear, poor braking, or even loss of control. To stay safe, make sure your new tires are compatible with your vehicle's systems.
Understanding Tire Size Measurements
Let's talk about how to understand tire size measurements. Knowing what those numbers and letters on the side of your tire mean will help you make sure you pick the right size for your car or truck.
Tire Size Format
When you look at a tire, you might see a combination of numbers and letters, like 235/45R18. This might look confusing at first, but each part has a meaning!
Explanation Of Each Tire Size Part
The first number (235) is the tire width in millimeters. That's how wide the tire is from one side to the other. A bigger number means a wider tire, and a smaller number means a narrower tire.
The number after the slash (45) is the aspect ratio. This tells you the height of the tire's sidewall compared to its width. It's a percentage, so in our example, the height of the sidewall is 45% of the tire width.
The letter "R" means the tire is a radial tire, which is the most common type of tire these days. Radial tires have layers of fabric that run across the tire from bead to bead.
The last number (18) is the wheel diameter in inches. This is the size of the wheel that the tire is designed to fit on. In our example, the tire fits on a 18-inch wheel.
Importance Of Understanding Measurements
Proper Fit On The Vehicle: Knowing what these measurements mean can help you find the right tire size for your vehicle. The right size tire will fit your wheels correctly and give you the best performance and safety. A tire that's too big or too small might not fit right and could cause problems.
Impact on Performance And Safety: Understanding tire measurements can also help you see how a different size might affect your vehicle. For example, if you want a wider tire for more grip on the road, you can look for a tire with a bigger width number. Just remember that changing tire size can affect things like handling, fuel economy, and safety, so it's important to make the right choice.
Tire Size Calculator Comparison Tool
Finding the perfect tire size can feel like a puzzle sometimes, but don't worry! We have a Tire Size Calculator that can help you compare different tire sizes and find the right fit for your car or truck.
How It Works
Inputting Original And New Tire Size: To use the Tire Size Calculator, you'll need to know your vehicle's original tire size and the new size you're considering. You can find your current tire size on the side of your tire (like we talked about before) or in your vehicle's owner's manual.
Comparing Overall Diameter: Once you've entered the original and new tire sizes, the calculator will compare the overall diameter of the two tires. This is important because the overall diameter can affect how your vehicle drives and how accurate your speedometer is.
Acceptable Differences In Tire Size
General Guidelines: There's no one-size-fits-all answer to how much difference in tire size is okay. However, a good rule of thumb is to aim for a new tire size that has less than a 3% difference in overall diameter compared to your original tire. This helps make sure your vehicle's performance and safety systems still work well.
Impact On Handling, Fuel Economy, And Safety: Staying within that 3% range can help minimize any changes to your vehicle's handling, fuel economy, and safety. If you go beyond that, you might notice bigger differences in how your car feels and performs. Remember, though, that every vehicle is different, so what works for one might not work for another.
Choosing The Right Tire Size
Consulting Owner's Manual: When you're trying to find the right tire size for your car or truck, it's a good idea to check your owner's manual. It'll usually have a list of recommended tire sizes that will work well with your vehicle. This can be a great starting point for your search.
Consultation With Tire Professionals: If you're still not sure what tire size is best for your vehicle, don't be afraid to ask the experts! Tire professionals can give you advice based on your specific vehicle and driving needs. They can help you find the right balance between performance, safety, and fuel economy.
How To Recalibrate A Speedometer
So you've changed your tire size, and now you might be wondering how it affects your speedometer. When you change tire size, it's important to recalibrate your speedometer to make sure it's still accurate. Let's learn how to do that!
Why It's Necessary
Speedometer Accuracy: Your speedometer measures how fast your car is going based on the rotation of your tires. When you change tire size, the rotation speed might be different, which can make your speedometer inaccurate. Recalibrating your speedometer helps make sure you know your real speed when you're on the road.
Impact On Odometer And Vehicle Systems: An inaccurate speedometer can also affect your odometer, which keeps track of how many miles your car has traveled. This can be a problem for things like scheduling maintenance or even determining the resale value of your vehicle. Plus, some of your vehicle's systems, like the anti lock brakes, transmission and engine control, might rely on accurate speed data to work properly.
Different Methods Of Recalibration
Electronic Devices: One way to recalibrate your speedometer is to use an electronic device called a speedometer calibrator. These gadgets plug into your vehicle's onboard diagnostics port (usually found under the dashboard) and let you adjust the speedometer settings to match your new tire size. Some calibrators even have built-in tire size calculators to make the process even easier!
Professional Services: If you're not comfortable doing it yourself or if your vehicle needs a more advanced calibration, you can take your car to a professional. Many auto repair shops and dealerships have the tools and knowledge to recalibrate your speedometer for you. They'll make sure it's accurate and working well with your new tire size.
Ensuring Accuracy After Recalibration
Testing And Verification: Once your speedometer is recalibrated, it's a good idea to test it out and make sure it's accurate. You can use a GPS app on your smartphone or ask a friend to drive next to you and compare speeds. This way, you'll know for sure that your speedometer is giving you the right information.
Monitoring Vehicle Performance: After recalibrating your speedometer, keep an eye on how your vehicle is performing. If you notice any changes in how it drives or how the engine and transmission are working, it might be a sign that the calibration needs further adjustment. Don't hesitate to take your car back to a professional if you think something is off.
Speedometer Calibrator
Resources
Below are some links you may find helpful when learning about tires
Final Thoughts
We've taken a thrilling ride through the world of tire sizes, exploring their effects on your vehicle and learning how to choose the right size to keep you safe on the road.
Remember, it's essential to understand the various aspects of changing tire sizes, from the impact on performance and safety to using handy tools like tire size calculators and recalibrating your speedometer.
Good luck and happy motoring.