Ever glanced at your tires and noticed some unsettling cracks? You're not alone! Tire cracking is more common than you might think, and it can raise a lot of questions, especially when it comes to the safety and performance of your vehicle.
Tire Cracking

Tire cracking is a common occurrence as tires age and are exposed the sun's UV rays, harsh weather, and even ozone in the air. However, when cracking is deep, widespread, or located in the tread or sidewall, it can compromise the tire's integrity and safety, necessitating replacement.
In this article, we'll break down everything you need to know about tire cracking. We'll explore the components of a tire, the causes of tire cracking, how to identify different types of cracking, and the risks of driving on cracked tires. We'll also guide you on when and how to replace a cracked tire and share tips on how to prevent tire cracking in the first place.
Let's take a closer look.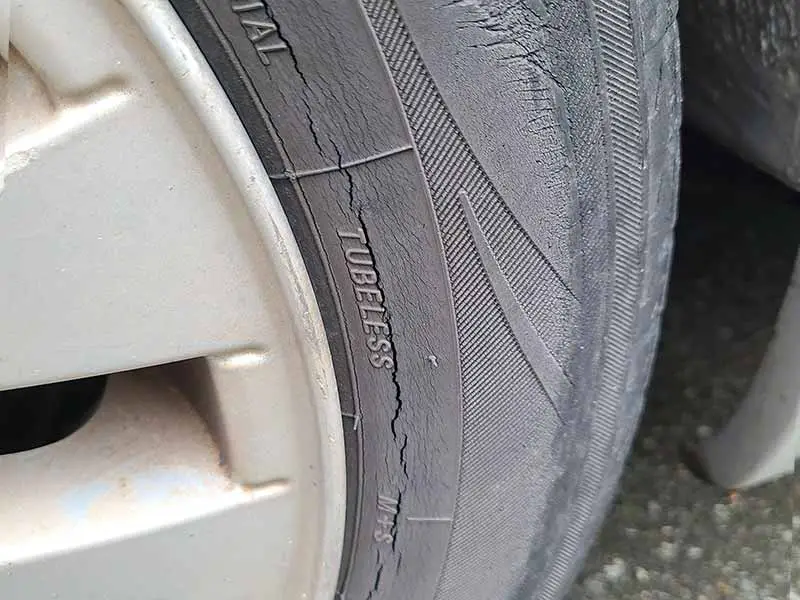 Understanding Tire Structure
Tires might not seem all that exciting, but they're absolutely essential to our daily drives.
The Tire Tread
The tread of a tire is like the sole of your shoe. It's the part that touches the road, grips it, and lets you go from Point A to Point B without slipping and sliding all over the place.
The tread is made from a durable rubber compound and has a pattern designed for different conditions. You might have noticed those grooves and patterns on your tires – those aren't just for looks! They help with traction and channel water away when the road is wet.
The Tire Sidewall
Think of the sidewall as the sturdy wall between your car and the road. It's the part of the tire that you can see when you look at your car from the side. The sidewall is super important because it gives your tire its shape and allows it to handle the weight of your car.
The sidewall also holds a lot of valuable information like the tire size, type, and the maximum load the tire can carry. So, next time you're around your car, take a look at the sidewall. It's like a cheat sheet for your tires!
The Magic of Tire Rubber
What makes tires really special is the rubber. But not just any rubber, it's specially designed to withstand the wear and tear of daily driving.
Tire rubber is a blend of natural and synthetic rubber, along with other materials like carbon black and fabric. This mixture gives your tires the ability to flex and adjust to the road while also being tough enough to resist punctures and tears.
What Causes Tire Cracking
Just like your favorite old pair of boots might develop some creases and cracks over time, tires can also show their age or poor care in the form of cracking.
Age of Tires
Over time, tires naturally age and start to show signs of wear and tear. Just like the pages of a well-loved book turning yellow, your tires can develop cracks as they age. This usually starts happening after 5 to 6 years. But remember, the actual lifespan of a tire depends on several factors including its design, the driver's habits, climate, road conditions, and how well the tires have been cared for.
Tire Pressure
Think of tire pressure as the porridge in the Goldilocks story. It has to be just right! If your tire pressure is too low, your tires can flex more than they should, causing the sidewalls to crack. On the other hand, if the tire pressure is too high, your tires become more prone to damage like cuts and punctures, which can also lead to cracking.
So, make sure to check your tire pressure regularly. Your vehicle's user manual or a sticker on the driver's side door will let you know the right pressure for your tires.
Weather and Storage Conditions
Have you ever noticed how a rubber band gets brittle and cracks if you leave it in the sun for too long? Well, your tires can react in a similar way to harsh conditions.
Extreme cold can make the rubber contract and potentially crack, while extreme heat can speed up the aging process. Exposure to the sun's ultraviolet rays can also lead to dry rot, a condition where your tires become dry, brittle, and prone to cracking.
Storage conditions also matter. If you're storing tires, make sure they're in a cool, clean, and dry environment. And don't stack them too high or hang them from a hook, as this could deform them and cause cracks.
When Are Cracks In Tire Tread Unsafe?
Cracks in the tire tread are unsafe when they are deep enough to expose the underlying structure of the tire. This can weaken the tire and make it susceptible to a blowout.
Cosmetic vs Serious Cracking
Cosmetic cracking often appears as tiny cracks in the surface of the tire, usually on the sidewalls. These cracks might look alarming, but they're generally harmless if they don't penetrate deep into the tire. You could think of these like the laugh lines on your face – a sign of a life well-lived (or in this case, a tire well-driven)!
Serious cracks, on the other hand, are deeper and can reach the tire's internal structure, compromising its integrity. These cracks aren't just skin deep – they're a sign that your tire is crying out for help!
Hairline Cracks Between Treads: Normal or Not?
If hairline cracks are superficial and don't extend beyond the tread's surface, then they're likely just a sign of normal wear and shouldn't be a major concern. However, if they're deep enough to expose the tire's underlying layers or cords, then it's time to consult a professional.
Recognizing Sidewall Cracking: How Much Is Too Much?
When it comes to sidewall cracks, things get a little tricky. Any visible cracks could potentially weaken the tire's structure. The depth and extent of these cracks matter.
Small, shallow cracks might not be a huge problem, but if they're deep, wide, or numerous, then your tire might be unsafe for driving.
Just remember, when in doubt, get it checked out! A professional tire inspection can help determine whether your tire is still road-worthy or ready for retirement.
Level One Dry Rot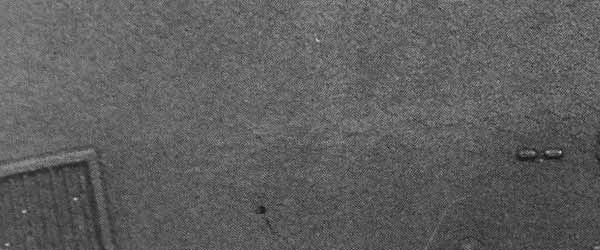 Level Two Dry Rot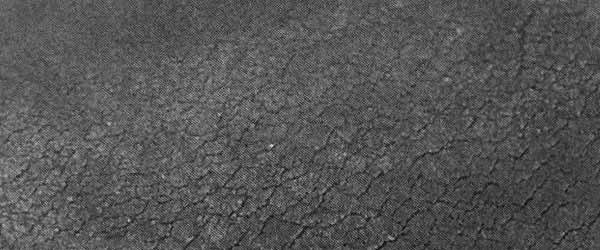 Level Three Dry Rot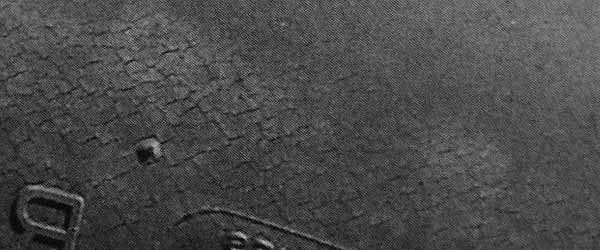 Level Four Dry Rot
Level Five Dry Rot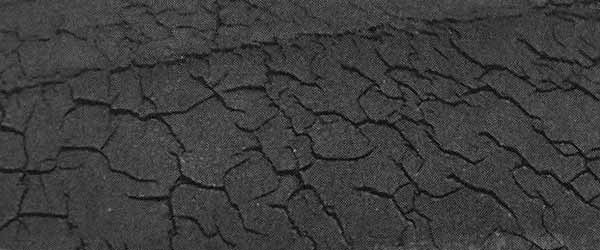 The Dangers of Cracked Tires
Now that we've discussed how to identify tire cracking, it's time to explore the potential dangers that cracked tires pose.
When Are Cracks in Tire Tread Unsafe?
Cracks in the tire tread might seem like a minor issue, but they can be sneakily dangerous. When these cracks are deep enough to expose the underlying structure of the tire, the tire is no longer safe to use.
This is because deep cracks can weaken the tire and make it susceptible to a blowout – which is just as scary as it sounds!
The Safety Implications of Driving on Cracked Tires
As the cracks deepen, they can lead to air leaks. You might find yourself having to pump up your tires more often than usual. This is more than just an inconvenience, as low tire pressure can lead to poor vehicle handling and increased risk of a blowout.
If the cracks reach the tire's internal cords, they can cause the steel belts in the tire to separate from the rest of the tire. In the worst-case scenario, this can lead to a tire failure while you're driving – a situation that no one wants to find themselves in!
When Should a Cracked Tire Be Replaced?
A cracked tire should be replaced immediately if the cracks are deep enough to expose its internal cords or structure. Even if the cracks aren't that deep, if they're increasing in number or size, it's advisable to get the tire inspected by a professional for a more accurate assessment.
Is Dry Rot Covered Under Warranty?
Tire warranties usually cover manufacturing defects, which might include cracking under normal use and within a certain time period. However, if the cracking is due to aging, improper storage, or poor maintenance, it may not be covered.
The best course of action is to check your tire warranty's terms and conditions or get in touch with the tire manufacturer or retailer for more information.
My Favorite UV Protectant For Protecting Tires From UV Damage
How to Prevent and Fix Tire Cracks
Regular tire care can help prevent premature cracking and extend your tires' lifespan:
Preventing Dry Rot and Cracking of Car Tires
Preventing tire cracking often boils down to taking care of your tires. It's all about the three P's: Pressure, Protection, and Periodic checks.
Pressure: Keeping your tires properly inflated is crucial. Not too high, not too low, just right – just as Goldilocks likes it! Regularly check your tire pressure and adjust as needed.
Protection: Protecting your tires from harsh conditions can significantly reduce the risk of cracking. This includes parking in the shade when possible, avoiding harsh chemicals, and storing your tires properly when not in use.
Periodic checks: Regularly inspect your tires for any signs of damage or wear. Look for any small cracks or bulges, and get your tires checked by a professional if you're unsure about anything.
Can Cracked Tires Be Fixed?
Small, superficial cracks might not need immediate replacement, but they can't really be "fixed". Once the rubber has started to crack, there's no way to reverse the process.
However, if your tires are just starting to show signs of dry rot (a form of cracking due to aging and exposure to the elements), there are tire sealants and conditioners available that can help slow down the process.
But remember, these products are not miracle workers. They can't repair deep cracks or restore significantly aged or damaged tires. In such cases, replacing the tire is the safest bet.
Resources
Below are some links you may find helpful when learning about tires
Final Thoughts
Let's take a moment to highlight the key takeaways from this article:
Understanding Tire Structure: Tires are more than just a piece of rubber. From the treads to the sidewalls, each component plays a critical role, and understanding these parts is the first step in identifying and addressing tire issues.
Causes of Cracking: Tire cracking can be caused by a variety of factors, such as aging, improper tire pressure, and exposure to harsh environmental conditions. Awareness of these factors can help prevent unwanted tire damage.
Identifying Cracking: Recognizing the difference between cosmetic and serious cracking is essential. While cosmetic cracks may not pose immediate threats, serious ones that reveal the tire's inner layers signal a need for immediate attention.
Dangers of Cracked Tires: Driving on cracked tires isn't just a bad idea—it's downright dangerous. From potential blowouts to poor vehicle handling due to air leaks, the risks are significant.
Replacing Cracked Tires: Knowing when and how to replace your cracked tire is key. Deep cracks or those exposing the internal cords are telltale signs that it's time for a tire change.
Preventing and Fixing Cracking: While small cracks might not be fixable, they can be prevented. Regular checks, proper inflation, and protecting your tires from harsh elements are crucial steps in tire care and prevention.
Good luck and happy motoring.