Imagine you're on a road trip, cruising down the highway with your favorite tunes on the radio. Suddenly, you feel a thump, thump, thump – one of your tires has failed. You're safe, but stuck on the side of the road, all because of an old tire.
Tire Age Limit Law

While there is no specific law, the U.S. Department of Transportation (DOT) recommends replacing passenger car and truck tires every 6 years, regardless of wear. However, they strongly advise that all tires, including spares, should be replaced after 10 years, as a precautionary measure for safety.
In this article, we'll dive into the intriguing world of tire aging and tire laws, decode the language of DOT tire regulations, highlight the dangers of aged tires, discuss when it's time to replace your tires, and explain why buying used or old tires might not be the best idea. We'll also touch on the importance of using the right tires for the right season.
Let's take a closer look.
Understanding Tires and Their Aging Process
You know, tires are a bit like cheese. Just as cheese matures over time, so do tires. But unlike cheese, you don't want your tires getting too "mature". Let's dive a little deeper into what it means for a tire to age and why it's so important.
What is a Tire's Age?
A tire's age isn't about how many miles it's traveled, or how much tread it's worn off zooming down the highways. No, a tire's age is all about time. It's about how long it's been since that tire was made. Even if a tire hasn't driven a single mile, it's still getting older every day, kind of like how a new toy gets older even if it's just sitting on a shelf.
The Tire Aging Process
So, what exactly happens when a tire ages? Well, our trusty rubber manufacturers work hard to create tires that are flexible and grippy. They use a whole cocktail of materials, but the main one is, you guessed it, rubber.
Now, imagine a rubber band. When it's fresh, it's stretchy and resilient. But if you leave it out in the sun for a few weeks, it becomes brittle and can snap easily. The same thing happens to tires, but much more slowly. Over time, the rubber in tires breaks down and becomes less flexible, a process known as "tire aging".
The tire aging process can be sped up by a few things. Heat is a big one. Just like our rubber band, tires can age faster if they're often in hot weather or are stored improperly. But even in perfect conditions, all tires age and will eventually need to be replaced.
Tires Get Harder With Age
Remember that bit about tires being flexible and grippy? Well, as tires age and the rubber breaks down, they lose some of that flexibility. They harden up, which can make them less able to grip the road. It's like trying to use an old, hard eraser – it just doesn't work as well as it used to.
Plus, those harder, older tires can also be more likely to get cracks in the sidewall or tread separation (that's when the different layers of the tire start to peel apart, like the layers of an onion). And those aren't things you want happening while you're driving down the freeway!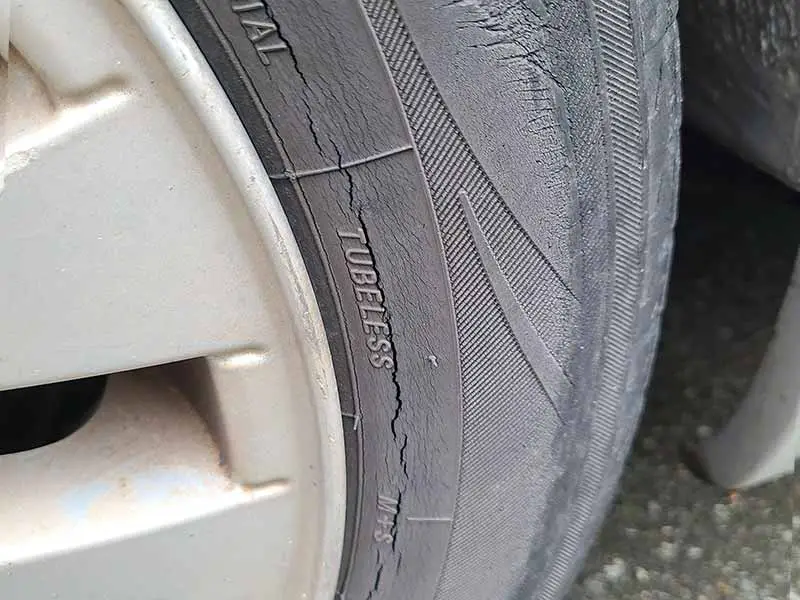 The DOT Tire Regulations: An Overview
Let's talk about the DOT. That's short for the Department of Transportation, the folks who make sure our roads and everything on them are safe. They have a bunch of regulations for tires, and one of the big ones is the age rule.
The Age Rule for Tires
Alright, here's the scoop. The DOT doesn't have a hard and fast rule that says tires over a certain age are illegal. But they do suggest that you replace any tires that are 10 years old, even if they still look good. This is sometimes called the "10-year old tires law," but it's more of a strong recommendation.
The Tire Identification Number
So how do you know how old a tire is? Well, just like a loaf of bread has a sell-by date, tires have a "birth date". But instead of being stamped on the packaging, it's embedded in the Tire Identification Number, or TIN for short.
The TIN is a bunch of letters and numbers on the side of the tire. The last four digits are the important ones for figuring out the tire's age. The first two of those four tell you the week the tire was made, and the last two tell you the year. So if the last four digits are 3520, that tire was made in the 35th week of 2020.
It's a bit like a secret code, and once you know how to read it, you'll always know how old your tires are. Remember, even if the tread looks good and the tire hasn't seen much use, if it's older than 10 years, it's time to think about getting it replaced.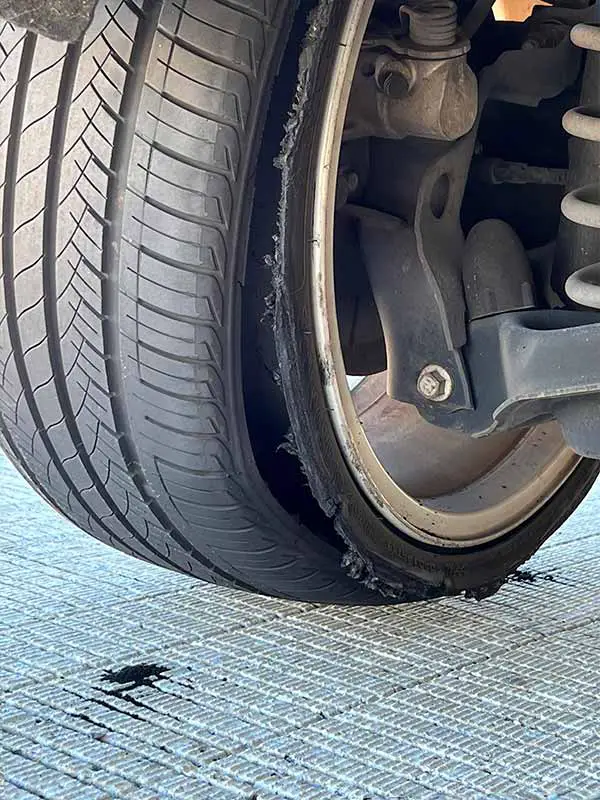 The Dangers of Aged Tires
Old tires might not look problematic on the surface. They could still have a ton of tread left and seem perfectly fine. But just like that old piece of gum stuck under your school desk, they're not as soft or flexible as they once were.
One big problem with old tires is something called tread separation. This is when the different layers of a tire start to pull apart. Imagine peeling an orange, with the peel being the tread of the tire. You don't want that peel coming off while you're driving!
Tread separation can lead to tire failure, and that's about as fun as it sounds (which is to say, not fun at all). A tire failure can cause you to lose control of your car, which can lead to accidents.
Why Do Tires Age?
Tires age due to a combination of factors. Heat, sunlight, and the air itself all contribute to the breakdown of the rubber in your tires. Over time, this process makes the tires less flexible and reduces their grip on the road.
Just like a pencil eraser gets hard and crumbly with age, so do tires. And those older, hardened tires can be more prone to cracks in the sidewall or tread separation, both of which can lead to tire failure.
Tire Life and Service Life
Tire life and service life might sound like the same thing, but they're actually quite different. Tire life refers to how long a tire lasts before it needs to be replaced due to wear. Service life, on the other hand, refers to how long a tire can safely be used, regardless of wear.
Many tire manufacturers suggest a service life of around 10 years, but this can vary depending on the specific tire and how it's used. Remember, even if a tire hasn't seen much use, if it's older than 10 years, it's time to start thinking about getting new ones.
Knowing When to Replace Tires: Tests and Indicators
Now that we know why tires age and how it affects their performance, let's figure out how to tell when it's time for a new set. This isn't a guessing game – there are some tried-and-true ways to determine if your tires are too old or still good to go.
How Often Should Tires Be Replaced?
As a general rule of thumb, many tire manufacturers suggest that tires should be replaced every six years, even if they still look okay. This is because, as we've already discovered, tires can age and become less safe even if they aren't being used much.
Remember, just because a tire has lots of tread left doesn't mean it's safe to use. Age is just as important, if not more so, than wear when it comes to tire safety.
The Penny Test for Tires
Have you ever heard of the penny test? It's a simple, clever way to check your tire tread depth. Here's how it works:
Find a penny (other coins work too, but we'll stick with a penny for now).
Insert the penny into your tire's tread groove with Lincoln's head upside down and facing you.
If you can see all of Lincoln's head, it's time to replace your tire.
This test is based on the idea that a tire's tread should be at least 1/16th of an inch deep. If it's any less than that, your tire might not be able to grip the road properly, which can lead to all sorts of problems.
Keep in mind, though, that while the penny test is a good indicator of tread wear, it doesn't tell you anything about a tire's age. Even if your tires pass the penny test with flying colors, they may still need to be replaced if they're too old.
Other Indicators Your Tires Might Be Too Old
The penny test isn't the only way to tell if your tires need replacing. Keep an eye out for these signs as well:
Visible cracks in the sidewall: This can indicate that the tire is hardening and losing its flexibility.
Bulges or blisters on the tire: These can indicate a weak spot that could lead to a blowout.
Excessive vibration when driving: This can be a sign of internal damage to the tire.
Resources
Below are some links you may find helpful when learning about tires
Final Thoughts
In our journey through the world of tires, we've learned that tire aging is more than just a matter of wear and tear. The age of a tire can significantly affect its safety and performance, even if the tread depth seems fine. Remember, the DOT recommends replacing tires every 6 years, regardless of their condition, and strongly advises that all tires should be replaced after 10 years.
Buying used or old tires might seem like a good way to save some money, but it comes with risks. Tires age even when not in use, and an aged tire, whether used or not, can be a safety hazard. Always check for signs of aging, such as cracks in the sidewall, bulges or blisters, and excessive vibration while driving.
Lastly, let's not forget about the importance of seasonal tires. Winter tires can provide better grip and handling in cold, icy, or snowy conditions, helping you stay safe on the roads, no matter the weather.
Keeping your tires in check isn't just about saving money or ensuring a smooth ride – it's about ensuring your safety and the safety of others on the road. So remember these key points next time you're considering your tire's health or looking to replace them.
Good luck and happy motoring.