Have you ever had that heart-stopping moment when your car skids just a little too much, or your ride feels bumpier than a roller coaster? Before you start blaming your driving skills, you might want to check your tires. More specifically, you might want to check for dry rot – a silent destroyer that can transform your smooth ride into a safety nightmare.
How To Tell If Tires Are Dry Rotted

Dry rotted tires show visible signs like sidewall cracking, tread separation, and premature aging. If your tires have deep and widespread cracks, or the tread is separating from the tire body, it's a clear indication of dry rot.
In this article, we'll dive deep into understanding the signs of dry rot in tires, discuss the dangers of driving with dry rotted tires, and explore if and when these tires can be repaired. We'll also arm you with some handy tips to prevent dry rot in your tires, keeping you and your vehicle safer on the roads.
Let's take a closer look.
Understanding the Signs of Dry Rot
Dry rot is a common issue with car tires. It's important to know what to look for, so let's dive in and break it down.
Sidewall Cracking
You know those tiny cracks that sometimes appear on the side of your tire? That's what we call sidewall cracking. Now, if you're imagining a desert ground during a drought, you're on the right track. These cracks usually look like a network of small lines or patterns on your tire's sidewalls. They might be hard to spot at first, but once they multiply, it's a sign that your tire rubber is crying out for help.
Interestingly, underinflated tires often contribute to this problem. Just like how a balloon gets stretch marks when you deflate it, your tires can develop these cracks if they're not inflated enough. It's like your tires are doing a workout without enough energy. They need the right amount of air pressure to perform their best!
Tire Tread Separation
Next up is tread separation. Picture this – you're combing your hair and a clump of strands falls out. Yikes, right? This is kind of what's happening when your tire tread starts to separate from the tire body. It's a classic sign of dry rot in tires.
So how do you know if your tire tread is playing hide and seek? You might see some bulges or blisters on your tire's surface. Another sign could be a wavy pattern on your tire or feeling a vibration while you're driving. This is your tire's way of saying, "Hey, I might be separating here!"
Premature Dry Rot
Now, you might be thinking, "But my tires are only three years old, they can't possibly have dry rot!" Well, we've got some news for you. Tires can actually develop premature dry rot. This just means your tires are aging faster than expected.
A couple of things might cause this. First, your tires might not be a fan of sunbathing. Direct sunlight can cause your tire rubber to lose its moisture and flexibility. Kind of like how your skin dries out after too much sun, except lotion won't help here.
Secondly, where and how you store your tires can play a big part. For instance, even if they're stored in a garage, if the conditions aren't right (think hot and humid), your tires can start showing signs of dry rot. It's like storing ice cream outside the freezer. Not the best idea, right?
Dangers of Driving on Dry Rotted Tires
Jumping right in, let's talk about why driving on dry rotted tires is as risky as walking on a tightrope without any practice.
The Risks Involved
Imagine trying to play soccer with a ball that's falling apart. Not only is it tough, but it's also super unpredictable, right? Driving on dry rotted tires is similar. You might experience a rough ride, and worse, a blowout at high speeds, which is as dangerous as it sounds.
This happens because dry rot weakens the tire rubber and reduces its strength. When your tire tread separates, it's like losing the sturdy soles of your shoes. It reduces your vehicle's grip on the road, making it harder to stop quickly or navigate turns.
If you've ever tried to balance a spinning top on your finger, you'll know it's all about control. Without it, things can go topsy-turvy fast. It's the same with your car – losing control can lead to dangerous situations, and no one wants that.
When Dry Rot Becomes Dangerous
So, how bad does dry rot need to get before it becomes dangerous? Imagine you're baking a cake. A few lumps in your batter might not ruin it, but too many will definitely make your cake a flop.
With tires, small cracks on the sidewalls might not spell immediate disaster, but as these cracks multiply and deepen, the risk goes up. Any visible signs of tread separation should also ring alarm bells. It's like seeing your cake starting to fall apart in the oven. You know it's time to do something.
Too Much Dry Rot
The million-dollar question is, how much dry rot is too much? Well, if your tires are showing extensive sidewall cracking or any signs of tread separation, it's like your cake is burnt. It's not going to taste good, and your tires aren't going to perform well.
If you spot these signs, don't just shrug it off. Take your vehicle to a professional tire technician. They can give your tires a thorough check and advise you on whether they need to be repaired or replaced.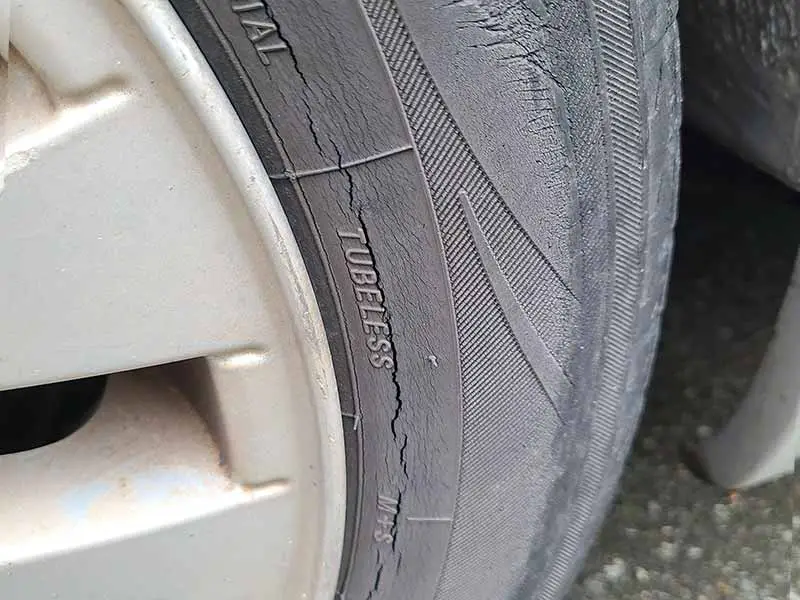 Can Dry Rotted Tires Be Repaired?
Let's clear up a common misconception right off the bat: dry rotted tires can't be 'repaired' in the traditional sense. But don't fret just yet. If caught early and treated properly, the progression of dry rot can potentially be slowed down, extending the life of your tires.
When Dry Rot Can Be Managed
If your tires have minor dry rot but still have adequate tread depth, it's not an immediate cause for alarm. Think of it as an early warning signal. At this stage, the dry rot is more of a concern than an emergency.
With the help of a professional, you might be able to slow the progress of the dry rot. This can include routine maintenance and using UV protective coatings to shield the rubber from harmful sunlight.
When It's Time for a New Tire
Now let's address when it's time to bid farewell to a dry rotted tire. If the depth of the dry rot surpasses 1/16 inch (2mm), it's a clear sign that the tire's structural integrity is compromised. Imagine a sturdy bridge starting to crumble; would you risk crossing it? Probably not.
At this point, it's time to replace the tire. It's no longer just a concern—it's a risk. And when it comes to your safety on the road, it's not worth gambling.
Aerospace 303 Protectant – Protects Tires From Ultraviolet Rays
Preventing Dry Rot in Tires
We've talked a lot about spotting and handling dry rot, but wouldn't it be great if we could prevent it in the first place? It's like eating healthy to avoid getting sick. Let's explore some top tips on stopping dry rot from gatecrashing our tire party.
Tips to Stop Dry Rot
Preventing dry rot in tires is all about keeping them healthy. Here are some simple yet effective ways:
Maintain the Right Tire Pressure: Underinflated tires are like an overworked employee. They get stressed out, leading to sidewall cracking. Make sure to check your tire pressure regularly and keep it at the recommended level. It's like giving your tires their daily dose of vitamins!
Avoid Direct Sunlight: Too much sun can make your tires age faster, just like how it can give us sunburn. Try to park in the shade or use tire covers if your vehicle is parked for a long time.
Regular Tire Rotation: Regularly rotating your tires helps them wear evenly, which can prevent dry rot. It's like rotating your mattress to avoid sagging.
The Role of Proper Storage
Where and how you store your tires can make a big difference too. Even if they're in a garage, if the conditions aren't right, your tires can start showing signs of dry rot.
Temperature: Keep your tires in a cool place. Excessive heat can lead to dry rotting tires, just like how ice cream melts in the sun.
Humidity: Avoid humid areas. High humidity can speed up the dry rot process. It's like storing bread in a damp place; it's likely to go moldy faster.
Position: If possible, store tires upright rather than stacking them. If you need to stack them, re-stack them periodically.
The Importance of Regular Checks
Last but not least, make regular tire checks part of your routine. It's like going for regular health check-ups. This will help you spot any early signs of dry rot and nip them in the bud before they become a problem.
Resources
Below are some links you may find helpful when learning about tires
Final Thoughts
At the end of the day, your vehicle's tires are its only contact with the road, and ensuring they're in good shape is a crucial part of safe driving. Remember, the signs of dry rot include sidewall cracking, tread separation, and even premature aging of your tires. Don't ignore these signs; instead, treat them as urgent calls for action.
The dangers of driving on dry rotted tires are real and can lead to unpredictable and potentially hazardous situations on the road. Repairing dry rotted tires might be possible in some cases, but widespread damage often means it's time for a replacement. And, of course, prevention is better than cure. Regularly checking tire pressure, avoiding direct sunlight exposure, and following proper storage practices can go a long way in preventing dry rot.
Good luck and happy motoring.