Ever pulled up to a service station, ready for a tire rotation, only to second-guess yourself thinking, "Hold on, can these even be rotated that way?" Being able to identify directional tires and non-directional tires is important to understanding whether they can be rotated. But it's also important to understand why a directional tread pattern is worth the trade off.
How To Tell If Tires Are Directional

Directional tires can be identified often by a rotation arrow or marking on the sidewall and the V-shaped tread pattern. Their tread pattern is designed to rotate in one direction, improving performance on wet roads.
In this article, we'll demystify the world of tires, exploring the ins and outs of directional vs. non-directional tires, how to spot each type, and the importance of mounting them correctly.
Let's take a closer look.
Importance of the Directional Arrow
When it comes to tires, especially the directional ones, there's a little symbol you absolutely need to be aware of: the directional arrow. But why is this small arrow such a big deal? Let's break it down.
The Arrow: More Than Just a Symbol
Alright, before you shrug off this arrow as just another tire marking, you should know that it's pretty vital. Here's why:
The Right Way Forward: The arrow points in the direction the tire is supposed to rotate when you're driving. This isn't just for show—it's essential for the tire to function as designed.
Safety First: Mounting a tire against its designed direction can mess with its ability to channel water away. This means a higher risk of hydroplaning and less optimal grip on wet roads. Safety is the name of the game here.
How to Spot the Directional Arrow
Not all tire arrows are created equal. They might look a bit different depending on the tire brand. But here's how you can identify them:
Arrow Symbol: Most commonly, you'll see an actual arrow pointing in the direction the tire should roll.
Worded Direction: Sometimes, instead of (or in addition to) an arrow, there might be the word "rotation" or something similar.
The Consequences of Ignoring the Arrow
Let's say you accidentally forget to check for this arrow and mount your tire the wrong way. What's the big deal? Well:
Reduced Performance: The tire won't perform as well as it should, especially in wet conditions.
Faster Wear and Tear: Directional tires are optimized for wear in their designated direction. Going against this can cause them to wear out faster.
Safety Concerns: As mentioned before, an incorrectly mounted tire might not handle wet conditions as effectively, increasing the risk of accidents.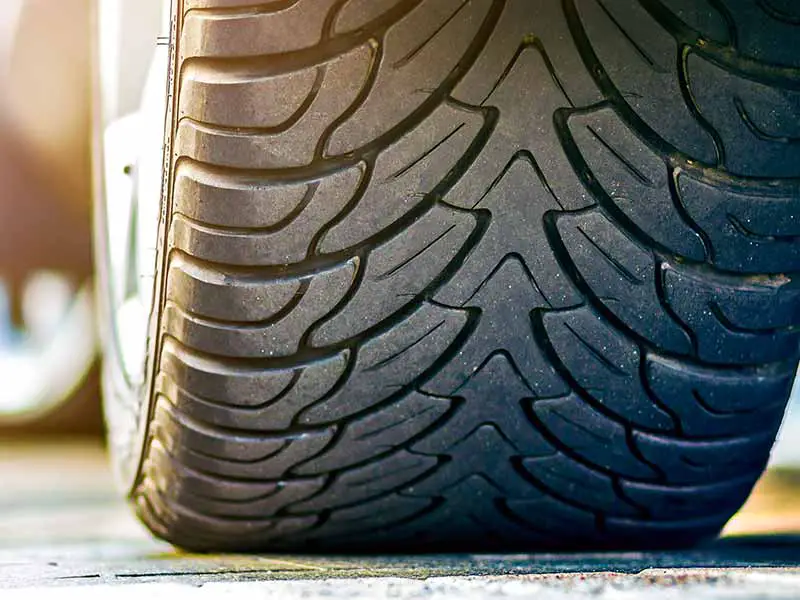 The Benefits of Directional Tread Designs
Why, you may wonder, would someone choose directional tires over the benefits of regular tire rotation offered by non-directional tires? Let's roll into the reasons:
Superior Wet Road Performance
Water Evacuation: The primary reason behind the V-shaped tread is its ability to swiftly and efficiently channel water away from the tire's center. This design reduces the risk of hydroplaning, ensuring a safer drive in wet conditions.
Enhanced Grip: With better water dispersal comes improved grip on wet surfaces, providing drivers with more confidence during rainy drives.
Optimized for Speed and Performance
Swift Response: Directional tires are often found on sports cars and high-performance vehicles. Their tread design supports rapid acceleration and offers responsive handling.
Reduced Road Noise: The unique tread design can also help reduce tire noise, contributing to a quieter ride.
Aesthetically Pleasing
Sporty Look: The aggressive V-shaped pattern isn't just functional; it also adds a sporty, high-performance look to your vehicle. For some, this is a make or break purchasing decision. For others, they're more concerned with pure performance.
While the inability to rotate them as freely as non-directional tires might seem like a limitation, the benefits of directional tires, especially in terms of safety and performance, are hard to ignore. In essence, while regular tire rotations can extend the lifespan of your tires, the advantages of directional tread designs ensure a more secure, confident, and optimized driving experience, which for many, far outweighs the rotational flexibility of non-directional tires.
Directional Tires Cannot Be Rotated?
So, you've got directional tires. They're sleek, they're fancy, and they handle wet roads like champs. But wait! There's a catch. When it comes to rotating them, you've got to follow some specific rules. Let's demystify this topic and break down why the rotation of directional tires isn't as straightforward as their non-directional counterparts.
The Why Behind the Rule
First off, why can't we just rotate these bad boys any way we like? Here's the scoop:
Tread Pattern: The V-shaped tread on directional tires isn't just for looks. It's specifically designed to push water away from the tire. If mounted incorrectly, this design doesn't work as intended.
Safety First: Rotating them incorrectly can mess with their ability to handle wet conditions. We're talking reduced grip, increased risk of hydroplaning, and a less-than-stellar driving experience.
The Right Way to Rotate
Okay, so how do we rotate them properly?
Front-to-Back, Back-to-Front: This is the golden rule. The tires should move straight forward or straight back. No crisscrossing or side-to-side shenanigans.
Consistency is Key: Make sure you're always following this front-to-back pattern every time you rotate, ensuring optimal performance and tire longevity.
Flip On The Rim: If you're really struggling with getting even wear out of your tires you can always have the tires remounted facing the opposite direction so you can move them to the opposite side of the vehicle.
When You Can't Follow the Rule
Life happens, right? Let's say you accidentally mounted a tire the wrong way, or maybe you bought a used car with wrongly rotated directional tires. What then?
Seek Professional Help: If you're unsure about your tires' direction, it's always a good idea to consult with a tire professional. They'll set things straight.
Check for Wear: If a directional tire has been rotated or mounted wrongly for a while, it might show uneven wear. This can be a sign to replace the tire sooner rather than later.
The Non-Directional Advantage
Just for comparison's sake, let's peek at non-directional tires:
Rotate Any Way You Like: Their consistent tread pattern means you can rotate them front-to-back, side-to-side, even diagonally if you're feeling wild (although that's not common).
Less Hassle: No need to remember specific patterns or rules. It's straightforward and easy-peasy.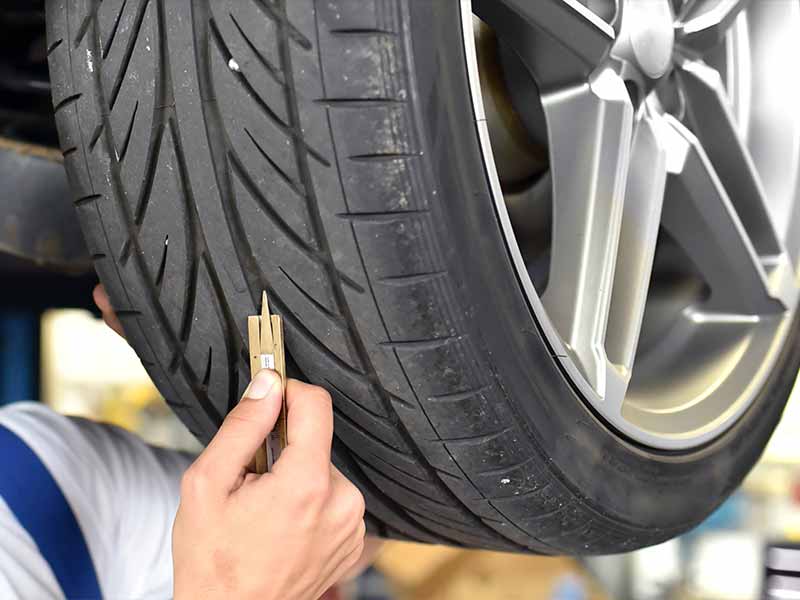 Distinguishing Features of Directional Tread Patterns
Directional tread patterns, often referred to as "unidirectional" patterns, aren't just a random design choice by tire manufacturers. There's science and purpose behind every curve and groove. Let's examine the standout features and understand why they're a game-changer compared to non-directional tread patterns.
The Iconic "V" Pattern
How It Looks: As the name suggests, this pattern prominently displays a series of V-shaped grooves that point toward the tire's center. These grooves then extend outwards towards the tire's edges.
Why It's Great: The main advantage of this design is water evacuation. The "V" channels water away from the center of the tire, helping to reduce the risk of hydroplaning. It ensures that the tire maintains optimal contact with the road, especially during wet conditions.
Solid Center Rib
How It Looks: The center rib is a continuous, raised strip that runs circumferentially around the tire, right down its middle.
Why It's Great: This rib enhances straight-line stability. It gives drivers a more precise steering response, especially at higher speeds. Additionally, the solid center rib can reduce road noise, providing a quieter ride.
Advantages Over Non-Directional Patterns
Non-directional patterns are versatile, sure. But when it comes to specific driving conditions and performance needs, directional treads shine bright. Here's why:
Enhanced Wet Performance: The prime strength of directional treads is their performance on wet roads. The hydroplaning resistance offered by the "V" pattern is hard to match.
Optimized for Speed: Directional tires are often preferred for sports cars and performance vehicles due to their ability to handle high speeds with precision.
Less Noise, More Comfort: The solid center rib not only aids in handling but also contributes to a smoother, quieter drive.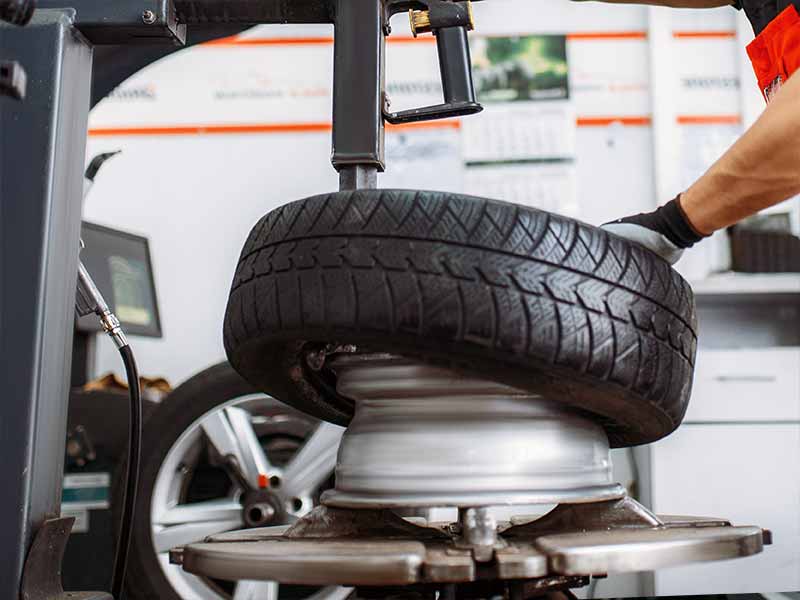 Mounting Directional Tires: Getting It Right
Understanding the "how" of mounting tires is critical with directional tires. Let's go over this process step by step:
Directional Arrows
The Initial Mounting: When you're mounting these tires onto wheels, ensure that two wheels have the tire's directional arrows pointing to the left and the other two pointing to the right. Think of it as setting up pairs: one pair for the left side of your vehicle and one for the right.
Bringing Them onto Your Vehicle
The Golden Rule: Once you've got your tires mounted onto the wheels, it's time to fit them onto your car or truck. This is where it gets crucial: the directional arrow MUST always point towards the front of the vehicle, regardless of whether it's going on the left or right side.
Why Is This So Important?
Performance & Safety: The tread patterns on directional tires are specifically designed to channel water away and provide optimal grip in wet conditions when mounted correctly. Get it wrong, and you're compromising your vehicle's performance and safety.
Tire Longevity: Incorrect mounting can lead to uneven wear and reduce the lifespan of the tire. It's not just about immediate performance; it's also about ensuring you get the most out of your tire investment.
Resources
Below are some links you may find helpful when learning about tires
Final Thoughts
In the vast world of tires, it's essential to know the differences between directional and non-directional types. Directional tires, with their unique V-shaped tread, are designed for optimal performance on wet roads, reducing the risk of hydroplaning. Always remember to look for that arrow or marking to ensure you're mounting them the right way. On the flip side, non-directional tires offer versatility and flexibility, making them a reliable choice for a range of driving conditions.
Ultimately, the right tire for you hinges on your driving needs, conditions, and vehicle type. But whether you're leaning towards the performance edge of directional tires or the adaptability of non-directional ones, always prioritize safety.
Good luck and happy motoring.