Ever been driving and suddenly noticed a mysterious light pop up on your dashboard, specifically the traction control light? It can be unsettling, to say the least. But don't panic—understanding what this light means and how to fix it can be simpler than you think, and it's crucial for your safety on the road.
How To Reset Traction Control Light

To reset the traction control light, you can start by turning off your vehicle, waiting a few seconds, and then restarting it. If the light persists, you may need to use a diagnostic tool to identify the issue or consult a professional for a thorough inspection.
In this article, we'll dive deep into what the traction control system is, why the warning light might come on, how to diagnose and reset it, and when it's time to seek professional help. We'll also share some additional tips for maintaining a well-functioning traction control system.
Let's take a closer look.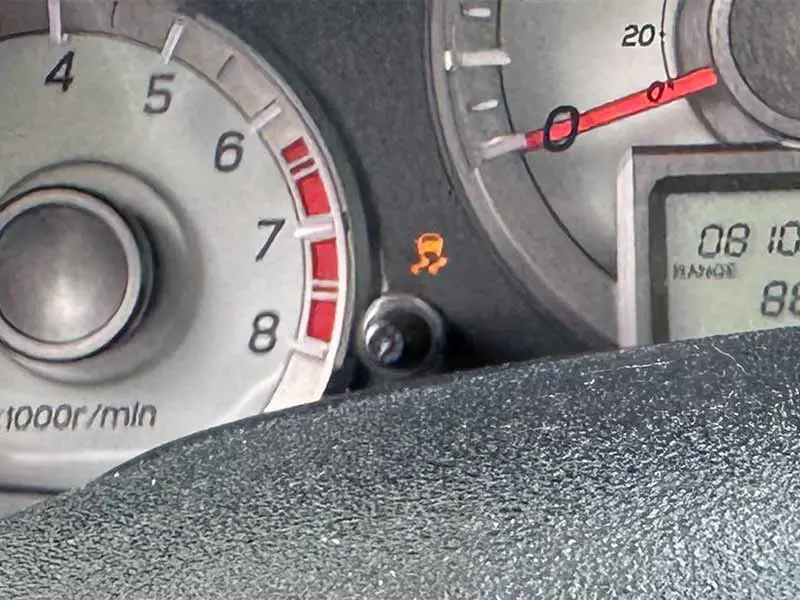 Why is My Traction Control Light On?
When you see your traction control light illuminate on your dashboard, it's like your car is sending you an SOS signal. It's saying, "Hey, something's not right here, and you should pay attention." This light is a warning that there might be an issue with your traction control system, and it's crucial to not ignore it.
Common Reasons for the Light
There are several reasons why your traction control light might stay on. Let's break them down:
Sensor Issues: Sometimes, the wheel speed sensors can get dirty or damaged. When this happens, they can't send accurate information to the traction control system.
System Malfunction: If there's a glitch in your traction control module—the "brain" behind the system—the light may come on.
Loss of Power: In some cases, you might experience a loss of engine power when the light is on. This usually happens when the system is trying to prevent wheel spin but ends up reducing engine power too much.
The Link Between Tires and the Light
Your tires play a significant role in why the traction control light might come on. If your tires are worn out, underinflated, or not suitable for the road conditions, they can cause the traction control system to act up. Remember, your tires are the only part of your car that touches the road, so they need to be in good shape for all your vehicle's systems to work correctly.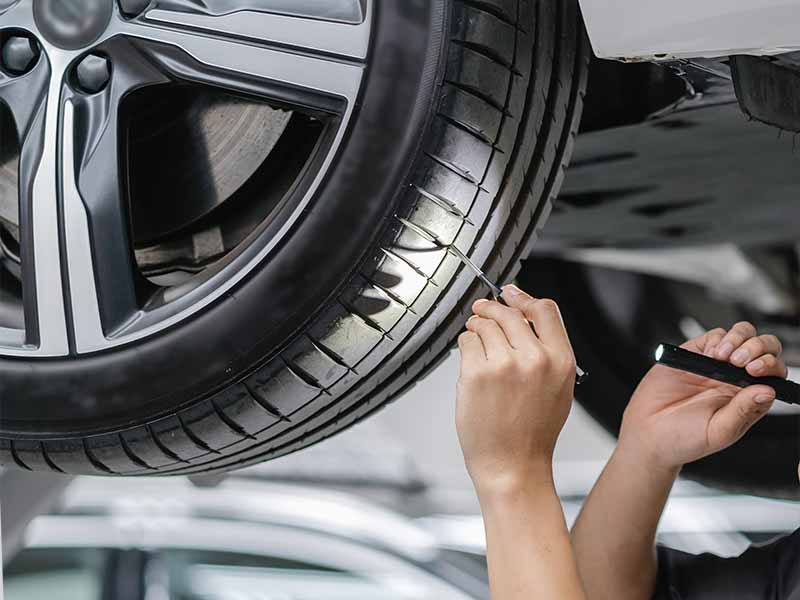 How to Diagnose the Issue
Before diving into more technical aspects, it's good to start with some basic checks. These are things you can do yourself without needing specialized tools or a trip to the mechanic.
Check Tire Condition: Inspect your tires for wear and tear. Uneven wear could affect the wheel speed sensors.
Check Tire Pressure: Underinflated or overinflated tires can cause the traction control system to misbehave.
Steering Wheel Position: Believe it or not, if your steering wheel is not centered, it could trigger the traction control light. Make sure it's in the correct position.
Advanced Troubleshooting
If the basic checks don't resolve the issue, you may need to dig deeper. Here's how:
Wheel Speed Sensors: These sensors can get dirty or even fail. A malfunctioning sensor can send incorrect data to the traction control module, causing the system to engage when it shouldn't or vice versa.
Anti-Lock Brake System (ABS): Since the traction control system works closely with the ABS, any issues with the ABS can affect traction control. Check for ABS warning lights and consult your manual for troubleshooting tips.
Traction Control Module: This is the "brain" of the operation. If it's malfunctioning, your entire traction control system could be compromised. This usually requires professional diagnosis.
The Role of Diagnostic Tools
Modern cars come with onboard diagnostic systems that can provide codes explaining what's wrong. You can use a diagnostic tool to read these codes, which can be particularly helpful in identifying issues with the Anti-Lock Brake System or the traction control module.
Autel MaxiScan OBDII Diagnostic Tool
How to Reset the Traction Control Light
Before you start worrying too much, there are some simple steps you can take to try and reset the traction control light. Sometimes, the solution is easier than you think.
Restart Your Car: Turn off your car's engine and wait for a few seconds. Restart your car. This simple reboot can often reset the traction control system and turn off the light.
Check the TCS Button: Locate the Traction Control System (TCS) button on your dashboard or console. Press it once to see if the light goes off. You might have accidentally turned off the system.
Consult Your Owner's Manual: Your car's manual will have a section on how to reset various warning lights, including the traction control light. Follow the instructions specified for your vehicle model.
Dealing with Persistent Issues
If the light doesn't go off after trying the simple fixes, you may need to take more advanced steps.
Use an On-Board Diagnostic (OBD2) Tool: Plug the tool into the diagnostic link connector (DLC) of your car. Read the error codes to identify what part of the system is causing the issue.
Reset the System with OBD2: Some diagnostic tools allow you to reset the traction control system. Only do this if you're certain that any underlying issues have been resolved.
Inspect Wiring and Wheel Speed Sensors: Damaged or corroded wires can trigger the traction control light. Check the wires running from each wheel's speed sensor to your vehicle's main computer. If the wires are fine, the wheel speed sensors themselves might be faulty and may need replacement.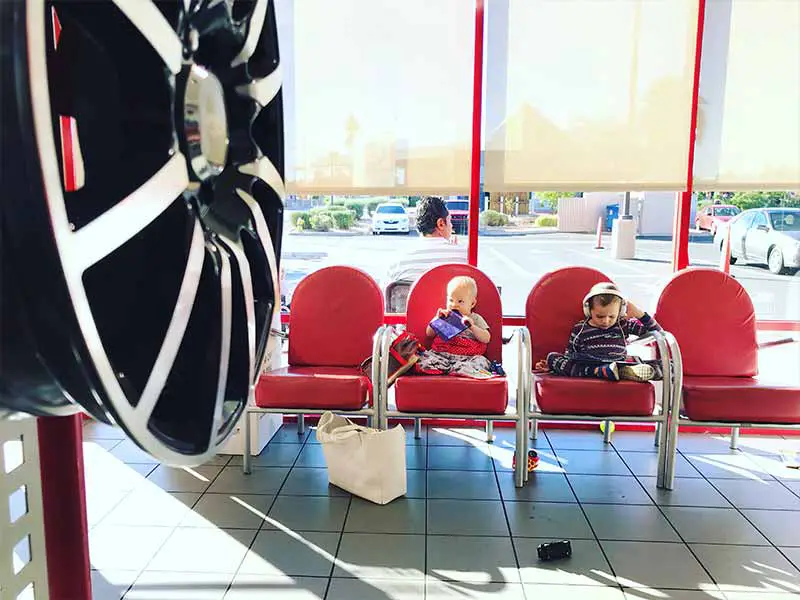 When to Seek Professional Help
While it's great to be a hands-on car owner, it's equally important to know when to seek professional help. Some issues with the traction control system are beyond the scope of DIY fixes and require specialized knowledge and tools.
Warning Signs that Demand Immediate Attention
Here are some red flags that indicate you should consult a mechanic as soon as possible:
Persistent Traction Control Light: If the light remains on even after you've tried basic troubleshooting, it's time to get professional help.
Multiple Warning Lights: If the Traction Control System (TCS) and Anti-Lock Brake System (ABS) lights are both on, this usually indicates a more serious issue that needs immediate attention.
Loss of Engine Power: If you're experiencing a significant loss of power, especially when the traction control light is on, this could indicate a serious issue that should not be ignored.
What to Expect at the Mechanic
When you take your car to a professional, here's what you can generally expect:
Diagnostic Tests: The mechanic will likely start with a series of diagnostic tests to identify the issue. This often involves using advanced diagnostic tools that can read error codes from your car's computer.
Inspection of Key Components: Expect the mechanic to inspect the wheel speed sensors, Anti-Lock Brake System, and traction control module, among other components.
Repair or Replacement: Depending on the diagnosis, you may need to repair or replace certain parts. Always ask for an estimate before any work is done.
Additional Tips
The Importance of Regular Maintenance
While we've focused a lot on what to do when things go wrong, prevention is always better than cure. Regular maintenance can go a long way in ensuring that your traction control system works effectively.
Tire Checks: Regularly inspect your tires for wear and tear, and keep them properly inflated. Good tires are essential for the traction control system to function correctly.
Sensor Cleaning: Dirt and debris can interfere with the wheel speed sensors. A simple cleaning can sometimes prevent issues.
Upgrading Components
If you're looking to enhance your vehicle's performance and safety, consider upgrading key components related to the traction control system.
High-Quality Tires: Investing in high-quality tires can improve both traction and stability control performance.
Advanced Diagnostic Tools: Some advanced tools not only read error codes but also provide real-time data that can help you understand your car's performance better.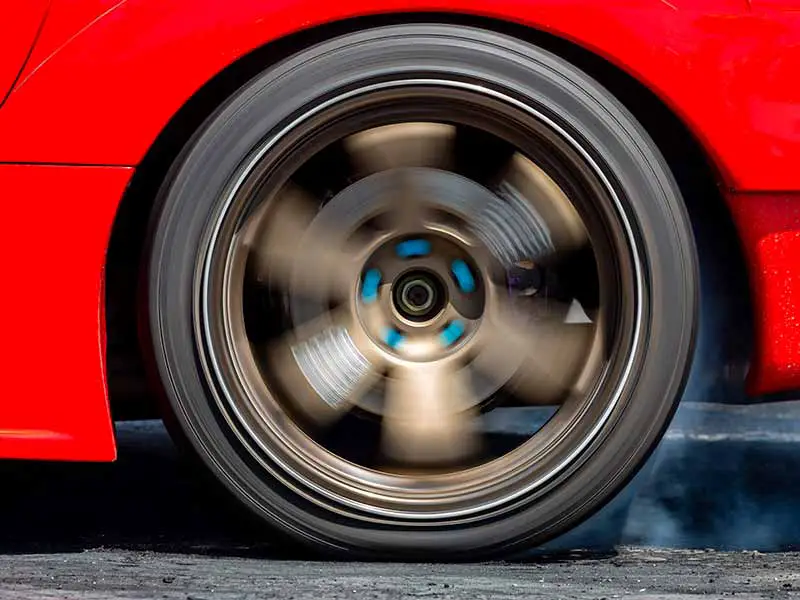 What is Traction Control?
Traction control is a safety feature in your car that helps your wheels maintain grip on the road, especially during slippery conditions like rain or snow. Think of it as your car's way of saying, "Hey, I've got this!" when the road gets tough. It's like a helping hand that keeps your car stable and going in the direction you want it to go.
How Does It Work?
Traction control works closely with a couple of other important systems in your car:
Anti-Lock Braking System (ABS): This system prevents your wheels from locking up when you brake. That way, you can still steer while braking.
Wheel Speed Sensors: These are like your car's "eyes" on each wheel. They keep track of how fast each wheel is spinning.
When these systems notice that one or more wheels are spinning faster than they should be—like if you're skidding—the traction control system kicks in. It can reduce engine power or use the brakes to slow down the spinning wheel, helping it regain grip on the road.
Why Tires Matter
As a tire expert, I can't stress enough how crucial good tires are for your traction control system to work effectively. Tires are your car's only contact with the road, so if they're worn out or not inflated properly, even the best traction control system won't be much help.
Understanding Stability Control
Stability control is like the big sibling to traction control. While traction control helps prevent your wheels from spinning out, stability control keeps your car from skidding or sliding sideways. Both systems often work together to keep you safe.
How It Works: Stability control uses additional sensors to monitor the car's movement and can apply brakes to individual wheels to prevent skidding.
Why It Matters: In slippery conditions or during sudden turns, stability control can be a lifesaver. It's another layer of safety that complements the traction control system.
Resources
Below are some links you may find helpful when learning about tires
Final Thoughts
Understanding your car's traction control system is not just about turning off a pesky light on your dashboard; it's about ensuring a safe and smooth driving experience. 
From the importance of regular tire maintenance to knowing when to seek professional help, this article has aimed to provide you with a comprehensive guide to diagnosing and fixing issues related to your traction control light. 
So the next time that light comes on, you'll be well-equipped to handle it like a pro.
Good luck and happy motoring.