Imagine you're cruising down a snowy road in your all-wheel-drive (AWD) vehicle, feeling invincible. The world outside is a winter wonderland, but inside your car, you're warm, safe, and the king of the road. But then, a sudden curve comes up, and you feel your heart drop as your car skids slightly. You start to wonder: Could snow tires have prevented that moment of panic?
Do You Need Snow Tires With AWD?

Yes, even if you have an all-wheel-drive (AWD) vehicle, you should consider using snow tires. While AWD provides improved traction during acceleration, snow tires enhance overall performance and safety, especially during braking and turning in winter conditions.
In this article, we'll journey into the world of drive systems, explore the magic behind snow tires, and pit them against each other to see how they stack up. We'll delve into the pros and cons of AWD vehicles in snowy conditions, understand the role of snow tires on AWD vehicles, and figure out what happens when you forego those snow tires.
Let's take a closer look.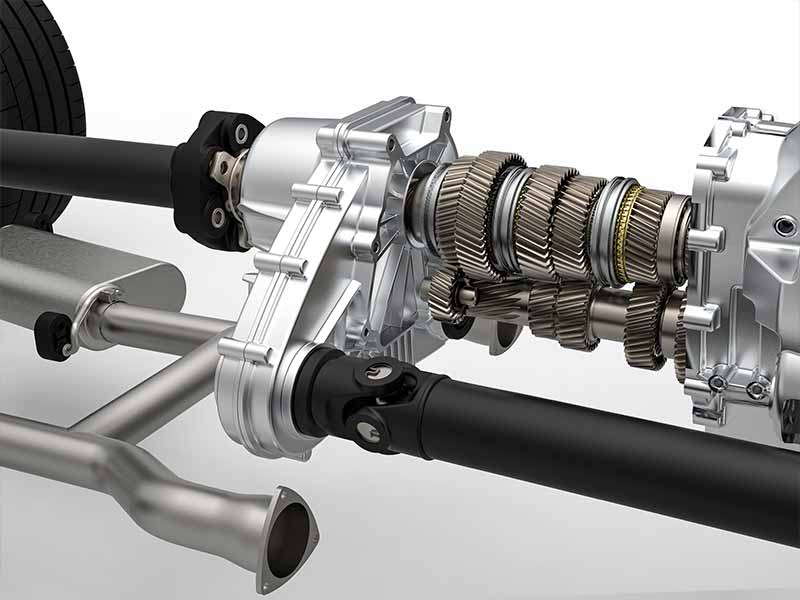 Understanding Different Drive Systems
Alright, let's take a deep dive into the world of drive systems. We're talking about All Wheel Drive (AWD), Front Wheel Drive (FWD), Rear Wheel Drive (RWD), and Four Wheel Drive (4WD). Understanding these systems is like knowing the right dance steps for your car – each has its own groove and rhythm for different road situations.
All Wheel Drive (AWD)
First up is our star of the show, the All Wheel Drive, or AWD as it's popularly known. What's cool about AWD is that it supplies power to all four wheels of your vehicle all the time. AWD is like that buddy who's always ready to help, whether you're cruising along a dry highway or tackling some tough, snowy terrain. It can provide extra traction when you need it, which can be a real lifesaver in winter conditions.
Front Wheel Drive (FWD)
Next in line is Front Wheel Drive, or FWD. This system sends power to the front wheels. So, the front wheels are doing all the work, pulling your car along. It's like having strong arms in a tug-of-war, pulling you forward. FWD cars generally do a decent job in the snow, but they might not be as capable as an AWD when the going gets really tough.
Rear Wheel Drive (RWD)
Then there's the Rear Wheel Drive, RWD for short. As you might have guessed, this system powers the rear wheels. It's a bit like being in a rowboat and using oars at the back to push you along. RWD can provide great handling and acceleration, making it a popular choice for sports cars. But in slippery winter conditions, RWD cars can be a bit more challenging to control.
Four Wheel Drive (4WD)
Last but definitely not least, we've got the Four Wheel Drive, aka 4WD. This system is a bit like AWD's bigger, tougher sibling. It can supply power to all four wheels too, but it's usually found on off-road vehicles and trucks that need to conquer seriously tough terrain. Think of 4WD as your ultimate adventurer friend, always ready to climb steep hills and wade through mud.
Now, let's take a quick look at the role of the front and rear axles in these systems. The axles are like your car's legs. In a FWD car, the front 'legs' do all the work. In an RWD car, it's the rear 'legs' that do the heavy lifting. In an AWD or 4WD vehicle, all 'legs' share the load, providing a more balanced performance.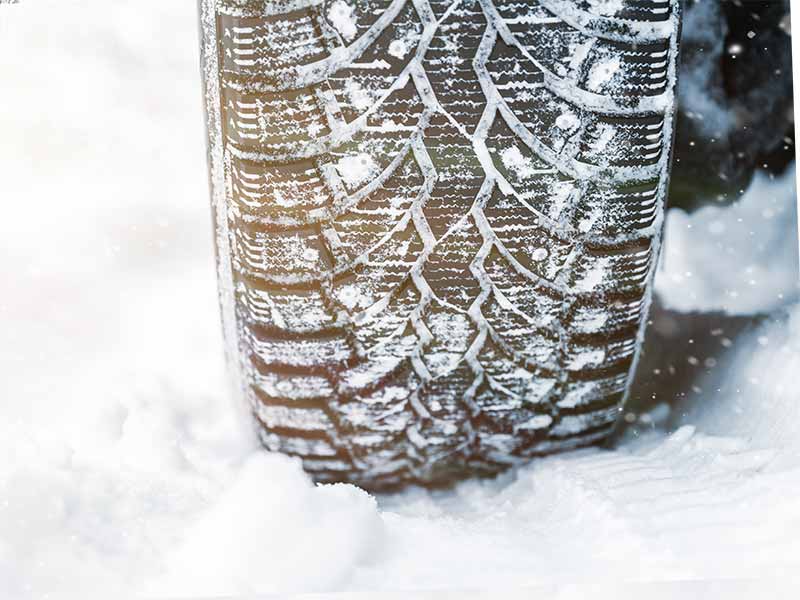 A Closer Look at Snow (AKA Winter) Tires
Now that we've covered the basics of drive systems, let's slide into the world of winter tires. You know, those tough-as-nails tires designed to keep your car steady and moving, even when the roads look like an ice skating rink.
What Are Winter Tires?
First thing's first. What exactly are winter tires? Well, they're also known as winter tires, and their main gig is to provide your vehicle with extra traction during the colder months. These guys are like snow boots for your car! They're designed with a special type of rubber that doesn't harden in cold temperatures, and they feature tread patterns that are designed to dig into snow and ice, helping to prevent your car from slipping and sliding.
The Importance of Winter Tires in Winter Conditions
So, why are winter tires important in winter conditions? Imagine trying to run on a slick, icy surface wearing regular sneakers. You'd slip and slide all over the place, right? Well, the same thing can happen to your car when it's not wearing the right 'shoes'. That's where snow tires come in. They help your car grip the road, even in snowy and icy conditions.
The Benefits and Downsides of Having Winter Tires Installed
Just like any superhero, snow tires come with their superpowers and their kryptonite. Let's take a look at some of the pros and cons.
Pros:
Better grip: Snow tires are specifically designed to bite into snow and ice, giving your car a better grip on the road.
Improved safety: With better grip comes improved safety. Your car is less likely to skid or slip when it's wearing snow tires.
Enhanced performance: Snow tires can help your car perform better in winter conditions, making for a smoother and more comfortable ride.
Cons:
Cost: Snow tires can be a bit pricey, and you'll need to switch them out for regular tires once winter is over.
Wear out faster: Snow tires tend to wear out faster when used on dry roads, so they're not the best option for year-round use.
A Peek into Other Tire Types
Before we wrap up, let's take a quick detour into the land of other tire types: all-season tires and summer tires.
All-Season Tires: As their name suggests, all-season tires are designed to be used year-round. They're like the Jack-of-all-trades of the tire world. They can handle dry and wet conditions pretty well, but they might not be the best option for heavy snow.
Summer Tires: These are your sunshine-loving, heat-absorbing tires. They're great for warm, dry roads and even perform well in the rain. However, they're not built for cold weather, and they definitely won't be your best friend in the snow.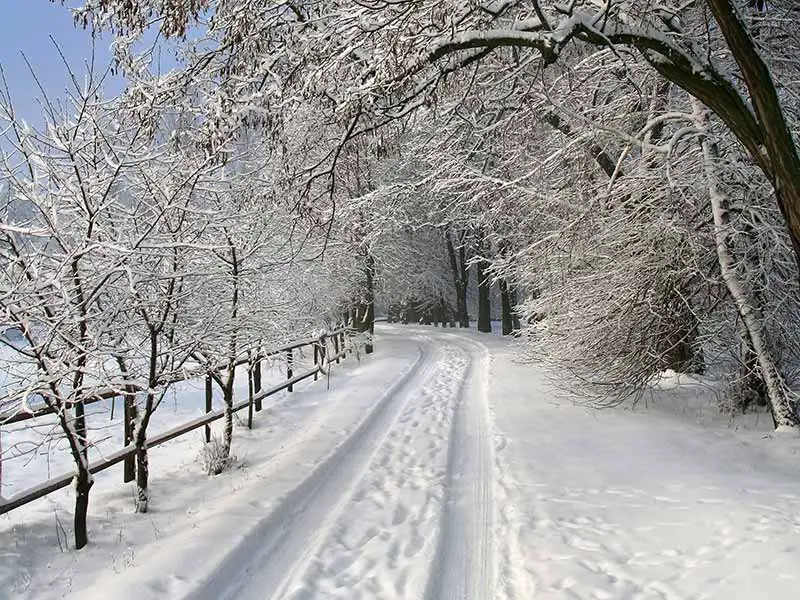 AWD Vehicles Vs Snow Tires
Now that we've explored drive systems and the winter-wonderland-world of snow tires, let's pit these two against each other in the ultimate face-off: AWD Vehicles Vs Winter Tires! Who comes out on top? Or is it a friendly handshake and a pat on the back? Let's dig in!
AWD Vehicles in Snowy and Icy Conditions
Remember our all-weather-ready friend, AWD? This system ensures all four wheels get power, helping to provide extra traction when you need it. It's like having an extra set of hands to help you carry a heavy load. In snowy and icy conditions, AWD can be a real game-changer, helping you keep control and continue moving forward.
But – and it's a big but – even the most sophisticated AWD system is only as good as the tires it's working with. Think of it this way: if you're wearing the slickest snow boots, but the soles are smooth, you're still going to slip around on the ice. The same principle applies to your car. Without the right tires, even AWD might struggle in harsh winter conditions.
How Snow Tires Can Enhance AWD Vehicles' Performance
That's where winter tires come into play. Pairing AWD with winter tires is like putting the perfect team together. The AWD system ensures all four wheels are ready to go, and the winter tires give each wheel the best chance of gripping the road.
Do winter tires make a difference with AWD? Yes, indeed they do! They can enhance the performance of AWD vehicles, giving you a safer and smoother ride.
The Importance of Installing Winter Tires on All Four Wheels
Do you only need 2 winter tires? The answer is a resounding no! Installing snow tires on just the front or rear wheels could result in a car that handles unevenly, and that could cause problems. It's best to install winter tires on all four wheels to ensure balanced and predictable handling. You wouldn't want to wear one snow boot and one sneaker, right? The same principle applies here.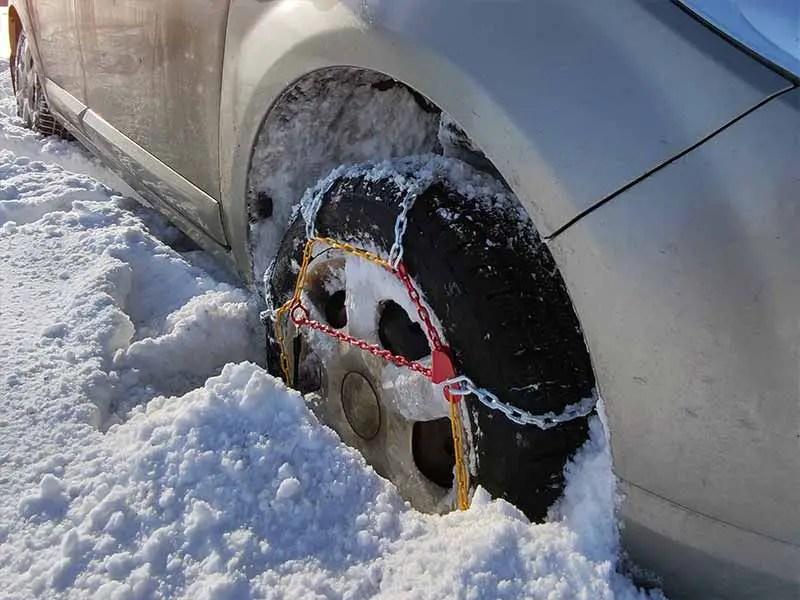 Chains Vs Winter Tires on AWD Vehicles
Well, we've chatted about AWD vehicles and snow tires, but what about chains? You've seen them, right? Those gnarly metal things some people put on their tires in the winter? Let's jump into the great debate: Chains Vs Snow Tires on AWD vehicles.
Understanding Snow Chains
Snow chains are a bit like your car's winter armor. They're chains that you fit onto your tires to give them extra grip in snowy and icy conditions. Think of them as the cleats you'd wear for a football game on a muddy field. They dig in, providing extra traction and preventing slipping.
Chains or Snow Tires on AWD Vehicles?
The big question is, do you go with chains or snow tires for your AWD vehicle? Well, let's break it down.
Snow chains can provide excellent traction in deep snow and icy conditions. They're often used in mountainous areas or places that see heavy snowfall. The downside? They can be a bit of a hassle to put on and take off, and they can make your ride noisier and less smooth.
On the flip side, snow tires are specifically designed for winter conditions. They're made of a rubber compound that stays flexible in the cold, and their tread pattern is designed to grip snow and ice. They're easier to manage because you put them on at the start of the winter season and take them off when spring arrives.
So, it really depends on your situation. If you're living somewhere that sees a ton of snowfall and icy conditions, you might want to consider using snow chains. But for most people, snow tires will do the trick, providing good grip and control throughout the winter season.
Resources
Below are some links you may find helpful when learning about tires
Final Thoughts
Having an All-Wheel-Drive (AWD) vehicle can definitely give you an edge in winter conditions, but it's not invincible. Your vehicle's performance on snowy or icy roads largely depends on your tires' ability to grip the road. So, even if you're behind the wheel of an AWD vehicle, adding snow tires into the mix can significantly improve your traction, control, and overall safety. Remember, snow tires are designed specifically for winter weather, with special rubber compounds and tread designs to handle the cold, and the snow and ice that come with it.
As for the question of snow chains or snow tires, it really depends on your situation. If you're in a region with heavy snowfall, snow chains can be a good option. However, for most people, snow tires should suffice to provide adequate grip and handling throughout the winter season.
So, are snow tires worth it? Considering the enhanced safety and peace of mind they offer, the answer is a resounding yes! As we've discovered, the right tires can make all the difference when it comes to navigating those winter roads.
Good luck and happy motoring.