Did you know that the tread patterns of your tires are more than just fancy designs? Directional tires have different tread patterns from non directional tires that are important to understand.
Directional Tires Vs Non Directional

Directional tires have a tread pattern designed to rotate in one specific direction, optimizing performance in wet conditions by reducing hydroplaning.

Non-directional tires have a versatile tread pattern that can spin forward or backward without a loss of traction, offering flexibility in rotation and all-around performance.
In this article, we'll deep-dive into the intricacies of directional and non-directional tires, exploring their unique designs, benefits, and how to choose the right one for your vehicle's needs.
Let's take a closer look.
What are Directional Tires?
Alright, let's dive into the world of directional tires! These tires, often called "uni-directional tires," have a tread pattern designed to roll in only one specific direction. Now, I know what you're thinking, "Why would anyone make a tire that only goes one way?" Well, there are some pretty neat reasons behind it.
The Special Design of Directional Tires
First off, the tread. When you look at a directional tire, you'll notice a distinct V-shaped pattern. This design isn't just for looks!
Water Evacuation: The V-shaped tread pattern is there to push water out from under the tire. Think of it like a squeegee for the road! This reduces the risk of hydroplaning, which can happen when your tires can't grip the road because of a layer of water.
Better Grip: Especially on wet roads, that V-pattern helps the tire grip the surface better. It's like having track spikes for rainy days.
Spotting a Directional Tire
So, how do you identify a tire that's directional? Here's the scoop:
Arrow Symbols: On the sidewall of most directional tires, you'll find little arrow symbols. These arrows show the direction the tire should rotate when the car is moving forward.
Word Alerts: Sometimes, the tire might have words like "Rotation" or "Direction" on the sidewall. This is another hint that the tire is meant to roll in a specific direction.
Getting Them on Your Car
If you're considering getting these tires, there's something super important to remember: Mounting Direction.
Follow the Arrow: When putting these tires on your vehicle, ensure they're mounted so they roll in the direction of the arrow. Getting this wrong means the tire won't perform at its best, and all those benefits we talked about go out the window.
Front to Back: Since these tires are designed for one direction, you can't swap them from the left side of the car to the right. Instead, if you need to rotate them, they should move from the front to the back on the same side of the vehicle.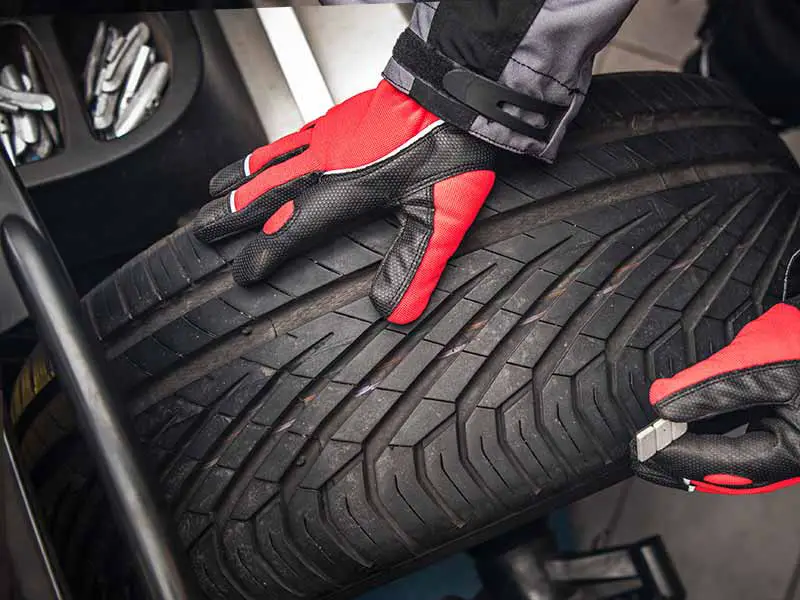 What are Non-Directional Tires?
Okay, folks, after that deep dive into directional tires, let's flip the script and talk about their counterparts: non-directional tires. These are the more "go-with-the-flow" types, and here's why:
All About the Tread
When we talk about non-directional tires, the tread pattern is consistent across the entire tire. That means if you rotated the tire any which way, the design would look pretty much the same.
Flexibility: One of the biggest perks of this design? Flexibility. You can rotate these tires in various patterns, whether it's front to back, left to right, or even diagonally for some vehicles.
Versatility: These treads are crafted to perform well in a variety of conditions. Rain? Check. Dry roads? Yep. That random mix of weather we sometimes get? They've got you covered.
Symmetrical Vs. Asymmetrical:
Now, within the realm of non-directional tires, you might hear about symmetrical and asymmetrical treads. Let's break that down:
Symmetrical Tires:

Consistent Design: This means the tread pattern is the same on both the inside and outside of the tire.
Rotation Freedom: With a consistent pattern, you've got more options for rotating these tires, leading to more even wear over time.

Asymmetrical Tires:

Mixed Tread Patterns: Here, the inside and outside treads are different. This design offers a blend of performance features. For example, one side might be designed for wet conditions, while the other is optimized for dry roads.
Mounting Matters: Even though they're non-directional, you still have to pay attention when mounting asymmetrical tires. The different tread sections are labeled, like "outside" or "inside," to help you get it right.
Why Choose Non-Directional Tires?
So, with all this info, why might someone choose non-directional tires?
Smooth Rides: Generally, these tires can offer a quieter and smoother drive, especially on highways.
Rotation Perks: With more rotation options, these tires might wear more evenly over their lifespan.
All-Around Performance: While they might not have the specialized water-evacuation talent of directional tires, they're still designed to handle a mix of road conditions pretty darn well.
Comparing Directional and Non-Directional Tires
Alright, tire enthusiasts, let's put our learning hats back on! We've looked at directional and non-directional tires in isolation, but how do they stack up against each other? Let's lay it out.
Performance in Wet Conditions
Directional Tires:

Superior Water Evacuation: Thanks to that V-shaped pattern, they're designed to reduce hydroplaning risks. Think of them as your rain-ready companions.

Non-Directional Tires:

Versatile but…: They can handle wet conditions, but they might not have that same specialized edge as most directional tires.
Rotation and Lifespan
Directional Tires:

Rotation Limitations: Remember, these bad boys have a set way to go. It's a front-to-back deal, not side-to-side.
Potential Wear Issues: Due to rotation restrictions, they might have uneven wear between front and rear tires over time.

Non-Directional Tires:

Rotation Flexibility: You can rotate these in different patterns, which can lead to a more even wear.
Longer Life?: With proper care and regular rotation, they might have a slight edge in lifespan compared to their directional counterparts.
Road Noise and Comfort
Directional Tires:

Sporty Vibe: They can be a tad noisier due to their aggressive tread design. But hey, some folks love that sporty feel!

Non-Directional Tires:

Quiet Operators: Generally, these offer a smoother and quieter ride. Perfect for those serene long drives.
Costs and Upkeep
Directional Tires:

Potentially Pricier: Because of their specialized design, they might be a bit more on the expensive side.
Maintenance Mindfulness: You'll need to ensure they're always mounted in the correct direction.

Non-Directional Tires:

Budget-Friendly Options: While there are high-end models, you might find more budget-friendly choices in this category.
Easier Upkeep: With fewer mounting worries and more rotation options, they can be a tad easier to maintain.
Versatility and Driving Conditions
Directional Tires:

Specialists at Work: If you face a lot of wet roads, these might be your best friends.

Non-Directional Tires:

The All-Rounders: From dry to rainy, city to highway, they're the jack-of-all-trades in the tire world.
Resources
Below are some links you may find helpful when learning about tires
Final Thoughts
Directional tires, with their unique V-shaped patterns, stand out for their wet-condition prowess, efficiently combating hydroplaning. On the other hand, non-directional tires boast versatility, offering a balanced performance across different terrains and the added advantage of flexible rotation patterns.
As you venture into the tire market, remember these insights. By understanding the subtle nuances between these tire types, you're better equipped to make a choice that not only complements your vehicle but also ensures a safer and smoother driving experience.
Good luck and happy motoring.