Did you know that your car's tires could be ticking time bombs, even if they seem perfectly fine on the surface? "Old but gold" might work for your grandma's antique necklace, but when it comes to tires, age is not just a number.
10 Year Old Tires With Good Tread

While 10-year-old tires might still have good tread, they are generally not safe to drive on. Over time, the rubber compound in tires degrades, which can lead to a failure even if the tread looks okay.
In this article, we will explore the aging process of tires, the laws and regulations surrounding tire age, how to inspect your tires for signs of aging, and when and how to replace old tires.
Let's take a closer look.
The Aging Process of Tires
So, you've got a grip on the basics of tire construction and manufacturing. It's like knowing what ingredients go into baking a cake and how to mix them together. But what happens when that cake sits out on the counter for too long? You've guessed it—it starts to age. Well, tires aren't any different. Let's delve into what tire aging means and how it can impact your ride.
Defining Tire Aging
Tire aging is like tire birthdays, but not in a fun way. When we say a tire is "aging", we're talking about the changes that happen in a tire's rubber compound and other materials over time. Just like that cake left out on the counter, tires can become harder and less flexible as they age. This can lead to cracks on the tire surface, known in the biz as "dry rot."
How Environmental Conditions Can Influence Tire Aging
While a tire's birthday count is important, there's more to tire aging than just time. Where and how a tire is used can make a big difference.
Think about it like this. Is a piece of bread going to mold faster in a damp, dark basement or in a dry, well-lit pantry? Environmental conditions play a big role in how quickly tires age:
Heat: Tires don't like to sunbathe. Constant exposure to heat and sunlight can speed up the tire aging process.
Storage: Have a set of spare tires or winter tires tucked away in the garage? How and where tires are stored can influence their aging process. A cool, dry, and dark place is a tire's best friend when it comes to storage.
The Impact of Rubber Compounds on Tire Wear
Now, let's get back to our tire "recipe." The rubber compounds used in a tire can have a big impact on how quickly that tire wears down. Different types of tires have different types of rubber compounds. Some are soft for extra grip but wear out quickly. Others are harder, lasting longer but might not offer the same level of grip.
Remember those winter tires we mentioned? They have a special rubber compound designed to stay flexible in cold temperatures. This makes them great in snowy or icy conditions, but they'll wear down quicker if used in warm weather.
As tires age, the rubber compounds start to lose their flexibility, making the tire less efficient at gripping the road. This can happen even if the tread looks fine. So, as the saying goes, "Don't judge a tire by its tread!" (Okay, we made that up, but it's true!)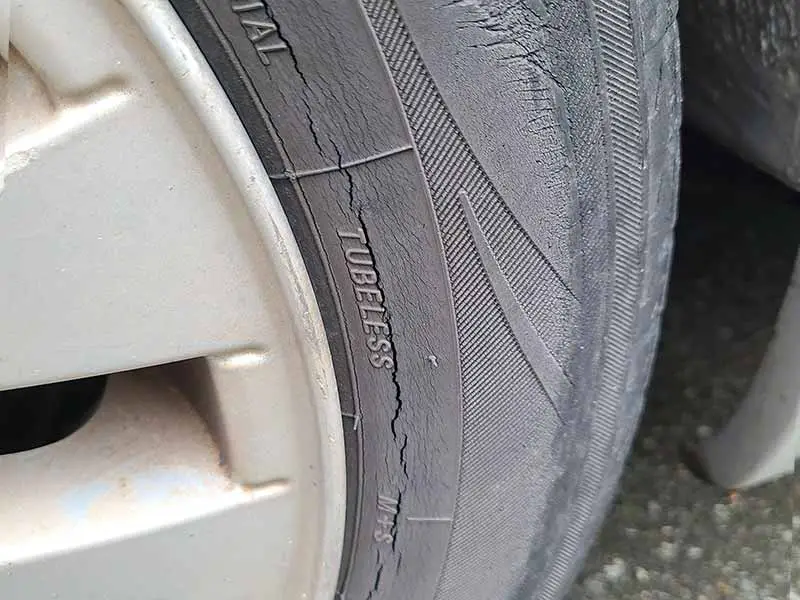 Life Expectancy of Tires
Alright folks, buckle up, because it's time to talk about tire lifespans! Now, you might be thinking, "Great, another thing I've got to keep track of!" But trust us, it's easier than you might think and oh-so-important. Just like you wouldn't drink expired milk, you don't want to ride on expired tires. Let's hit the road and explore what we mean by the "life expectancy" of tires.
Average Shelf Life of Most Tires
While it'd be super easy if there was a one-size-fits-all answer, the lifespan of a tire isn't the same across the board. Several factors come into play, like how the tire was stored, where it was used, and the conditions it was exposed to. But here's a ballpark figure to start with: tire manufacturers generally recommend replacing your tires every 6 to 10 years, no matter what they look like on the surface.
But why is there such a range? Well, imagine two siblings. One loves rock climbing and skydiving, while the other prefers reading and painting. Even though they're the same age, their lifestyles affect their health differently. Tires are pretty much the same. Some lead harder lives than others, which can influence their overall lifespan.
How Long Tires Last With Low Mileage
"But wait," you might be thinking, "what if I don't drive much? Surely my tires should last longer?" It's a fair question. If your car spends more time parked in the driveway than on the open road, your tires will have less tread wear. They might look as good as new, even if they're several years old.
However, remember our chat about tire aging? Even if a tire isn't used much, it can still age. The rubber compounds can harden and crack over time, which can make the tire unsafe to use, even if the tread looks okay. So low mileage doesn't necessarily mean your tires can last forever.
Different Aging Rates for Different Tires
Just as there are different types of vehicles, there are different types of tires. Your regular tires are different from your winter tires, which are different from your spare tires.
Regular Tires: Also known as all-season tires, these bad boys are built to handle a variety of conditions, from hot summer roads to chilly fall mornings. But like all tires, they'll start to age and wear down over time, and they should be replaced after 6-10 years.
Winter Tires: These guys are made for the cold! They have a special rubber compound that stays flexible in lower temperatures, giving better grip on snowy or icy roads. But because of their softer compound, they might wear down faster, especially if used in warmer weather.
Spare Tires: Now, these are the unsung heroes. They sit patiently in the trunk, ready to jump into action when needed. But even if they're never used, spare tires can still age. Manufacturers often recommend checking them every 6 years and replacing them every 10 years.
How To Tell If Your Tires Are Too Old
Now that we've driven through the ins and outs of tire aging and regulations, let's take a detour to the practical side of things. How can you, as a vehicle owner, tell if your tires are too old? Don't worry, you won't need a magnifying glass or a degree in rubber science! So, let's get down to the rubber, and learn how to do a visual inspection of your tires.
The Importance of a Visual Inspection
The good news is, tires are pretty straightforward when it comes to showing their age. You just need to know what to look for. Here's your simple guide to a visual inspection:
Tread Depth: Yes, we've mentioned this before, but it's worth repeating. Check the depth of your tire tread. If it's less than 1/16th of an inch (or 1.6 millimeters), it's time to head to the tire shop for some new tires.
Cracks in the Sidewall: Remember the dry rot we talked about earlier? This is where you'll see it. Look for small cracks on the side of the tire. It's a sign that the tire's rubber is breaking down.
Bulges and Blisters: If the tire's surface is weakening, it can result in bulges or blisters, much like a weak spot on a balloon. This is a sign of an old tire and should be addressed immediately.
Excessive Vibration: While this isn't something you can see, it's something you can feel when driving. If your car is vibrating excessively, it could be a sign that a tire is old or damaged.
Tire Age vs. Tire Wear
Although tread wear is a common indicator of an old tire, remember that a tire can age even if the tread wear is low. Even a tire with plenty of tread left could be unsafe if it's old and its materials have started to degrade.
Taking Your Car to a Tire Shop
If you notice any of these signs, it's time to take your car to a tire shop. They're the experts and can give your tires a more thorough inspection. Don't worry, they won't bite! They'll be able to confirm whether your tires are too old and need replacing.
Remember, the goal here isn't to get every last mile out of your tires. It's to ensure you and your loved ones are safe on the road. Old tires can fail, leading to accidents. Even if your tires seem fine, if they're close to or over 10 years old, it's time to consider getting a new set of tires.
Resources
Below are some links you may find helpful when learning about tires
Final Thoughts
In a nutshell, even though your 10-year-old tires may seem to have good tread left, they could be secretly posing a safety risk due to the degradation of the rubber compound over time. It's crucial to understand that all tires age, whether they are regularly used or stored as spares. Hence, as a rule of thumb, consider replacing your tires every 6 to 10 years, irrespective of the tread depth.
Stay proactive about your vehicle's safety by regularly conducting visual inspections of your tires, checking for warning signs like cracks, bulges, or excessive vibration. When it's time for a change, consider tire type, size, and performance requirements based on your vehicle and driving conditions. Remember, finding the right balance between cost and quality is key to ensuring your safety on the road. Lastly, don't forget your role in the environment – recycle your old tires responsibly.
Good luck and happy motoring.