Ever felt stuck choosing between two things, like chocolate or vanilla ice cream? It can be tough, right? Well, if you think that's hard, try picking between an all-season and an all-weather tire. It's not just about flavor here; it's about safety, performance, and even saving money!
All-Weather Vs All-Season Tires

For mild climates and regular driving conditions, all-season tires are usually sufficient, while all-weather tires offer better performance for more extreme winter driving. Although neither are as well suited for true winter conditions as dedicated winter tires.
In this article, we'll deep dive into the world of all-season and all-weather tires. We'll explore what each type of tire is designed for, their strengths, their limitations, and how they stack up against each other. We'll also talk about how to choose the right tire for your vehicle based on your specific needs.
Let's take a closer look.
Understanding All-Season Tires
Before we delve into the nitty-gritty, let's start by getting a basic understanding of what all-season tires are all about. These guys are like the Jack-of-all-trades in the world of tires. They're designed to help you conquer different road conditions throughout the year, whether it's a sunny summer afternoon or a rainy fall morning. However, it's worth noting that all-season tires aren't necessarily masters of every condition. Let's break this down a bit.
What Are All-Season Tires?
All-season tires are exactly what they sound like – tires meant to perform decently in all seasons. Think of them as your dependable everyday tires, ready to get you to school, work, or that weekend road trip, no matter what Mother Nature decides to throw your way. They provide balanced dry and wet performance and even some snow traction.
When Are All-Season Tires Best?
All-season tires really shine in moderate weather conditions. If you live in a place where the seasons change, but extreme temperatures (either hot or cold) are as rare as unicorns, all-season tires might just be your best buddy. They're great for:
Dry roads: These tires have a tread design that offers a stable grip on dry surfaces. This means they perform well on those hot summer days when the roads are dry as a bone.
Wet roads: All-season tires have channels designed to evacuate water from under the tire, reducing the risk of hydroplaning in rainy weather.
Light Snow: These tires can handle a little bit of snow. Their tread provides some snow traction for those early winter days.
Limitations of All-Season Tires
Now, even superheroes have their weaknesses (remember Superman and Kryptonite?). Well, all-season tires have a few limitations too. They're not as efficient when the temperature drops significantly or when heavy snow falls. Here's why:
Extreme cold: When the temperature dips way low, all-season tires might struggle to perform. The rubber in these tires can become less flexible, reducing traction.
Heavy Snow and Ice: Despite their name, all-season tires aren't really designed for heavy winter conditions. They can deal with a light dusting of snow, but when things get serious, they don't provide the same grip and traction as winter or all-weather tires.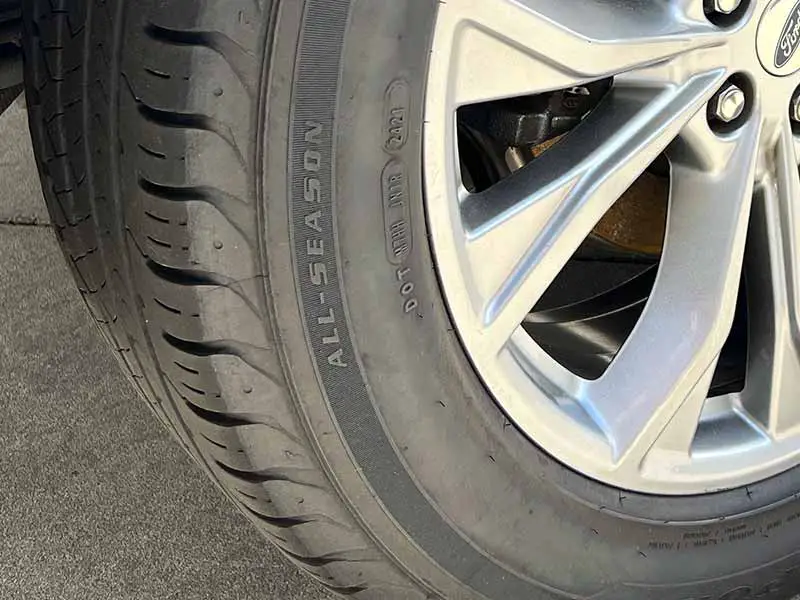 Understanding All-Weather Tires
Now that we've unraveled the story of all-season tires, let's shift gears and explore all-weather tires. They may sound like they're pretty much the same thing, but spoiler alert: they're not. All-weather tires are like the tire world's superstars, built to withstand more demanding weather conditions. Let's dive in to find out what makes them special.
What Are All-Weather Tires?
You might be wondering, "All-season, all-weather, what's the difference?". Well, all-weather tires are a unique blend of summer and winter tires. They offer the performance of all-season tires in warm weather and the safety of winter tires in cold conditions. Pretty impressive, huh?
When Are All-Weather Tires Best?
The genius of all-weather tires lies in their adaptability. Whether it's the peak of summer or the dead of winter, these tires are designed to perform. Here's when they come in handy:
Hot, Dry Conditions: All-weather tires can handle the heat. They're built to perform well on hot, dry roads, just like all-season tires.
Wet Roads: Just like their all-season cousins, all-weather tires have specially designed grooves that evacuate water and reduce the risk of hydroplaning.
Snowy Conditions: All-weather tires can take on more than just a light dusting of snow. They're designed to provide good traction in moderate winter conditions.
The Three Peak Mountain Snowflake Symbol
Speaking of snow, you might have noticed a little symbol on some tires that looks like a mountain with a snowflake. This is the Three Peak Mountain Snowflake symbol, and it's a big deal. This emblem is a certification that the tire meets specific snow traction performance requirements, and guess what? All-weather tires have this symbol.
Limitations of An All-Weather Tire
If you live somewhere where winter means serious, heavy snow and ice, you might want to consider winter tires instead. Likewise, in places with extremely hot summers, all-weather tires might wear down faster than all-season or summer tires.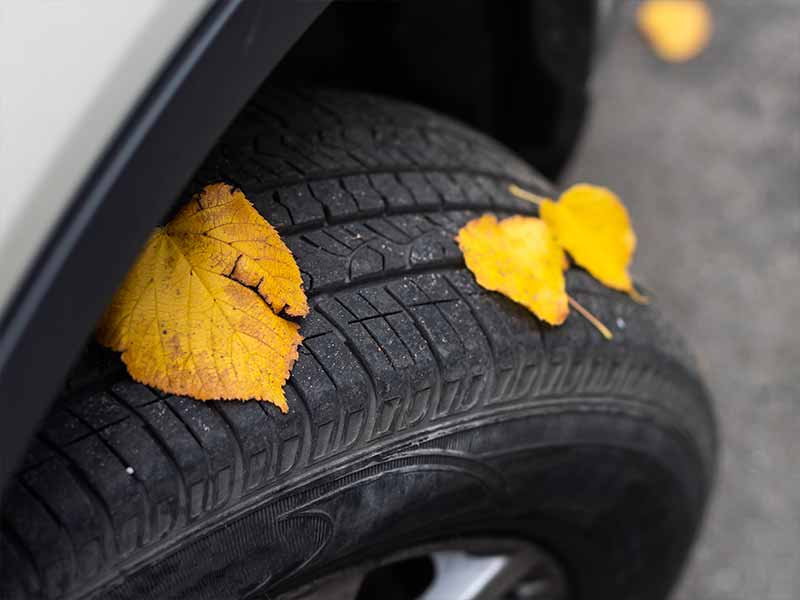 All-Season Vs All-Weather: A Comparative Study
Let's put these tires side by side and see how they stack up. We'll compare their effectiveness in various weather conditions, longevity and durability, and how they impact your gas mileage.
Effectiveness in Various Weather Conditions
Summer Performance: Both of these tires are up to the task when it comes to driving in summer conditions. They handle dry and wet roads well, ensuring a smooth ride. But, the all-weather tires have an edge when it comes to summer rainstorms because of their superior wet grip.
Winter Performance: When it comes to winter, all-weather takes the crown. Thanks to their unique design that combines elements of both summer and winter tires, they can handle more than just a sprinkle of snow. On the other hand, all-season tires are better suited for light winter conditions.
Longevity and Durability
The lifespan of a tire depends on various factors like driving habits, road conditions, and how well the tires are maintained. However, in general terms, all-season tires tend to last a bit longer than all-weather tires, especially in areas with hot summers. This is because the softer rubber compound in all-weather tires, while providing excellent cold-weather performance, can wear down faster in hot conditions.
Fuel Efficiency: A Question of Rolling Resistance
Which uses more gas? The answer lies in something called 'rolling resistance' – the force that your vehicle needs to overcome to keep the tires rolling. Lower rolling resistance means better fuel efficiency.
All-season tires typically have lower rolling resistance compared to all-weather tires, and hence, they could potentially offer better fuel efficiency. But remember, the difference is usually small and might not significantly impact your gas mileage.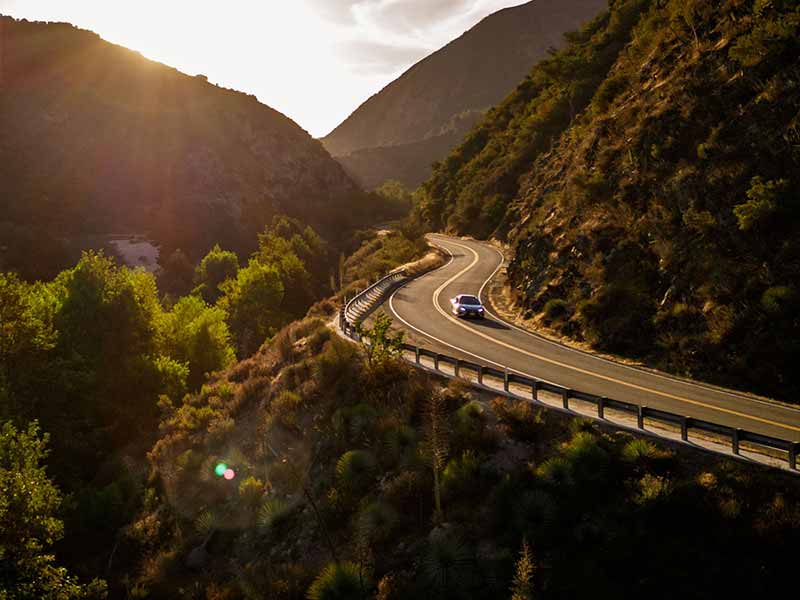 Determining the Best Choice for Your Vehicle
Alright, so we've learned a lot about all-season and all-weather tires, but how do you decide which one is the best for you? Just like picking your favorite ice cream flavor, it depends on your personal taste – or in this case, your specific needs. Here are a few things to think about when choosing tires.
Factors to Consider
Climate: Consider the weather where you live. Is it mild most of the year, or do you get heavy snow in winter and hot summers?
Driving Conditions: Do you mainly drive in the city, or do you often venture out on highways and rural roads?
Driving Habits: If you're a calm driver who mostly commutes to work or school, all-season might be fine. But if you're often on the road in varying conditions, all-weather might be better.
Potential Drawbacks of Using All-Weather Tires
Like everything in life, all-weather tires aren't perfect. Here are a few things you might want to consider:
Tire Longevity: All-weather tires might not last as long as an all-season tire in hot conditions due to their softer rubber compound.
Fuel Efficiency: All-weather tires could potentially reduce your fuel efficiency slightly compared to all-season tires.
Understanding Your Specific Needs
The key to making the right choice is understanding your specific needs. Do you value longevity and fuel efficiency more? Then all-season tires might be your best bet. Do you want better performance in varying weather conditions? Then all-weather tires could be your go-to choice.
If the winter months are more extreme, you're better off with dedicated winter tires for the best traction on snow and ice.
Resources
Below are some links you may find helpful when learning about tires
Final Thoughts
Just like deciding between chocolate and vanilla, choosing between all-season and all-weather tires can be a bit of a brain teaser. But after diving deep into the world of tires, we've unraveled some key insights that can help us make an informed choice.
Both all-season and all-weather tires have their strengths and their specific uses. All-season tires might be your go-to choice if you live in a place with mild climates and you value tire longevity and slightly better fuel efficiency. 
If you often face more extreme weather conditions, all-weather tires, with their superior traction and safety, could be your best bet. Winter tires are always the best choice for harsh winter conditions but come at the expense of needing to be swapped for all-season or summer tires when the temperatures rise above 45 degrees.
Good luck and happy motoring.