Ever glanced at a tire shop, seeing technicians toiling away and wondered, "In this age of innovation, isn't there a more efficient way?" What if we told you there's technology on the horizon that not only promises efficiency but also catapults the tire-changing experience into the future?
Will Robots Take My Job?

RoboTire is a cutting-edge technology designed to modernize the tire-changing process by automating repetitive tasks, ensuring speed and accuracy, and integrating seamlessly into existing tire shops.
In this article, we dive deep into the mechanisms powering RoboTire, its real-world applications, the implications for various stakeholders including tire technicians and customers, and broader concerns about the role of automation in the workforce. We'll also explore historical parallels, offering insights on how technology has shaped job evolution over the ages.
What is RoboTire and How Does It Work?
RoboTire is essentially the 21st century's answer to modernizing the process of changing tires. Born from the idea that repetitive tasks should be made easier (and safer) with technology, RoboTire emerged on the scene as a state-of-the-art solution for tire shops.
Main Features of RoboTire:
Automation of Repetitive Tasks: RoboTire is designed to handle repetitive tasks like removing, lifting, and installing tire and wheel assemblies, which can be strenuous for technicians.
Speed: One of the standout features is its efficiency. It can replace all four tires on a passenger vehicle in less than half an hour. That's pretty nifty when you think about the manual labor and time it saves!
Integration with Existing Infrastructure: RoboTire isn't a bulky piece of tech that demands a revamp of the whole shop. It's made to fit right into existing tire shops, minimizing disruptions.
The Tech Behind RoboTire:
Curious about the tech magic that drives RoboTire? Here's a breakdown:
Machine Learning: This allows RoboTire to adapt and improve its operations based on repeated tasks and experiences. Over time, the system becomes even more efficient and accurate.
Artificial Intelligence (AI): Beyond just mechanical actions, AI allows RoboTire to make decisions based on the data it collects. This is where the "smart" in smart technology comes in.
High-Definition Cameras: These cameras are crucial for precision. They guide RoboTire in identifying the right spots to grip, lift, and install tires, ensuring accuracy each time.
Proprietary Software: Unique to RoboTire, this software is the brain of the operation, integrating all the features mentioned above to seamlessly change tires.
RoboTire in Action:
To give you a clearer picture, here's a brief run-through of a typical RoboTire operation:
The vehicle is positioned appropriately.
High-definition cameras scan the tires, taking note of specifics like type, wear, and positioning.
The AI analyzes this data to determine the best approach.
RoboTire then gets to work: it removes the old tires, lifts the new ones, and installs them with precision.
Throughout this process, machine learning algorithms are silently running in the background, ensuring everything is optimal and noting any room for improvement for future operations.
Partnership With Discount Tire:
RoboTire's debut at Discount Tire in Fountain Hills, Arizona is a prime example of the tech's real-world application. At this location, not only does RoboTire handle the grunt work, but human technicians oversee the process. This ensures that even as we move into this robotic future, there's still a human touch—like checking pressure and balancing.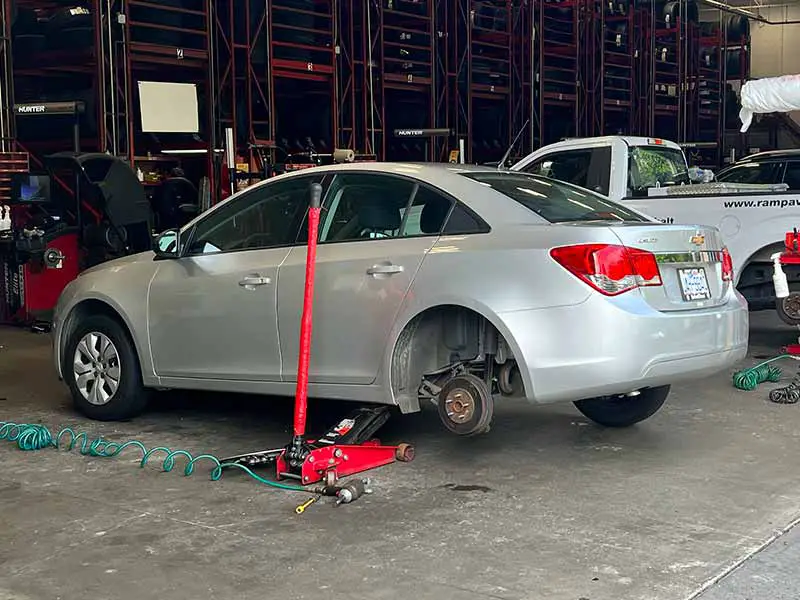 Pros and Cons of RoboTire for Different Stakeholders
When it comes to integrating innovative tech like RoboTire into the tire industry, opinions will vary. Let's break down the benefits and potential drawbacks for the three main players: tire shop owners, tire technicians, and customers.
For Tire Shop Owners:
Pros:
Efficiency and Productivity: With RoboTire's ability to change all four tires in under 25 minutes, shops can handle more customers daily, boosting productivity.
Safety Enhancement: RoboTire minimizes the need for manual, repetitive lifting, reducing the risk of technician injuries.
Integration Ease: RoboTire systems are designed to seamlessly fit into existing tire shops, eliminating the hassle of major infrastructural changes.
Innovation Appeal: Being an early adopter of such tech can be a unique selling proposition, attracting tech-savvy customers and setting the shop apart from competitors.
Cons:
Initial Investment: The upfront cost for RoboTire systems might be significant, which could be a barrier for smaller or newer shops.
Tech Dependence: If the RoboTire system malfunctions or needs maintenance, it might disrupt the shop's operations.
Training Requirements: Staff will need to be trained to work alongside and manage the RoboTire system.
For Tire Technicians:
Pros:
Reduced Physical Strain: With machines handling heavy lifting, technicians are less exposed to potential injuries from repetitive tasks.
Skill Enhancement: Working with advanced tech provides technicians an opportunity to upskill, making them more versatile in the industry.
Job Variety: Instead of only manual tasks, technicians can focus on quality control, customer interaction, and other facets of the job.
Cons:
Job Displacement Concerns: Some might fear that automation could lead to fewer job opportunities in the long run.
Learning Curve: Adapting to new tech can be challenging, especially for those more accustomed to traditional methods.
For Customers:
Pros:
Speedier Service: With RoboTire's efficiency, customers can have their tires changed in record time.
Innovative Experience: Many customers might appreciate and be drawn to shops that employ the latest in tech.
Potential Cost Savings: In the long run, if shops can service more customers efficiently, the savings might trickle down to consumers in the form of competitive prices.
Cons:
Reliability Concerns: Some might worry about the precision and quality of a robot-handled job compared to a human technician.
Loss of Personal Touch: There's something about human interaction, and some customers might miss the traditional technician-customer rapport.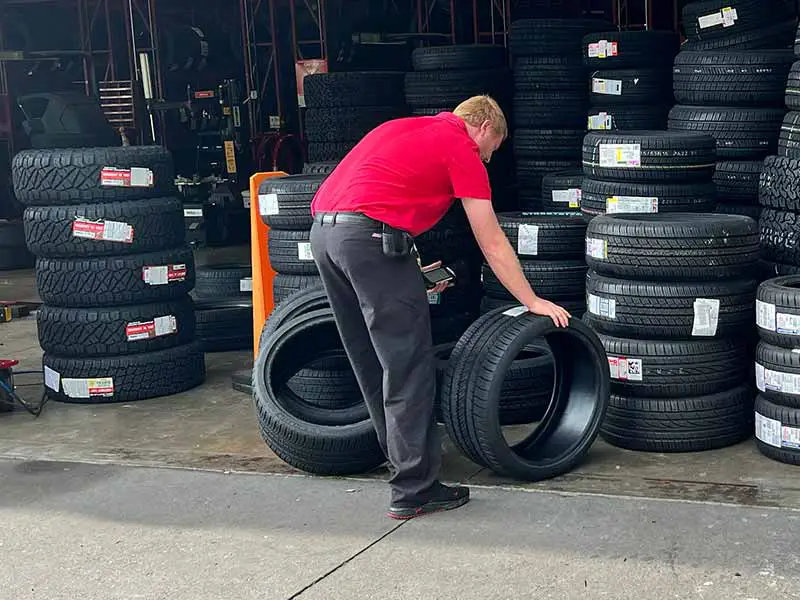 Concerns About Job Displacement
The advent of automation and its increasing role in industries often stirs concerns regarding its impact on employment. One of the most pressing apprehensions about the RoboTire and Discount Tire partnership has been the potential displacement of manual laborers from their jobs.
Historically, the fear of machinery and automation replacing human jobs isn't new. During the Industrial Revolution, the introduction of textile machinery spurred the Luddite movement, where workers, fearful for their livelihoods, went on to destroy machines. Similarly, the RoboTire technology has been seen by some as a threat to tire technicians, an essential role that provides employment to thousands.
It's undeniable that the very nature of automation is to streamline and eliminate repetitive tasks. If RoboTire is able to perform tire replacements faster and with fewer errors, there's a concern that businesses might reduce their workforce to cut costs. In a struggling economy, especially, this prospect can be daunting for many workers.
Moreover, it's not just about the jobs directly impacted. The ripple effect of such automation can be far-reaching. For instance, training institutions and schools that offer courses on automotive repair might see a decline in enrollment if the perception is that fewer manual jobs are available in the market.
However, it's essential to note that job displacement doesn't necessarily equate to job loss. While automation might alter the nature of some roles, it can also create opportunities in other areas, such as machine maintenance, programming, and other tech-centric positions. Still, the transition is not always smooth, and it requires both time and resources. Workers might need retraining, and not everyone may be in a position to adapt swiftly.
Training and Reskilling the Workforce
As technology continues to reshape industries, the onus falls upon both businesses and employees to adapt. One feasible solution to combat the potential pitfalls of job displacement, especially with the introduction of RoboTire at Discount Tire, is to invest in training and reskilling the workforce. Here's how this could unfold:
Understanding the Importance of Adaptability:

Evolving Nature of Jobs: As automation becomes more prevalent, the nature of many jobs will evolve. Instead of entirely replacing humans, many robots will work alongside them. Recognizing this can help in framing the narrative around the importance of adaptability.
Mindset Shift: Cultivating a growth mindset, where employees see challenges as opportunities to learn and grow, can be invaluable. This perspective can make the transition smoother and more welcomed by the workforce.

Investing in Continuous Learning:

Company-Sponsored Training Programs: Discount Tire, and similar enterprises, could introduce training programs that focus on skills needed in an automated environment. This might include overseeing robotic operations, maintenance, and troubleshooting.
Online Courses and Certifications: Encouraging employees to pursue relevant online courses can be beneficial. With a plethora of platforms offering courses on a wide array of subjects, acquiring new skills has never been more accessible.

Developing New Roles and Responsibilities:

Shift to Supervisory Roles: With RoboTire handling the actual tire-changing process, technicians might shift to roles where they supervise the operation, ensuring everything runs smoothly.
Maintenance and Upkeep: Robotic systems require regular maintenance. Technicians could be trained to handle the upkeep, repair, and troubleshooting of these machines, ensuring they function optimally.

Counseling and Career Guidance:

Career Pathways: Offering guidance on potential career pathways within the company can help employees visualize their future and understand how they fit into the evolving landscape.
External Opportunities: If certain roles are significantly reduced, companies can assist employees in identifying external opportunities or industries where their skills could be applicable.

Collaborating with Educational Institutions:

Tailored Curriculum: Partnering with technical schools or universities can help in tailoring curriculums that meet the industry's changing needs.
Internships and Apprenticeships: Such partnerships can also pave the way for internships and apprenticeships, ensuring a continuous influx of trained personnel ready for the challenges of the modern workplace.
The Socio-Cultural Perspective on Automation
Automation, while technically an advancement, carries with it a complex tapestry of socio-cultural implications. The rapid growth of automation, exemplified by innovations like RoboTire at Discount Tire, has incited a broad range of emotions and concerns, rooted in society's shared history, values, and perceptions. Delving deeper, we find:
Nostalgic Views on Manual Labor and the Appeal of the "Good Ol' American Way":

Romanticizing the Past: There's an inherent romanticism attached to the days when everything was done by hand, symbolizing hard work, craftsmanship, and the intrinsic value of sweat equity. For many, this manual labor is emblematic of a time when individuals took pride in their craft, making tangible contributions to the world around them.
Resilience and Grit: Manual work has traditionally been linked to virtues like resilience, determination, and grit—qualities that are often celebrated in American culture. The shift towards automation can be seen by some as a shift away from these values.

Concerns About the Loss of Human Skills and the Shift to a More Automated Society:

Eroding Craftsmanship: As machines take over roles previously filled by humans, there's an underlying fear that the nuanced skills, honed over generations, might get lost in the shuffle. Will the next generation even know how to change a tire manually, or will such skills become obsolete relics?
Dependency on Technology: As we become more reliant on machines for everyday tasks, concerns arise about our over-dependence on technology. What happens when the technology fails? Are we rendering ourselves helpless by sidelining human capabilities?

The Role of Corporate Greed and its Perceived Impact on Worker Well-Being:

Maximizing Profits over People: A common narrative surrounding automation is that corporations, in their incessant quest for profits, prioritize machines over humans. This perspective sees automation as a tool for companies to reduce labor costs, even if it means laying off loyal employees.
Disconnect Between Top and Bottom: There's a belief that the decision-makers, ensconced in their corporate boardrooms, might be detached from the ground realities of their frontline workers. This perceived disconnect can fuel the narrative that automation is a top-down imposition, without adequate consideration for the workforce.
Economic Implications: Beyond the immediate workforce, there's a broader socio-economic concern. If companies across industries adopt automation en masse, it could lead to large-scale unemployment, with the wealth getting concentrated in the hands of a few who own and control the technologies.
Historical Perspective on Automation and Job Evolution
As we navigate the complexities of modern-day automation, a look back at history provides illuminating insights. Automation, in various forms, has been a consistent theme throughout human evolution, invariably altering the employment landscape. Here's an exploration of some key milestones:
Historical Examples: ATMs and their Impact on Bank Employment:

Introduction of ATMs: The Automatic Teller Machine, commonly known as the ATM, was introduced in the late 1960s. Many forecasted it as the end of bank tellers, assuming that these machines would replace the need for human intervention in dispensing cash.
The Surprising Outcome: Contrary to the doomsday predictions, the number of bank tellers in the U.S. increased following the widespread adoption of ATMs. This was primarily because ATMs reduced the operational cost per branch, allowing banks to open more branches, thereby hiring more tellers. However, the role of these tellers evolved from mere cash dispensers to relationship managers and sales representatives.

The Notion that Automation Often Shifts Job Roles Rather than Eliminates Them:

Evolution, Not Elimination: Throughout history, technological innovations have typically transformed jobs rather than eradicated them entirely. For instance, the introduction of the printing press in the 15th century didn't eliminate scribes but shifted their roles to typesetters and proofreaders.
Augmentation Over Replacement: Automation often augments human capabilities rather than replaces them. In sectors like healthcare, while we have machines that can perform specific surgeries, human intervention remains pivotal for diagnosis, patient care, and post-operative management.

Emphasis on Upskilling and Adapting to Technological Changes in the Workplace:

The Power of Adaptation: History has shown that those individuals and societies that proactively adapt to technological changes fare better in the evolving job market. This often involves gaining new skills that align with emerging industries and roles.
Role of Educational Institutions: Historically, as during the industrial revolution, educational institutions played a crucial role in training the workforce for new roles. Today, there's a pressing need for institutions to provide training in digital literacy, coding, robotics, and other tech-driven disciplines.
Continuous Learning Culture: The speed of technological advancement today is unprecedented. Thus, the onus is on both employees and employers to foster a culture of continuous learning, ensuring that the workforce remains relevant amidst the changing technological landscape.
Resources
Below are some links you may find helpful when learning about tires
Final Thoughts
RoboTire exemplifies the technological advancements in automation, aimed at streamlining repetitive tasks like tire changing with speed, accuracy, and safety in mind. Incorporating machine learning, AI, and high-definition cameras, this innovation promises efficiency and seamless integration into existing tire shop infrastructures.
While the benefits such as increased productivity and reduced physical strain for technicians are undeniable, concerns around job displacement and the potential loss of the human touch remain paramount. History, however, reminds us that automation often leads to the evolution of job roles rather than their complete elimination.
The success of such advancements will largely depend on the industry's willingness to invest in training and reskilling, and society's ability to adapt to these changes, embracing continuous learning while preserving socio-cultural values.
Good luck and happy motoring.